Surface cleaner PCL 4 patio cleaner
Thanks to its rotating roller brushes and integrated water distribution, the PCL 4 patio cleaner removes dirt from wooden patios thoroughly and evenly.
The electric PCL 4 patio cleaner enables stubborn dirt to be removed from wooden patios easily, thoroughly and exceptionally evenly. Simply connect the patio cleaner to the garden hose and start cleaning. The combination of two rotating and replaceable roller brushes and the ability to regulate the water flow ensure that dirt can be reliably loosened and removed at the same time. This means that patios can be thoroughly cleaned in no time – and without using any more water than needed for the cleaning task. The width and position of the rollers are designed to ensure that two boards can be cleaned up to the edge in a single step, which also saves time. Thanks to the replaceable roller brushes, this device can be used not only for wood and WPC surfaces, but also for thorough and gentle cleaning of all smooth and sealed stone tiles and slabs.
Features and benefits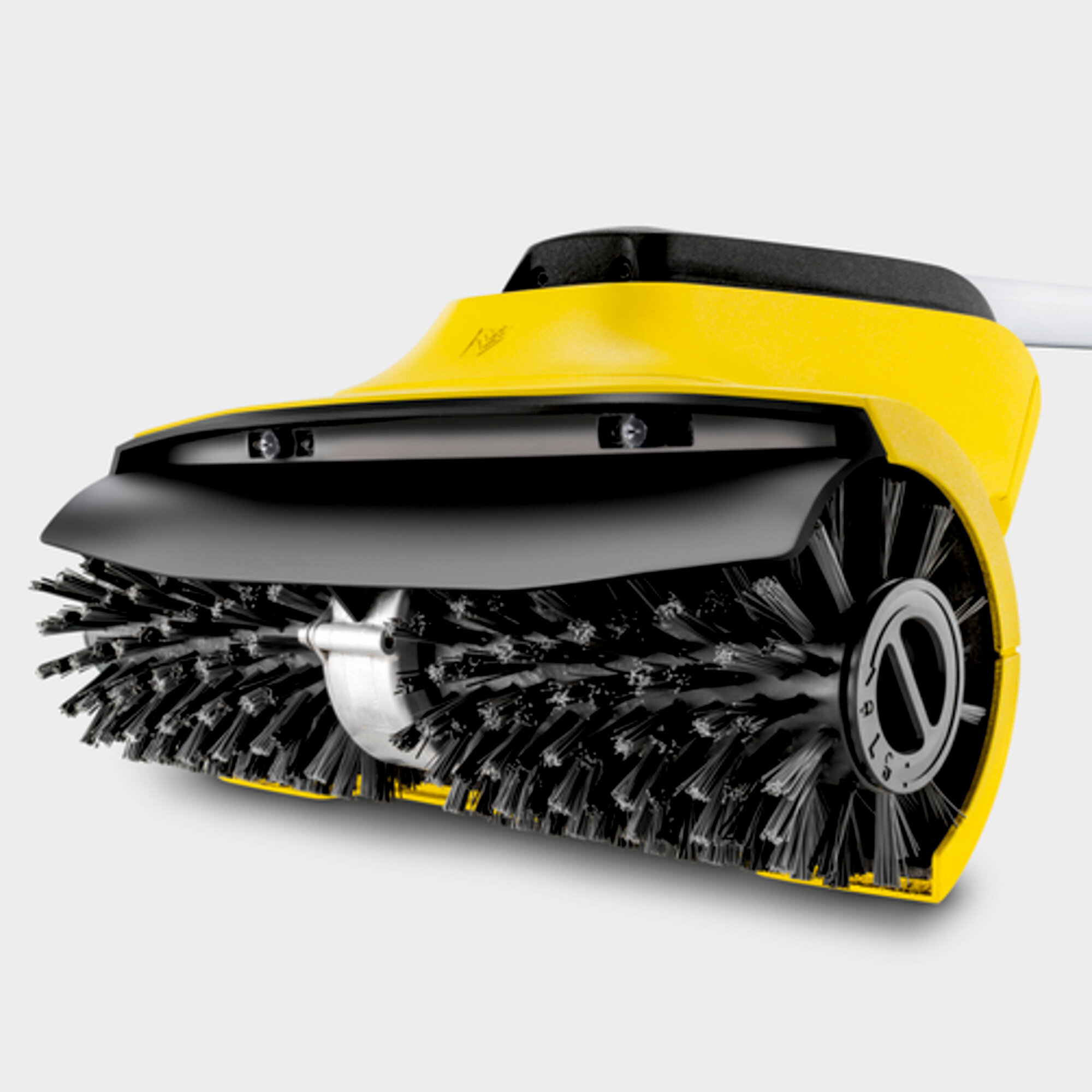 Two high-quality rotating roller brushes (included in the scope of supply for wooden surfaces)
Thorough and even cleaning of wooden surfaces in outside areas with good area performance.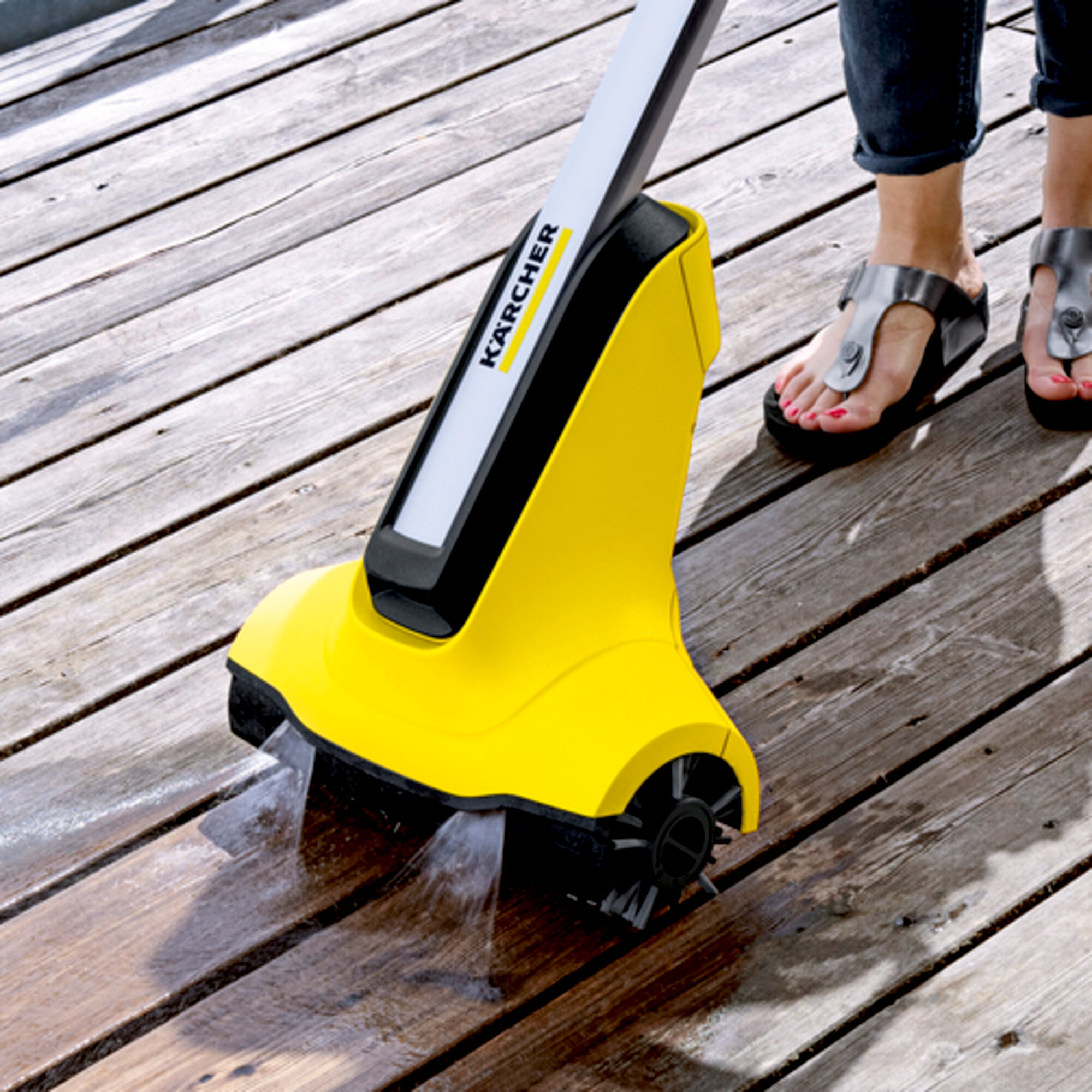 Two nozzles above the roller brushes
Loosens and removes dirt in a single step. Removes stubborn dirt.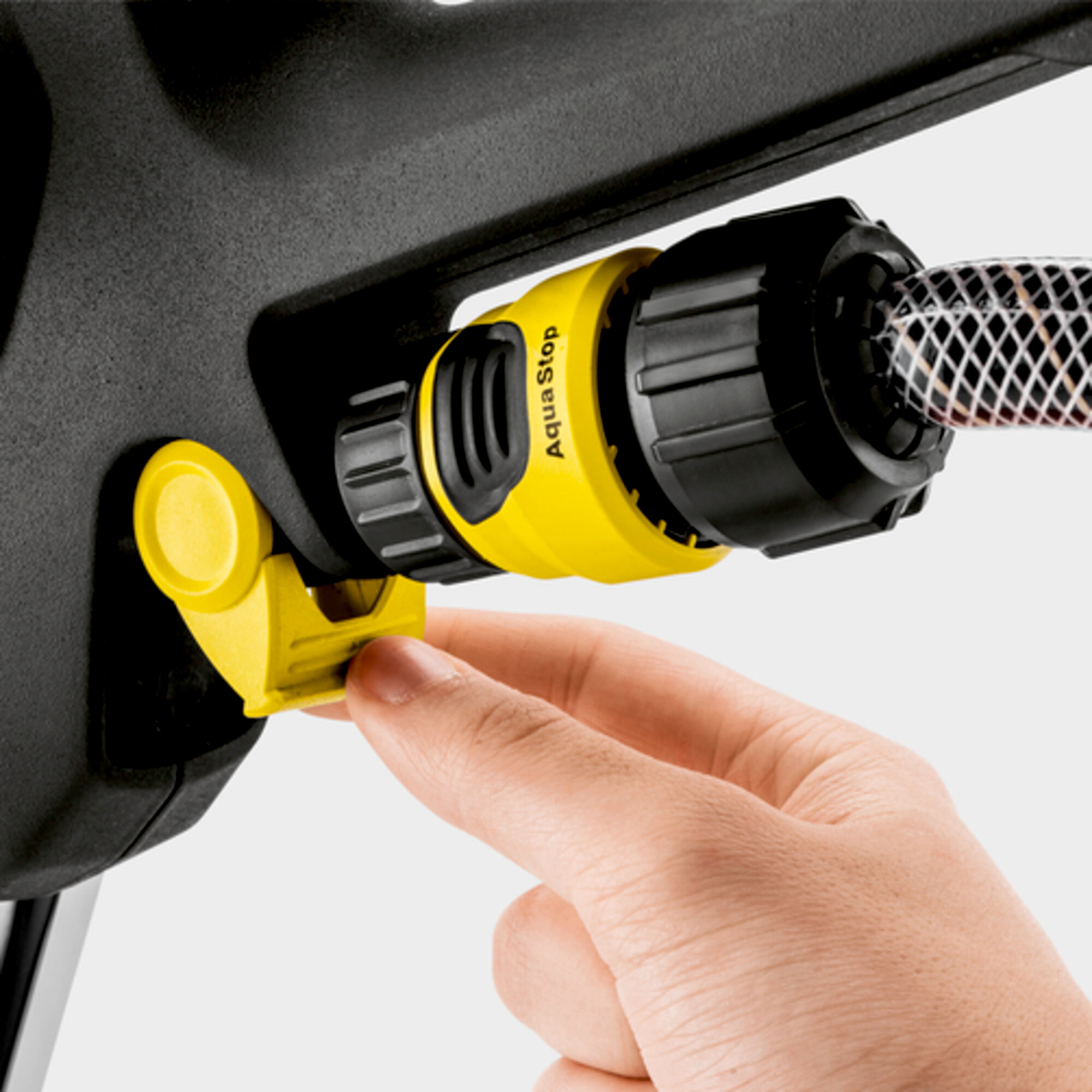 Water volume can be regulated via a valve
Water-efficient cleaning.
Central attachment of the roller brushes
Cleaning up to the edge of the surface – even for corners and edges.
Replaceable roller brushes
Roller brushes for wooden surfaces suitable for cleaning wooden decking boards and WPC surfaces. The stone surface roller brushes (available as an optional accessory) are suitable for smooth and sealed stone tiles.
Powerful motor for driving the roller brushes
Easy work with minimum required effort.
Specifications
Technical data
| | |
| --- | --- |
| Max. pressure (bar) | 10 |
| Pressure range | Low pressure |
| Water consumption at 4 bar (l/h) | max. 180 |
| Rated input power (kW) | 0,6 |
| Brush rotational speed (rpm) | 600 - 800 |
| Roller brush working width (mm) | 300 |
| Weight without accessories (kg) | 5 |
| Weight incl. packaging (kg) | 6,7 |
| Dimensions (L x W x H) (mm) | 1281 x 307 x 350 |
Equipment
Two roller brushes for wooden surfaces
Two water nozzles
Valve for controlling the water volume
Storage position
Ergonomic handle and grip
Application areas
Removes stubborn dirt
Patios (wood, smooth stone tiles)
Balconies (wood, smooth stone tiles)