Sprinklers
Sprinklers – technology that is brimming with ideas. The diverse selection of Kärcher circular sprinklers offers the perfect solution for every garden – large, small, flat or sloping. With the unique splash guard in the oscillating sprinkler range, set-up is even easier: Going back and forth between the tap and sprinkler is no longer necessary and you can find the right position for your sprinkler in next to no time – without getting wet! All models easily connect to a garden hose and is compatible with all available click-on systems.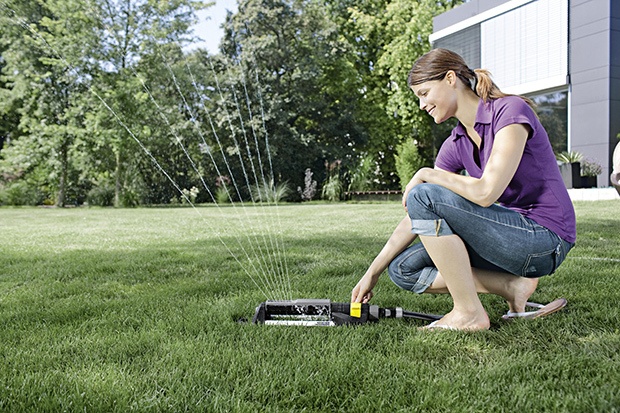 Spinklers – technology ripe with ideas.
The new oscillating sprinklers from Kärcher are now even easier to use. They feature integrated splash guard protection for convenient positioning and alignment without getting wet. Kärcher sprinklers feature the tried and tested click system and are easy to connect to garden hoses.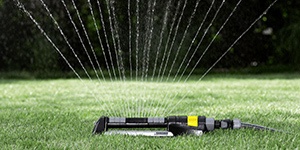 Oscillating sprinkler
Continuously adjustable sprinkling area up to a maximum area of 320 m².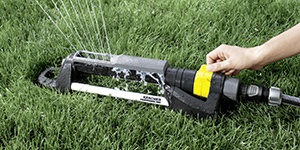 In the dry
Protected from the water, you can comfortably adjust the watering area and water volume.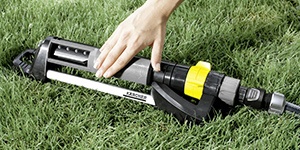 Convenient alignment
The splash guard protects the operator when the sprinkler is being aligned.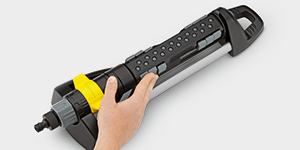 Variable width of spray
The width of spray can be regulated by switching off the nozzles.