Sprinklers
Sprinklers – technology that is brimming with ideas. The diverse selection of Kärcher circular sprinklers offers the perfect solution for every garden – large, small, flat or sloping. With the unique splash guard in the oscillating sprinkler range, set-up is even easier: Going back and forth between the tap and sprinkler is no longer necessary and you can find the right position for your sprinkler in next to no time – without getting wet! All models easily connect to a garden hose and are compatible with all available click-on systems.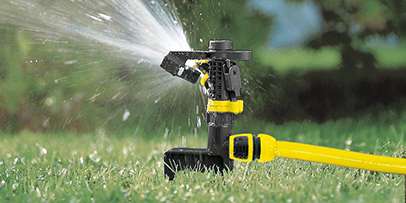 Sensational sprinklers for flowering gardens
The lawn sprinklers comprise a nozzle and base, generally in the shape of a spike which is inserted in the soil and gives the necessary support. The pulse, circular and sector sprinkler PS 300 is suitable for watering medium-sized to large areas and is often used for automatic watering systems. It sprays the water from the nozzle in a circle and covers a maximum watering area of 706 square metres. This sprinkler is even perfect for watering very large lawns or as a water distributor in flowerbeds.

Whereas, the CS 90 Spike circular sprinkler is ideal for small areas and gardens. It can be easily inserted in uneven or sloping terrain and is perfect for plant and lawn care on different levels. It should be noted that the evaporation rate is higher than with the classic sprinkler.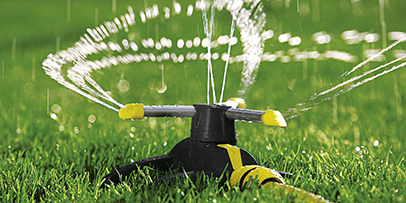 Watering the garden with the rotating sprinkler
The rotating sprinklers can also be easily connected to a hose like the sprinklers and lawn sprinklers. They are perfect for supplying water to medium-sized areas and gardens. The RS 130/3 rotating sprinkler supplies the maximum watering area of 133 square metres, whereas the same water distributor of type RS 120/2 waters up to 113 square metres. It further impresses with an adjustable spray angle.

With a garden pump you can also supply rotating sprinklers from a water butt and thus cover your water demand from alternative sources. Needless to day, the rotating sprinklers also work with a connection to the garden tap.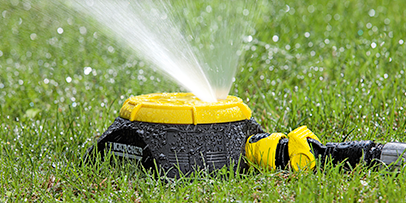 Various functions for diverse gardens
The Kärcher multifunctional and surface sprinkler MS 100 is perfect for small areas and gardens. Six different nozzle shapes enable different types of watering and supply a maximum watering area of 78 square metres. The multifunctional sprinkler is a flexible lawn sprinkler, which is adapted to the soil to be watered thanks to six different nozzle shapes.