Intensive treatment for the Latona Fountain on Herrenchiemsee island
With the help of steam and particle blasting, Kärcher removed biological growth and limescale from the Roman goddess Latona on the island of Herrenchiemsee.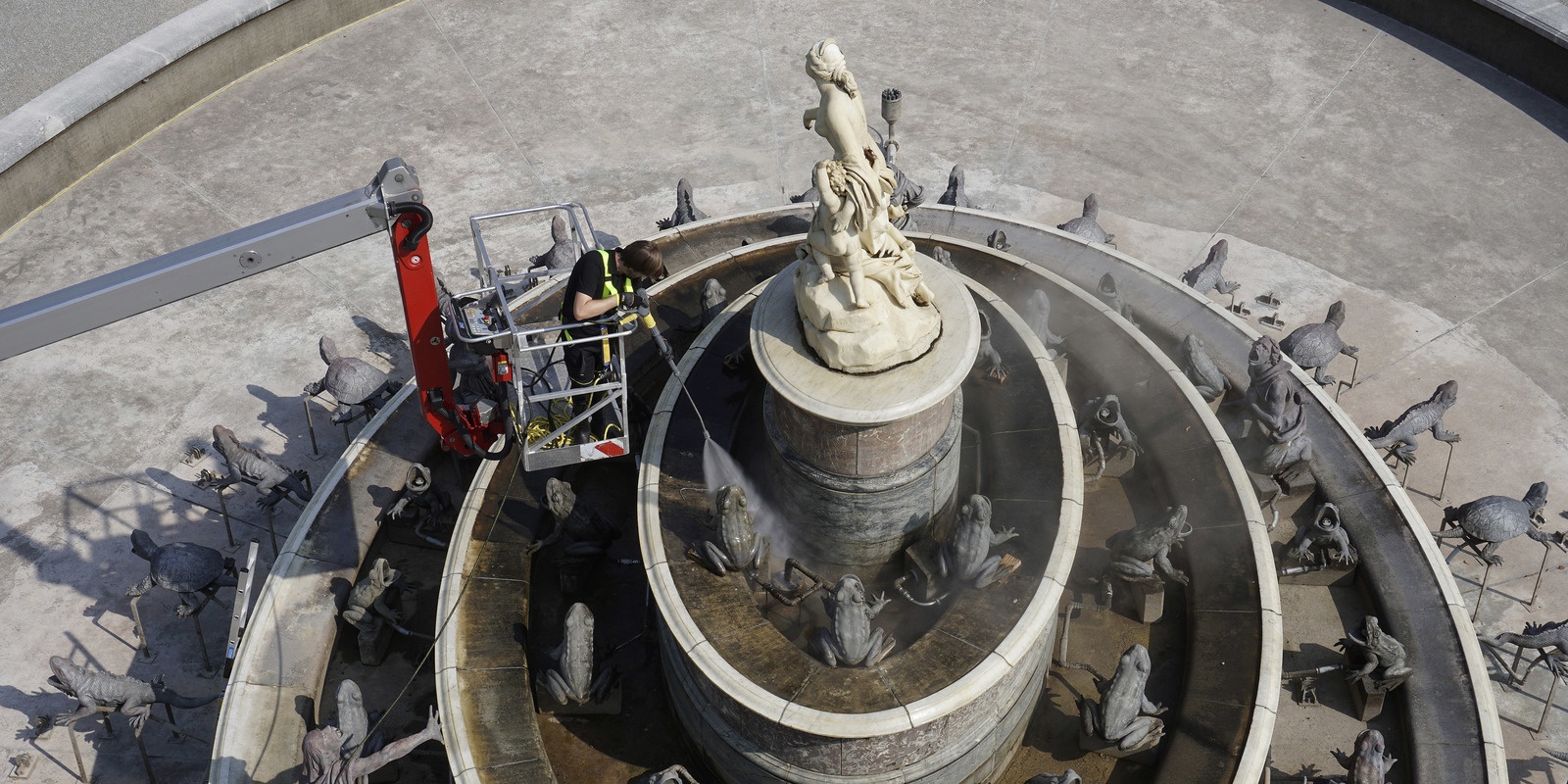 Roman Goddess Latona at the top of the fountain and the lead cast animal figures were freed from limestone deposits and organic pollution.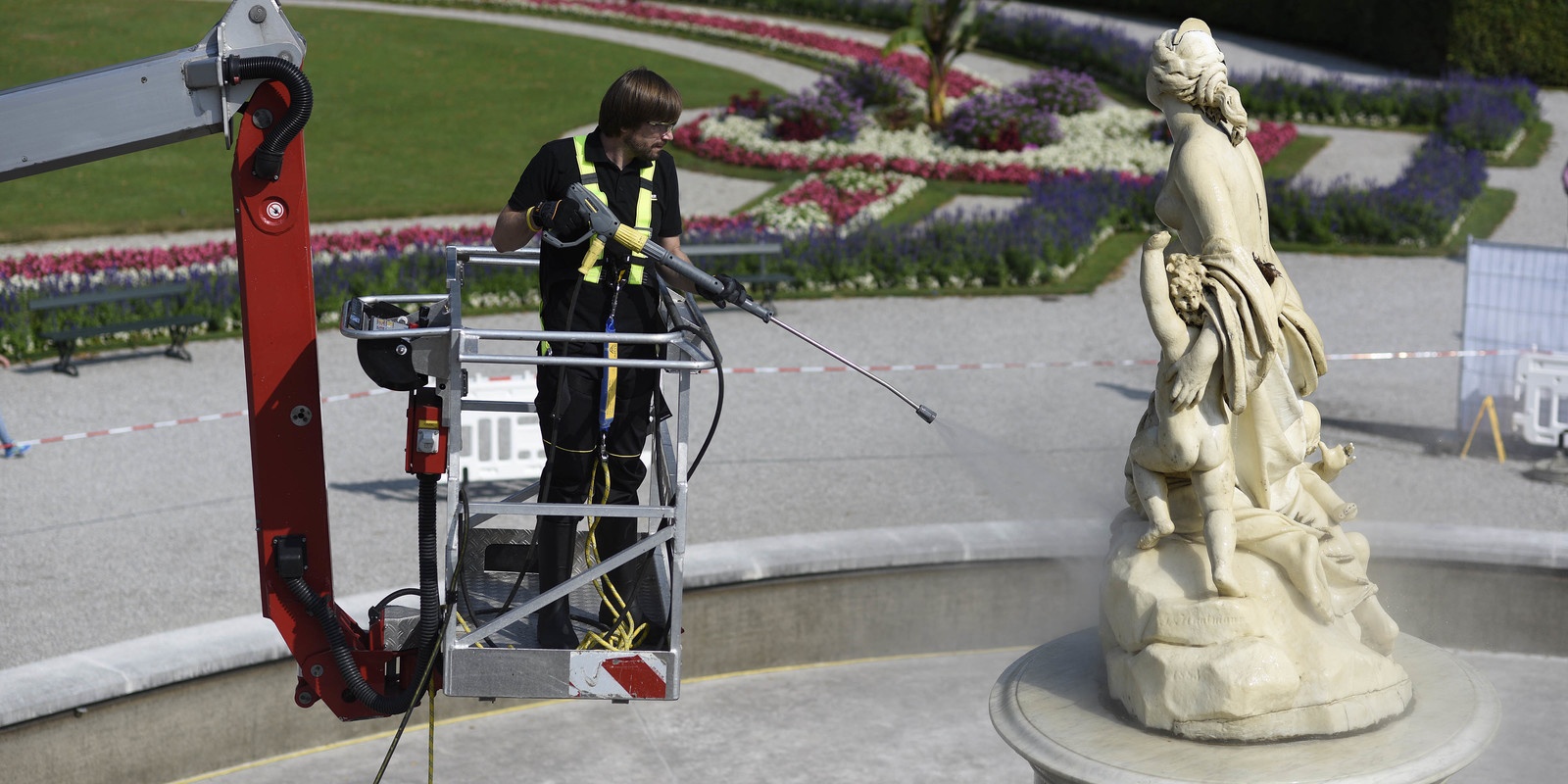 An environmentally-friendly cleaning technology was chosen to avoid harming the materials.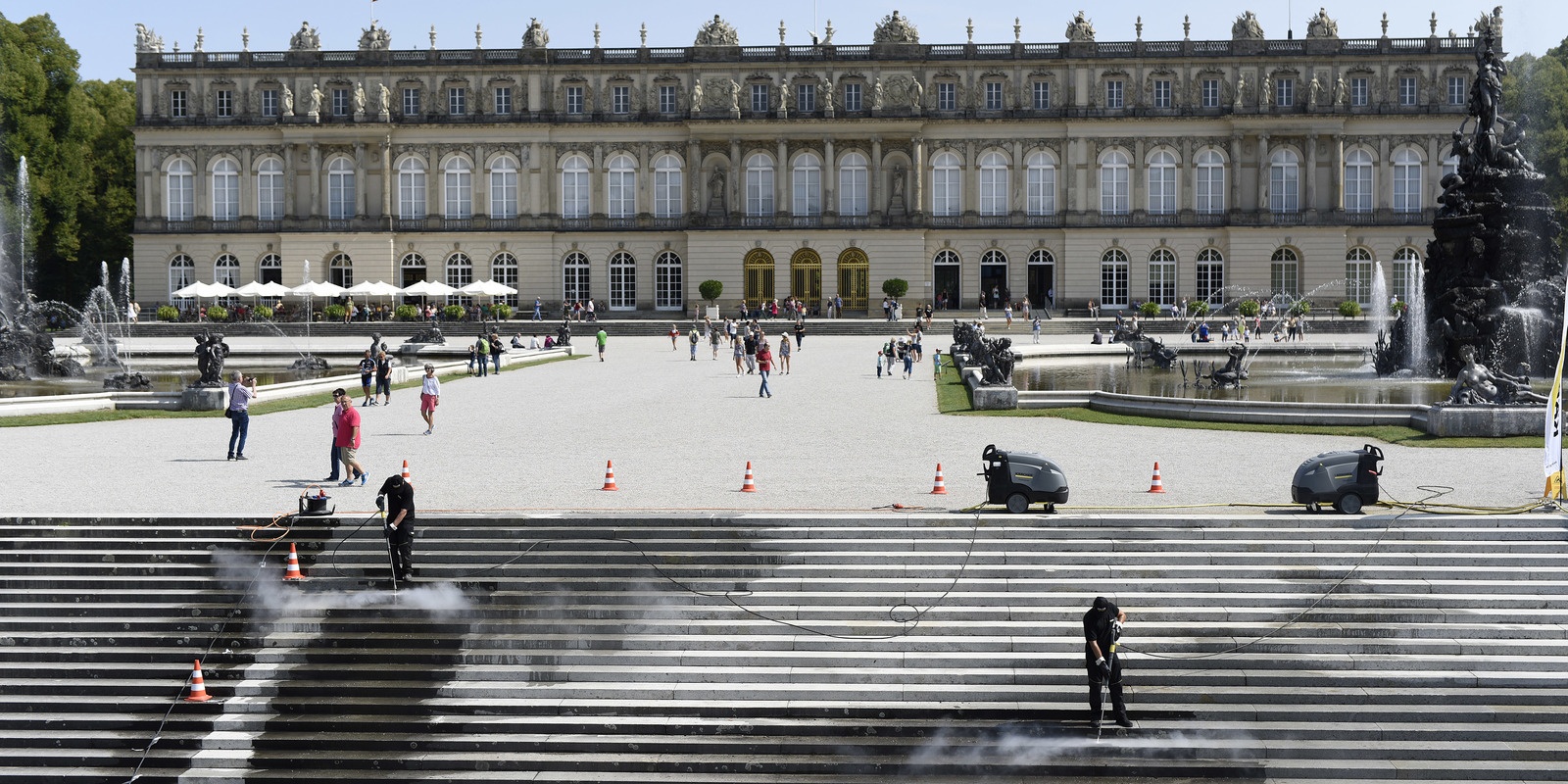 The large stairways in front of Herrenchiemsee Palace was also cleared of dirt.
Two processes in use for the best results
At part of its cultural sponsoring, Kärcher cleaned the Latona Fountain at Herrenchiemsee Palace park. Because water is constantly moving in the fountain, the marble surfaces of the fountain, with the Roman Goddess Latona at the top of the fountain and the lead cast animal figures, suffer due to limestone deposits and organic pollution.
It was important to choose an environmentally-friendly cleaning technology that would conserve the materials. Kärcher cleaning experts gradually removed the deposits from the Goddess Latona, the figures and the marble surfaces working from the top to the bottom. Two hot water high-pressure cleaners are used in the steam phase, and the low pressure particle beam process. Cleaning in the steam phase uses water vapour at up to 155° Celsius and very low surface pressure (0.5 - 1 bar). "This means we don't damage the surface and the cleaning is very gentle", explains Gerd Heidrich, Kärcher project manager.
Removing the limestone film and yellowish discolouration
The marble has previously been treated with poppy-seed oil to maintain and protect it. A low pressure particle beam process is used to remove the limestone and yellowish discolouration. Compressed air is fed to a specially developed jet gun via a construction compressor. The blasting material is selected in line with the materials to be cleaned so that surfaces are cleaned gently and without abrasion.
Herrenchiemsee Palace park
Inspired by the gardens at the Palace of Versailles, King Ludwig II purchased Herrenwörth island on Lake Chiemsee in 1873 to create a replica of the French model. The result was sprawling parkland which still attracts many tourists today. "Maintaining the Herrenchiemsee Palace park is a constant challenge. There's always plenty to do," confirms Johannes Leicht of Schloss- und Gartenverwaltung Herrenchiemsee, the organisation tasked with the upkeep. "The Herrenchiemsee Palace complex is impressive enough in itself. This year also marks the 70th anniversary of the Constitution of Herrenchiemsee – which set the foundation of our legislation," says Gerd Heidrich.
Facts at a glance
Country: Germany
Location: Herrenchiemsee island
Material: Marble, lead
Type of dirt: Limestone deposits, organic pollution
Cleaning technique: Hot water high-pressure cleaning, low-pressure microparticle blasting
Execution: August 2018
You might also be interested in