War on chewing gum
Kärcher cleaned surfaces around the Neptune Fountain on Alexanderplatz in Berlin on the occasion of the CMS Trade Fair 2017.
In cooperation with the District Authority Berlin Mitte, the cleaning specialist Kärcher cleaned the mosaic tiles arranged in a circle around the Neptune Fountain on Alexanderplatz in Berlin, as part of its cultural sponsorship. Three experts from the family-owned business based in Winnenden focused on the removal of trodden in chewing gum – a particularly stubborn contamination, which was painstakingly removed. Cleaning was completed after two days and has taken place parallel to the international cleaning trade fair CMS Berlin 2017 (19 - 22 September).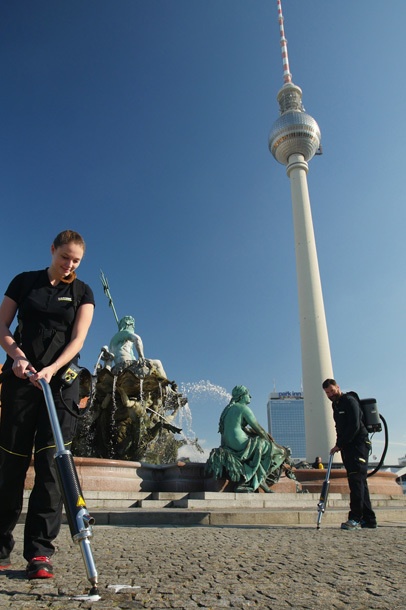 The work was carried out using a mobile steam cleaner (type SGG 1) specifically developed for removing chewing gum
The advantage: it is worn in the same way as a backpack and features modern lithium-ion batteries for uninterrupted cleaning throughout the day. Operators can work without a water and power supply on site – there are no cords or hoses that can become potential tripping hazards, so that the area does not need to be cordoned off.

The circular surface was cleaned in sections – each of the eight tiled partial sections was cleaned starting from the fountain towards the edge. Each individual piece of chewing gum was steamed systematically using a fully biodegradable cleaning agent. After a contact time of only three to five seconds, the chewing gum was removed gently with the brush attached to the nozzle. The grout was not attacked. Each cleaning section was finally treated with a scrubber drier (type BR 45/22) in order to remove any chewing gum residues and achieve a uniform cleaning result.

The Neptune Fountain
Since 1969, the Neptune Fountain designed by Reinhold Begas has stood between the Television Tower and Red City Hall in a green area in Spandauer Straße. With a water basin diameter of 18 metres and an overall height of 10 metres, it was among the largest artistically designed fountains in the world at the time and today is one of the oldest and most impressive fountains in Berlin. The composition depicts the ancient sea god Neptune on a giant shell, carried by four tritons, surrounded by water-spouting cherubs and aquatic animals. On the edge of the fountain sit four women figures representing the main rivers Elbe, Rhine, Oder and Vistula.