3,300-year-old obelisk restored and cleaned
The 3,300-year-old Luxor obelisk on the Place de la Concorde in the heart of Paris is being restored and gently cleaned to mark the 200th anniversary of the decipherment of Egyptian hieroglyphics. The project is a cooperation between Kärcher and the French Ministry of Culture. Kärcher is not only financing the complete restoration of the valuable monument as part of its cultural sponsorship, but is also carrying out the cleaning itself.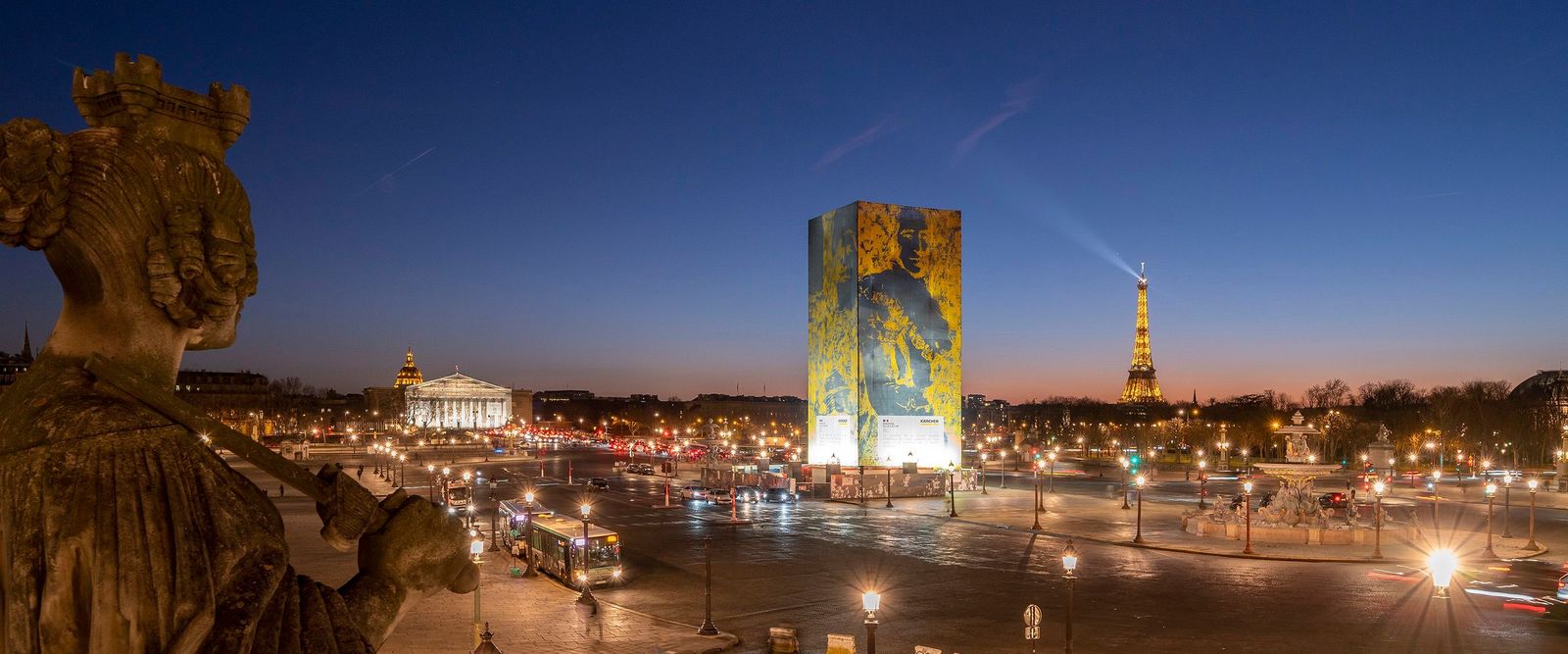 Intensive cooperation with project partners
In close coordination with the project partners, such as the Regional Directorate for Cultural Affairs of the Île-de-France Region (DRAC) in the Ministry of Culture, under the construction management of the chief architect for historical monuments, François Chatillon, and with scientific support from the research laboratory for historical monuments, Kärcher is implementing the concept for the restoration of the monument. The company has thus not only taken over the financing, but also the coordination for the overall restoration of the 23-metre-high and 222-tonne column, which will be gentle on the substance. In order not to damage the precious original surface of the historic façade, a comprehensive plan was drawn up for all measures.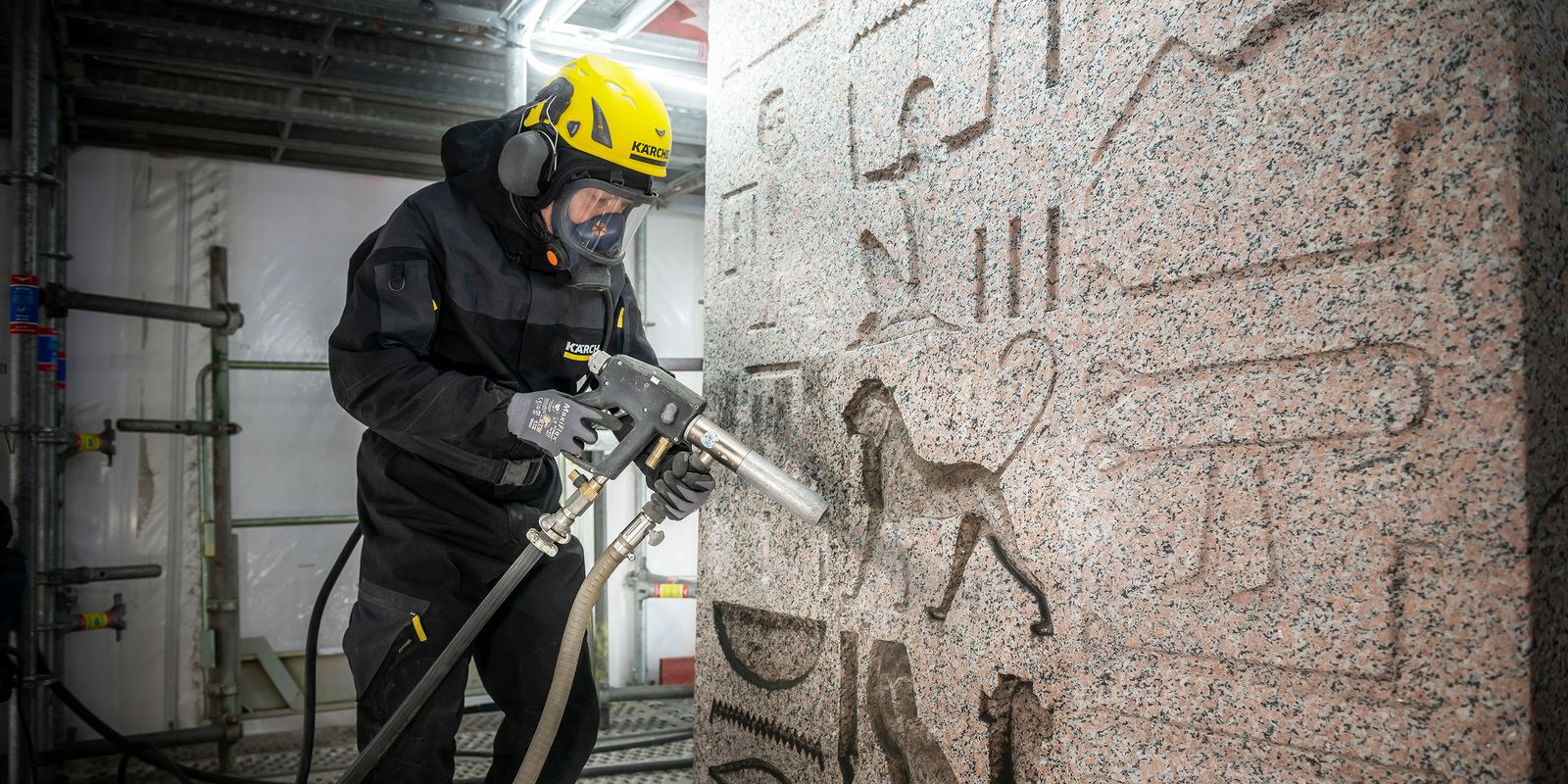 Most of the cleaning is done with the so-called low-pressure micro-particle blasting method. With a surface pressure of only 0.5 to 1 bar and a distance of 15 to 20 cm, most of the deposits caused by weathering and emisson contamination can be removed. To protect themselves against the fine dusts produced in the process, the cleaning specialists wear full-body protection with a breathing mask and fresh air supply.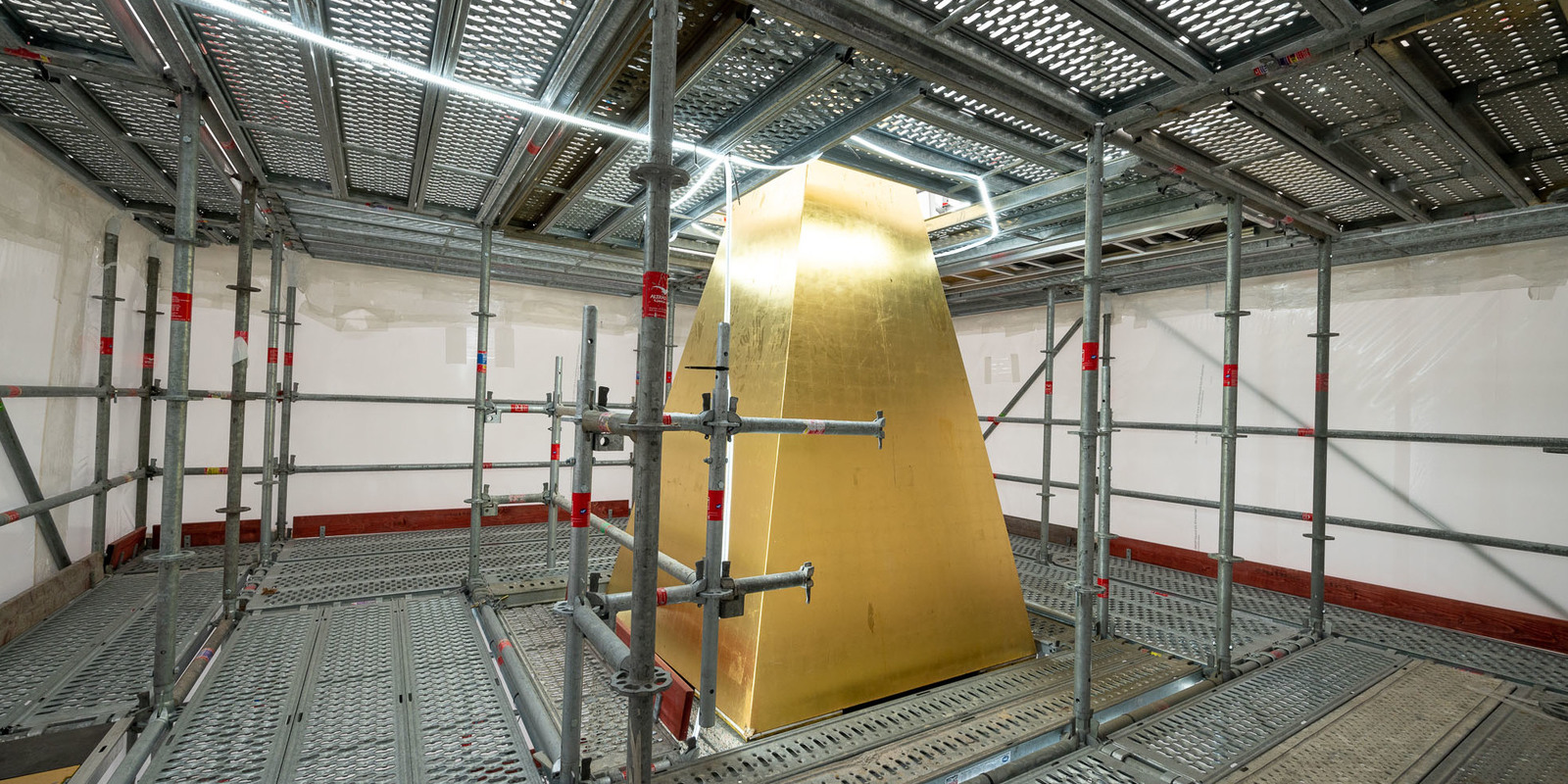 A team of restorers also cleans spots on the podium, the pedestal as well as gilding and engravings with special radiator sponges. Specialists in gilding undertake the overhaul and restoration of the gold leaf of the pyramidion on top of the obelisk.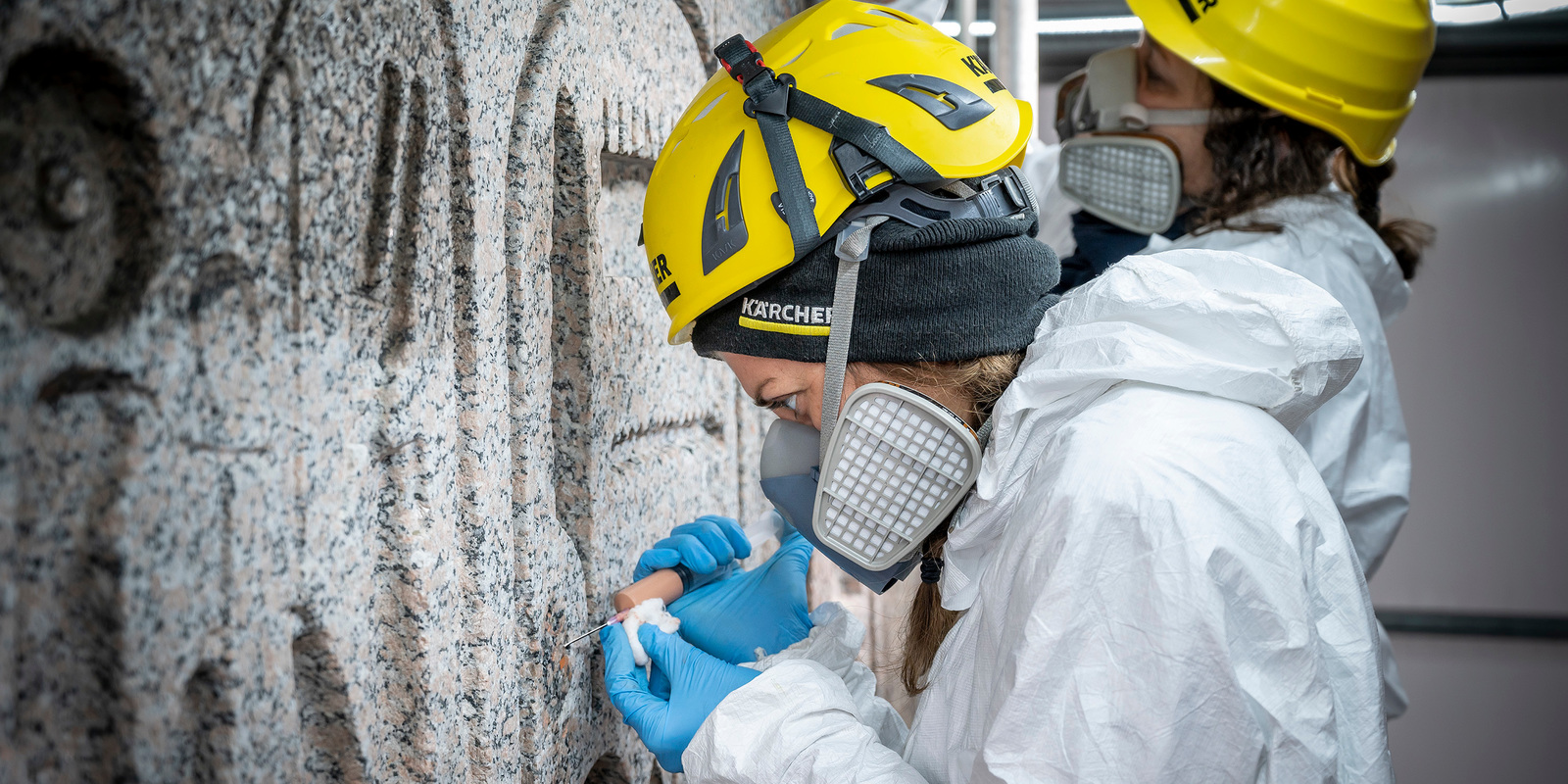 The restorers also take care of removing old, now damaged epoxy grouting, repointing and consolidating damaged areas.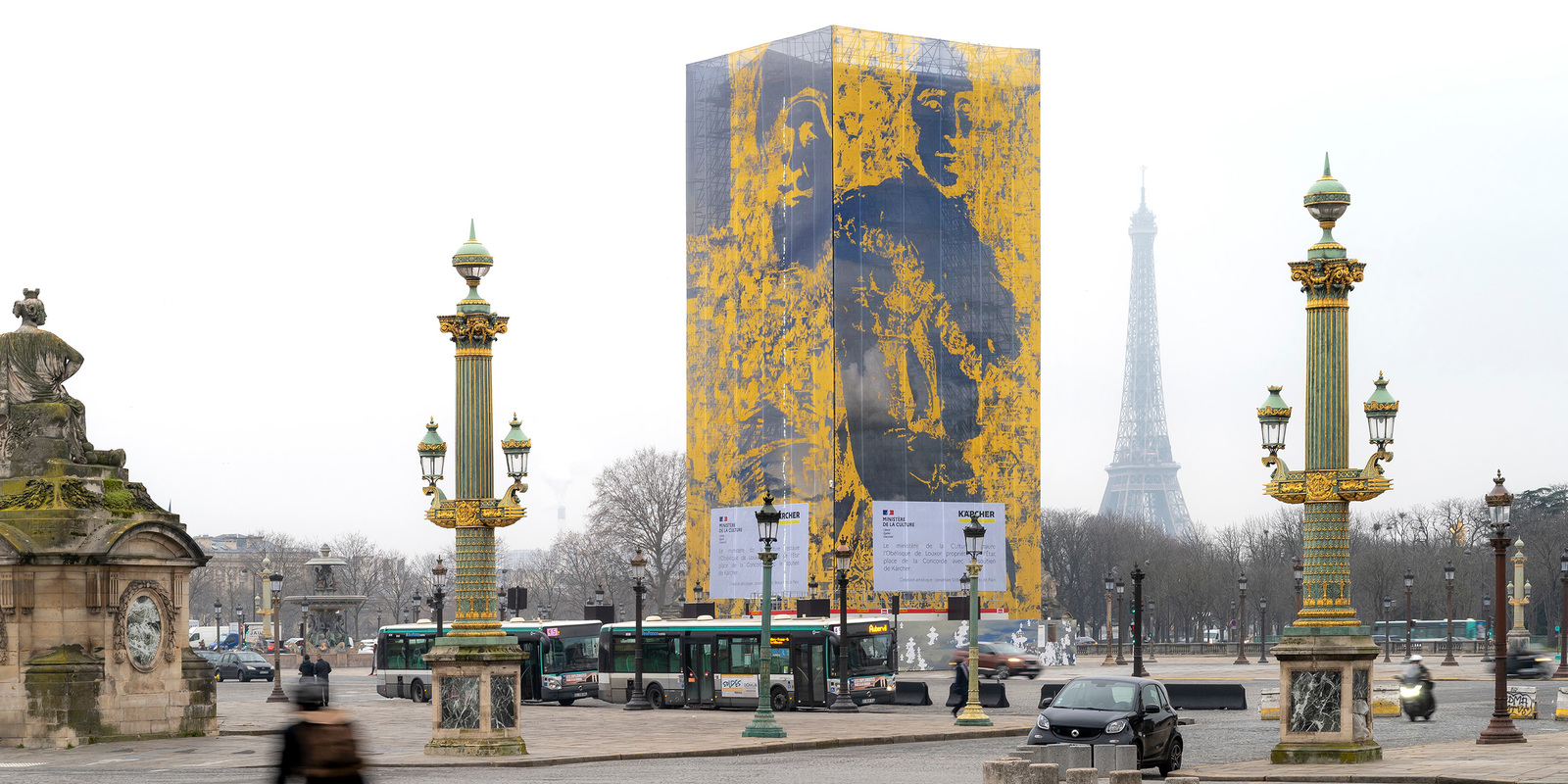 Together with the French Ministry of Culture, Kärcher had called on students of the art academy "Beaux-Arts de Paris" in December to submit designs for the artistic design of the scaffolding tarpaulin. The proposal of the artist Jonathan Sobel was selected. His design in yellow (in reference to the well-known Kärcher yellow as well as the Egyptian sun) and grey (Parisian sky) shows images of Ramses II, Mehmed Ali, Charles X and Champollion, i.e. four people who are connected with the development of the monument.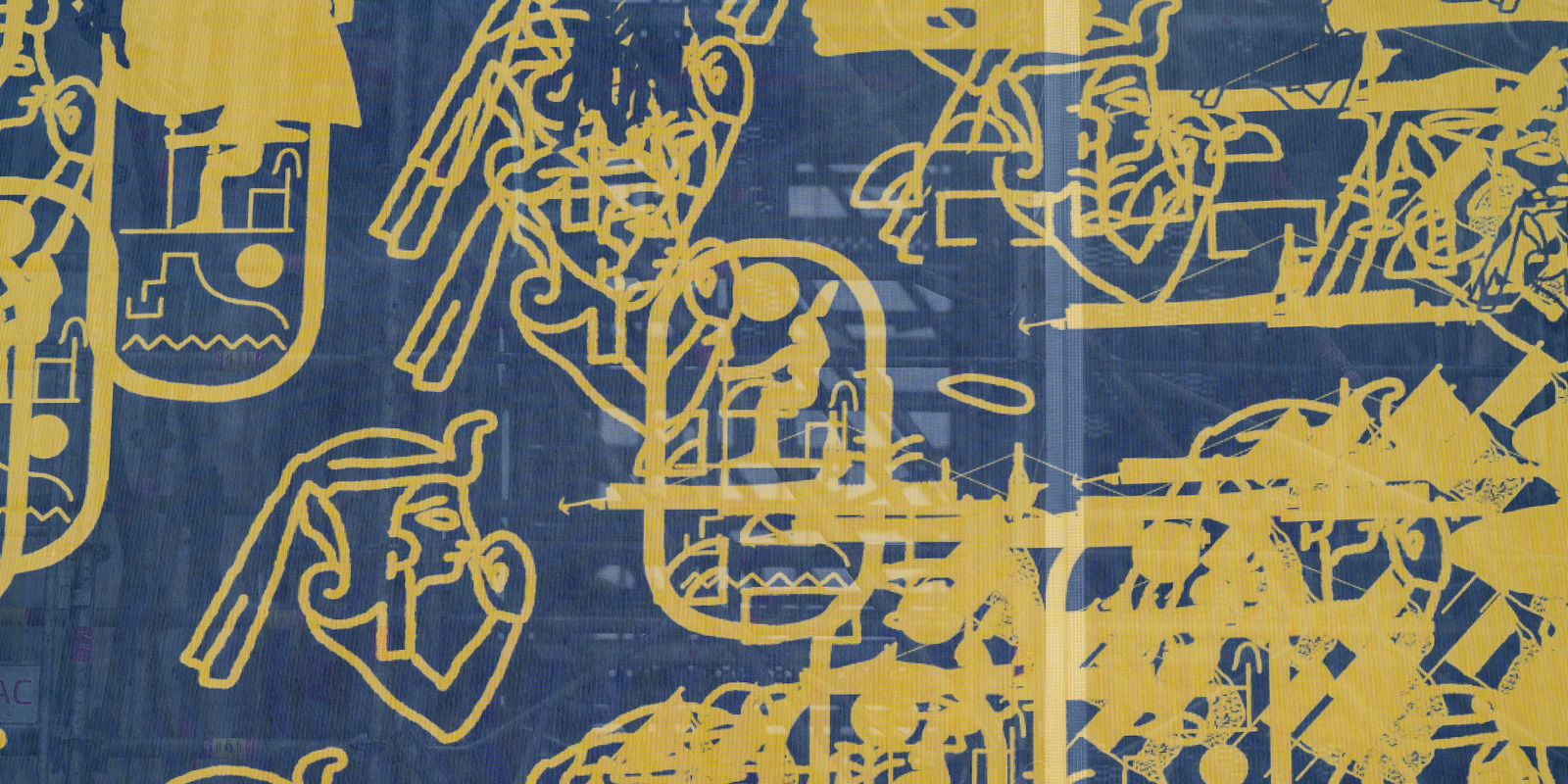 The drawings of the portraits consist of various symbols, such as hieroglyphics, the seal of Ramses II, images of the French Revolution or the ship on which the obelisk was transported to France.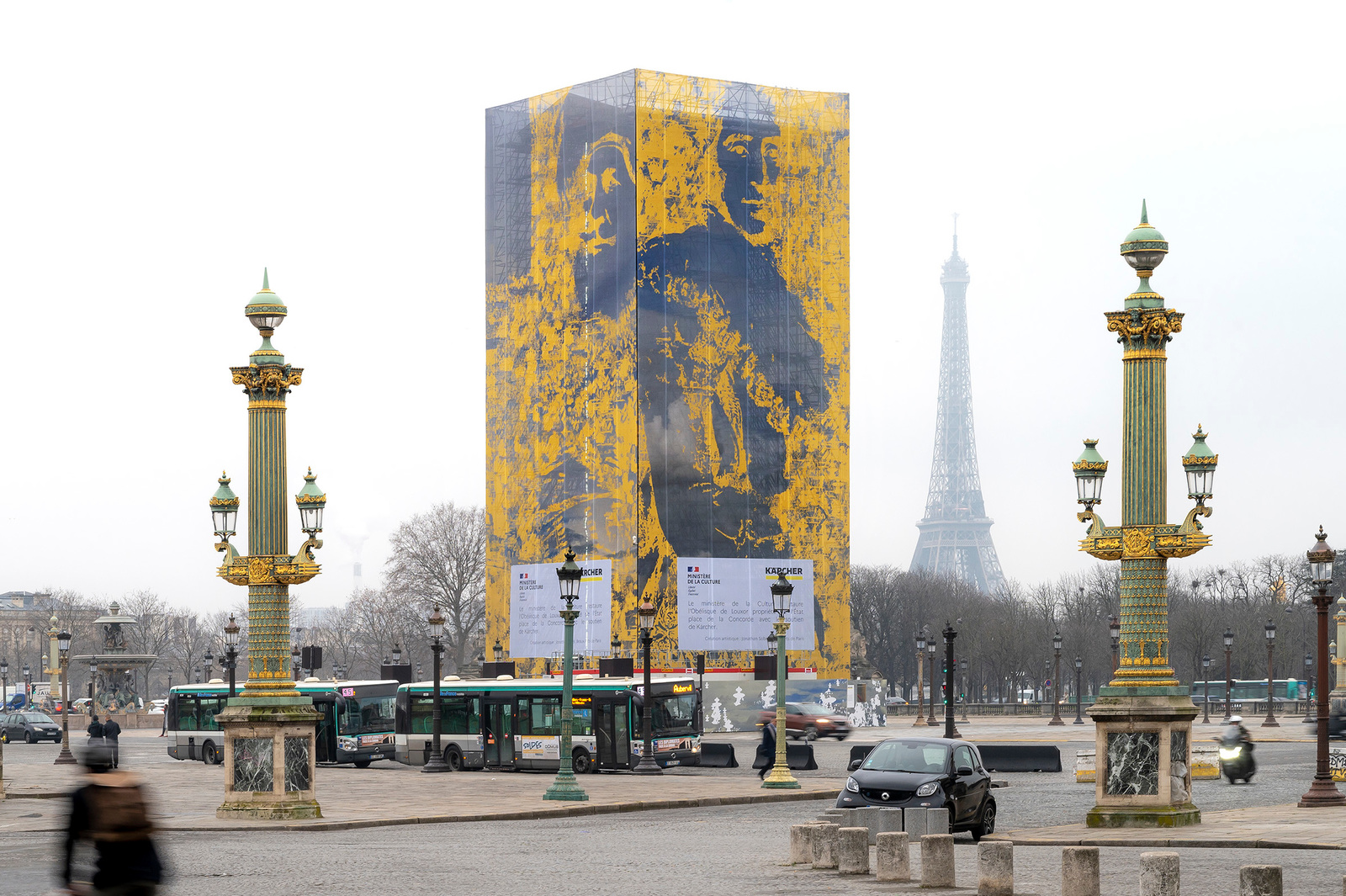 All facts at a glance
Country: France
Location: Paris, Place de la Concorde
Type of soiling: Emissions, sporadic biological growth.
Cleaning technology: low-pressure particle blasting, hot water high-pressure cleaner in the steam stage
Implementation: January - May 2022