Portraits in large format
In the Luxembourg town of Vianden, Kärcher has joined forces with the artist Klaus Dauven, the energy company Société Electrique de l'Our (SEO) and the Viart Vianden art association to create a very special work of art. A so-called reverse graffiti has been created on the 100-meter-wide and 30-meter-high surface of the dam wall at the Lohmühle.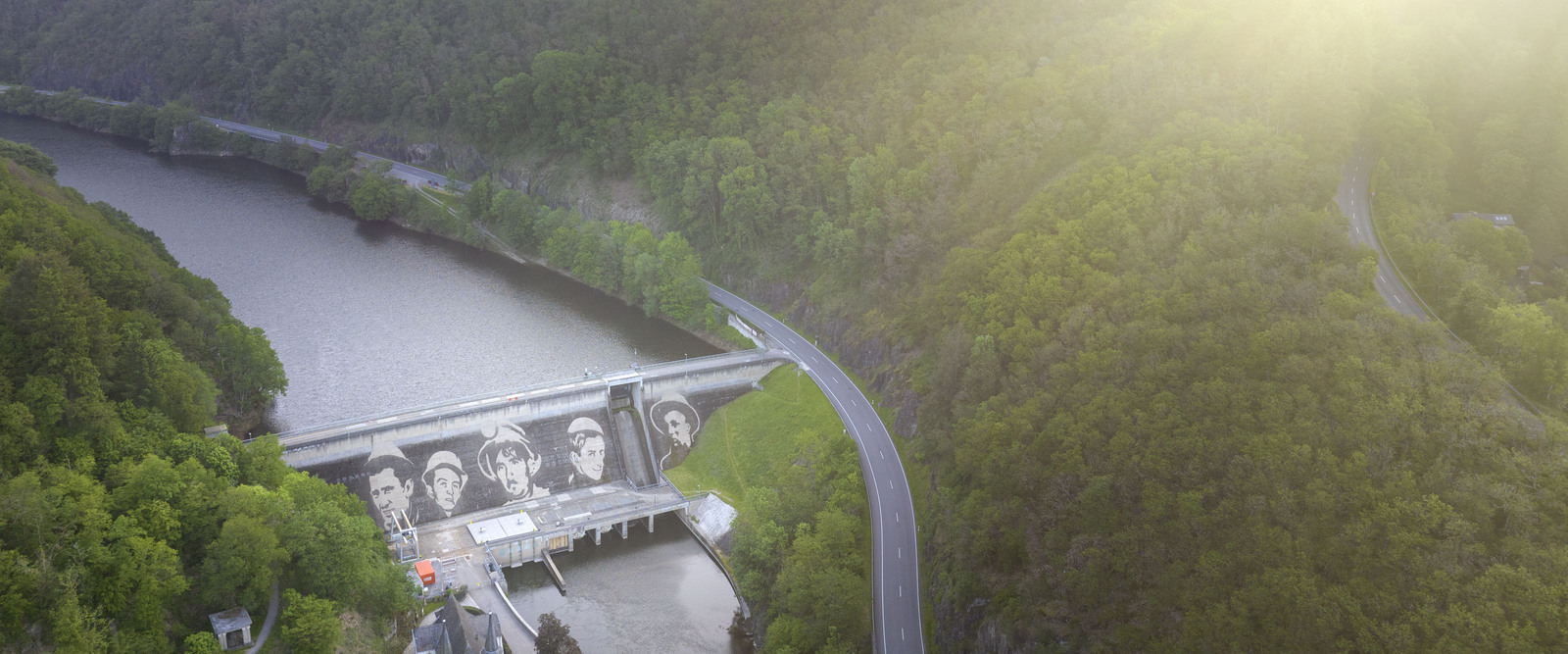 How the artwork was created
By selectively removing dirt with a high-pressure cleaner, a drawing was created from the contrast between the cleaned and uncleaned surfaces. The reverse graffiti shows expressive portraits of workers involved in the construction of the power plant and the dam. To place the drawing on the dam, industrial climbers rappelled down from the crown and placed approximately 1,000 biomarkers on the patinated surface. They were assisted by surveyors who used laser technology to mark the appropriate locations on the wall from the ground. Once all the adhesive dots had been applied, the climbers used high-pressure cleaners to work out the motif from the dirt, consisting of moss, lichen and fungal growth, according to the "paint by numbers" principle. In a first step, the contours were drawn, and in a second step, the larger areas were cleaned.
During the work, particular importance was attached to a sustainable approach: The water for the high-pressure cleaners was taken directly from the reservoir and the electricity came from SEO's pumped storage power plant. In addition, no cleaning agents of any kind were used. The drawing took a total of two weeks to complete. Three cold-water high-pressure cleaners, three industrial climbers, several Kärcher employees and the artist himself were deployed.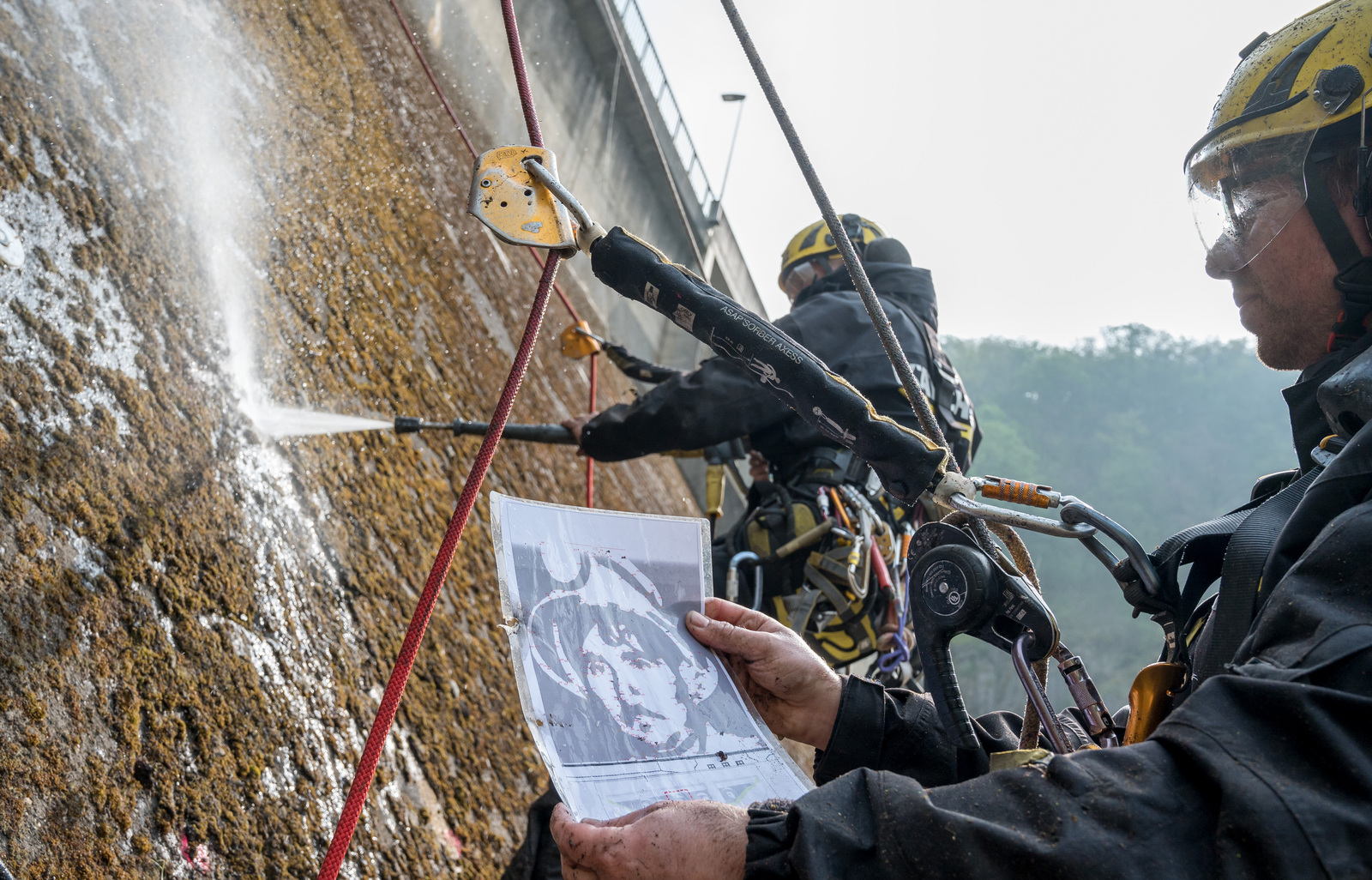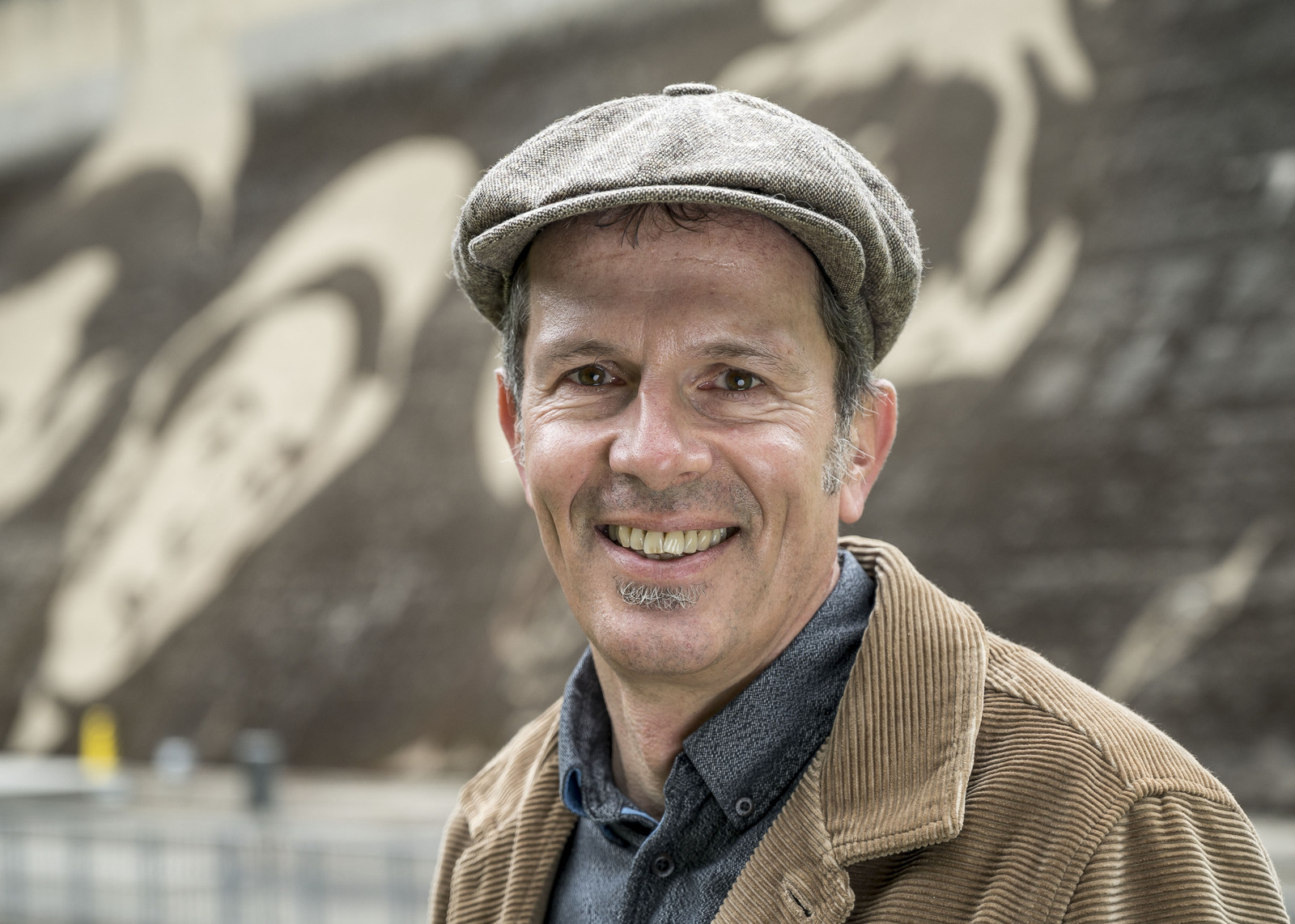 "I wanted to create with the drawing a tribute to the workers who built the dam. The motif joins my portraits, as I have already created them in Bamberg or in the southern French port town of Sète. In contrast to the depictions of flowers, trees or animals on other dams, which are located in the middle of nature, human faces fit better here, because with the town of Vianden an urban space adjoins."
Klaus Dauven, Artist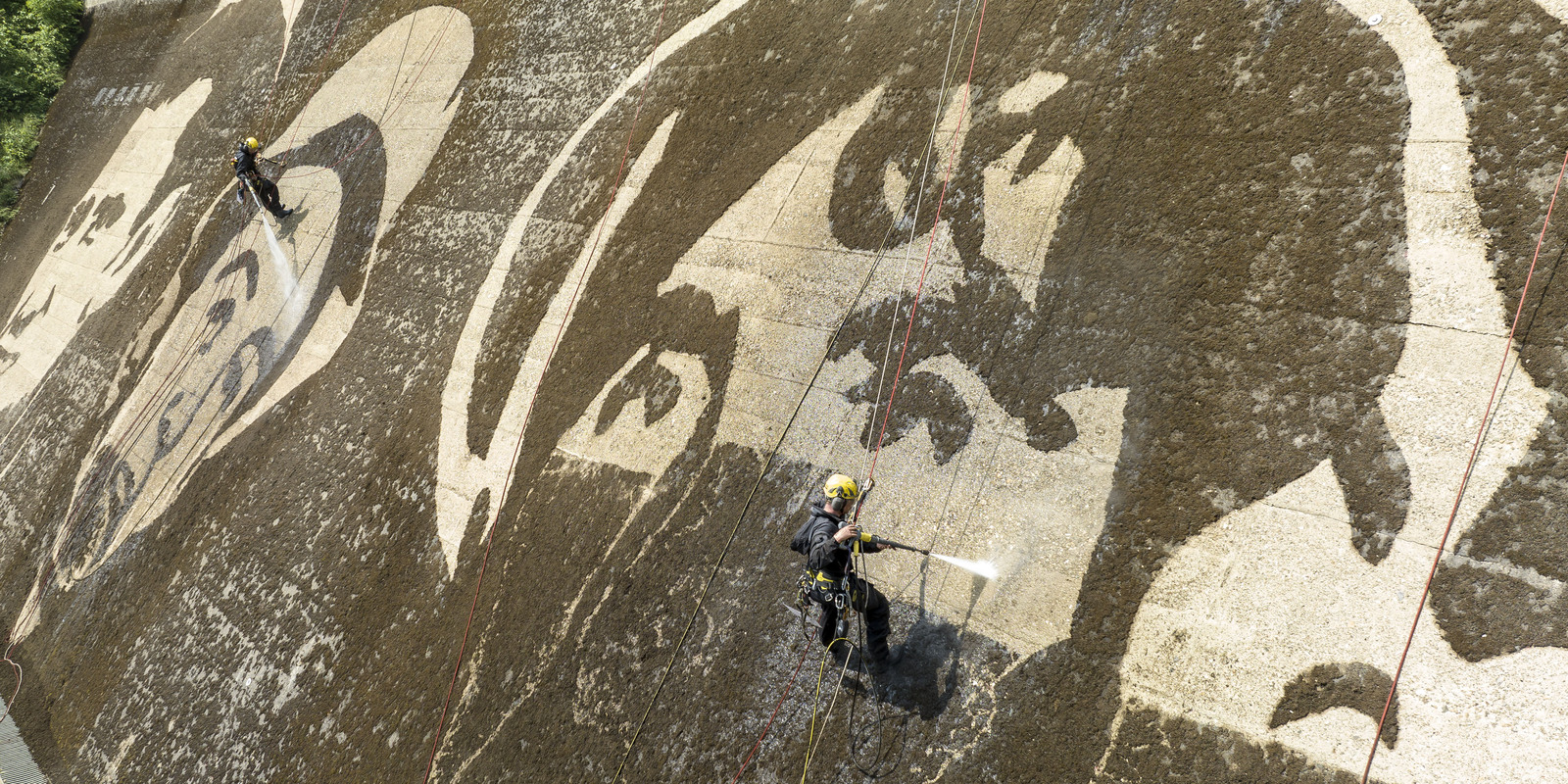 In the first step the contours of the portraits were drawn, in the second (here in the picture) the drawn areas were cleaned.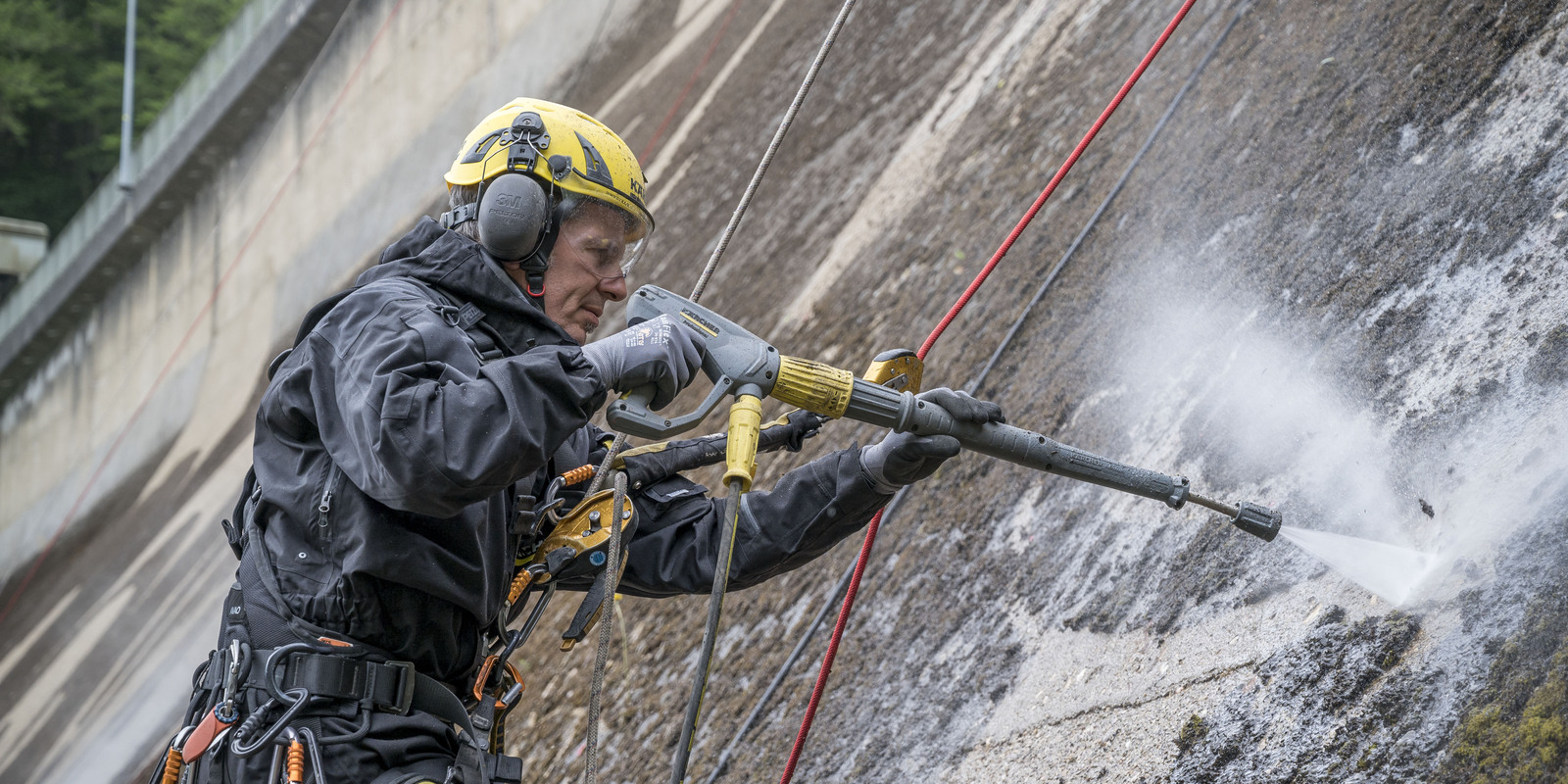 The artist, along with the three industrial climbers, rappelled down from the top of the dam equipped with high-pressure lances and cleaned the drawing out of the patinated surface.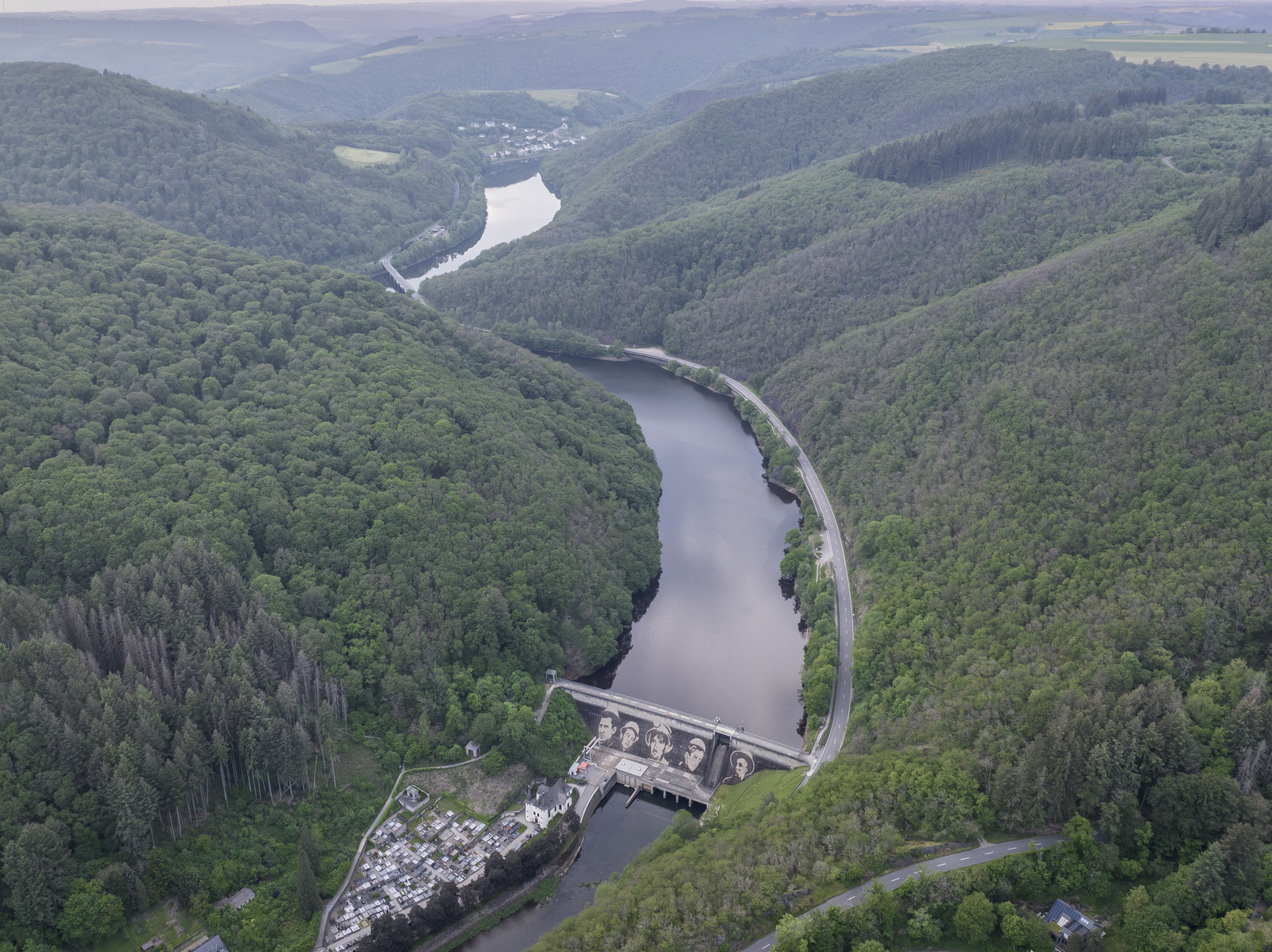 All facts at a glance
Country: Luxembourg
Place: Vianden
Type of dirt: moss, lichen, fungi, bacteria
Cleaning technology: Cold water high pressure cleaner
Realization: May 2023