Dry ice blaster
IB 10/8 L2P
The IB 10/8 L2P is the world's first dry ice blaster with integrated dry ice production from liquid CO₂. Perfect for short-term cleaning applications, without complicated logistics.
Spontaneous cleaning work with dry ice blasters in machine or vehicle maintenance, for cleaning in the manufacturing process or for vehicle conditioning were hardly conceivable up to now as the dry ice logistics behind the scenes was too costly for short-term applications. This is now possible with the IB 10/8 L2P, the world's first dry ice blaster with integrated dry ice production made from liquid CO₂. Thanks to an innovative process, dry ice pellets are made from liquid CO₂ when necessary – L2P stands for "Liquid-to-Pellet". As liquid CO₂ can be stored in gas cylinders for practically an unlimited amount of time, the usual time-consuming dry ice logistics are avoided. The very low compressed air consumption of the machine also significantly reduces the infrastructure requirements. At the same time, the advantages of the Kärcher dry ice technology are fully retained. The IB 10/8 L2P cleans very gently – also for complex contours such as grooves, bearings or grooves and in the case of heavy contamination such as burnt-on encrustations. Abrasive residues are reliably avoided.
Features and benefits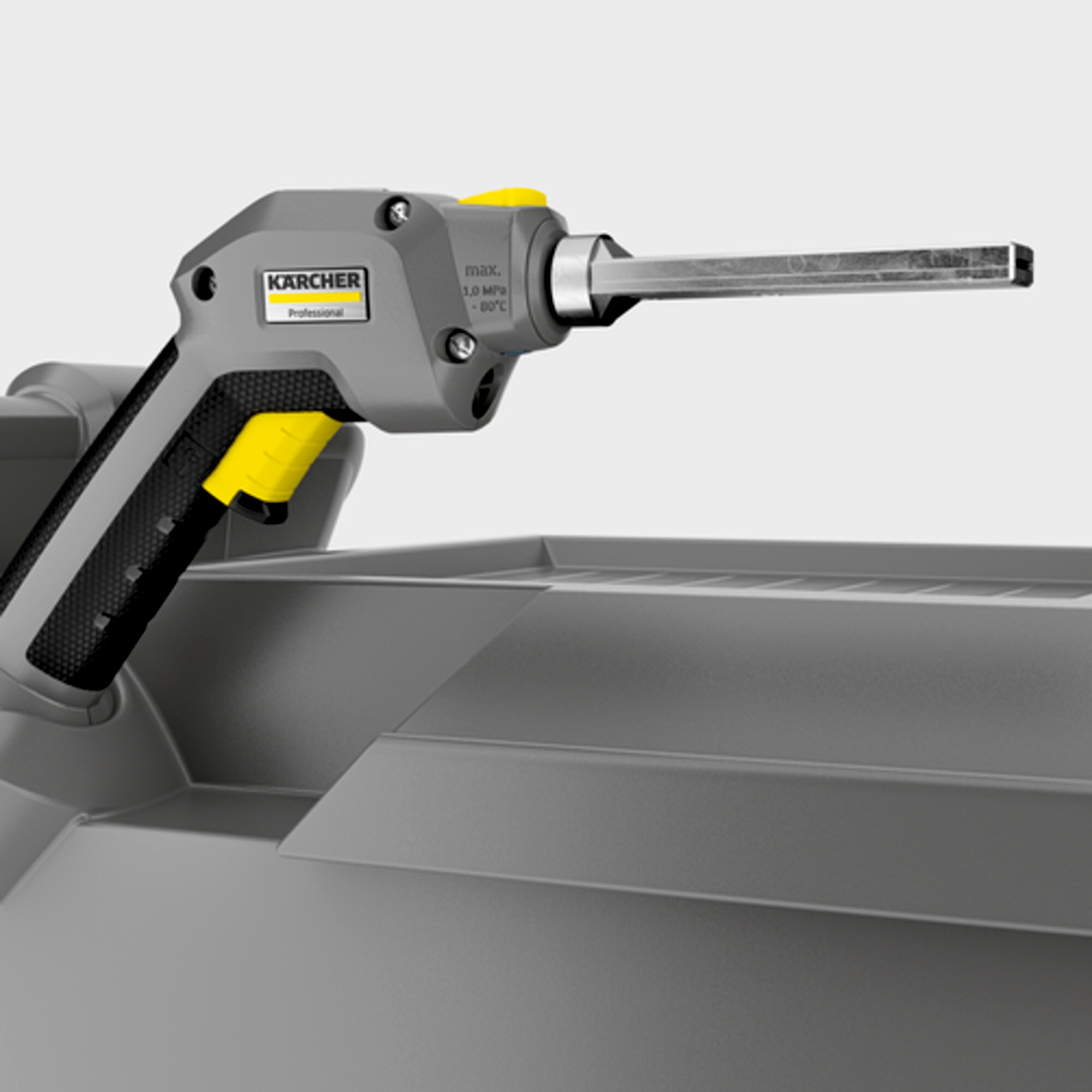 Ergonomic blasting gun
Quick and easy nozzle change thanks to quick-release couplings. With integrated lighting. Ice on/off switch directly on the trigger gun.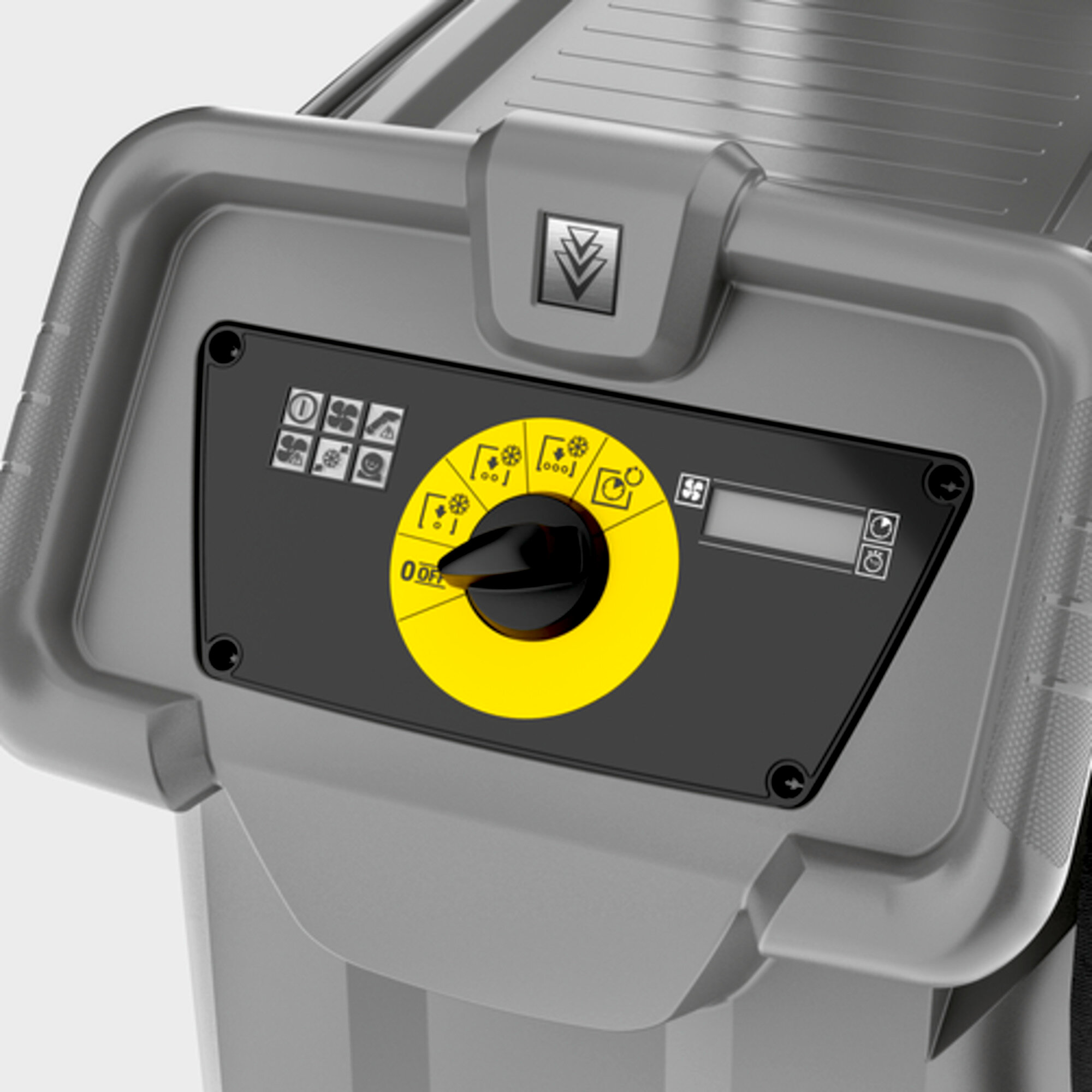 Easy and intuitive operation
Jet pressure, operating hours, service time shown on the display. Dry-ice quantity can be adjusted with a button. Integrated status display and assistance systems, e.g. for pressure monitoring.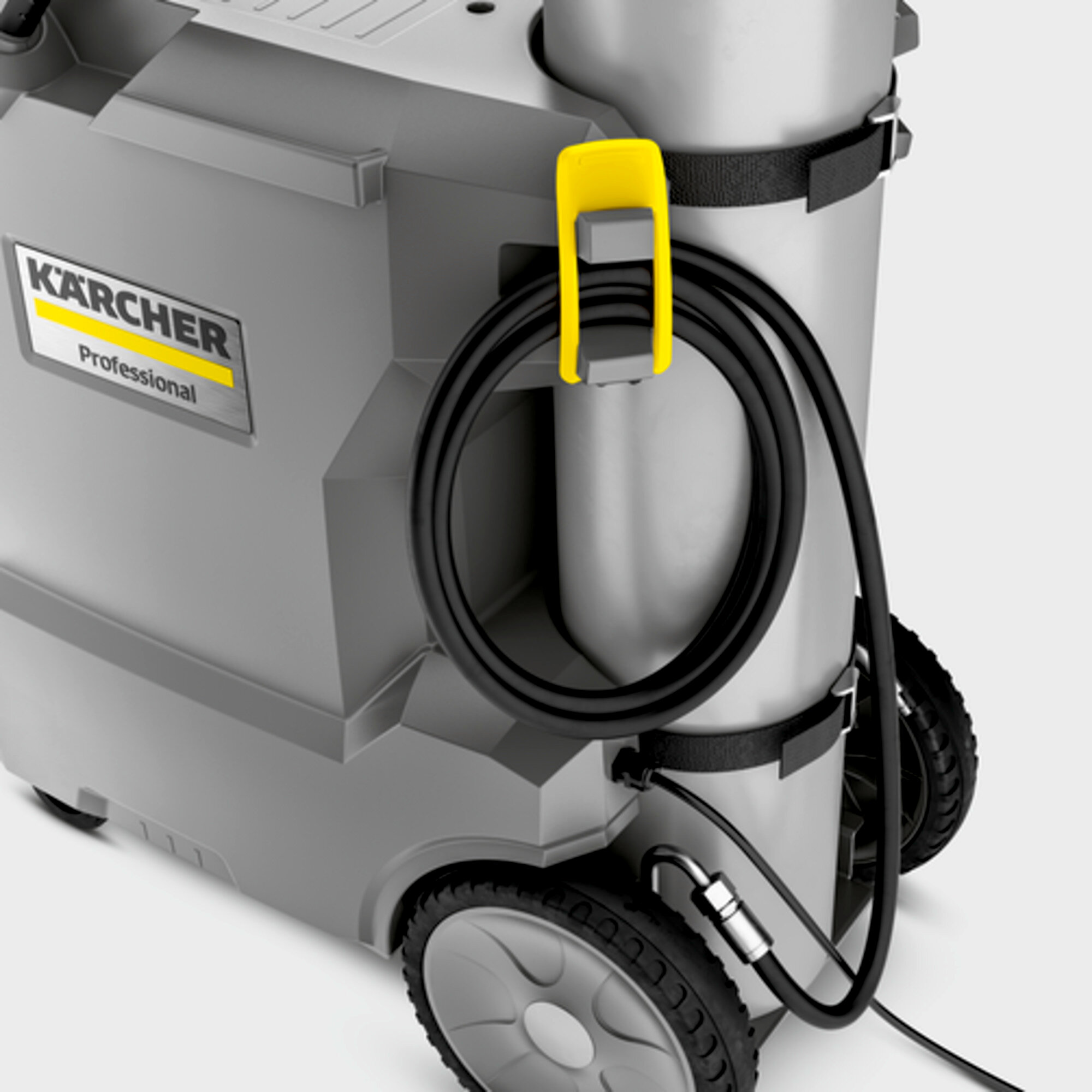 Safe dry-ice blasting
CO₂ is discharged via exhaust hose. Safe handling, no contact with the dry-ice pellets. Self-locking gun trigger.
Compact, mobile design
Wheels and handles allow mobility and safe transport.
Separate storage possibility for all components. Integrated home base.
Specifications
Technical data
Connected load (kW)
1
Compressed air connection
1/4" quick coupling
Casing / frame
Plastic rotation body
Certified (by) to
CE
Air pressure (bar/MPa)
0,7 - 10 / 0,07 - 1
Air quality
Dry & oil-free
Air flow (m³/min)
0,07 - 0,8
Sound pressure level (dB(A))
95
Dry ice pellets (diameter) (mm)
2,5
Dry ice consumption (kg/h)
2 - 8
Number of current phases (Ph)
1
Frequency (

Hz

)
50 - 60
Voltage (V)
220 - 230
Weight without accessories (kg)
92
Weight (with accessories) (kg)
103,6
Dimensions (L x W x H) (mm)
870 x 450 x 970
Equipment
Flat jet nozzle
Spray hose with electrical control cable and quick coupling
Jet gun (ergonomic and safe)
"Air only" or "Air and ice" switch on the trigger gun
Electronic control system
Application areas
For cleaning machines, engine components, moulds and sealing surfaces
For cleaning control cabinets, electrical components and control elements
For cleaning upholstery and textiles
For cleaning garden tools and robotic lawn mowers