B 260 R I Ride-on scrubber dryer
Hard shell, strong core. The B 260 R I ensures reliable cleaning of large areas thanks to robust industrial power and powerful suction performance.
The B 260 R I scrubber dryer offers uncompromising cleanliness when it really matters. Its long-lasting drive makes it an indispensable companion for industrial wet floor cleaning. Double turbine power, 10 km/h driving speed, as well as two 260-litre tanks for fresh water and dirty water, ensure the strongest performance. Thanks to the newly developed sweeping function with the R 100 and R 120 brush heads, the B 260 R I is a real professional in its field. It scrubs and sweeps in one step, constantly providing reliable cleaning results.

Full speed ahead
Two long-lasting and maintenance-free EC motors work tirelessly inside the machine. The squeegee and brush head have been redesigned and ensure the best possible combination of scrubbing and sweeping in one step. The powerful scrubbing function is used for deep wet cleaning, the optimised and integrated sweeping function eliminates larger dirt particles and prevents the squeegee from getting clogged. Thanks to powerful suction performance, dirty water and smaller particles land in the generously sized 260-litre tank, meaning no drop is left behind.
A powerful traction motor pushes the ride-on machine forward at a high driving speed of up to 10 km/h – for maximum area performance. The B 260 R I can also be equipped with side brush or side scrubbing deck for cleaning close to edges. Operation is very easy for all cleaning tasks thanks to a convenient rotary switch.
The B 260 R I is the perfect companion for efficient wet cleaning of large floors in industry and logistics.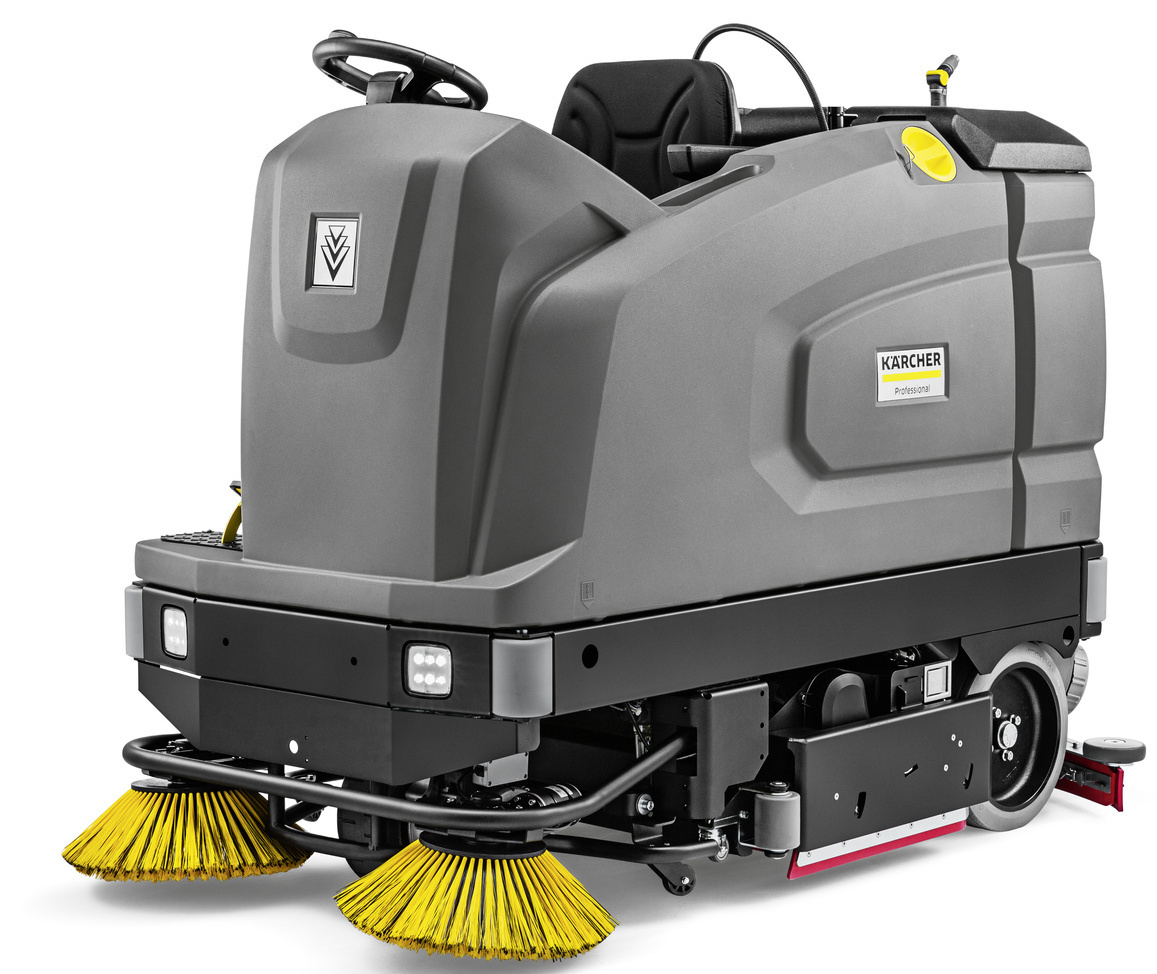 Nothing is impossible
The B 260 R I was developed for tough jobs in the industrial sector or warehouse area, in production halls, shopping centres or in retail. Large industrial spaces are a piece of cake for the powerful scrubber dryer. It handles any challenge with a roller or disc brush head with working width of up to 120 centimetres.
In the new unit generation the roller brush heads with 100 and 120 centimetre working width have been equipped with larger and optimised brushes for the sweeping function. The waste container was also significantly increased. Side aprons made from Linatex® on brush head, suction lips and squeegee ensure a robust, reliable and long-lasting performance.
The rollers can be easily changed in seconds without the need for any tools. The D 100 disc brush head was also redesigned and equipped with sturdy side doors.
Advantages
New generation of brush heads and squeegees
Double EC motor
10 km/h driving speed with steering angle sensor
Designed for industrial use under extreme conditions
High contact pressures on squeegee and brush head for top performance
All-round steel frame with solid bumpers
With working light, Auto Fill function and manual tank rinsing as standard equipment
YOUR WORK IS MY JOB. LET'S GET TO KNOW EACH OTHER BETTER.
Instantly dry floors
Behind me is always dry. Using my two maintenance-free and powerful EC suction turbines and perfectly structured squeegee with ideal air flow, I don't leave a drop of water behind.
I'm not fussy about my workplace. Whether it's curved tiles, cracks in the floor or sanded epoxy, I clear every hurdle and you can always rely on me. As a result, safety risks are avoided for staff and guests.
Area, area, area – but safely
I have been built to go the distance. I feel comfortable in large areas and ensure maximum safety in my work environment. Equipped with a steering angle sensor, I also drive safely at a high speed of 10 km/h with maximum area performance. In bends and turns I automatically decelerate to the appropriate speed according to the steering angle. At the same time, I reduce the water flow so that a good suction result can also be guaranteed when travelling around corners.
I have no limits. For cleaning close to edges I can be optionally equipped with a spring-loaded side scrubbing deck or 2 side brushes. The deck enables safe wet cleaning close to the edges and contours. Up to 6 hours on one battery charge.
A clean sweep without any compromises
Cleanliness is the number one priority for me. Optionally I can be equipped with a new and optimised roller head brush – for a very good, integrated sweeping result. During the scrubbing process I automatically and reliably sweep particles up to 5 centimetres in size. If a particle is left behind, it is transported directly by the powerful squeegee into the coarse dirt basket in the dirty water tank. This significantly improved sweeping process ensures blockages or trapped dirt particles at the squeegee are avoided, thus guaranteeing an optimal suction result.
I reliably capture wood and plastic particles, large particles, leaves, as well as crumpled paper. As with sweepers, foils and tapes must be removed beforehand so that they do not wind around the rollers and damage the bearings.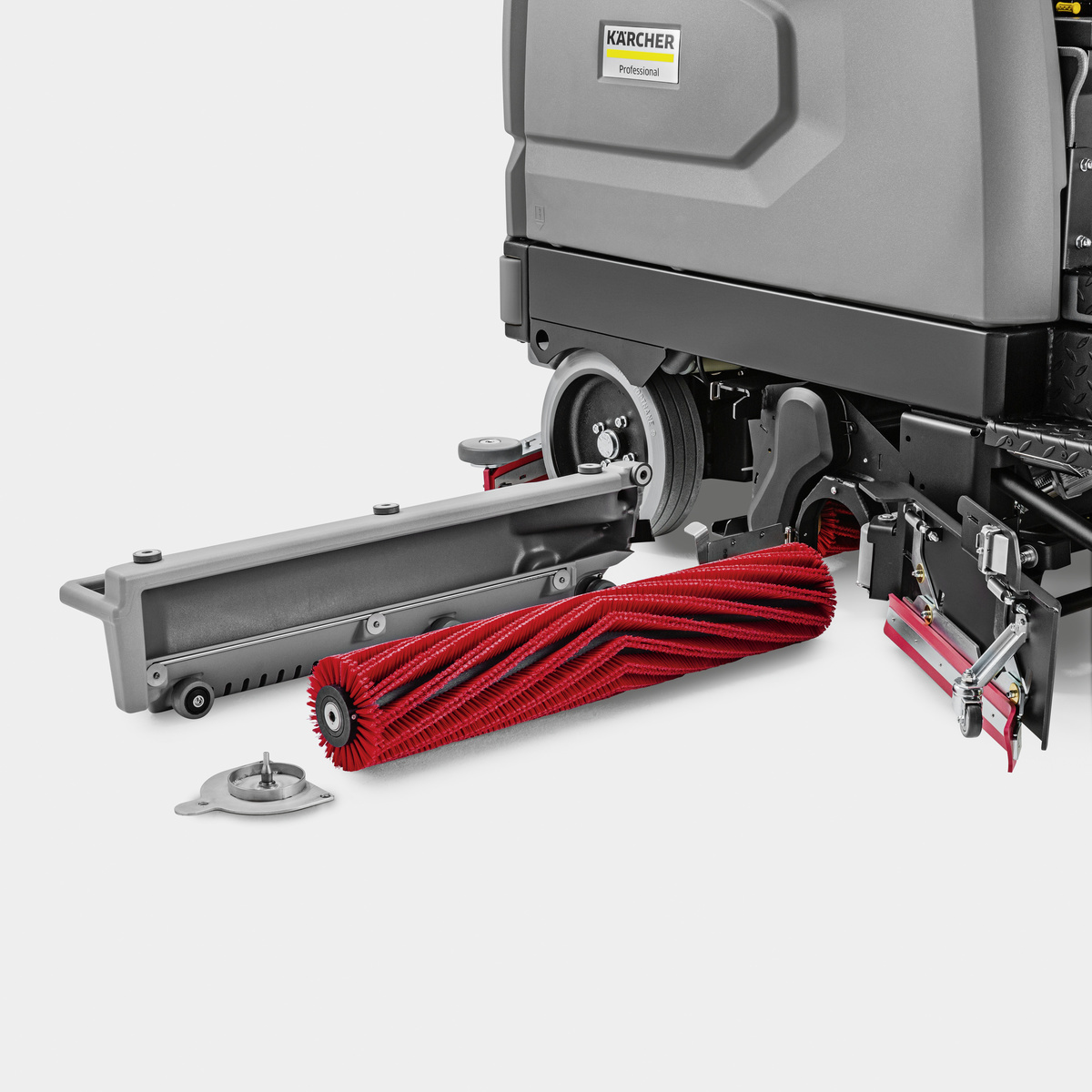 A real heavyweight for industry
I am at home in an industrial environment and made for the most demanding conditions. My hard shell is made of steel. Robust, durable and weldable. I have a cathodic dip-paint coating and powder coating so that I don't rust. This means that my components easily withstand high demands.
My robust inner parts and my newly developed components guarantee constantly reliable machine functionality and a long life.