B 50 W push scrubber dryer
Same high quality, new technology.
The B 50 W push scrubber dryer for efficient wet cleaning of floors. Available with a choice of Li-Ion batteries, speed-responsive water dosing, roller head or disc brush head. The push scrubber dryer for impeccably clean floors up to 3,600 m². Conventionally supplied with lead-acid batteries or with Li-Ion batteries as an option for use in fast and efficient deep cleaning or maintenance cleaning. Easy handling, ergonomic design and wider scope of functions and information available via smartphone app. Robust brush heads and squeegee made from die-cast aluminium.

The new generation of floor cleaning
The walk-behind scrubber dryer B 50 W is the ideal companion for fast and efficient wet cleaning of floors. It replaces its predecessor, the B 40 W, and delivers cutting-edge cleaning technology in Kärcher's dependable quality. The B 50 W sets new standards, with its reworked design and new power units ensuring impeccable cleaning results over an area of up to 3,600 square metres. The machine can be powered by a choice of zero-maintenance gel/AGM batteries or lithium-ion batteries. The increased working width of up to 60 centimetres on the D 60 brush head means the machine delivers consistently good results, even at fast speeds.
Cleaning in a hush: the B 50 W is the perfect companion for real pros. Floors are clean in an instant. Easy to operate. Quiet and efficient.
Made from hard-wearing materials, the scrubber dryer delivers a high contact pressure for the very best cleaning results. The squeegee and the three brush heads supplied are produced in die-cast aluminium – ready to take on the toughest challenges. The parabolic shape of the squeegee guarantees reliable suction even on textured surfaces or curves, which as well as minimising the slip hazard also reduces the need for time-consuming rework.
Scrub vacuuming made easy
Handling the scrubber dryer is intuitive and self-explanatory. Thanks to the EASY Operation button, starting and operating the scrubber dryer couldn't be simpler – saving time and hassle in the cleaning process. The risk of error is minimised over the long term and there's no need for any time-consuming training.
The ergonomic design makes the scrubber dryer suitable for users of varying height – without any complicated adjustments. It's effortless and comfortable to use, which keeps fatigue at bay and reduces the physical strain on the operator.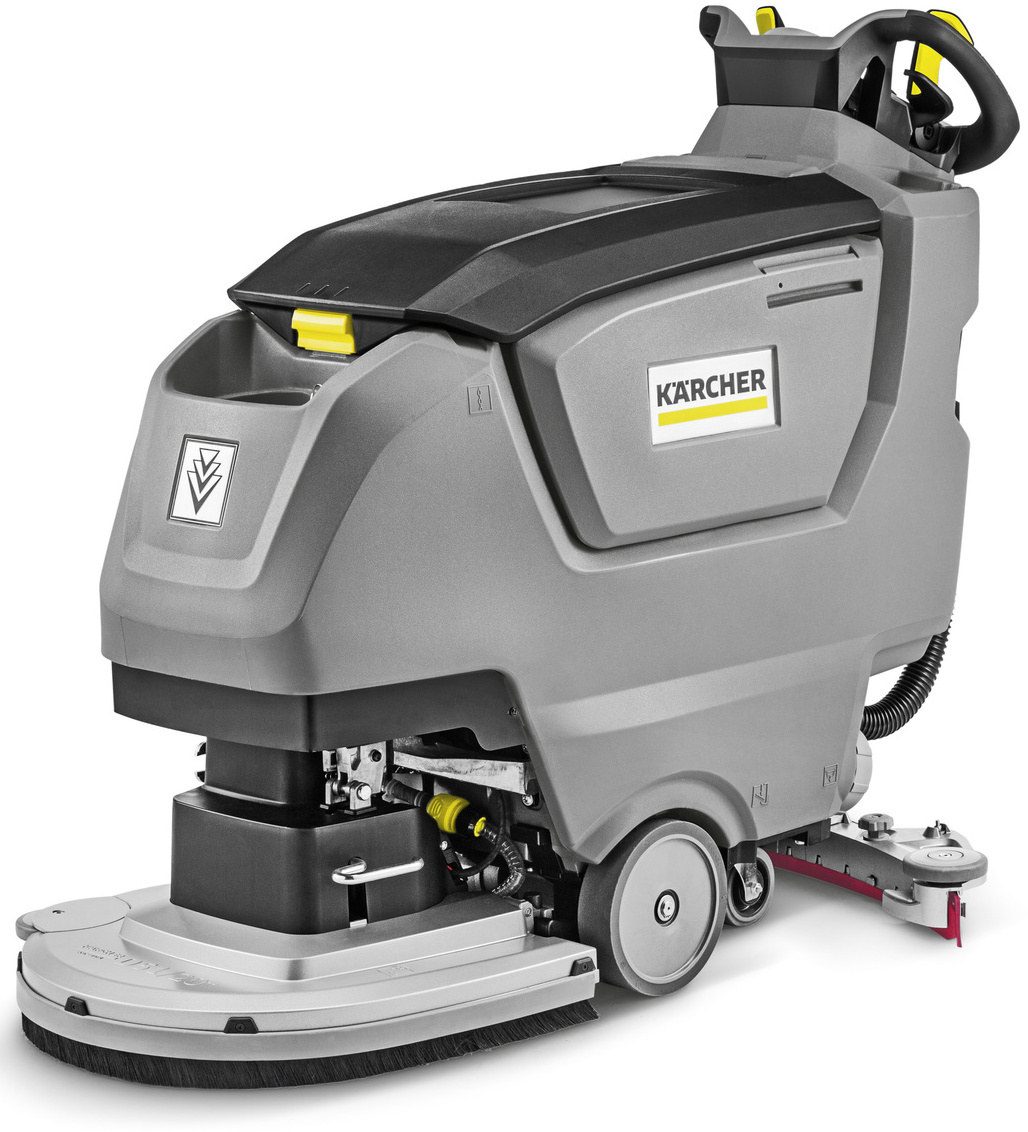 Here are some of the machine's key plus points at a glance
Suitable for hard and resilient floor coverings
Three aluminium brush heads to choose from: D51, D60 and R55
Parabolic aluminium squeegee
Simple-to-use with EASY Operation button
Intuitive and ergonomic design
Bluetooth connectivity interface for extra smartphone functions
Available with a choice of

Li-Ion

battery (also available with fast charger) or zero-maintenance gel/AGM batteries
DOSE: automatic dosing of detergent to preserve resources
Speed-responsive water dosing
Auto-Fill: automatic fresh water filling
Auto-Rinse: automatic cleaning of dirty water tank
High contact pressure for optimum cleaning results
Tank volume

50 l
A clean sweep – in every sense
Cleaning reimagined
The B 50 W can connect to the "Kärcher Machine Connect" smartphone app via Bluetooth at any time. The wider scope of digital functions includes KIK adjustments, cleaning parameter management, access to machine data such as the remaining run time, battery status, error messages, helpful videos and other practical functions.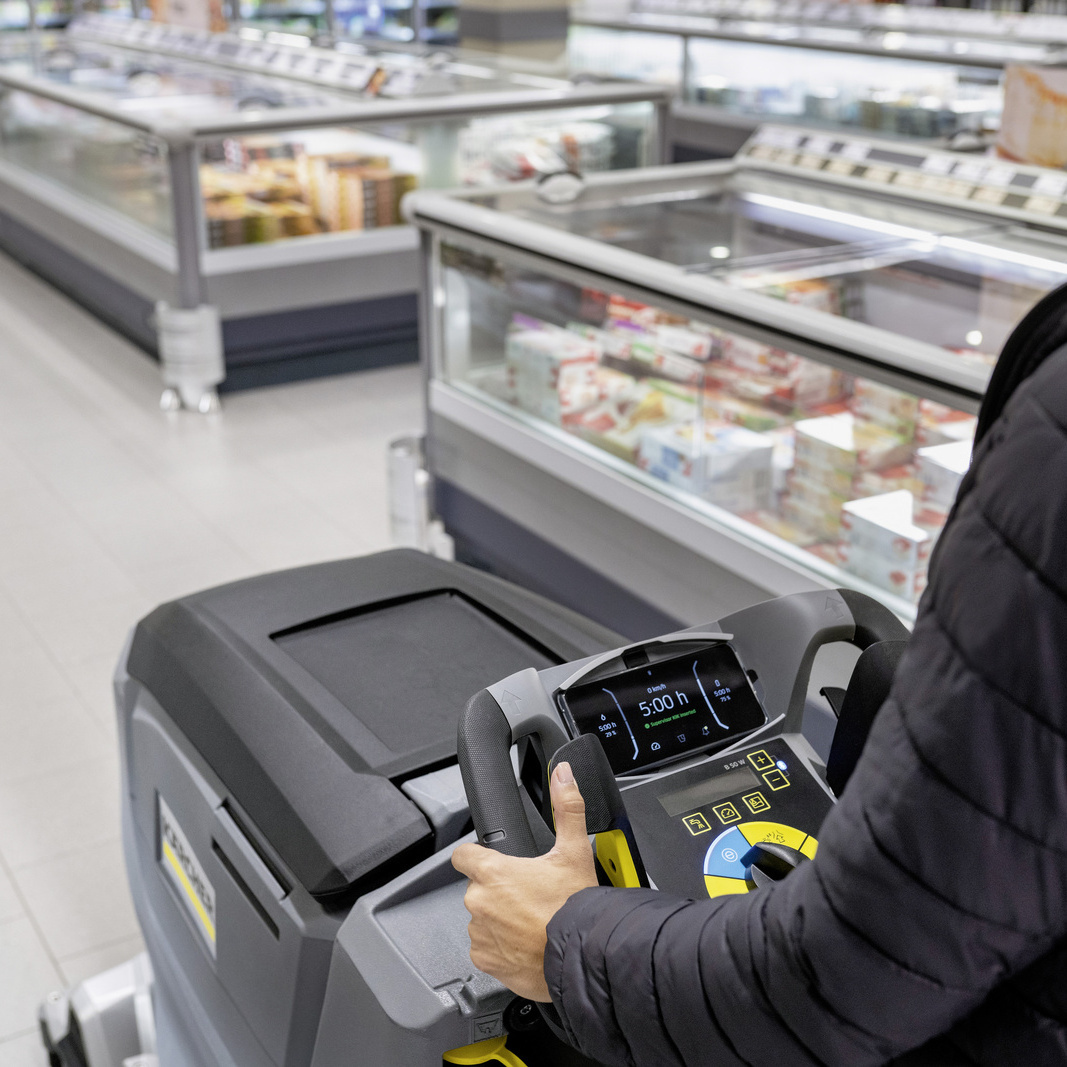 Brush or roller? The choice is yours
Every cleaning job has its own special considerations. With the B 50 W, you are always well-equipped and ready for action, whatever the task. The scrubber dryer is available in various configurations. To suit individual requirements, it can be fitted with a roller brush or disc brush (specifically drive board and pad) with a choice of three different head variants: D51, D60 and R55. Its efficient turbine is enclosed and features a specially designed airflow to make the machine quiet, so it is suitable for daytime cleaning too.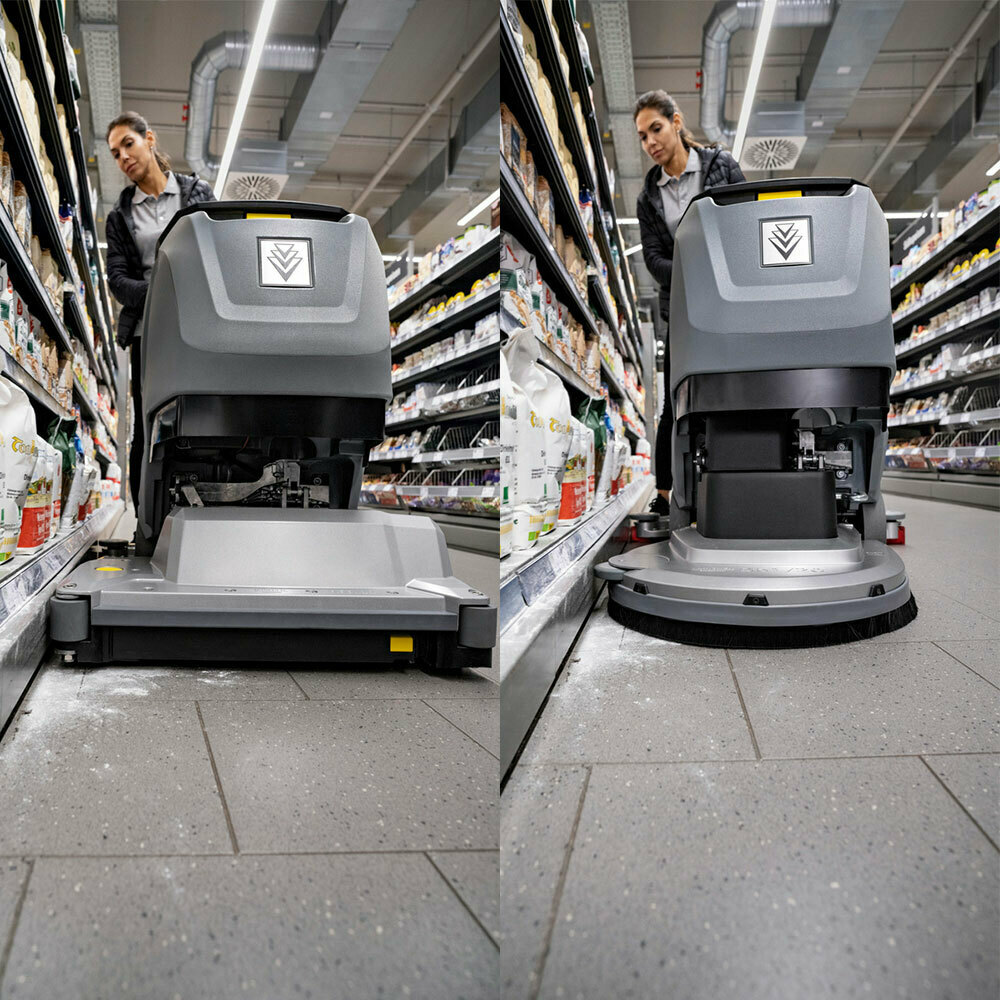 The right battery – without compromise
The B 50 W can be powered by zero-maintenance gel/AGM batteries or it can also be operated using 80 Ah lithium-ion batteries as an option. As a handy extra, a fast-charge function is also available for the lithium-ion batteries, capable of a full charge in 2 hours.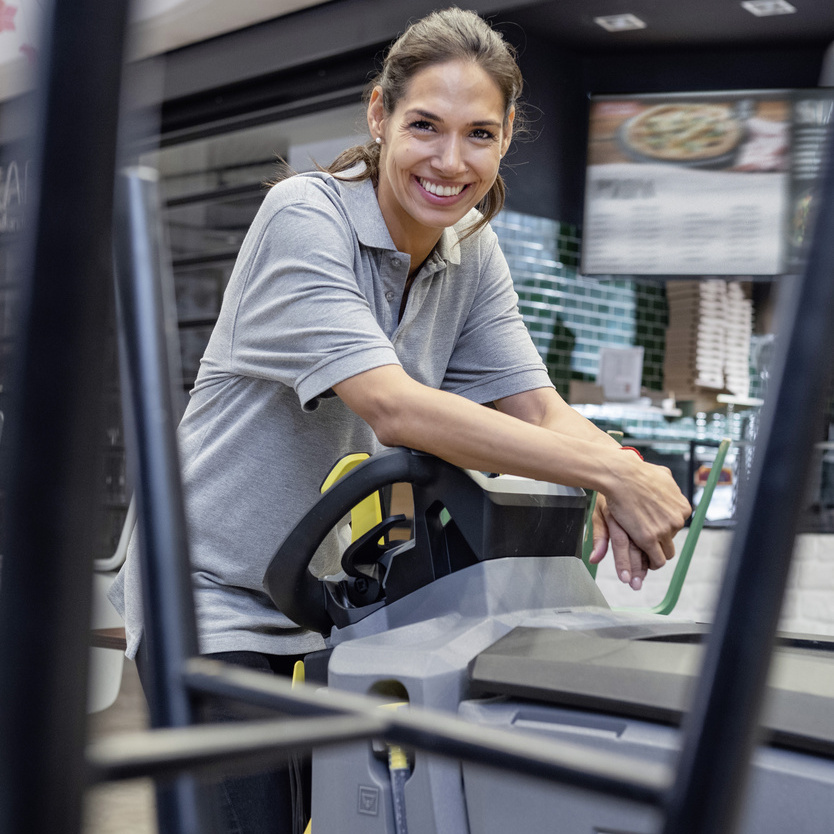 Economical dosing – for a cost-effective clean
Certain models feature the ECO!Flow system, which dispenses the detergent in response to the speed of the machine. This ensures that the same amount of solution is applied to every square metre for even distribution across the floor – for the best possible cleaning results. It also makes it impossible to apply too much solution, which saves cleaning resources and prevents water being wasted too. What's more, the handy Machine Connect App can also be used to keep track of the fresh water fill level in real time.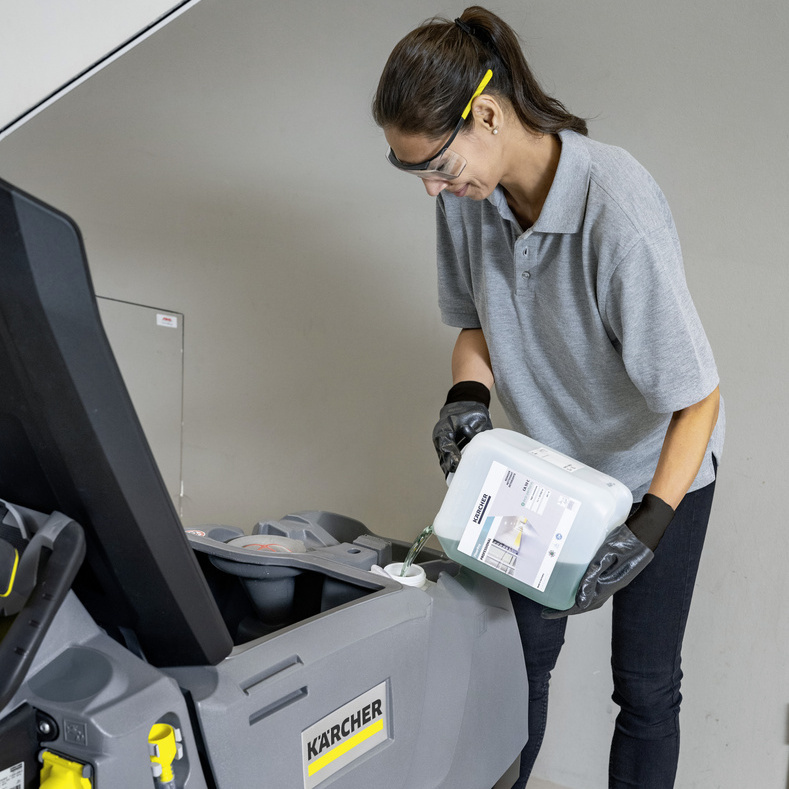 At home on any surface
The walk-behind scrubber dryer feels at ease wherever there's a floor to be scrubbed. Be it hard or resilient flooring, the hardworking B 50 W will scrub any medium-sized surface. Depending on the type of brush head used, it is perfect for both deep cleaning and maintenance cleaning on all floors in need of a fast and efficient clean. Even on difficult terrain, such as textured surfaces or along tight curves, it delivers top-performance cleaning and vacuuming.
Nothing is impossible. The machine cleans hard floors (e.g.. ceramic, porcelain, concrete) and stone floors (e.g. marble, terrazzo, granite, limestone) just as effectively as it cleans resilient flooring (e.g. vinyl, PVC, linoleum, epoxy resin, etc.).