BR 30/1 C Bp CORDLESS SCRUBBER DRIER
Fast, hygienic maintenance cleaning and floor disinfection in small areas. The BR 30/1 C Bp Pack compact cordless scrubber drier with microfibre roller technology from Kärcher is suitable for all floor types.
Compact, long-lasting, effective
The Kärcher BR 30/1 C Bp is a commercial cordless floor cleaner for hygienically cleaning floor surfaces up to 200 square metres. You can use this device to effortlessly pick up coarse dirt and hair, wipe the floor and, in doing so, shorten the drying time.
Clean floors with half the work
Our Kärcher BR 30/1 C Bp reliably cleans hard floors thanks to its 2-in-1 system. It picks up coarse dirt and hair and, in the same step, wipes the floor using two rollers – this means that pre-vacuuming is a thing of the past.
The performance speaks for itself. Thanks to its microfibre roller technology, the machine produces up to 20 per cent better cleaning results than manual floor cleaning. With the BR 30/1 C Bp cordless floor cleaner, pre-vacuuming is a thing of the past. Thanks to the effective combination of the pick-up of coarse dirt and wiping, your cleaning time is even reduced by up to 50 per cent and the floor can also be walked on again after around two minutes – thanks to the drying performance, which has been improved by 60 per cent when compared to a standard mop.
The commercial floor cleaner is also extremely quiet with a sound level of just 55 dB, so there is no disruption to operations. Furthermore, it stands out thanks to its robust and compact design, and even the motor is significantly more long-lasting. Thanks to the battery-powered operation, the BR 30/1 C Bp can be used wirelessly and independently of any existing power outlets. The cordlessly floor cleaner is suitable for all floor types and for professional use in doctor's surgeries, beauty parlours, cafés, restaurants and other small businesses or retail businesses.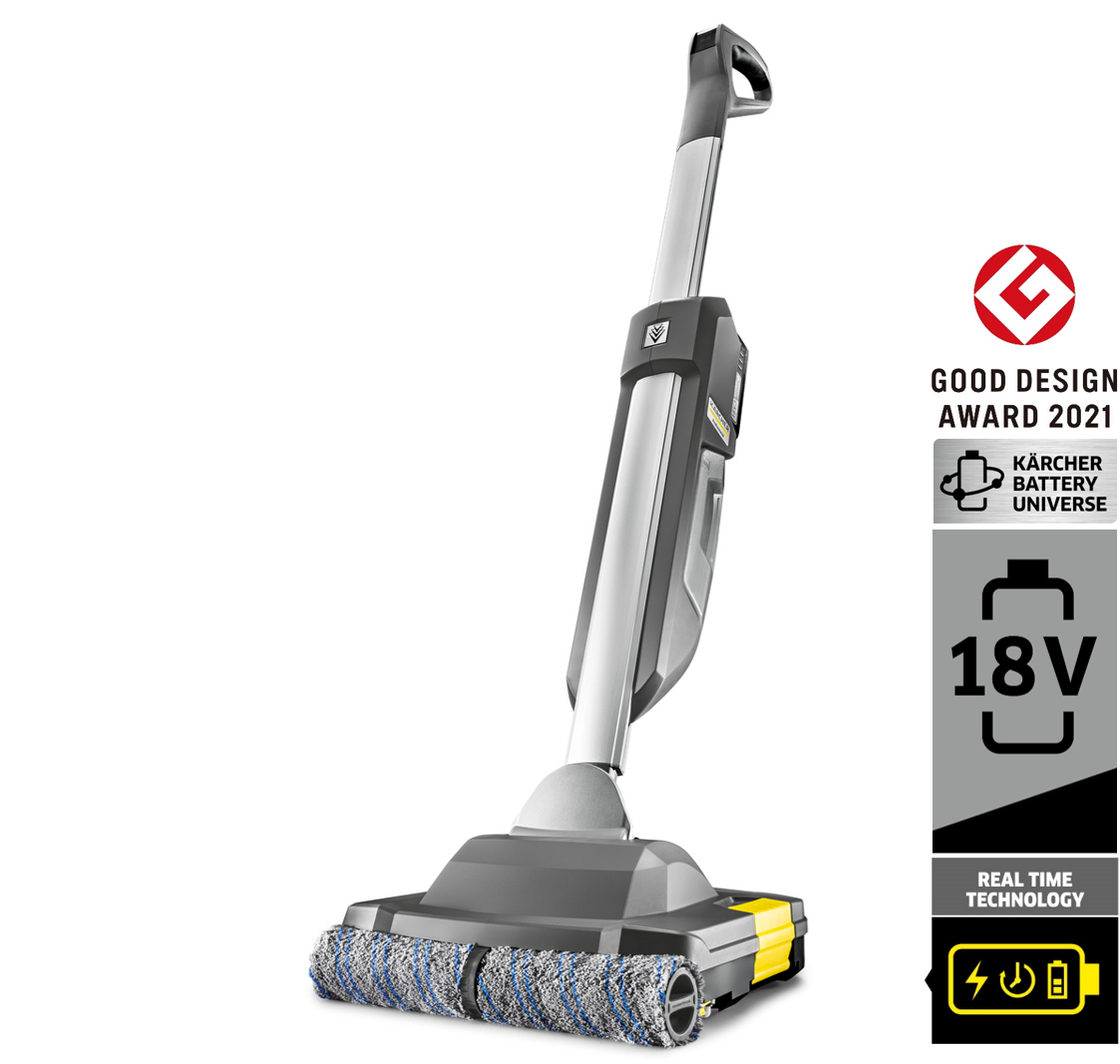 THESE ARE THE ADVANTAGES TO YOU
Short charging time – long running time
Thanks to a long running time, intermediate charging, whenever possible, the machine is always ready to use.
Efficiency and speed
The integrated pre-sweeping function with hair pick-up comb picks up coarse dirt and hair, and reduces the cleaning time by up to 50%.
Effective cleaning for all floor types
Thanks to its microfibre roller technology, the BR 30/1 C Bp cordless floor cleaner cleans up to 20% more effectively when compared to manual floor cleaning, and drying is an impressive 60% quicker than with a mop.
Well-thought-out design
Increased occupational safety thanks to the flexible design and slip-resistant parking feet.
Optimum price/performance ratio
Its outstanding cleaning results, short setup time and low maintenance requirements make the BR 30/1 C Bp an impressive machine.
Cordless with a powerful battery
The cordless floor cleaner has no power cable and is part of the 18 V Kärcher Battery Power battery platform.
Design and quality
Professional design with extremely robust structure and long lifetime.
Hygienic disinfection
The floor can be disinfected within just five minutes using only 3.0% Kärcher Disinfectant Cleaner RM 732 (including SARS-CoV-2).
No disruption
Extremely low noise level of just 55 dB(A).
BY PROFESSIONALS FOR PROFESSIONALS – AN OVERVIEW OF THE PERFORMANCE FEATURES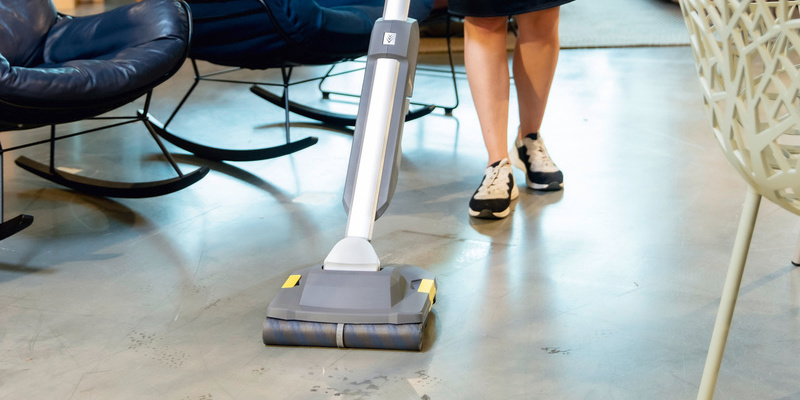 Efficient, simple cleaning performance
Cleans up to 20% more effectively and dries up to 60% quicker than a mop.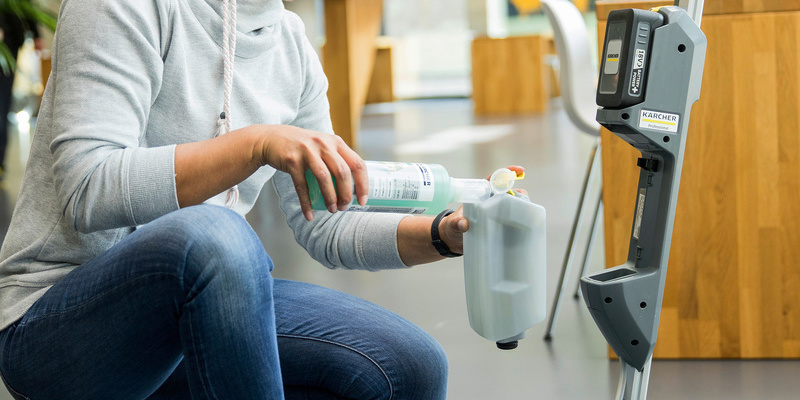 1 l fresh water tank
The 1000 ml fresh water tank can be easily filled with water and detergent.
700 ml waste water tank with pre-sweeping system
The pre-sweeping system separates coarse dirt from the dirty water.
Replaceable
Li-Ion

battery

One hour charging time for 60 min. running time (with a 3.0 Ah battery)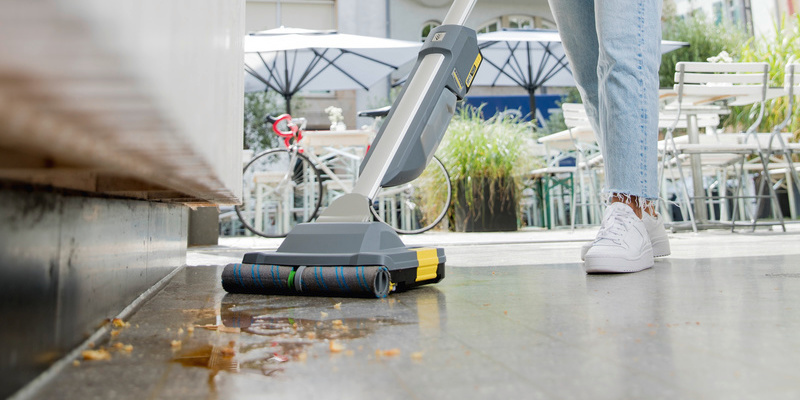 Flexible use below furniture
The flexible joint makes it easy to clean underneath furniture and, thanks to the unit's low height, even hard-to-reach areas are a breeze to clean.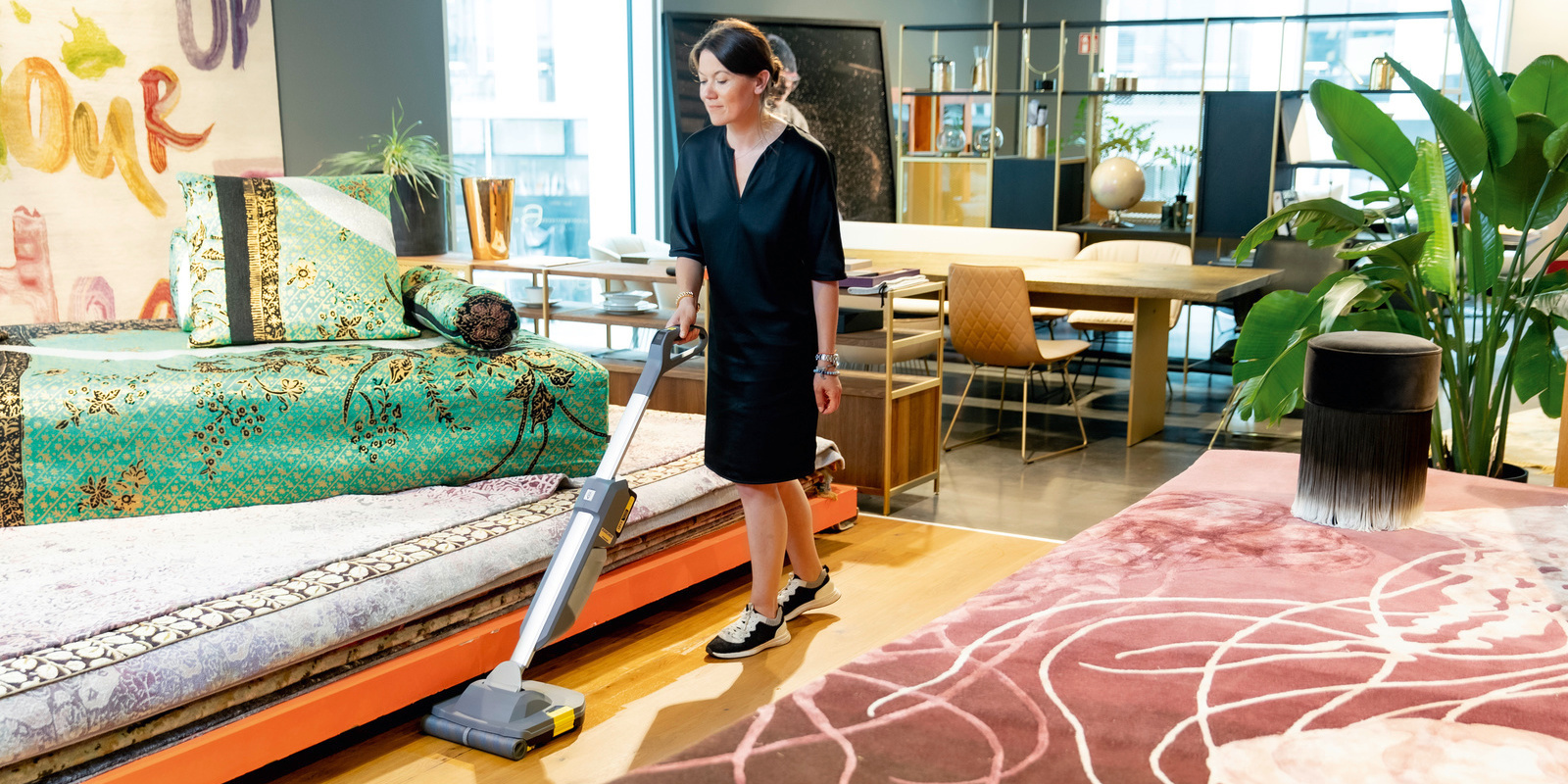 Low noise level during operation
With an operating volume of just 55 dB, guests and customers are not disturbed.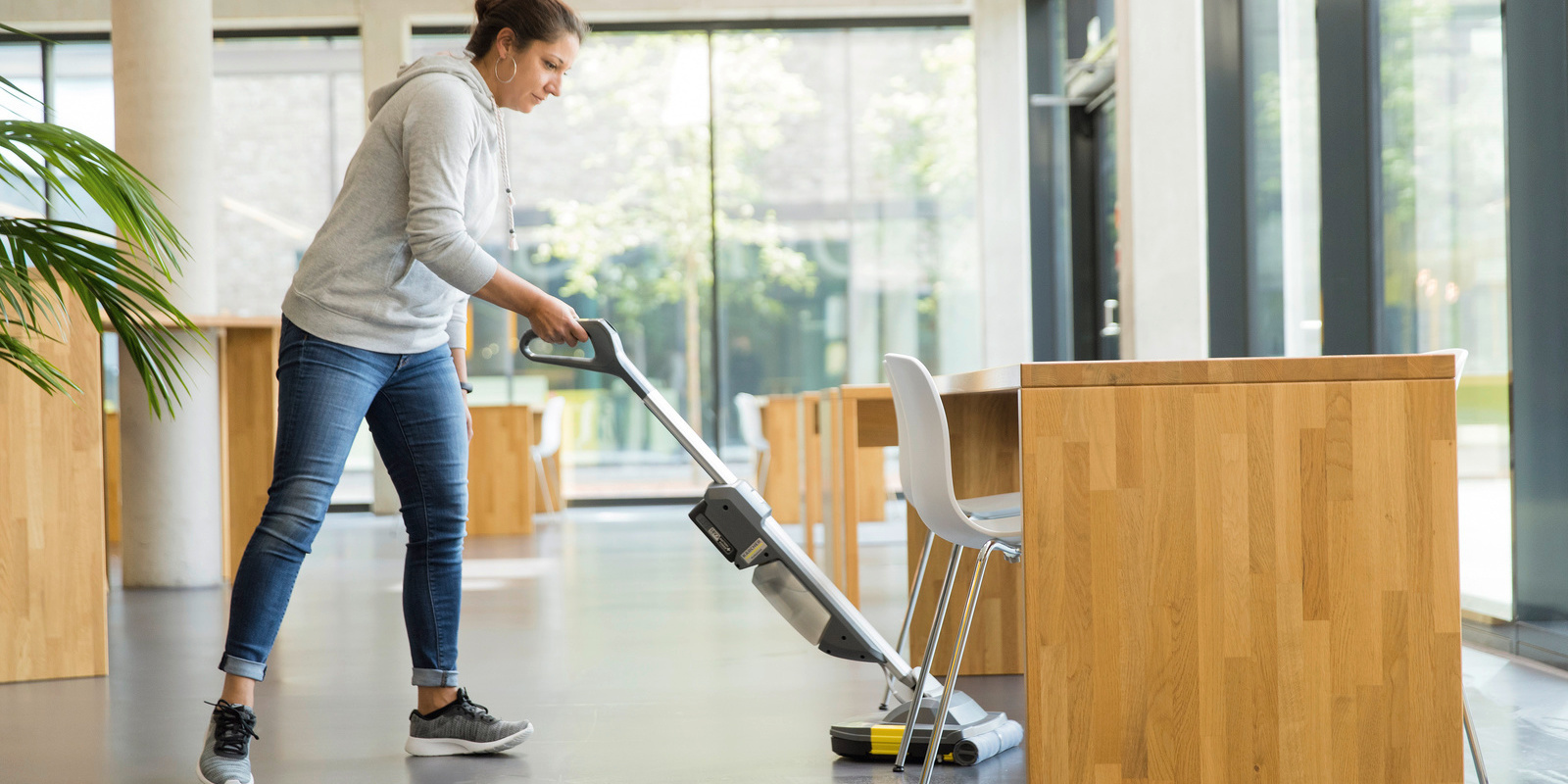 Long lifetime and robust design
Kärcher Professional devices stand out thanks to a reliable and robust design with a long motor service life of 800 to 1000 hours.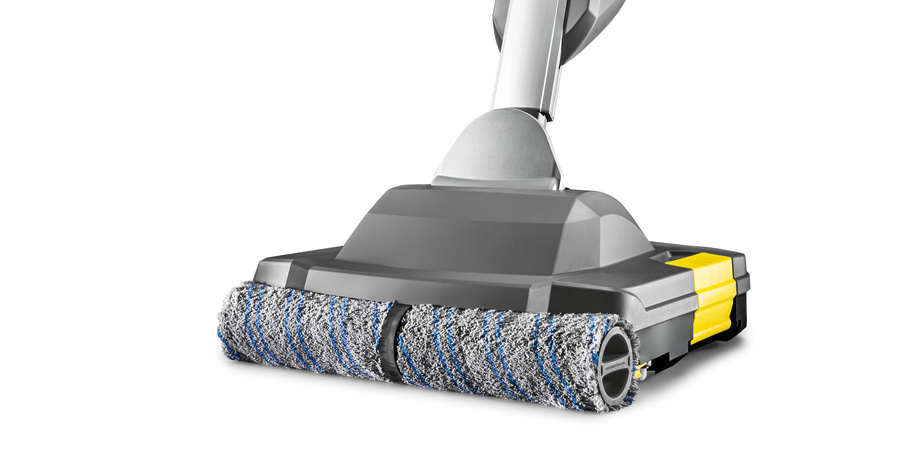 High-quality, long-lasting rollers
Effective dirt removal on all types of floor.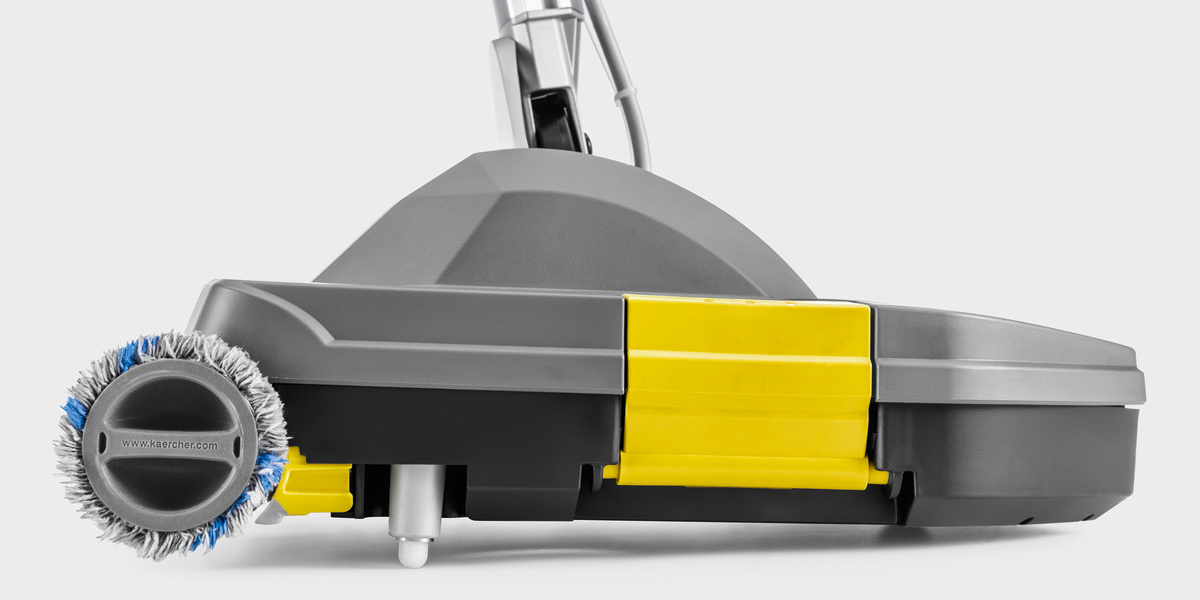 Parking position with parking feet
Wet microfibre rollers do not come into contact with the floor – meaning that the coating is not damaged and no water marks are left on delicate floors. The rollers can therefore also dry more quickly.
FLOORS ARE ALWAYS CLEAN – IN CAFES, SALONS, SURGERIES OR SHOPS
Use
Suitable for all types of floor with an area of up to 200 m².

Floor types: Hard floors (ceramic, porcelain, concrete), stone floors (marble, terrazzo, granite, limestone), soft floors (vinyl, PVC, linoleum, epoxy, etc.), wooden floors (hardwood, laminate).

Maintenance cleaning for all surfaces that require a higher level of hygiene, a higher level of comfort and a faster drying result than with a mop.

Thanks to the extremely low noise level of just 55 dB(A), the BR 30/1 C Bp cordless floor cleaner can be used at any time and in any place.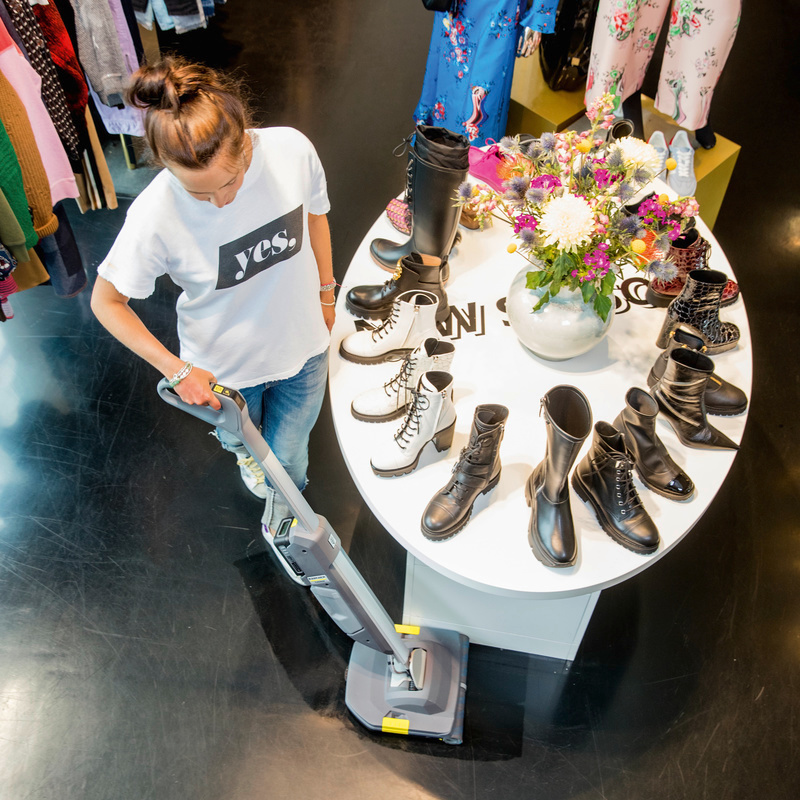 Areas of application
Hospitality sector: Hotel rooms, lobby, bathroom, changing room, kitchen, restaurant, breakfast area

Bars and restaurants: Fast food chains, small restaurants, cafés, catering, bakeries

Retail trade: Small businesses, boutiques, convenience stores, pharmacies

Public buildings: Schools, churches

Healthcare settings: Lobby, corridors, patient room, bathroom, changing room, doctor's surgery and dental practice

Offices: Lobby, canteen, bathroom, changing room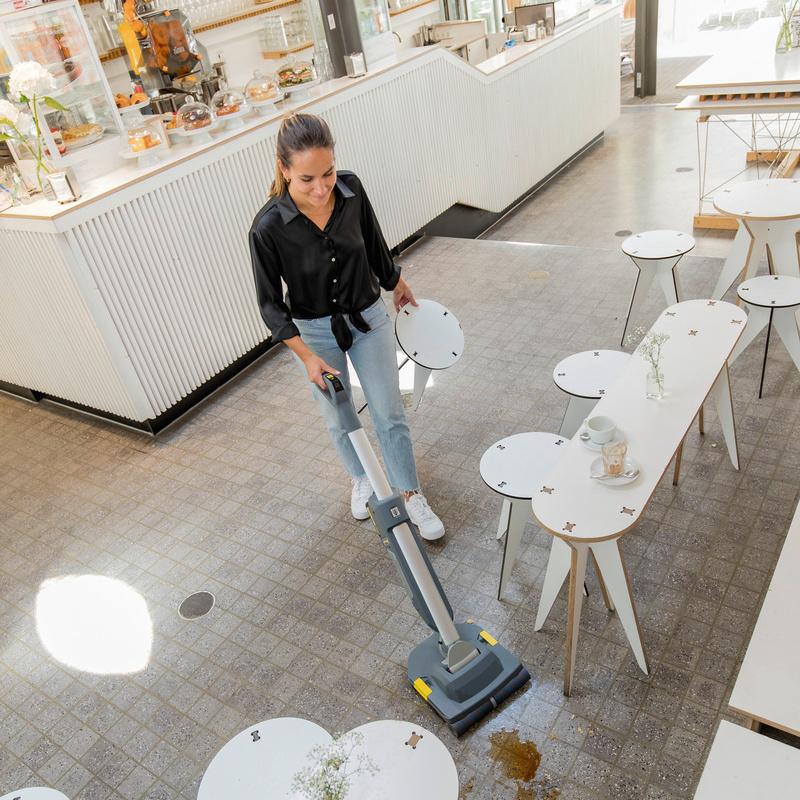 CLEANING AND MAINTENANCE OF THE KÄRCHER BR 30/1 C Bp
Roller cleaning
If there is a lot of dirt, the rinse function can be used to carry out intermediate cleaning of the cleaning rollers.
First, you move the device to the parking position and check the fill level in the fresh water tank – this level must be at least 50%. The waste water tank must be empty.
Then press the boost function button and the on/off switch at the same time. After approx. three seconds, the rinse function is activated, the cleaning rollers rotate and are cleaned.
The on/off switch flashes. After approx. two minutes, the device switches off automatically.
Once the work is finished and before you store the device, the cleaning rollers must be removed and cleaned under running water or in the washing machine.
Device cleaning
Move the device to the parking position.
Remove the fresh water tank, empty it and insert it back into the device.
Remove the waste water tank, empty it and clean it using tap water.
Remove the sweep bins and clean them under running water. Remove the cleaning brush from the cover on the waste water tank and remove any stubborn dirt in the combs.
Press the battery pack's release button and remove this from the battery pack holder. Then charge the battery.