Scrubber drier
B 300 R I Bp Pack + SSD right
Environmentally friendly cleaning in a single operation: The zero-emissions B 300 RI Bp with 300-litre fresh and dirty water tank sweeps and scrubs at the same time. Battery and battery charger included.
The zero-emission ride-on combination machine B 300 RI Bp is effective for deep cleaning and maintenance cleaning of large areas. The large 36 V/805 Ah lead-acid battery is already included. The collision-protection, spring-mounted side scrubbing deck, mounted on the right-hand side, not only extends the working width to approx. 1300 millimetres, but also enables cleaning right up to the edge of walls and in corners. A second side scrubbing deck can be retrofitted at any time. The two large roller brushes, a 300-litre water tank and the wide and curved squeegee ensure time-saving and effective sweeping and scrub vacuuming in a single operation and at an area performance of up to 14,000 m²/h. The operator can then dispose of the collected waste very easily and conveniently using the high container emptying function. Plus, thanks to its solid steel frame, the B 300 RI Bp is also suitable for tougher applications. The paired KTL and powder coating ensure the best resistance to rust.
Features and benefits
Scrub vacuuming and sweeping in a single work process
Double productivity of man and machine.
Halving of the hours worked.
Pre-sweeping not necessary.
Simple high container emptying of the rubbish bin
Convenient for the operator.
No direct contact with dirt.
Emptying of the rubbish bin takes place while you are seated.
Rotatable side brush/side scrubbing deck brushes on both sides of the machine
Expansion of the working width up to 1,755 mm.
Protects machine and objects.
Especially robust and extremely long-lasting.
Zero-emissions battery drive
Quiet cleaning.
Protects health and the environment.
Up to 40,000 m² on one battery charge.
Specifications
Technical data
| | |
| --- | --- |
| Drive type | Battery |
| Working width of brushes (mm) | 1045 - 1350 |
| Working width with two side brushes (mm) | 1755 |
| Working width, vacuuming (mm) | 1440 |
| Tank of fresh/dirty water (l) | 300 / 300 |
| Waste container (l) | 180 |
| Theoretical area performance (m²/h) | max. 14000 |
| Practical area performance (m²/h) | 10500 |
| Battery (V/Ah) | 36 / 805 |
| Battery runtime (h) | approx. 4 |
| Battery charging time (h) | approx. 11 |
| Brush rotational speed (rpm) | 460 |
| Brush contact pressure (kg) | 25 - 150 |
| Water consumption (l/min) | max. 12 |
Equipment
Roller brush
Powerful traction drive
Battery and charger included
Automatic water stop
Parking brake
Integrated sweeper
Sweeping function
Solenoid valve
Squeegee, curved
2-tank system
Side scrubbing deck
standard daytime driving light
Type of suction lips: Linatex®
Kärcher colour and operating concept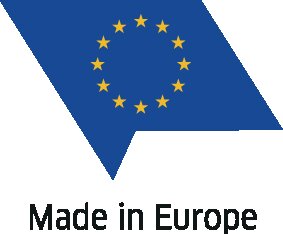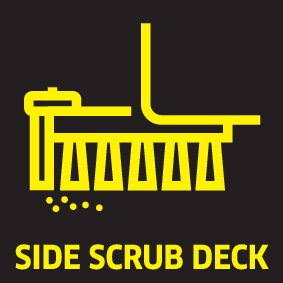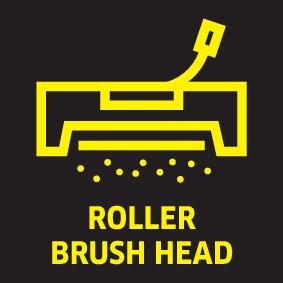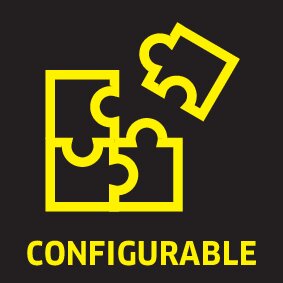 Application areas
For container and tank interior cleaning in the transport and logistics sector, in agriculture, the food industry and chemicals industry.
For industry (foundries, cement plants), logistics and warehouses, car parks and multistorey car parks, construction industry, airports and ports