Meat, poultry and fish processing
Here leftover foods, grease, proteins and other dirt are completely removed, giving germs and bacteria no chance. Our highlight for you is the Hygiene high- pressure cleaner in stainless steel with an animal fat-resistant high-pressure hose.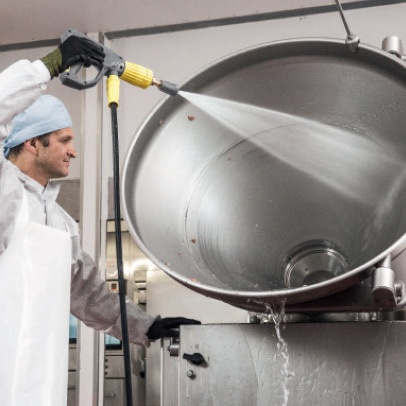 Cleanliness without compromise
Being thorough, fulfilling hygiene requirements and time are what counts when cleaning in abattoirs. And this is no easy task given the stubborn dirt such as blood, fats and proteins.
Hygiene starts in the delivery area. Use our hot water high-pressure cleaners and 80 °C hot water here. Cleaning with hot rather than cold water at the same pressure is far more effective, as proteins, fats and oils are also removed. You achieve better cleaning results with hot water at the same pressure and save up to 35 % in working time, while also significantly reducing the amount of germs using little or no disinfectant and protecting the environment. Our hot water high-pressure cleaners can raise the water temperature to as much as 155 °C in the steam stage.
Slaughter floors and cutting rooms
Kärcher cleaning agents are made for deep cleaning, and reliably remove blood, fats and proteins. To this end, our mobile, stainless steel Hygiene high-pressure cleaner, with abrasion-resistant hose and EASY!Force Food high-pressure gun – which uses the high-pressure jet's recoil force and reduces the holding force to zero – are ideal. Using
the Inno Foam Set with dual spray lance, you can apply the cleaning agent and rinse it clean with water after the contact time in a single pass. You can use our disinfectant and disinfection cleaning agent to reduce the bacterial count.
Cold storage rooms
Cleaning the cooling fins with our steam cleaners can greatly increase the efficiency and lifetime of your cold storage rooms. Our steam vacuum cleaners and steam cleaners are HACCP-certified and can often achieve first-class cleaning results without cleaning agents. The automatic self-cleaning action also prevents the formation of germs inside the machine upon completion of the work.