Processing of grease and oils
As a world leader in cleaning technology, we offer technical and cost-effective solutions for food processing in every area of production, as well as office areas and outdoor facilities, from standard machines to complete custom-made solutions and from consulting and planning to initial start-up and full service.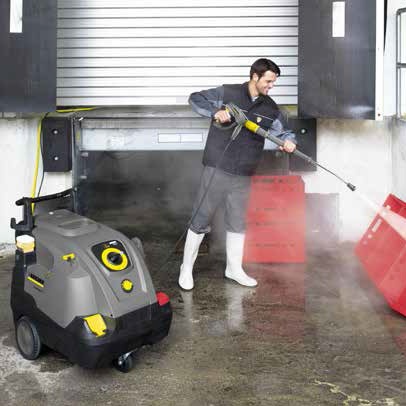 Hot solution against oil and grease
Grease and oils are stubborn residues due to their consistency and staying power. We provide you with the solutions for residue-free removal.
Using hot water gives instantly measurable results, softening congealed oil and grease and improving emulsification, making them very easy to remove. Cleaning agents are largely a thing of the past. Where required, the combination of our cleaning agent and the precise cleaning agent dosing unit with rinsing function ensure consumption is kept to a minimum. In addition, the proven germ reduction step follows cleaning with hot water, which also meets many hygiene requirements without disinfectant. The significantly quicker dirt loosening gives you a time saving of up to 35 %. Our stationary and mobile hot water high-pressure cleaners are fitted with innovative burner engineering for high heating output and are extremely user-friendly, with the best example being the infinitely variable water pressure and water flow regulation with Servo Control on the high-pressure lance. For the cleaning of production systems and conveyor belts, our stationary hot water high-pressure units with very high heating output are the most efficient solution. An automatic stainless steel hose reel on the point of use allows you to reach any area to be cleaned.
Powerful cleaning with easy operation
Yet stubborn dirt can also be removed by the cold – our Dry Ice Blaster uses dry ice pellets formed from carbon dioxide frozen at -79 °C.
The result is perfect cleanliness.
And when it comes to vacuuming large amounts of fluids, it is best to use our highquality industrial vacuum with an easy-to-clean stainless steel container.