Production of dairy products
In dairies, cleaning and disinfection are of the utmost importance. The end product of milk as well as the products derived from it must be protected against germs through faultless hygiene.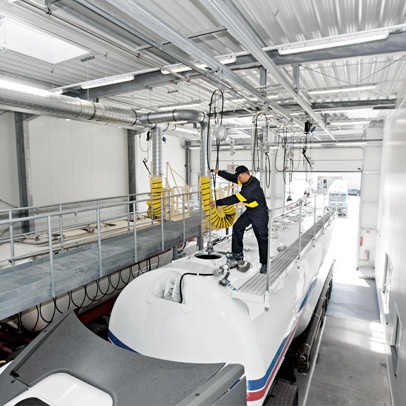 Hygienic and germ-free
Dairy products are particularly susceptible to contamination. Professional cleaning and disinfection are indispensable in all areas in dairies.
Ensure cleanliness and hygiene with our system solutions for the professional, complete cleaning of milk tankers, with the outside being cleaned by commercial vehicle washes with specific cleaning agents and environmentally friendly water treatment systems. Our TB commercial vehicle wash is reliable, economical and flexible, while the system offers you durable, low-maintenance technology, unlimited modularity and easy operation. For interior cleaning, you have at your disposal our modular system with customer-specific spray heads and subsequent drying, thus reducing your cleaning time and downtime.
No spot is left untouched
Our high-pressure pump and rotating pipe cleaning nozzle system is the ideal fit for pipelines. With our white Hygiene high-pressure cleaner and accompanying accessories, such as the Inno Foam Set, cleaning and disinfecting your production systems are quick and effective. And using a curved high-pressure lance, you can remove dirt, for example from pipes on the ceiling, with ease. To remove water and lime residue from underneath machines and from hard-to-reach areas, the flat Surface Cleaner with suction fits the bill, cleaning surfaces quickly without splashing and automatically vacuuming the dirty water.