Water dispenser
WPD 50
Our space-saving WPD 50 middle class water dispenser rounds off our range of water dispensers. This compact machine supplies both chilled and ambient fresh water.
Small, compact, space-saving: Our WPD 50 water dispenser is ideal for use in places where space is limited, such as in meeting rooms, office kitchens, waiting rooms or in the retail sector. Simply connect it to the drinking water network and it can supply colleagues, patients or guests with an unlimited supply of chilled or ambient still water – and obviously with perfect hygienic drinking water quality. Our highly-efficient and improved Hy-Pure-Plus filter reliably eliminates substances such as chlorine or heavy metals, which are harmful or negatively affect the taste of the water, as well as viruses and bacteria. The filter, comprising an activated carbon filtration membrane and an ultra-filtration membrane, reliably ensures fresh water with an excellent taste. The WPD 50 also offers significant time and cost savings compared to conventional drinking systems. In addition, water dispensers protect the environment since it is no longer necessary to procure, dispose of, transport or store bottles or gallons.
Features and benefits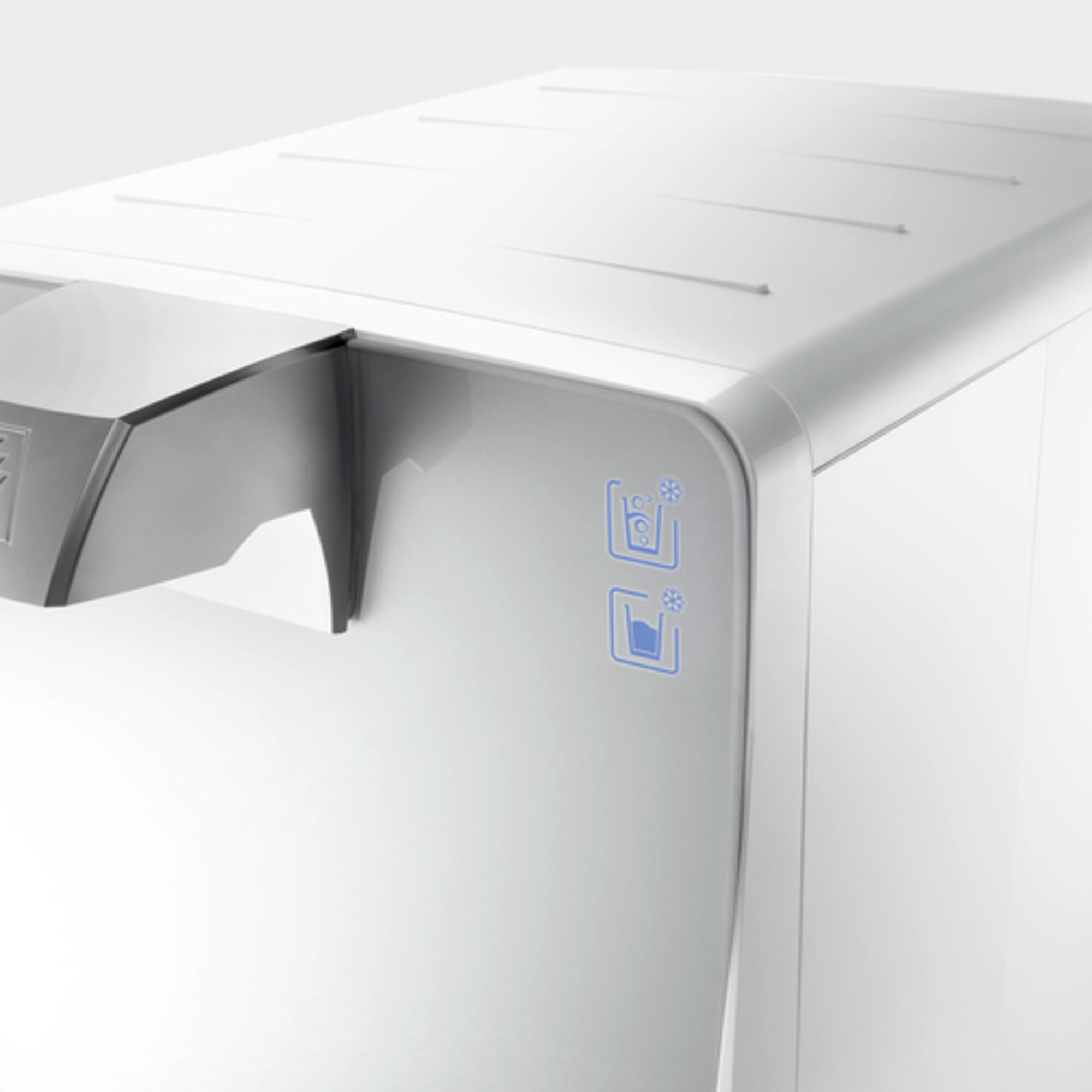 Compact design.
The perfect fit where there is limited available space. Intuitive operating concept with easy-to-read sensor buttons. Clearly recognisable dispensing area for optimal positioning of the drinking vessel.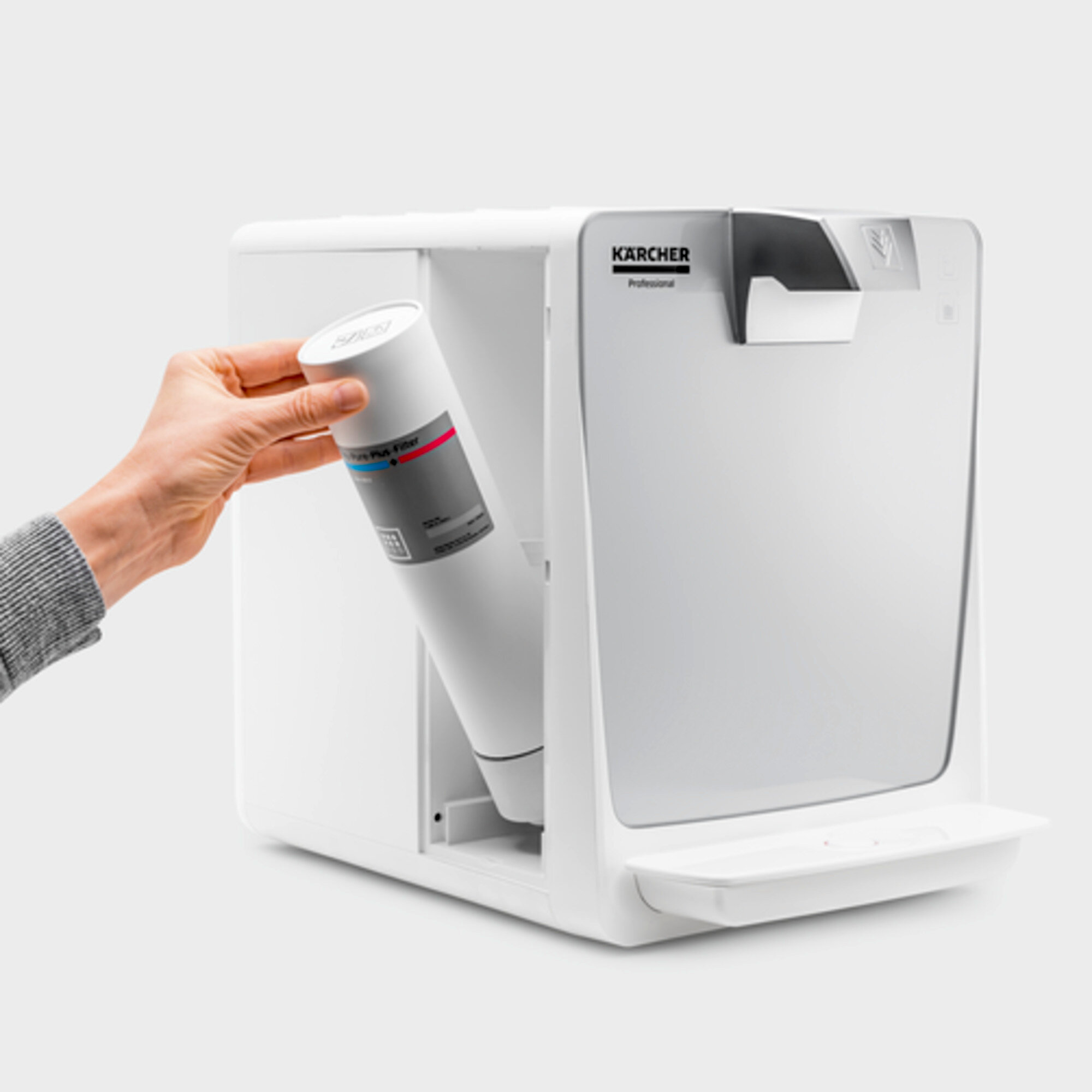 Powerful Hy-Pure-Plus filter comprising activated carbon filter and ultra filter
The active-pure filter ensures the best taste and removes chlorine and heavy metals from the pipe. Ultrafilter protects against bacteria and viruses. Chemical cleaning of all water-conducting lines, the cooling module and water dispensing valve.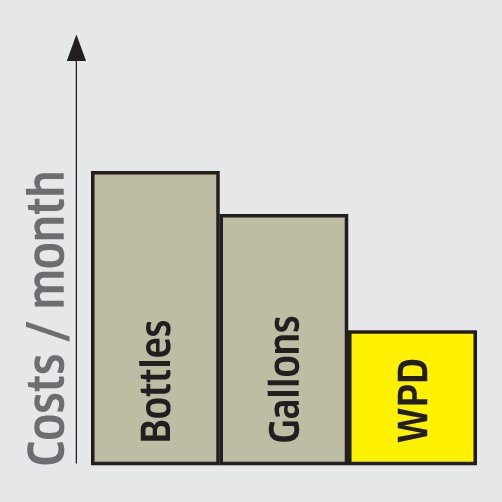 Affordable enjoyment
Easy access to all components enables self-service. Self-service saves unnecessary service work and therefore money. No handling and transport costs compared with gallons or bottled water.
Fresh water for any occasion and any taste
For hygienically safe drinking water that can be used both for drinking and cooking.
Specifications
Technical data
Voltage (Ph/V/

Hz

)
1 / 220 - 240 / 50
Input pressure without carbonation (bar)
1,5 / max. 6
Water output, ambient (l/h)
max. 85
Water output, still, chilled (l/h)
max. 15
Water supply
3/4″
Length of connection (m)
2
Rated input power (W)
max. 200
Inlet temperature (°C)
5 - up to 30
Coolant
R290
Amount of Coolant (kg)
0,03
Cold water
yes
Uncooled water
yes
Number of users
<= 25
Water outlet height (mm)
290
Weight without accessories (kg)
16,7
Weight (with accessories) (kg)
17,5
Weight incl. packaging (kg)
20,8
Dimensions (L x W x H) (mm)
449 x 298 x 399
Equipment
Water dispenser with contact protection
Positioning aid for the drinking vessel
Drip tray with filling level indicator
Drip tray draining: Without drain
Version: Table version
Electronic package: Basic
Hygienic cleaning: chemical
"Hy-Pure-Plus" combination filter
Application areas
Space-saving water dispenser for small spaces
Varied application areas: Suitable, for example, for offices, doctor's surgeries, law firms, hotels and the retail sector