Electric Pressure Washers K 2 Follow Me Cordless
The K 2 Follow Me Cordless offers total freedom while power washing – no cords, no hoses. Powered by a 36V Li-Ion battery, this self-contained power washer lets you clean anywhere, anytime.
Order number:
1.117-111.0
Need help placing your order?
With its powerful 36 V Li-Ion battery and detachable, collapsible water tank, the cordless K 2 Follow Me is not dependent on the availability of a power or water hose connection. This means that cars, bicycles, boats, docks, steps, etc. can be cleaned anywhere, anytime – whether at home or away. In addition, the K 2 Follow Me delivers up to 600 PSI of TruePressue – up to 12X the pressure of a garden hose. Thanks to its small size, light weight (under 20 pounds) and collapsible tank design, the pressure washer is extremely easy to transport and takes up little storage space. The Vario spray wand allows for quick adjustment between low and high pressure without the need to switch nozzles. Whereas most pressure washers require that you manually move them around as you clean, the unique "Follow Me" concept with four wheels allows the pressure washer to tag along with you, saving time and effort. The machine also includes a battery indicator light as well as on-board storage for the trigger gun and Vario wand. The K 2 Follow Me Cordless offers the ultimate freedom while pressure washing!
Features and benefits
Integrated 36 V Kärcher Battery Power battery
Detachable and collapsible water tank
Innovative, mobile Follow Me concept
A wide range of cleaning possibilities
Specifications
Technical data
| | |
| --- | --- |
| Pressure (PSI) | max. 600 |
| Flow rate | 1 |
| Maximum water inlet Temp (°F) | max. 104 |
| Connected load (W) | 450 |
| Weight w/o accessories (lbs) | 15.5 |
| Dimensions (L x W x H) (ft) | 1.34 x 1.07 x 1.18 |
Equipment
High-pressure gun, G 120 Q
Vario Power Jet
Integrated water filter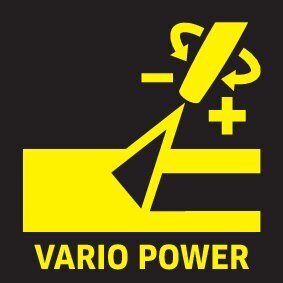 Cleaning application
Ideal for cleaning vehicles, motorbikes and bicycles.
For cleaning around the house, such as windows, balconies and steps.
Can also be used for watering the garden.