Kärcher Fleet
Improve productivity through better asset management.
Complete transparency for more success
Kärcher Fleet is an innovative professional fleet management system developed by the global leader in cleaning technology. This comprehensive, IoT based solution was created in collaboration with the industry's leading contract cleaners. Kärcher Fleet provides task managers with frequently updated machine data, allowing them to maximize performance by allocating resources where needed. This helps to optimize processes, resulting in improved efficiency for a variety of cleaning tasks.

Because your time is valuable.
Before Kärcher Fleet, you had little insight to the condition of your equipment. Without checking the hour meter on the display, you had no idea how much it was actually being used. Without walking through the facility, you did not know where it was even located. To determine any of these specifics, you had to leave your desk, find the machine and verify these things on your own.
Managing your assets with Kärcher Fleet provides all your machine information at your fingertips at any time. From your office, home, or any location with an internet accessible device, you will know how many machines you own, where each machine is located, the condition of each machine, and exactly how much it is being used daily to perform the required cleaning tasks. Instead of traveling from site to site, simply check on your equipment when it is convenient for you, all in only a few minutes.
With Kärcher Fleet you can reduce the amount of time you worry about your assets, and you can spend that time focusing on the management of your employees and optimizing your business.
Watch the videos to learn more!
Watch this short video to learn about Fleet
Navigating Kärcher's Fleet portal
Learn how to set-up your Kärcher Fleet portal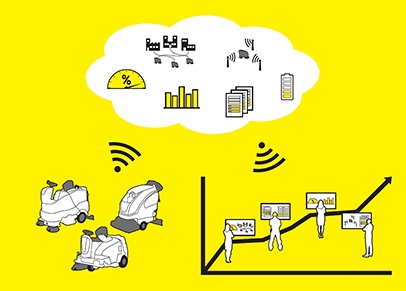 Simple planning and management
The planning and control of cleaning activities can be taken to the next level with Kärcher Fleet. Authorized users can make up-to-date changes to the organizational structure or individual responsibilities at any time. The important notifications and current state of your equipment will be cleanrly displayed on the portal. The current status is represented by clear indicators. Fleet operators can view the status around the clock: whether the machines are used properly and according to plan, whether the cleaning durations are followed, whether maintenance or repairs are necessary, and much more. Detailed information is accessible with just one click directly in the web portal. Kärcher Fleet transmits data in near real-time, thereby optimizing fleet utilization, or if necessary, providing the information needed for corrections to be made.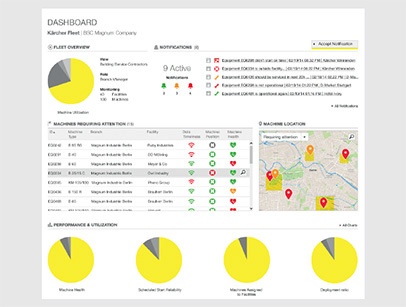 User-optimized portal
The Kärcher Fleet user portal is clearly structured and easy to use. Intensive training is not required, although training videos are available for use at any time. The status of your fleet will be illustrated in a manner which is easily understood with very little time investment. Changing from the overview to detailed view can be achieved intuitively with just one click.
Kärcher Fleet: your advantages
Effective monitoring
Kärcher Fleet monitors the vital functions of machines and immediately sends a message to the relevant staff via automated email when a deviation or malfunction occurs.
Anywhere, any time
Access to Kärcher Fleet can be obtained from virtually anywhere and at any time, whether in the office or on the road, with your PC, laptop, or any mobile device.
No installation
Kärcher Fleet is a web-based solution for which only a functioning, secure internet connection is required to be able to use this fleet management system to its fullest extent. The telematics box encodes all information and sends it via modern cellular technology (GSM) to a global server cloud. Authorized users can obtain access to only their information from this cloud-based database through modern data security techniques.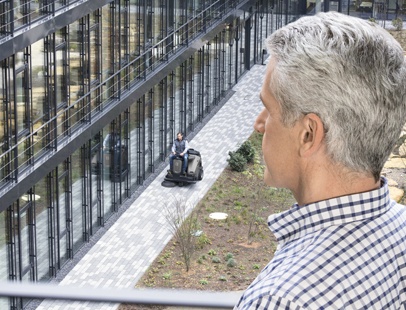 Service completed. Customer satisfied.
Adherence to required cleaning durations, at specific cleaning times, is a new challenge every day. Those who can recognize and intervene on time always have more control over the service being performed. Kärcher Fleet supports the optimal performance of the cleaning task, in the desired time frame and the intended location. By tracking how much the machines are being used during the time window available for cleaning, the service provider ensures promises are kept and customers are satisfied.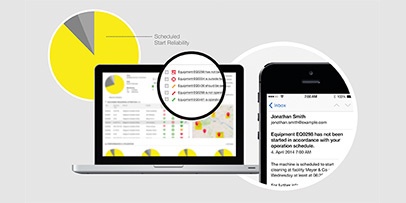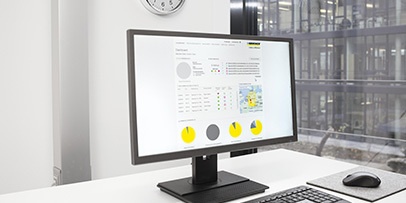 The future is connected.
The latest generation of Kärcher equipment now comes furnished from the factory with a telematics control unit (TCU). Older Kärcher and third-party equipment can be retrofitted easily as well.
The TCU records both machine data and GPS positioning information, and transfers the data via a cellular data netowrk to a cloud based server. As a valued Kärcher equipment owner, you have the opportunity to access your segregated data via a web portal using any internet ready device. Future machine purchases, or those added to the network through our retrofit service, are assigned directly through your account. Kärcher Fleet is your entry into digital cleaning, providing a vast array of information at your fingertips.
Knowledge. The key to your success.
Have you ever wondered:
How many machines do I own?
Where are all of my machines right now?
Will I know if my machine is lost or stolen?
Did my machines get used today as planned?
Are all of my machines working properly?
Asset management with Kärcher Fleet answers all of these questions and more.
Kärcher Fleet provides:
One location to track all of your machines
Visibility into the GPS location of each of your machines
Knowledge of the machine operating hours per day
Monitoring of the machine health
Asset details such as all material numbers and serial numbers
Notifications of the machine break down, movement outside of the defined GeoFence, even when the machine doesn't meet customized usage parameters.
Ability to track total cost of ownership
Various reporting tools with export capability
With all of this information at your fingertips, you will be able to know the work is getting done as planned, your equipment is in good working condition, when you machine has been borrowed or stolen, and most importantly, you will know all of this from anywhere at any time.
Continuous availability.
With Kärcher Fleet, operators always have a complete overview of their machines - even from other manufacturers - which begins with operating hours and GPS location services. For their Kärcher equipment with full functionality, users not only know usage and GPS, but also monitor the status of machine health, as well as battery condition and charging cycles to optimize battery life. In the event of any deviations in planned status, authorized persons are immediately informed by an automated notification, considerably improving productivity and reducing downtime.
Freemium or Premium. You decide.
The B 40, B 60, B 80, B 120 and B 150 scrubbers are fitted with a TCU from the factory. Other Kärcher and third-party equipment can be retrofitted to provide the basic Fleet information. You can choose between the free service, Freemium, or upgrade to Premium, to have unlimited access to all functionality.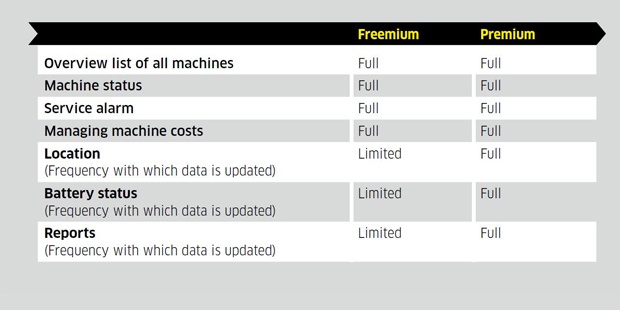 Freemium:
The basic service offers you many benefits. You see your machines, neatly arranged in a list, giving you a clear overview of their status at all times. You have unlimited access tot he Total Cost of Ownership area for each machine, allowing you to track the costs of your equipment, repairs, consumables, or any other costs. Machine Service can be requested directly while in the web portal. Freemium is free for all equipment, and it will remain this way. You can upgrade to Premium at any time, but are not obligated to do so. Upgrading is easy, simply by selecting the equipment you want to upgrade directly in the Kärcher Fleet portal.
Premium:
The upgrade to Premium offers you unlimited use of all reports, and unlimited access of all functions relating to location, machine usage and the current status of your machine. Your sales representative is available to answer any questions you have on the many valuable features Premium has to offer.
Contact us
Interested in Kärcher Fleet? Get in touch with us.