Safety measures around Asbestos removal in the construction industry
Asbestos was used by the ton in the construction industry for decades. However, due to the health risks associated with inhaling asbestos, the import, supply, and use of all types of asbestos has been banned in the UK since 1999. Nevertheless, asbestos' dangers still pose challenges to specialist companies even today, because construction materials still containing asbestos are often detected during renovation or demolition work on old buildings. From our article you'll learn how asbestos can be removed and disposed of, and what safety measures need to be taken.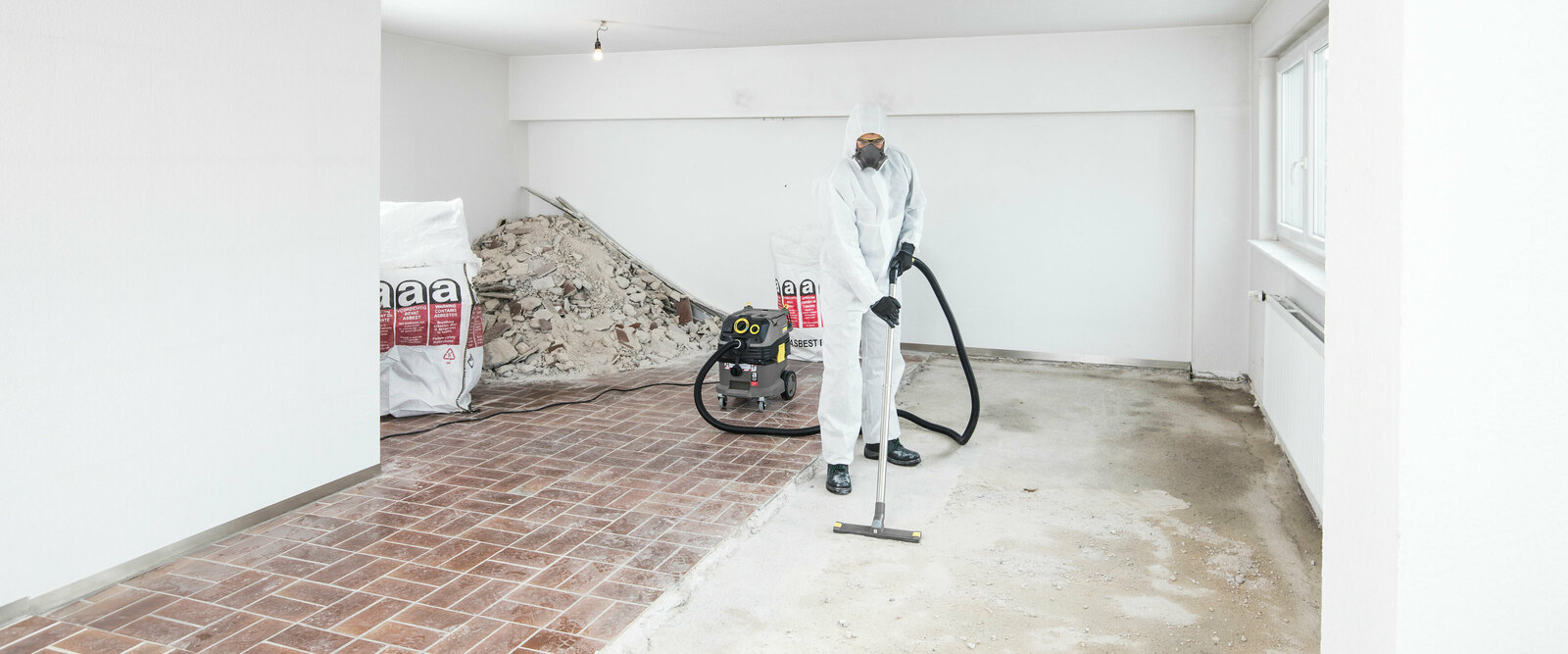 What is asbestos and how has it been used?
Asbestos is a naturally occurring, fibrous silicate mineral. It's non-flammable and insensitive to heat and many chemicals. Due to its high elasticity and binding capacity, it can easily be processed into countless products. Asbestos products can be roughly divided into two categories: friable and non-friable asbestos products.
Non-friable asbestos products such as cement (e.g. Eternit) have a greyish, homogeneous and hard surface. Friable asbestos products, on the other hand, have a softer surface and can be recognised by clearly protruding fibre tufts at broken or cut edges. The individual fibres of products made from friable asbestos can be easily released into the air, so they are especially hazardous to a person's health. Friable asbestos was used to produce materials such as pipe lagging, insulation boards and sprayed coating for making steel more fire retardant.
What makes asbestos so dangerous?
Asbestos consists of very fine fibres of up to 2 micrometres in diameter. These microscopic fibres can easily be inhaled, which can cause lung cancer. Asbestosis (chronic scarring of the lungs) claims 100,000 asbestos-related lives worldwide each year, according to the International Labour Organisation (ILO) Geneva.
Asbestos removal and disposal: dangers and safety measures
If friable asbestos products are not damaged and used as intended, there is no danger to health due the release of asbestos fibres into the air. However, if the materials are brittle, lose or broken, they must be removed by companies that are specialised in asbestos removal and disposal in order to act according to all legal requirements.
Where are the dangers of asbestos lurking?
All mechanical work (drilling, sawing, grinding, milling, breaking, or smashing) during asbestos removal is dangerous. Generally speaking, every worker that is working with asbestos materials need to have adequate information, PPE and RPE and training to handle these materials, to stay compliant with the Control of Asbestos Regulations 2012.
Furthermore, only licenced contractors can work on certain asbestos products such as damaged insulating boards, pipe lagging, and sprayed asbestos coverings. Under certain conditions even non-licensed asbestos work has to be notified and additional safety measures, such as marking areas with warning notes, need to be put in place.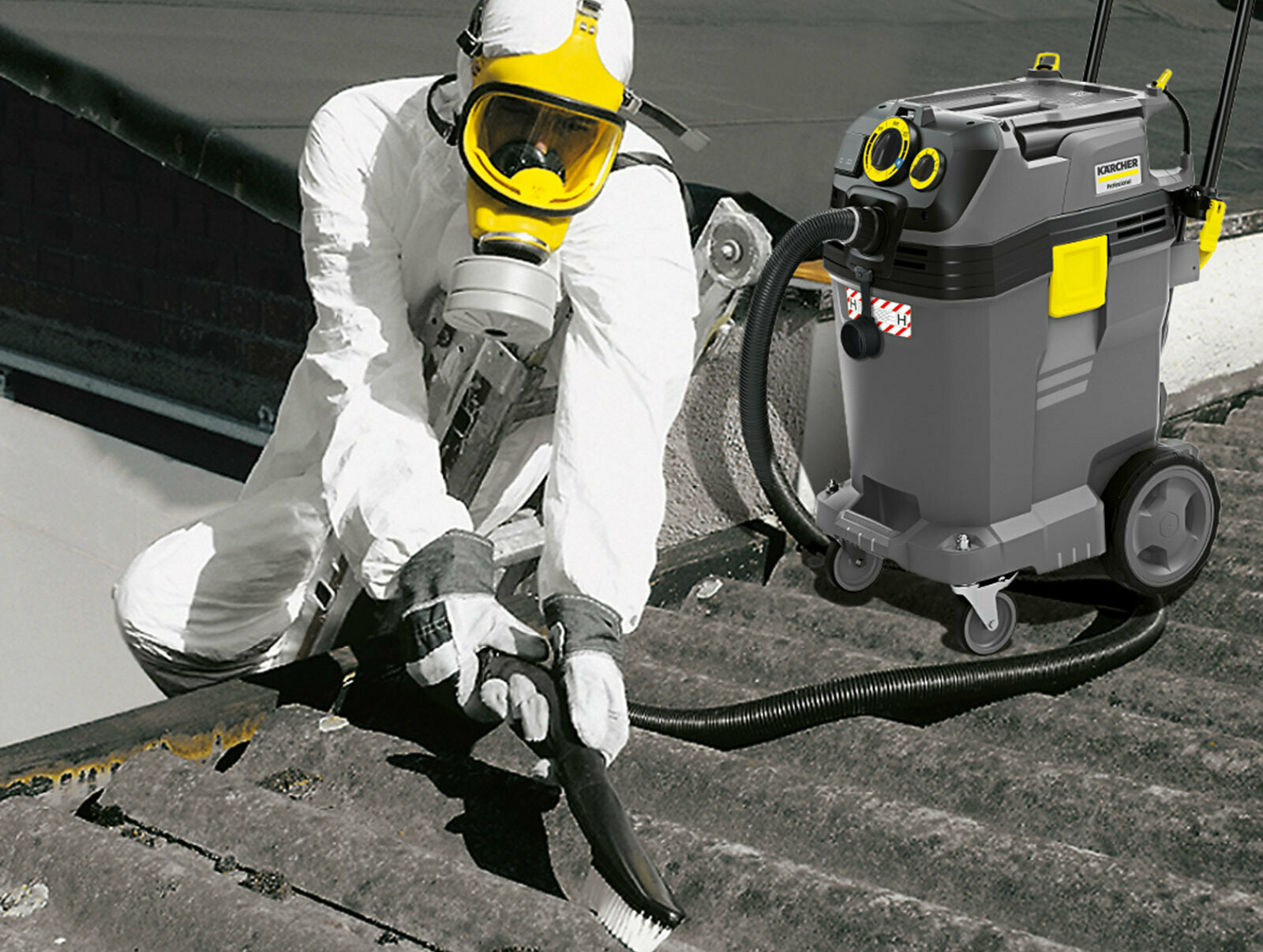 Tip 1 – Carry out a material examination:
Only a material examination can clarify whether a building material contains asbestos. If you detect asbestos, you should always stop working and carry out a risk-assessment to determine, if the material truly is asbestos and whether only a licensed person can remove it.
Tip 2 – Risk of mix-up:
Products containing asbestos can easily be mistaken for substituting products such as glass fibres, rock flour sheets or mineral fibres.
Tip 3 – Exercise caution:
Take care with heating pipe insulation, electric night storage heaters, cardboard and cord seals on cookers, ovens and fireplaces.
Safety requirements for handling asbestos removal
When removing asbestos, you need to use suitable respiratory protective equipment (RPE) with a UK-assigned protection factor (APF) of 20 or more. Disposable RPE is enough for most asbestos work. For work that takes a longer time, a power assisted RPE needs to be used.
Furthermore, you need to be wearing disposable overalls when disposing asbestos. Using disposable gloves and boots instead of disposable shoe covers is also recommended.
Tip 1 – Discard disposable protective overalls:
Disposable protective overalls must be disposed of in a specific way. In a sealed container that is only being used for waste that has come into contact with asbestos.
Tip 2 – Do not use reusable protective overalls:
The use of reusable protective overalls is not recommended when removing asbestos. If however you must use them, they should be decontaminated or disposed as asbestos waste after leaving the hazardous area.
Asbestos disposal with the right vacuuming technique
Use methods that produce a low level of emissions when handling asbestos products. You must also dampen all materials or products containing asbestos before you start to work on them. Damp surfaces won't emit as much asbestos residue into the atmosphere. You can use a brush or a sprayer but remember that water alone won't be enough so the use of a liquid detergent is also recommended.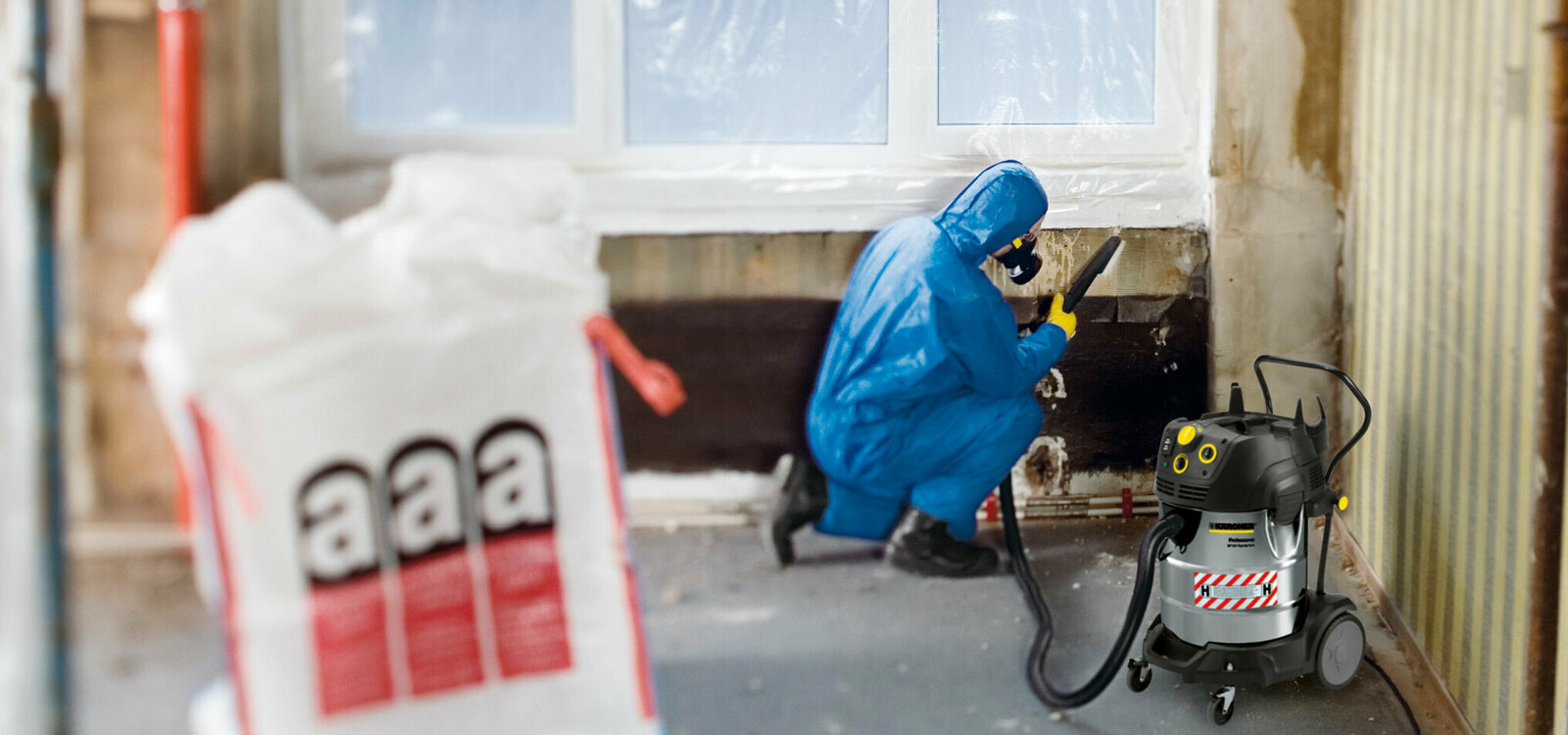 Tip – Pay attention to the regulations of the respective countries:
The standards and regulations for removing asbestos vary greatly from country to country and should be known. In Germany, for example, only Class H vacuum cleaners can be used for vacuuming asbestos. In Switzerland, the BauAV and EKAS 6503 apply, which are similar to TRGS 519. Austria also makes similar specifications and Poland adheres to the European type examination for dusts hazardous to health.
Filtration and airflow of asbestos hoovers
Vacuum cleaners for removing asbestos automatically control the speed of the air flow. If it falls below the limit value of 20 m/s, the low-flow indicator will inform you of this. The vacuum is constructed so that the extracted air is guided or cleaned in such a way that asbestos fibres don't enter the user's airways. The Class H asbestos vacuum cleaner's main filter offers a separation efficiency of 99.995 %.
Tip – Use safety filter sets:
Safety filter sets for dust-free asbestos disposal are particularly useful. They include a fleece bag with filter, which is enclosed in a PE bag. This eliminates the risk of coming into contact with hazardous asbestos particles. The legal requirements for such safety filters vary, but their use is recommended.
A single filter is sufficient for vacuum cleaners with a power consumption of up to 1.2 kW. From 1.2 kW power consumption, an additional cleanable pre-filter (dust class M) is necessary. In addition, units with a power consumption above 1.2 kW must have a connection for an external exhaust hose.
Cleaning the vacuum cleaner after each use
When work is completed, the asbestos vacuum cleaner must be cleaned. Only clean the vacuum cleaner from the inside or remove the bag yourself if you are trained to do so. The outer casing and attachments need to be thoroughly vacuumed with the machine and then swiped down with a damp cloth after each use. Any residual dust present in the entire workspace must be removed by damp cleaning of all surfaces. Finally, the vacuum cleaner must be cleaned inside and out with a damp cloth. Dispose all cleaning cloths as asbestos waste.
Dust-free transport of vacuum cleaners containing asbestos
Class H vacuum cleaners are equipped with a suction port and transport bag for the accessories that can be closed off. Before transport, insert the plug to seal the vacuum cleaner into the suction port. It's important that the transport bag and suction port are tightly closed and that the motor head is securely connected to the container.
Don't let the dust settle: how to dispose asbestos safely
National and regional waste disposal regulations must be complied with when disposing asbestos waste.
Please note that in order to transport asbestos waste, you need to have a waste carrier's license. You also need to use designated disposal areas, only. It's best to have a specialist company to help you with asbestos disposal. They have the necessary know-how and can take the necessary safety measures when removing and transporting asbestos waste. All items from the hazardous area that can't be cleaned are considered hazardous waste and must be disposed of properly. You also need to compile a Waste Consignment Note and keep it for at least three years.
Improper handling, can be a serious health hazard and you might have to pay a fine for failing to dispose of asbestos properly and without the correct licenses.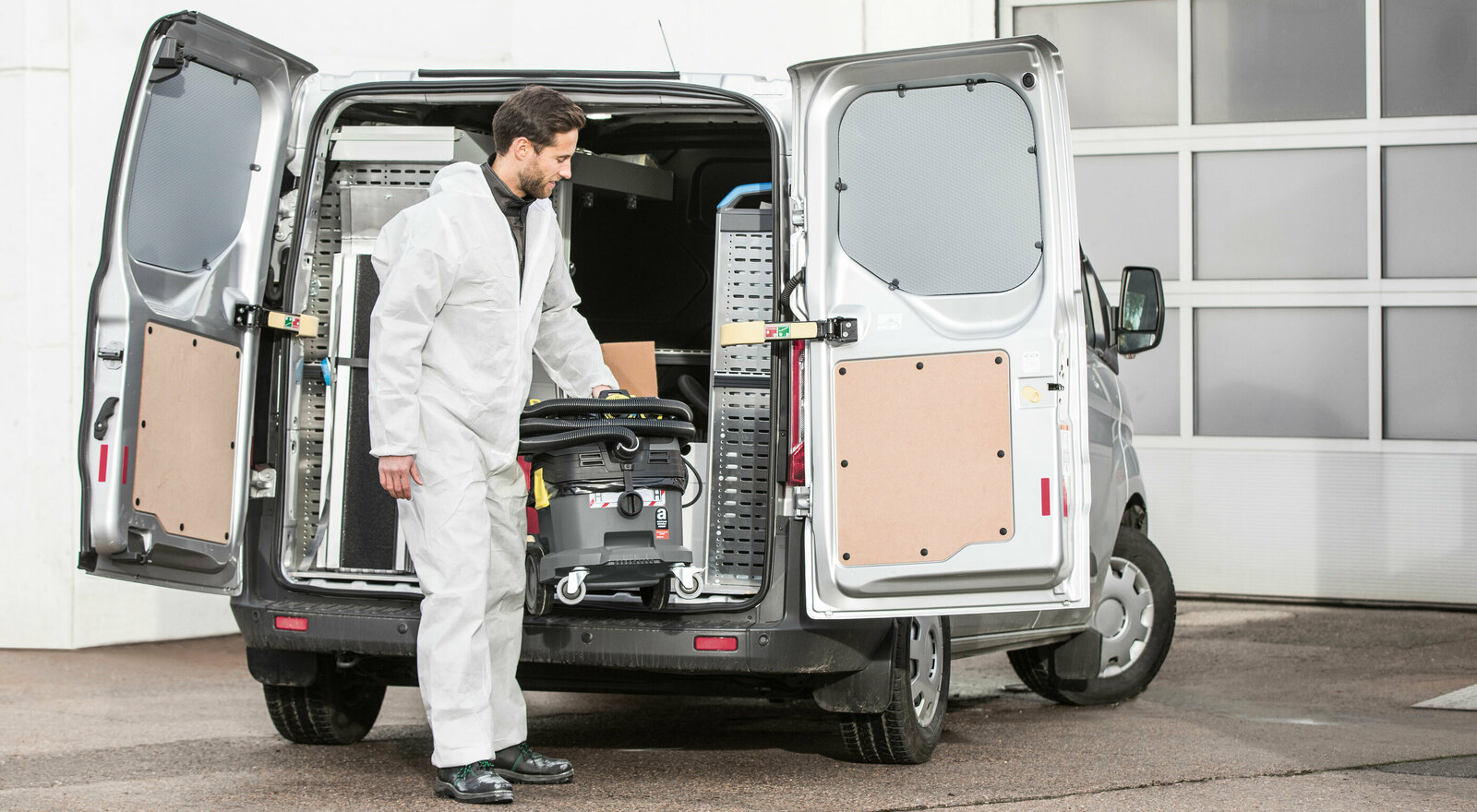 Suitable products for your area of application