Interesting facts about stairwell cleaning
Stairs can be true design elements, made from shot-peened steel or precious wood. They can be central escape routes or merely neglected feeders between the floors. In each case cleaning jobs on a stairwell become a challenge because the spatial conditions make the work tedious. Why is cleanliness still important? What must be kept in mind for various floor coverings? What are the most common operator errors? Here is an overview.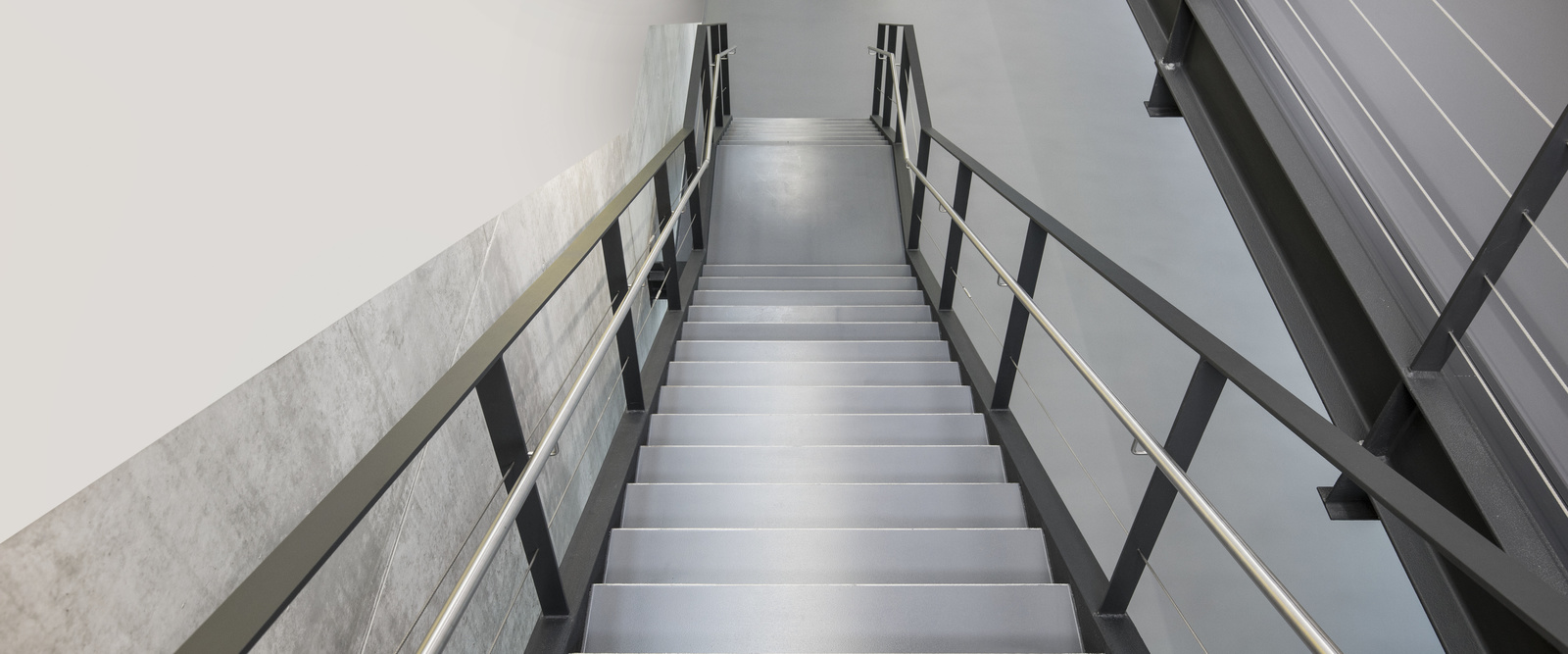 Non-slip, hygienically safe or representative: Stairwell cleaning is not a minor matter
The scope of the cleaning tasks around a stairwell depends primarily on what purpose the upward and downward stairways fulfil. Firstly, it is always about ensuring surefootedness. This applies to all types of floor coverings, from textile to resilient through to stone. Loose dirt can be conveniently removed with a battery-operated backpack vacuum cleaner. There is no tripping hazard from a cord, and unnecessary routes from and to the last or next socket are a thing of the past.
The removal of adhesive dirt is usually done using a wide cleaning device with microfibre wiping cloths. Moisture should only be avoided for wooden flooring. However, with adhesive-impregnated cloths or microfibre wiping cloths, the floor can be wiped and dust can be collected so that even the finest particles are removed.
If there is a high level of public traffic in stairwells, e.g. in residential buildings, hotels or shopping centres, then regular cleaning and disinfection of the handrails is important. This is the only way to avoid the transmission of germs. For staircases which fulfil a representative purpose in one way or another, it is always about maintaining the properties of the floor covering for as long as possible. Therefore, it is important to carry out cleaning and maintenance measures appropriate for the floor covering – from fine stone to artificial and natural stone, wood and carpet through to stone carpet.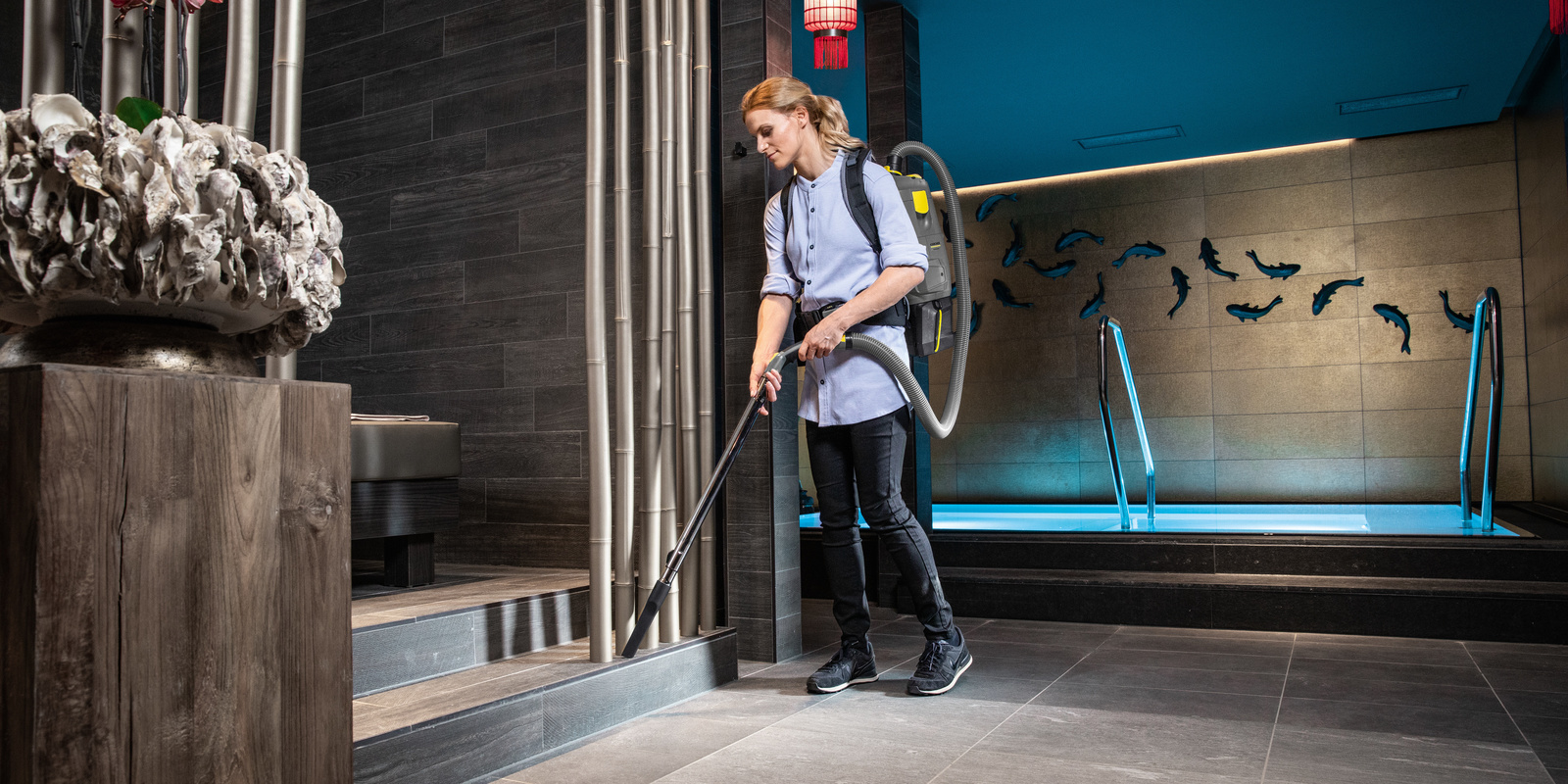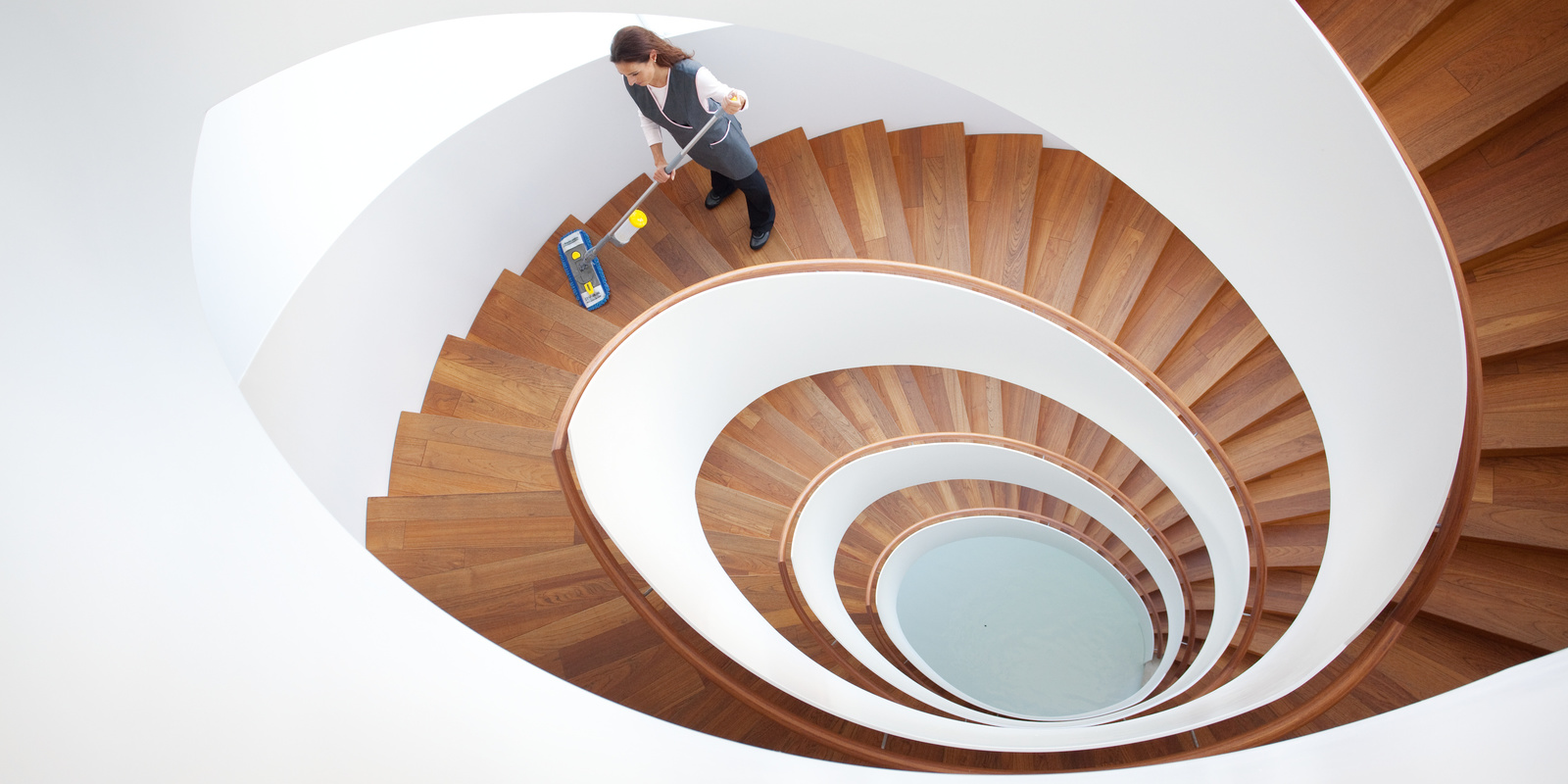 Cleaning natural stone floors
Natural stones with the same or similar look can have very different technical properties, particularly with regard to sensitivity to alkalis or acids, firmness and water absorption. It is these factors which determine which stone is suitable for which purpose and how it must be maintained in order to retain its appearance for a long time. Before cleaning, you must therefore have thorough knowledge of the stone's properties based on its mineral composition and surface treatment, as well as its usage.

Cleaning fine stoneware tiles
Fine stoneware tiles are an attractive, very popular floor covering which stands out thanks to its robust and slip-resistant qualities, as well as its very low moisture absorption rate. A modern and safe design medium, it is impossible to imagine floor coverings without fine stone nowadays.

Cleaning ceramic tiles
Cleaning and maintaining ceramic tiles – how does it work? They are fired at a temperature of 1000 to 1400 °C and made of inorganic materials. Terracotta, clinker brick, fine stone, earthenware and stoneware are widely used nowadays. Although there are many different variations, the cleaning steps are always similar. Only a few types of tile require maintenance.
The effect of time: Different types of damage, different cleaning techniques
Dirt and public traffic leave their traces on any type of floor covering. Depending on the subsurface, various cleaning techniques are appropriate to maintain the floor and enjoy it for as long as possible. If it is a wooden staircase, then it is mainly at risk from the abrasion of dirt and sand particles. The tiny grains are massaged into the floor by the passers-by and make the wood open to attack. If moisture is added, e.g. from wet shoes or improper cleaning, then the water enters the wood and sooner or later leads to damage. In order to avoid this, it is recommended to maintain the stairwell accordingly after deep cleaning, at least twice a year.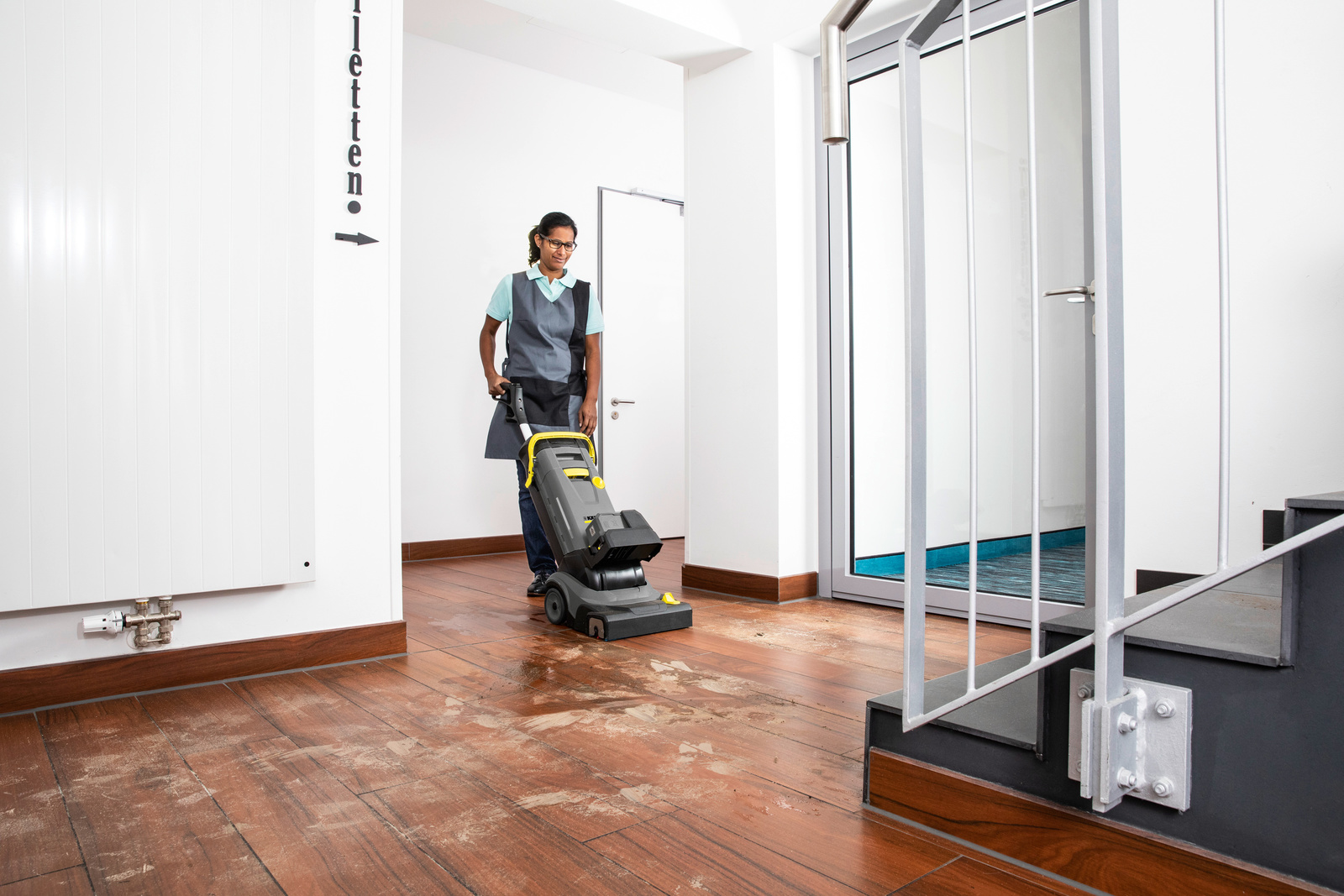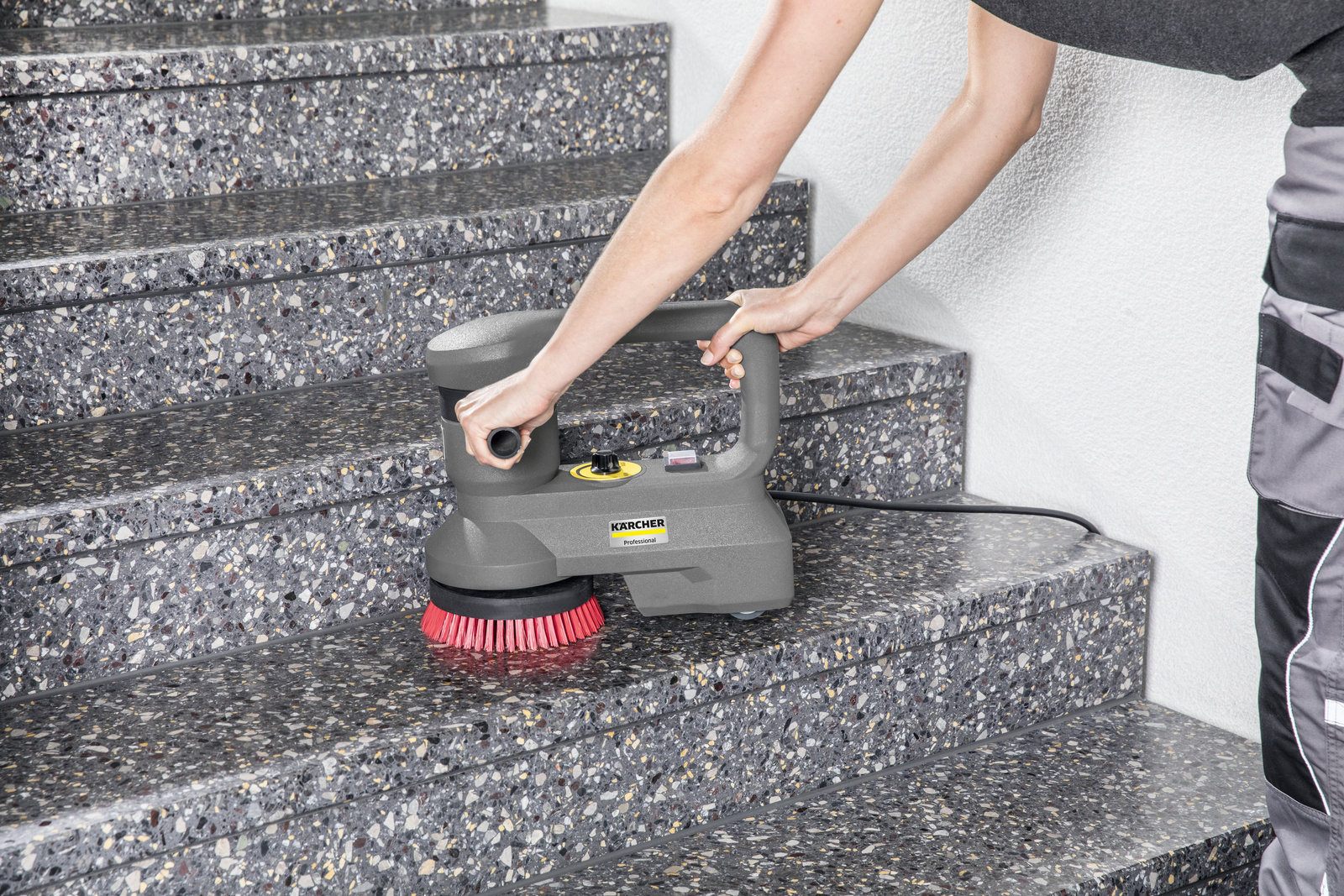 In the case of natural and artificial stone, the appearance mainly suffers from heavy-duty use:
The floor covering is roughened and dirt particles become lodged. After a while this leads to unpleasant signs of wear, which quickly become annoying especially with representative stairways. In this case, the crystallising or polishing with diamond pads can provide a remedy and restore the shine. If stone stairways are to be restored in this manner, a mini-scrubber is available on the market for this application. It is aimed primarily at users who have to clean small horizontal and vertical surfaces and enables quick, ergonomic work.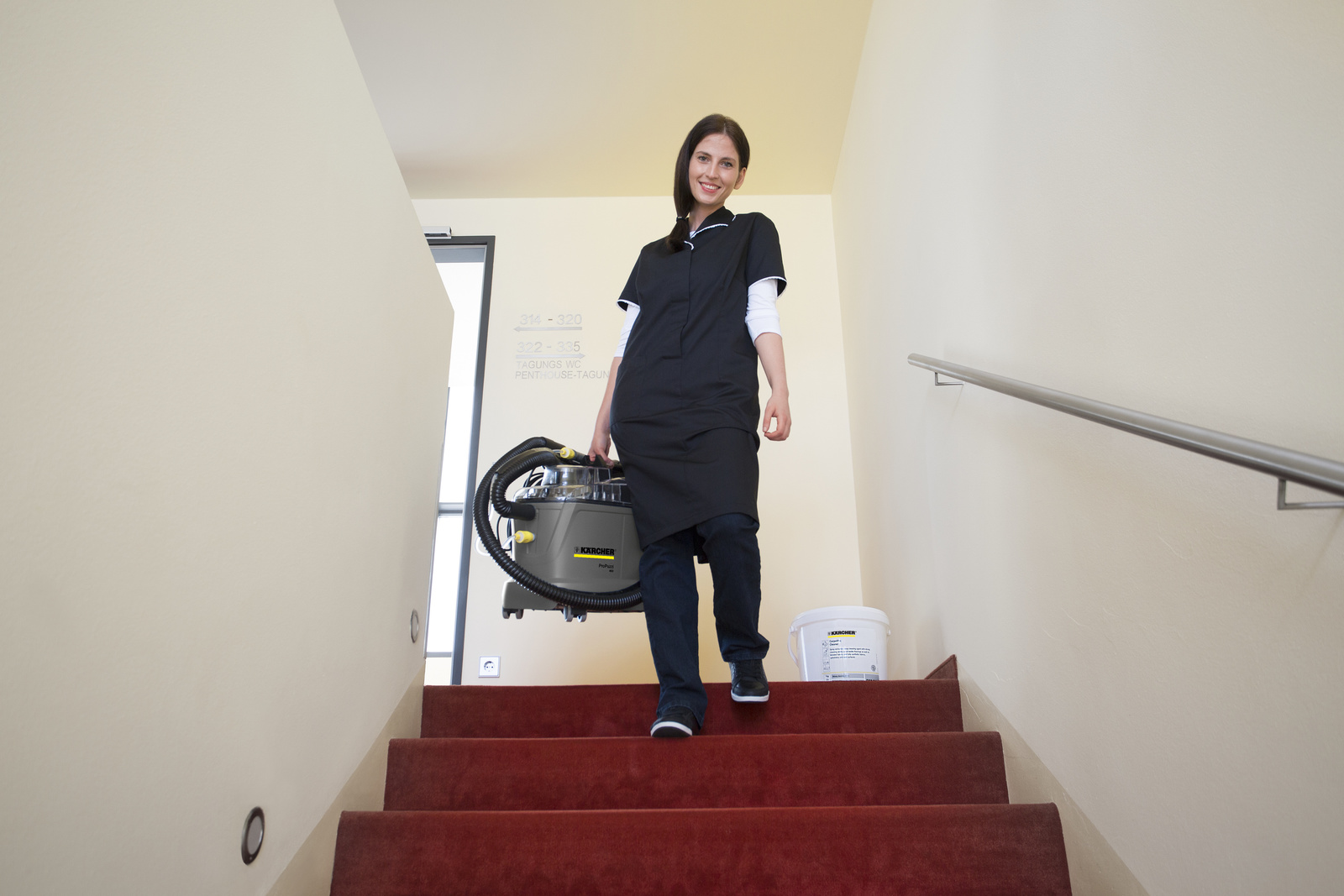 In hotels carpets are often laid in hallways and on staircases. Track marks arise on the textile floor coverings over time.
In addition, stair edges often get very dirty, e.g. from shoe polish. Small stains can be removed using a stain removal product. Here it is important to work from the outside to the inside in order to not spread the stain. For deep cleaning the spray extraction method can also be used to remove stains. A narrow hand nozzle allows this technique to also be used on narrow stairs. However, the drying time is at least six to eight hours.
Tip:
Finally, severe soiling can often be found on heavily frequented staircases in residential buildings or car parks, from chewing gum to road dirt through to urine. Depending on the environment and properties, in this case working with high-pressure or steam cleaners can be useful and efficient.
The staircase is more than just the stairs: What still needs to be done
In order to achieve a well-kept impression, cleaning the steps and handrails alone is not enough. In order to keep the intermediate landings clean, the use of a compact, battery-powered scrubber drier is recommended. Its higher contact pressure compared to that of a large surface wiping machine, along with a roller speed that is suitable for the application, ensures outstanding cleaning results. Battery-powered handheld vacuum cleaners are suited to a wide range of detail work in stairwells. The glass surfaces of doors or windows are usually quick and easy to clean using a professional Window Vac. They ensure that no splash water arises, which could cause a slipping hazard. Heavy contamination such as chewing gum or stickers can be removed from walls that are painted with latex paint using a high-pressure cleaner at a low pressure setting.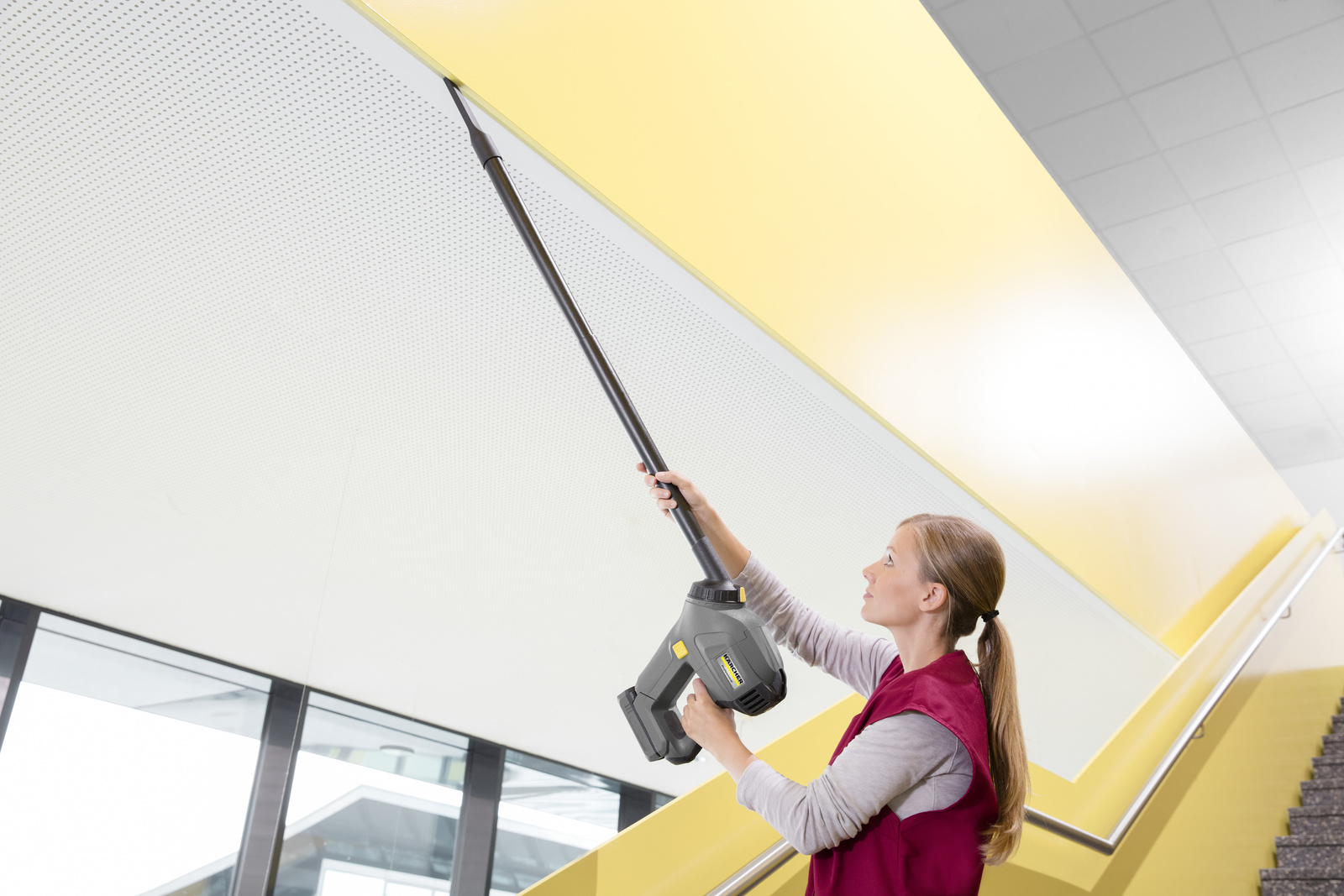 Top three most common application errors: A glimpse into the bag of tricks
Work which is already arduous and time-consuming should not be made any more difficult by application errors. Therefore, it is worthwhile to work thoroughly and avoid such errors.
1. If a staircase is only wiped with a damp cloth, without removing the dust beforehand, then the floor covering becomes discoloured because the dust is virtually worked into the floor with the wiping. The dirt is also often pushed aside and contaminates the handrails on lower floors.
2. The erection of signs with the warning of slipping hazard and risk of accident for passers-by is often omitted in a hurry when wet wiping is carried out.
3. If the wiping cloth is not washed often enough or the water is replaced too infrequently, the dirt is spread over the stairs, meaning that the desired result is not achieved and deep cleaning is required sooner.
When stairs start moving: Solutions for escalators
Dry cleaning methods for escalators are only able to brush out loose particles from the grooves and vacuum the loosen dirt. For deep cleaning, wet cleaning has been proven to reliably remove stubborn dirt and spilled liquids, compacted road dirt or grease. Machines which apply the cleaning fleet to steps or contact surfaces using brushes are used. This helps avoid excessive wetting. The dirt is dissolved in the required contact time, then brushed out from the profile and transported from the contra-rotating dirt-absorption brushes to the suction. In order to guarantee the necessary vacuum, guide ridges engage in the profile grooves and seal the stair surface to the suction channel. This way efficient cleaning can be achieved and the penetration of liquids in the system is avoided.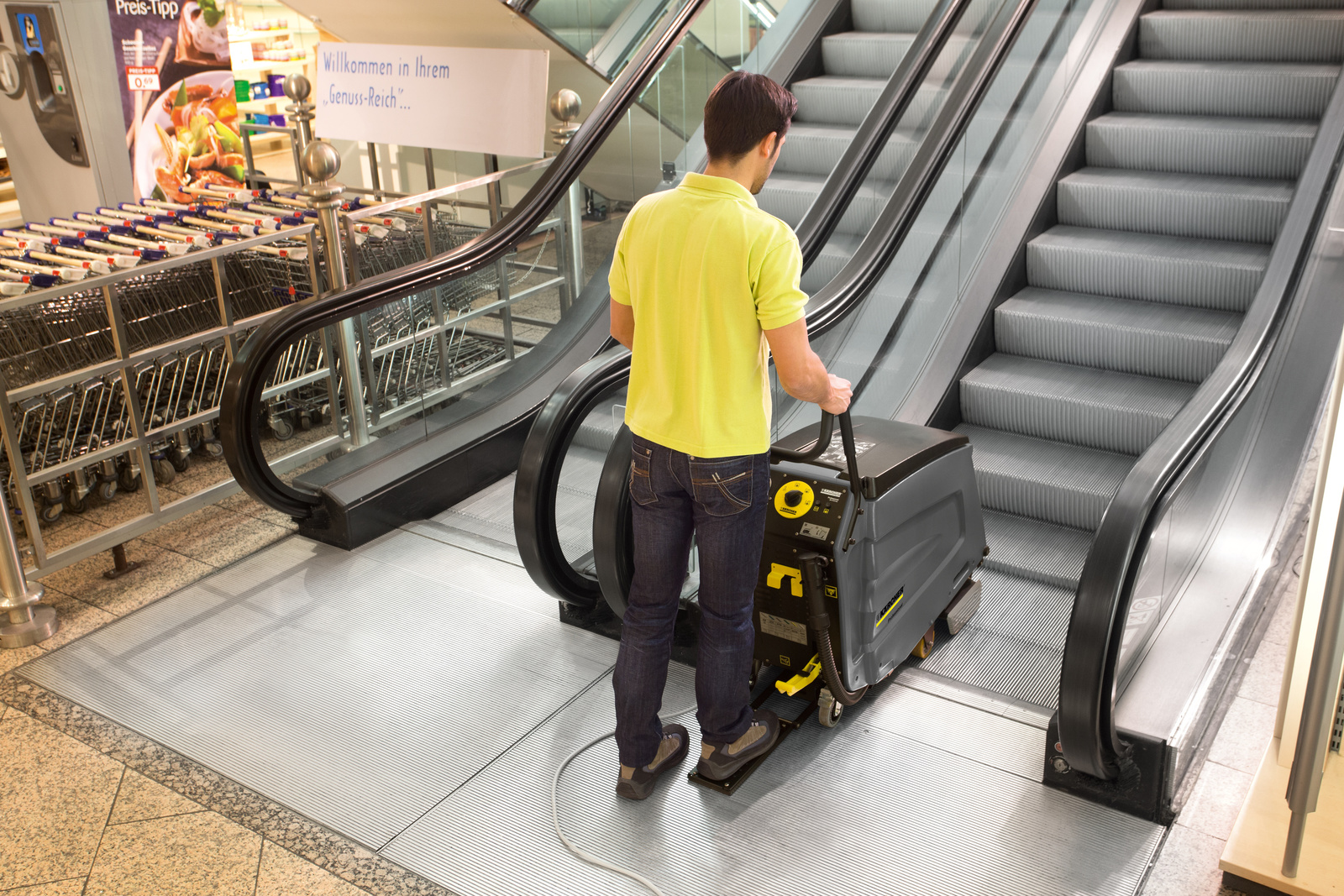 Suitable products for your area of application