Sustainability in the vehicle wash sector
A clean vehicle gives you a good feeling – and a clean conscience.
But the vehicle wash business is about more than just excellent cleaning results. It's also about using our systems sustainably and responsibly in the best interests of operators and customers. The objective: a low-consumption approach to water, energy and detergents.

Reducing consumption without reducing performance
Everyone's talking about environmental protection and sustainability. Our wash systems for professional vehicle cleaning use one of the world's most precious resources: water.
As a leading manufacturer of professional cleaning systems, we are aware of the responsibility this brings with it, and of our role in the natural ecosystem. In the pursuit of a sustainable cycle of resources, we have made it our aim to keep optimising the consumption in our systems and to develop new solutions. With our systems, you can count on
excellent water treatment
minimal fresh water consumption (up to
98% fresh water saving depending on the system)
very ecological use of energy and detergents
And you can still count on the excellent cleaning results you'd expect from Kärcher. For a clean vehicle and a clean conscience.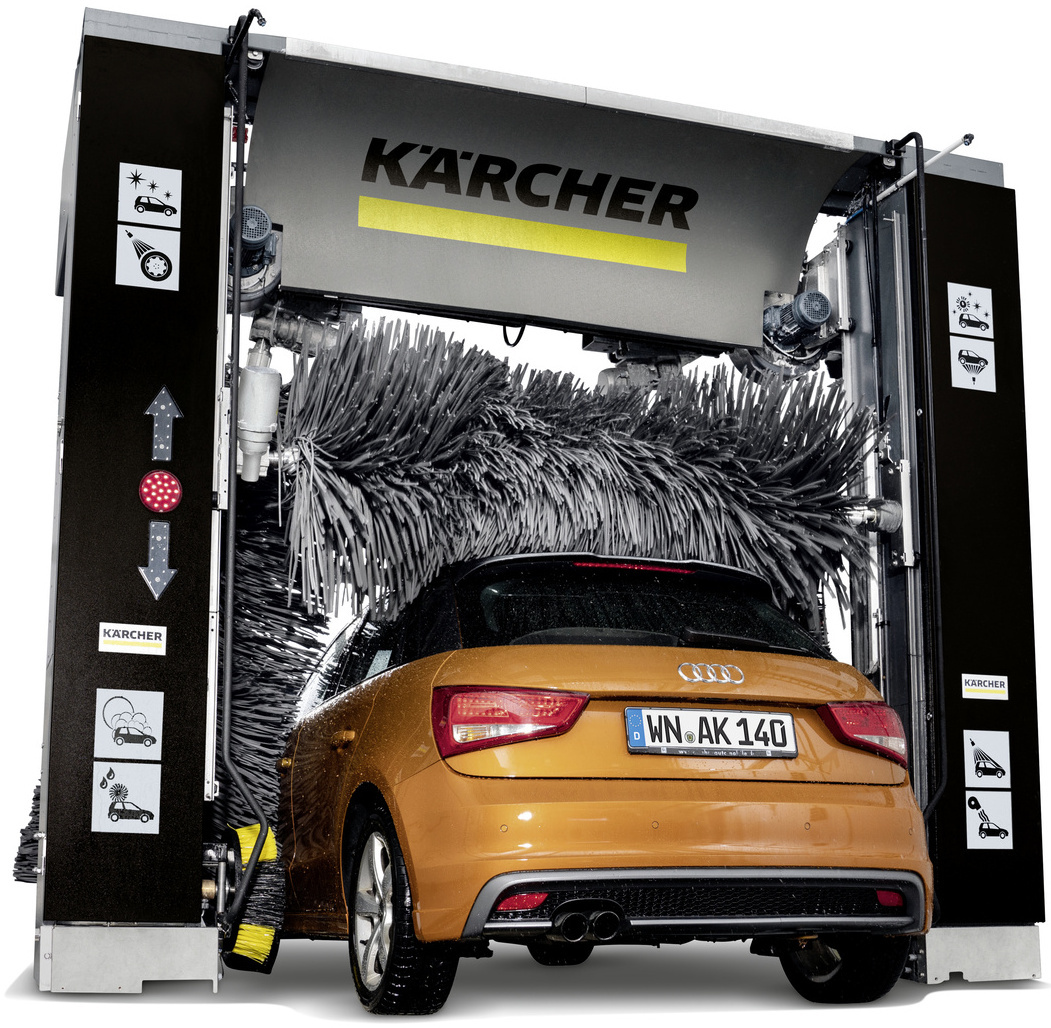 Because the numbers count
Gantry car wash systems: sustainability at the push of a button
The integrated water saving function, used in combination with the WRB Bio, saves approximately 120 litres of fresh water per vehicle wash.
Only recycled water is used in the washing process. Pure fresh water is only used for the final rinse.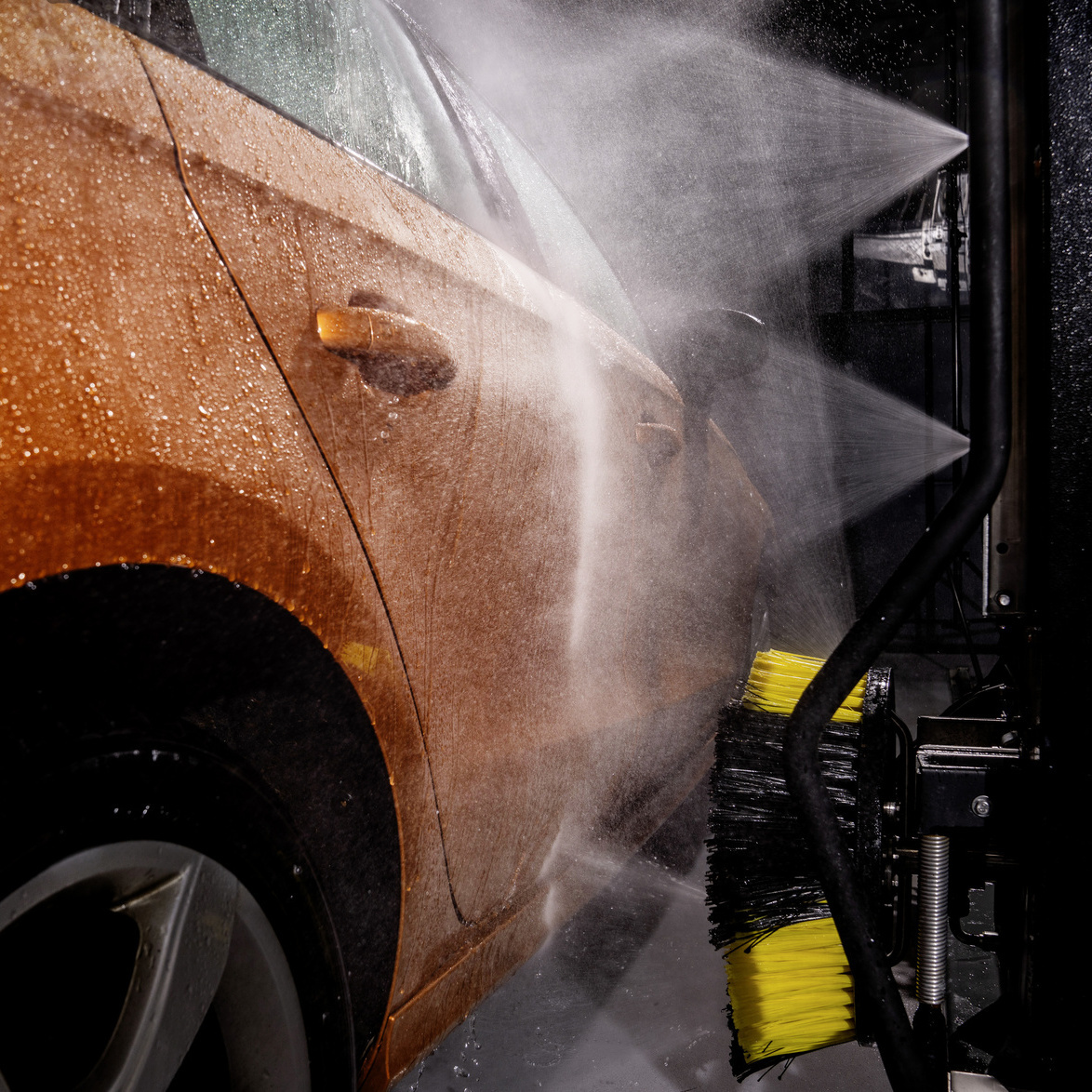 Commercial vehicle washes: a big wash, a big responsibility
Using the integrated water saving function saves approx. 400 litres of fresh water for each HGV washed, or approx. 300 litres of fresh water for each bus washed.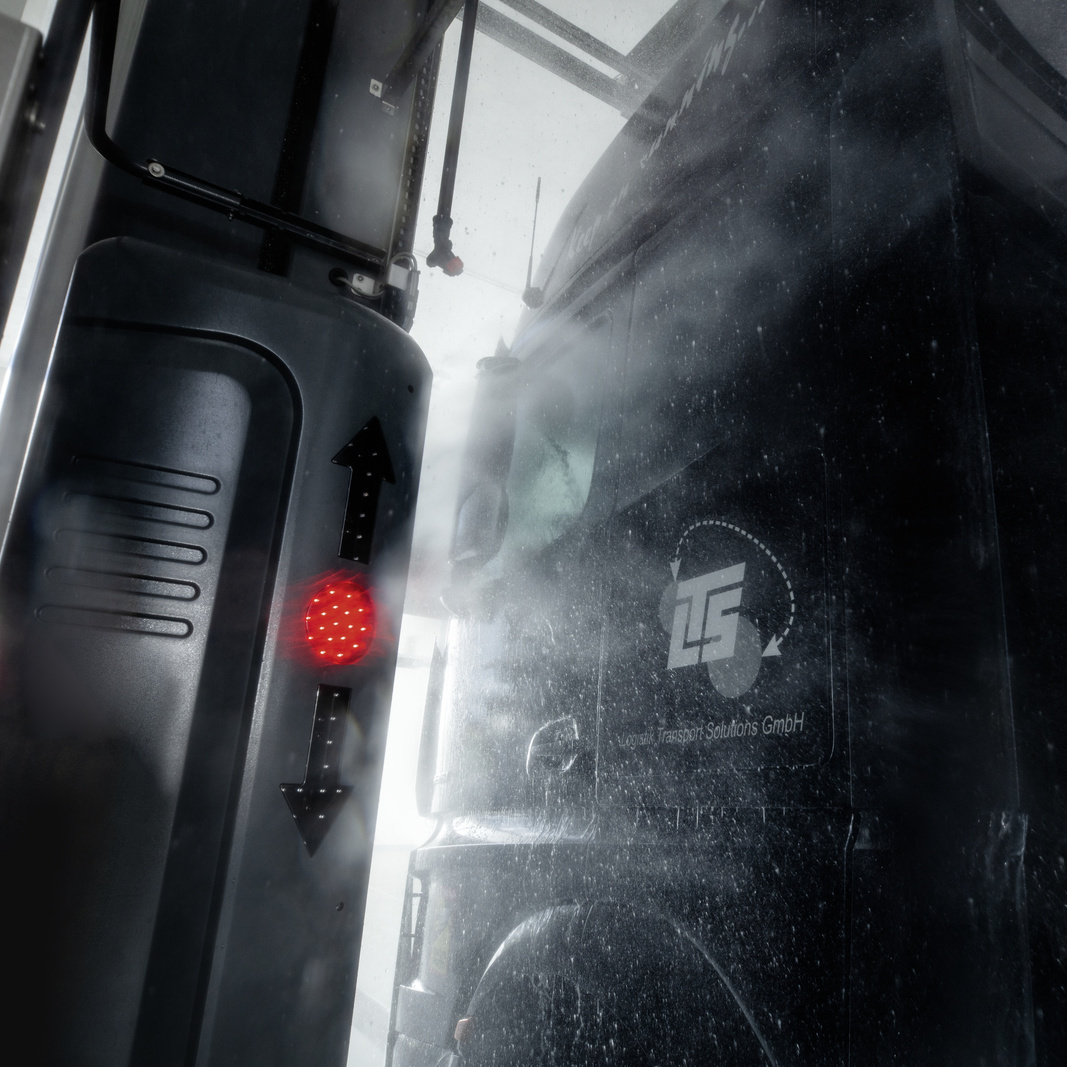 Self-service wash systems: the right dose for big savings
Our dosing system can precisely dose the ideal quantity of detergent to minimise water consumption. What makes it special is that each pump has its own dosing system. Our decades of experience have enabled us to develop the most efficient dosing system on the market.


Efficient energy-saving mode: every programme can alternatively be run with cold water if selected. This saves energy and reduces operating costs. On a 4-bay system, this represents a potential saving of at least

55 per cent

. Every customer can therefore decide for themselves how much energy to save while washing.


Our pumps are powerful and reliable. They are also around

60 per cent

more energy efficient than other commercially available.


The use of dry foam reduces water and chemical usage by

90 per cent

and saves a further

75 per cent

in energy.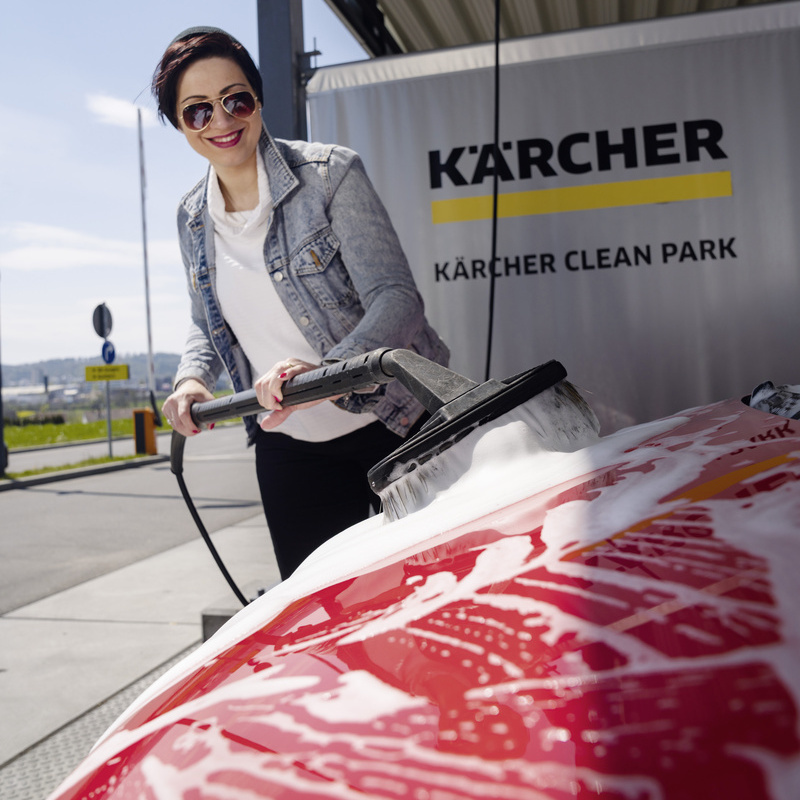 Water reclamation systems: all action, not just all talk
The WRB Bio water reclamation system from our partner aquadetox delivers biological waste water purification at its best. Applying natural and biological processes, the waste water is cleaned and treated in the system without the use of any chemicals. Ecological and sustainable. The system turns dirty waste water into freshly treated reclaim water that's transparent and odourless, then feeds it back into the cycle. The water is treated using BioCubes with microorganisms. The WRB Bio produces the best quality of reclaim water, which in turn facilitates fresh water savings of up to 98 per cent, and drinking water savings of up to 100 per cent. Thanks to the high process efficiency and degradation capacity of the bacteria, almost all the water can be reused – for minimum resource consumption and maximum cost effectiveness. The water treatment facilitates
sparing use of precious resources
cost-efficient operation of the wash system
an excellent cost/benefit ratio
a long-term investment for increased profit
a simple conversion – even in tight spaces – without the need for any labour-intensive groundworks
Kärcher Clean Park Eco: it's time to rethink
Allow us to introduce our self-sufficient Kärcher Clean Park. The fully independent system can supply its own energy and facilitates a 100 per cent sustainable water cycle – right to the very last drop. The first project has already been completed in the shape of the Kärcher Clean Park Dettenhausen, Germany. The system has
a self-sufficient water system with carbon-neutral function
an integrated photovoltaic system to generate electricity
solar thermal power to heat water
a biological water treatment system that also uses rain water, saving up to 100 per cent in drinking water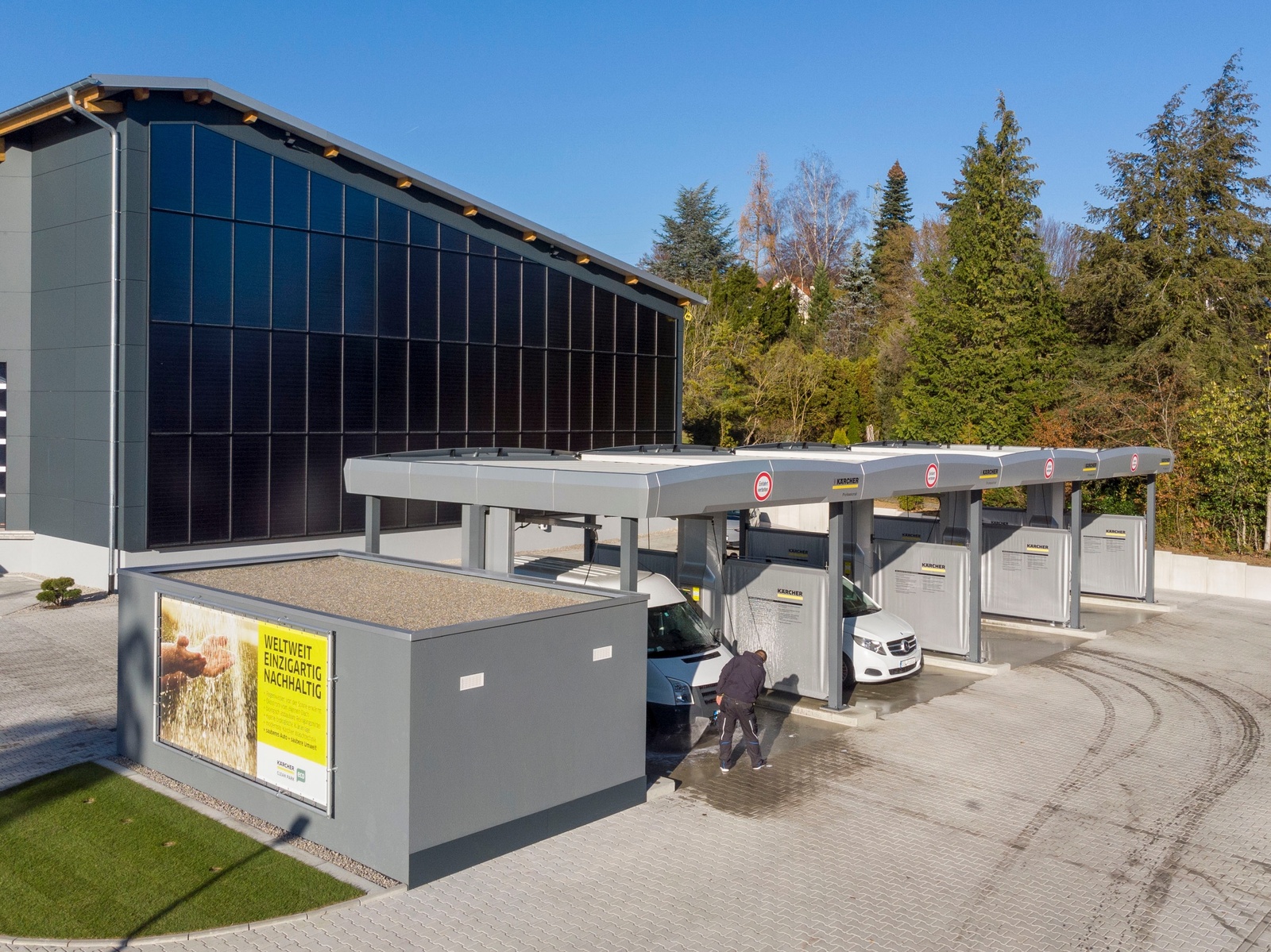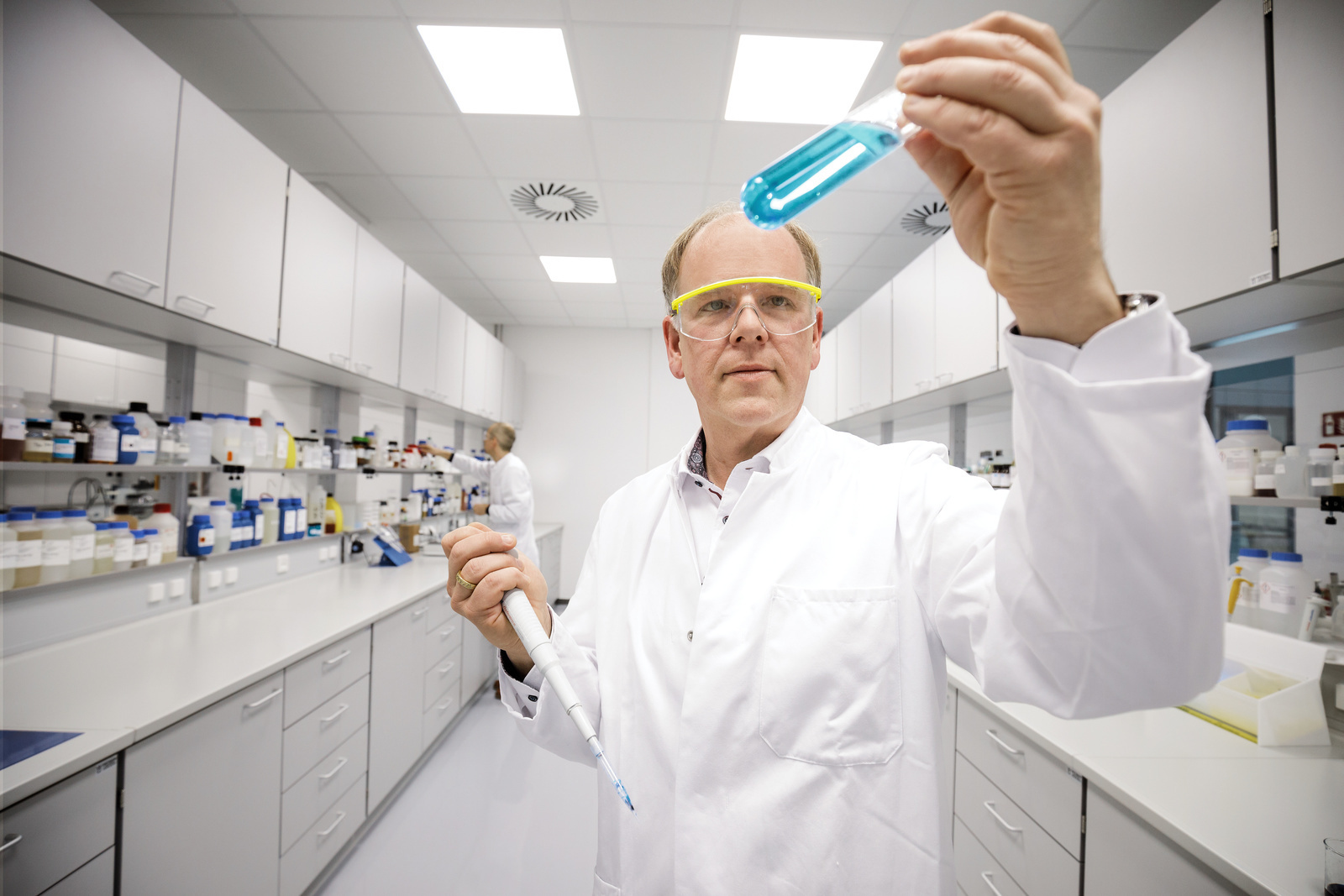 Detergents: true sustainability from the very outset
Using high concentrate forms of our Klear!Line detergents is a major factor in the success of our vehicle cleaning systems and an important step towards the sustainable operation of your wash systems. Manufactured in-house, our detergents deliver ultimate cleaning power in the very best Kärcher quality. They are produced to the highest standards using locally sourced raw materials. Not only do they deliver the best possible cleaning results, but they also minimise consumption of resources – for real sustainability throughout production chain and beyond. Good for your business, gentle to the environment. Our high concentrates present the following benefits:
less product into the water cycle when correctly dosed
fewer re-orders thanks to high productivity
reduced frequency of deliveries
less frequent pouch changes
less handling required thanks to fully recyclable empties
And it doesn't end there. For customers with the highest environmental standards there is our VehiclePro eco!perform line of sustainable detergents that are Nordic Swan certified. The Nordic Swan ecolabel is an established Scandinavian environmental quality label for 200 different types of product, which symbolises genuine sustainability. The stamp is only applied to products that meet its strict criteria, such as environmental compatibility, health aspects, efficiency, recyclable packaging and biodegradability of the raw materials.