From Ultra-High Pressure to Dry Ice
Across all industries, different challenges are at the forefront when it comes to cleaning. Accordingly, cleaning methods and devices vary.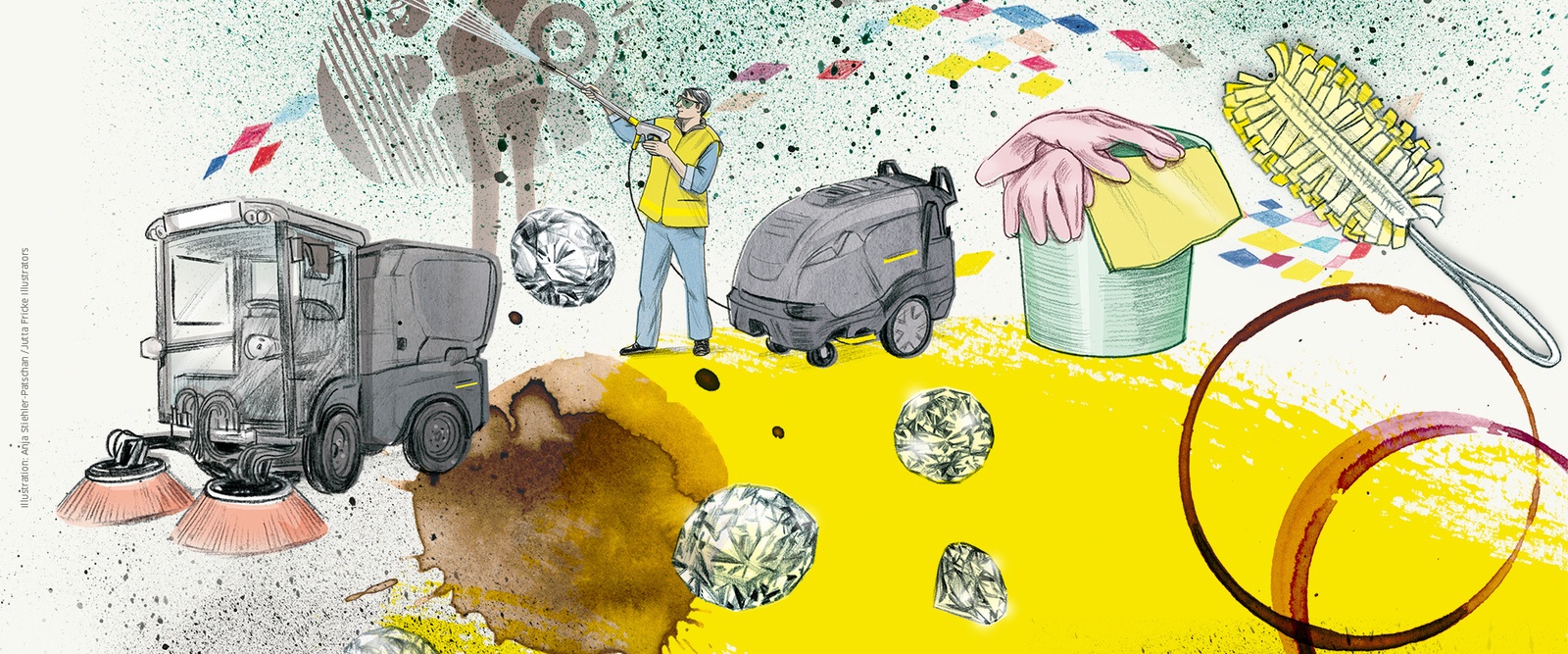 What is dirt?
When dealing with the question of which cleaning equipment is needed, it is always about the question of what is considered dirt and if it must be eliminated. It is more or less inevitable that anthropologist and cultural theorist Mary Douglas name comes up. In her work "Purity and Danger" from the 1970s, she explains that dirt is something that is in the wrong place. For example, sand on your desk will be perceived by most people as out of place, while the sand on a beach is beautiful. This example shows that the perception of dirt has a lot to do with one's own sense of order. The scientific understanding of dirt has evolved over the decades, because categorizing dirt as something that is in the wrong place does not always work: a diamond in the dustbin will hardly be perceived as dirt. So factors such as aesthetics or material value are added.
Modern cleaning technology is an essential component in dealing with dirt. If you think about home applications, the requirements are clearly defined: It is - depending on your own need for cleanliness - dirt removal with the most ergonomic and efficient equipment, from vacuum cleaner to high pressure washer. Good technology makes home and garden work easier and contributes to a certain feel-good factor. On the other hand, in the industrial sector, it takes on significantly more functions. For example, if machines are consistently kept clean during production, this is an important aspect in terms of maintaining value and maintenance. In the medical field, cleaning technology is an indispensable hygiene factor, with the dirt becoming less and less perceptible, up to clean room conditions. The cleanest cleanroom in the world, with an area of ​​250 square meters, is operated by the Fraunhofer Institute for Production Technology and Automation in Stuttgart. One cubic meter of air contains only a single, 0.1 micron particle - a truly clean environment.
Chemical Industry
Cleaning work is not part of the core business of the chemical industry, but is a prerequisite for smooth and efficient processes. Proper cleaning of production equipment keeps product quality constant, which is a key factor in market success. It is also important to comply with internal operating regulations and to comply with general standards.
There are many possibilities, from cleaning-in-process systems (CIP) running through the plant to mobile systems on site, to disassembly and cleaning of parts at external washing stations. There are also various variants with regard to the cleaning technique chosen, with ultra high-pressure technology being the most efficient method in many cases.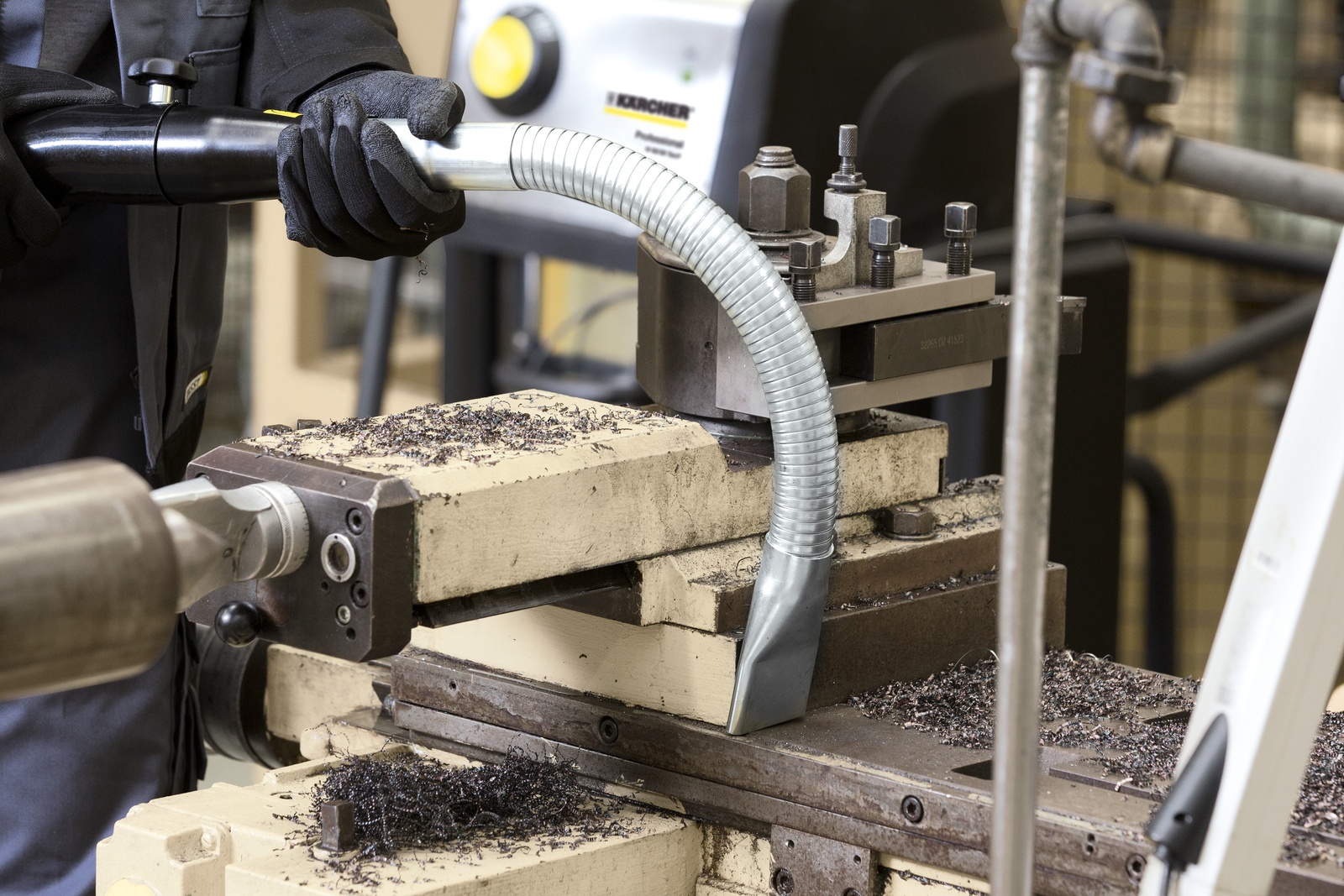 Metal processing
Milling, drilling, turning, sawing, grinding, deburring or brushing: In the metalworking industry, there are many operations involving shavings, fine dust and, depending on the process, liquids such as cooling lubricants. To ensure maximum product quality and occupational safety, it is important to choose the correct extraction solution.
Coming soon are solutions that work fully automatically along the entire shaving processing chain. This means that the entire process from picking up the shavings, ie the machining, to the recycler is covered. The higher investment in technology pays off quickly, because improved productivity and process reliability as well as reduced personnel costs are the result.
Construction
The cleaning of construction equipment serves the long-term preservation of value and also ensures a representative appearance. It is part of every maintenance process, ensures perfect operation and significantly increases the service life.
In this way, machine damage with the corresponding work disruptions and repair costs can be avoided. Due to its versatility, high-pressure cleaning has proven itself as a cleaning method. It can be used for underbody, top and engine wash as well as for the cleaning of machine components.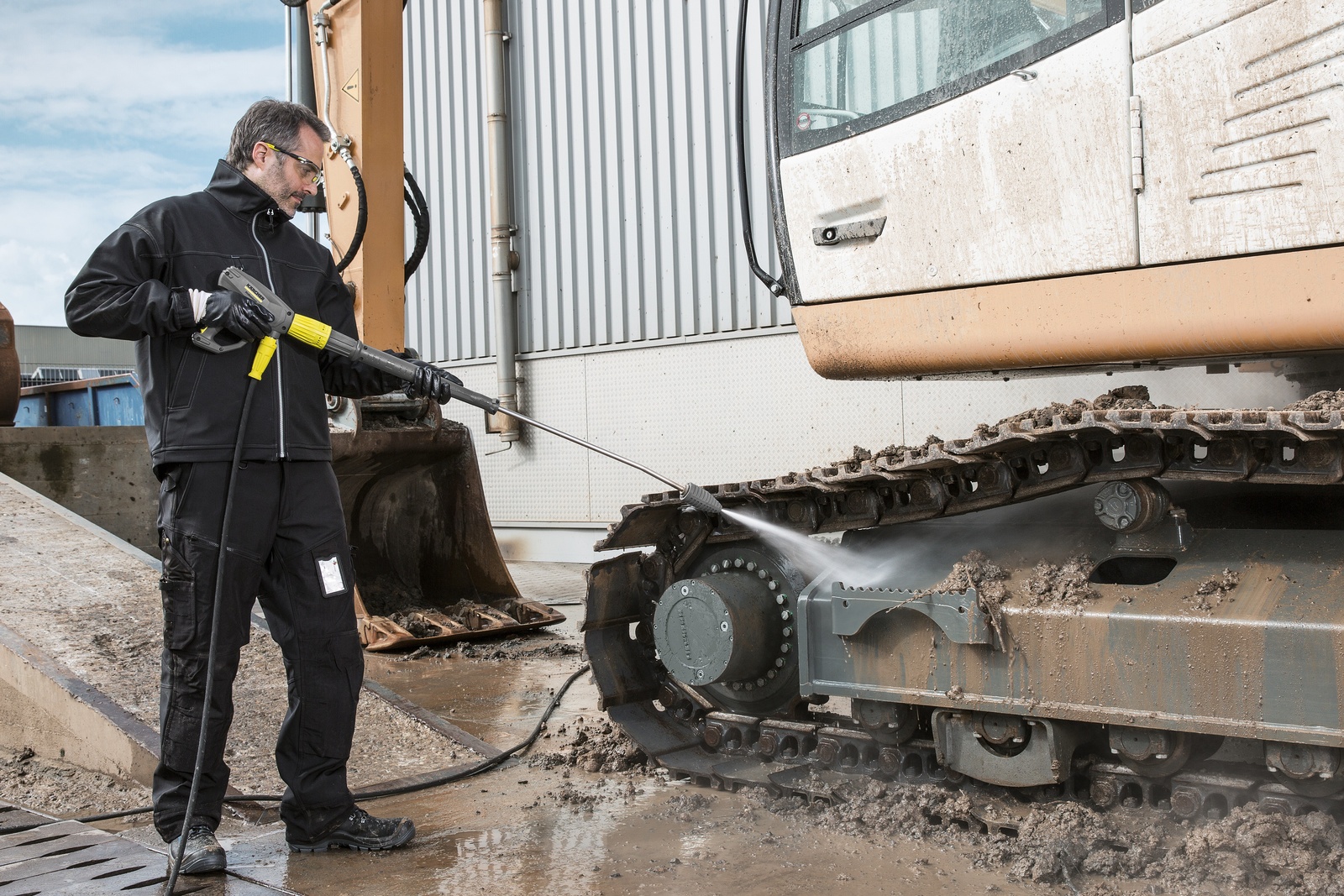 Production, storage and transport of food are subject to the strictest guidelines and standards. Among other things, companies need reliable cleaning concepts so that companies can meet these requirements. Wet and dry vacuum cleaners, industrial vacuum cleaners, floor scrubbers and sweepers, extraction systems, hot water steam and ultra-high pressure technology as well as dry ice cleaning are used. In addition to the fulfillment of hygiene and occupational safety standards, efficiency and a smooth integration into production are among the success factors.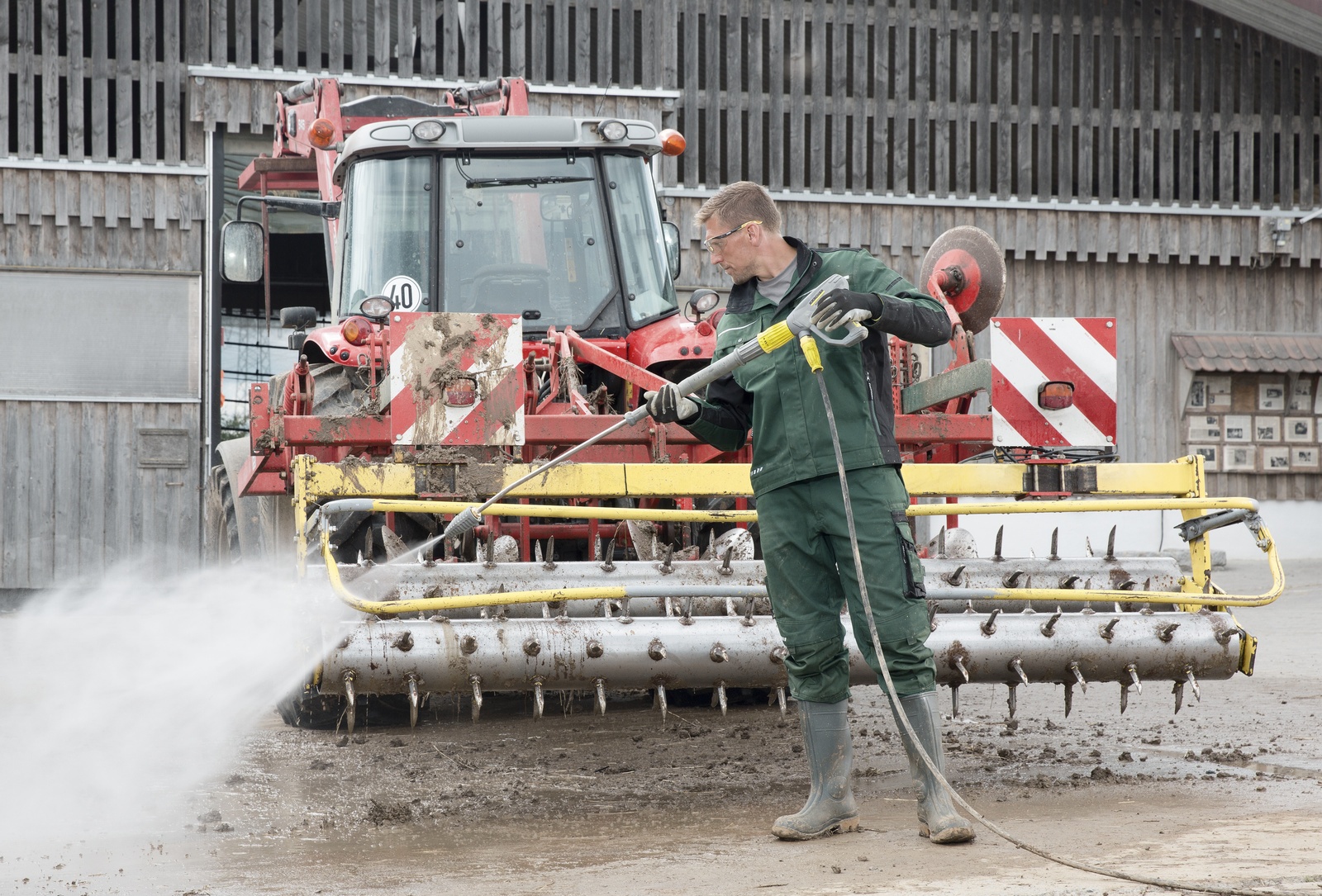 Agriculture
The demands in agriculture are varied. An indispensable part of professional livestock farming is assured quality through the highest standards of hygiene. The regular thorough cleaning of stables with high-pressure technology and foam disinfection is therefore a must in order to protect the animals from pathogens and pests. Rearing ponds as well as vehicles and vessels in fish farming can be efficiently and environmentally friendly protected against microorganisms in the combined high-pressure foam process.
In arable farming or viticulture, high-quality machines are in use, on which one must be able to rely for years. Therefore, it is essential to maintain functionality through regular care and cleaning with cold and hot water high pressure equipment. Special barrel cleaners eliminate deposits of fermentation processes, maturity or years of storage in barrique barrels practically and quickly without laborious changeover.
Healthcare
Successful clinical operation is inseparably linked with up-to-date hygiene and appropriate efficiency. For this, the core tasks of hygiene, above all, the avoiding of infections and dissemination of germs have to be coordinated with care and value retention tasks as far as possible.
The different areas in hospitals require different solutions each time, from small to large areas, from kitchens to operating rooms. In addition, the continuous operation requires particularly efficient maintenance cleaning, because there are only small time windows open for elaborate thorough cleaning. Increasingly demanding hygienic standards, increasing cost pressure and competition are aggravating factors. Professional, efficient cleaning systems, coordinated to the respective requirement, are therefore vital.