Under the Dubai sun
Whilst many nations are still searching for alternative energy options, those in the Middle East are striving to make the most of one particular resource that they have an abundance of: the sun. It provides more energy than is needed. For solar power expert Thibaud Duchateau, the sun is the key to clean energy for the future and thus a more habitable world for the generations to come.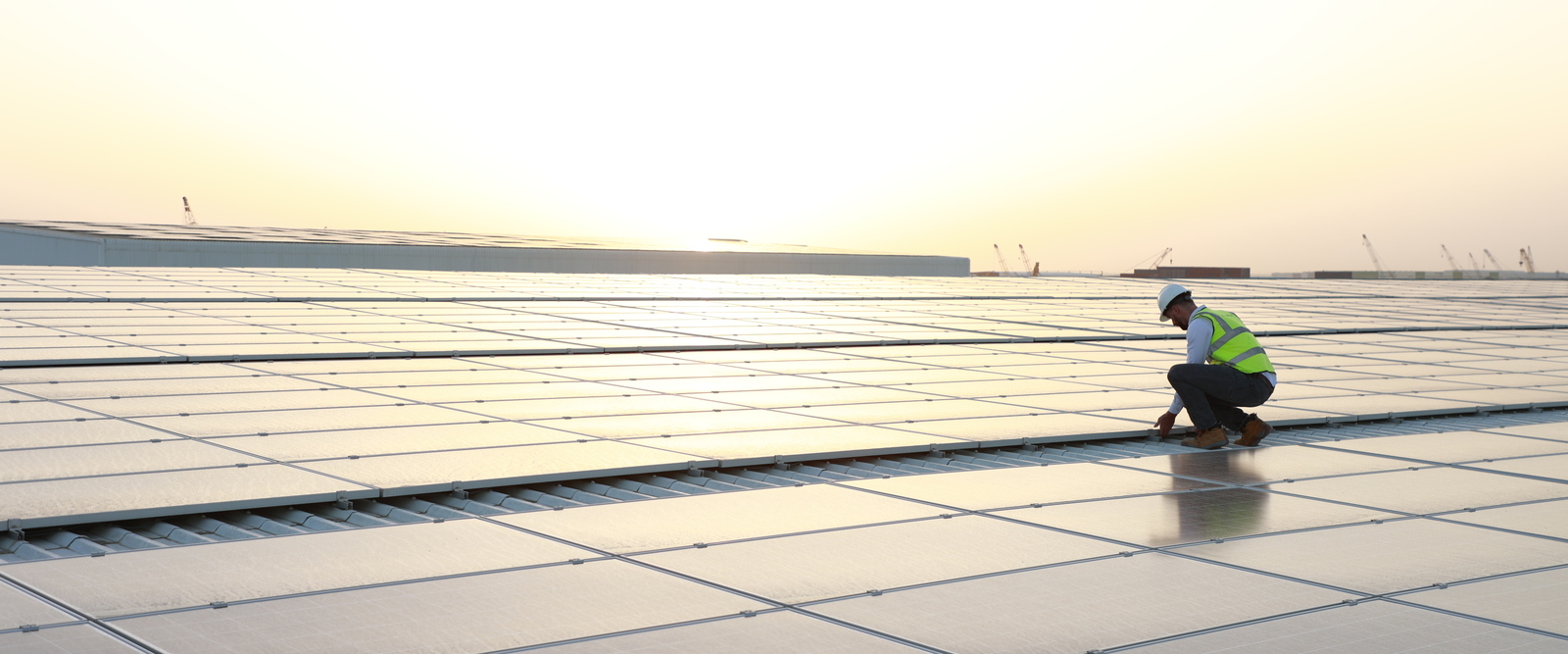 Making a real difference in the world
Even as a structural engineering student, Thibaud Duchateau set about acquiring the skills and knowledge he would need for a career that would first and foremost help him to protect the environment and shape a better future for mankind. He opted for the solar energy sector, and thereby became part of a movement that works tirelessly towards making energy clean and affordable and protecting the planet for the long term: "I am fascinated by everything related to alternative energy and want to make a real difference with my work. Within the solar sector, I am lucky enough to work every day with people who share my enthusiasm."
His interest in renewable energies was sparked as a young child. Born in the French city of Toulouse, he travelled the world with his family from a young age and lived in many different countries. His primary school years were spent in Morocco, before later moving with his parents and younger siblings to Abu Dhabi, capital of the United Arab Emirates (UAE), for seven years. His father worked as an engineer and his mother as a teacher. These days, Thibaud Duchateau's family are back living in France, where he visits them twice a year. "From my many travels, it became clear to me, even as a child, the devastating impact climate change has on the world, and I soon realised that I wanted to be part of a sector that helps tackle this global challenge."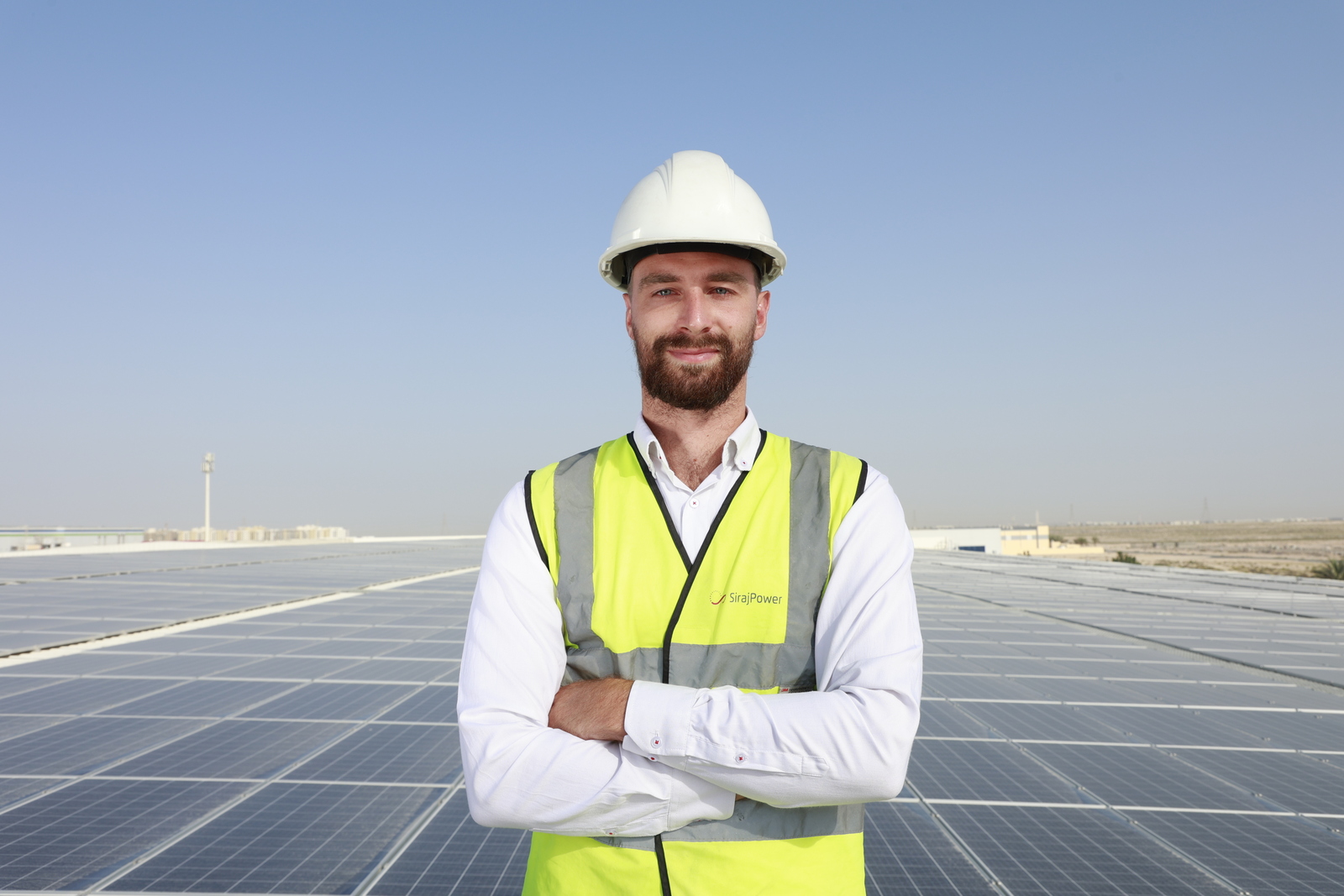 Regular cleaning is enormously important
For the past three years, he has been living in the desert city of Dubai, where he works as Head of Operations and Maintenance for SirajPower. The company provides comprehensive solutions for the development, construction and operation of solar rooftops, which convert sunlight into electricity for commercial and industrial applications. There are several aspects of his job that the Frenchman loves: interacting with people, such as clients and suppliers, for instance. Or making sure that the in-house team is in sync and understands how to continuously improve the products. What's more, Thibaud Duchateau is able to contribute pioneering work to the new projects his company is developing – and thereby play an active part in developing a greener future. SirajPower is currently responsible for the installation, cleaning and maintenance of over 190 solar plants, covering 600,000 square metres and totalling 100 megawatts of installed capacity. The plants are spread right across the city. Every day, SirajPower's plants generate some 274,000 kWh of energy, which equates to the energy needed to drive roughly 25.5 petrol-powered cars continuously for a year.
The weather conditions in sun-drenched Dubai bring with them some very specific challenges: "There is just so much dust here, and occasional sandstorms too," explains Thibaud Duchateau, before adding: "To ensure our complex plant equipment is always performing at its best, it's vital that it is cleaned regularly." This is why the company uses the iSolar system from Kärcher to clean its solar panels. "Our relationship with Kärcher is one of our longest-standing relationships," he points out. "The relationship started with performing maintenance on sites. However, we quickly realised that we had high maintenance needs due to the harsh weather conditions in the UAE. That's when we started speaking with Kärcher about developing customised solutions, which we still use to this day. iSolar can be used everywhere where solar and photovoltaic plants are installed to harness energy from the sun."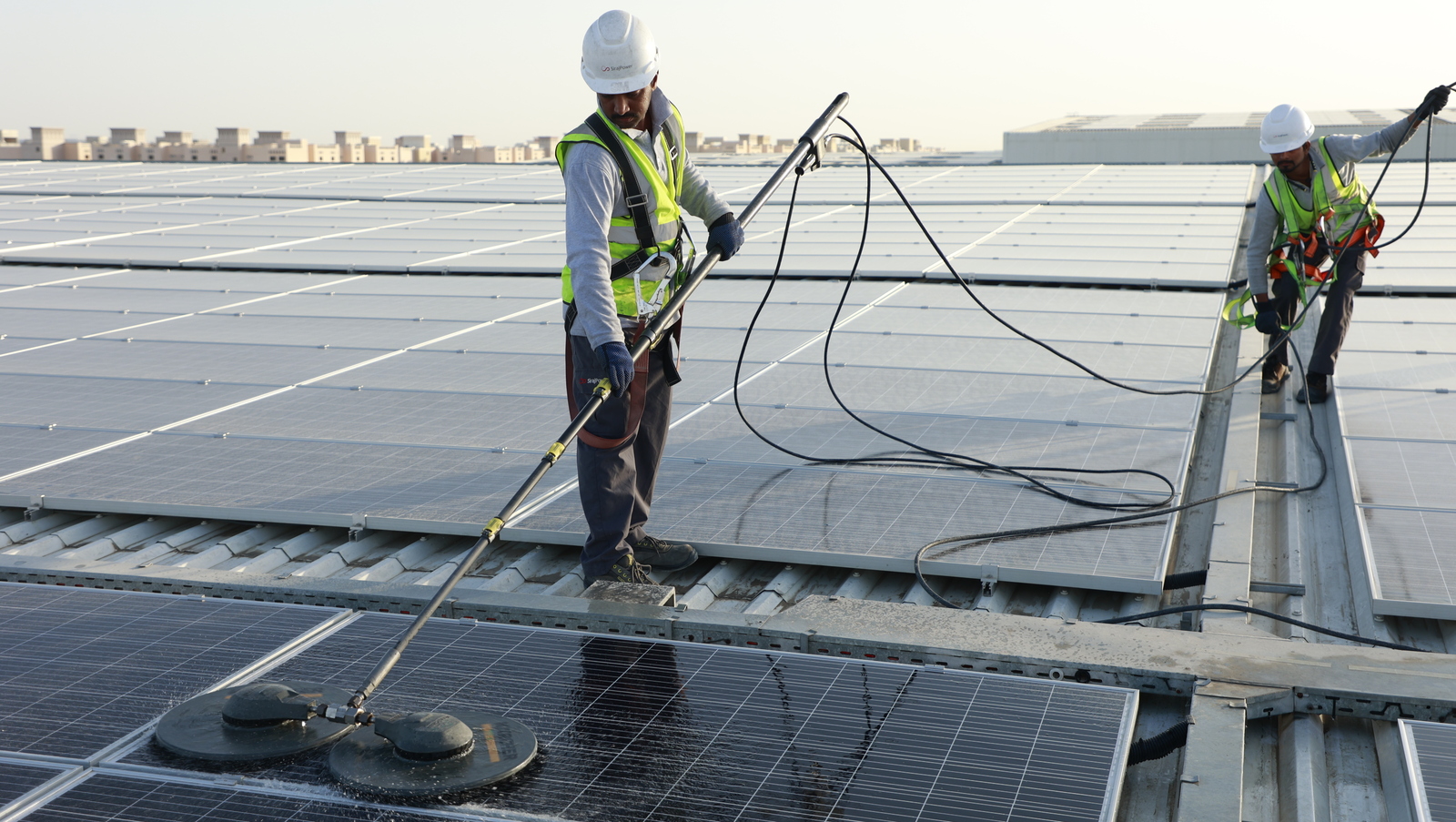 Balance in life as a key factor to success
The power of nature also plays a big part in Thibaud Duchateau's life outside work. His weekends are reserved for outdoor adventures that get his adrenaline pumping. The athletic executive loves climbing, diving or kitesurfing on Dubai's endless sandy beaches. He loves to see the colourful kites dance about the sky, and nothing brings him more joy than tearing across the water kitesurfing and feeling the pure power of the wind. Thibaud Duchateau firmly believes that nature gives him more vitality and helps him to replenish his own energy levels for the day ahead. For him, this balance in life is a key factor to success.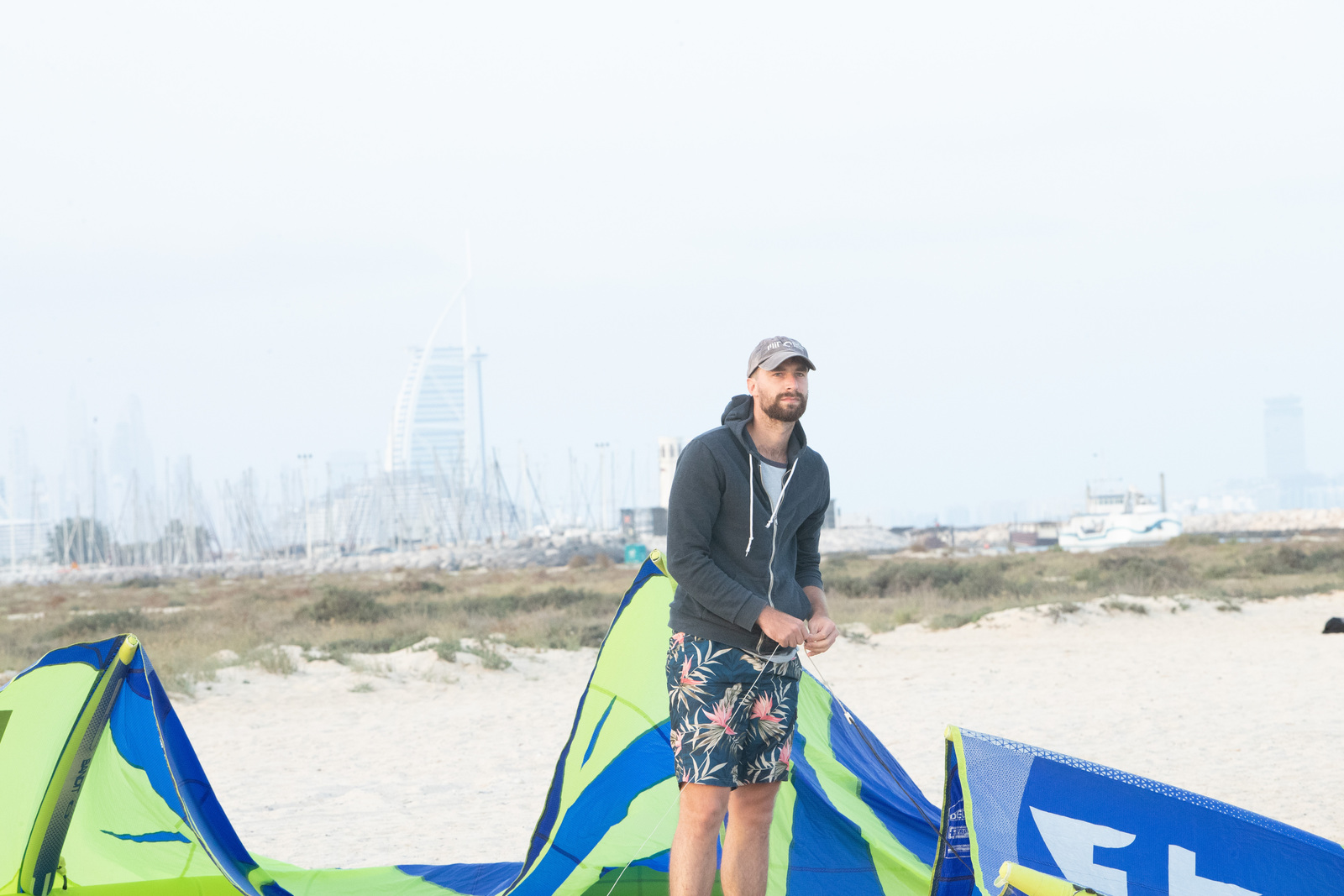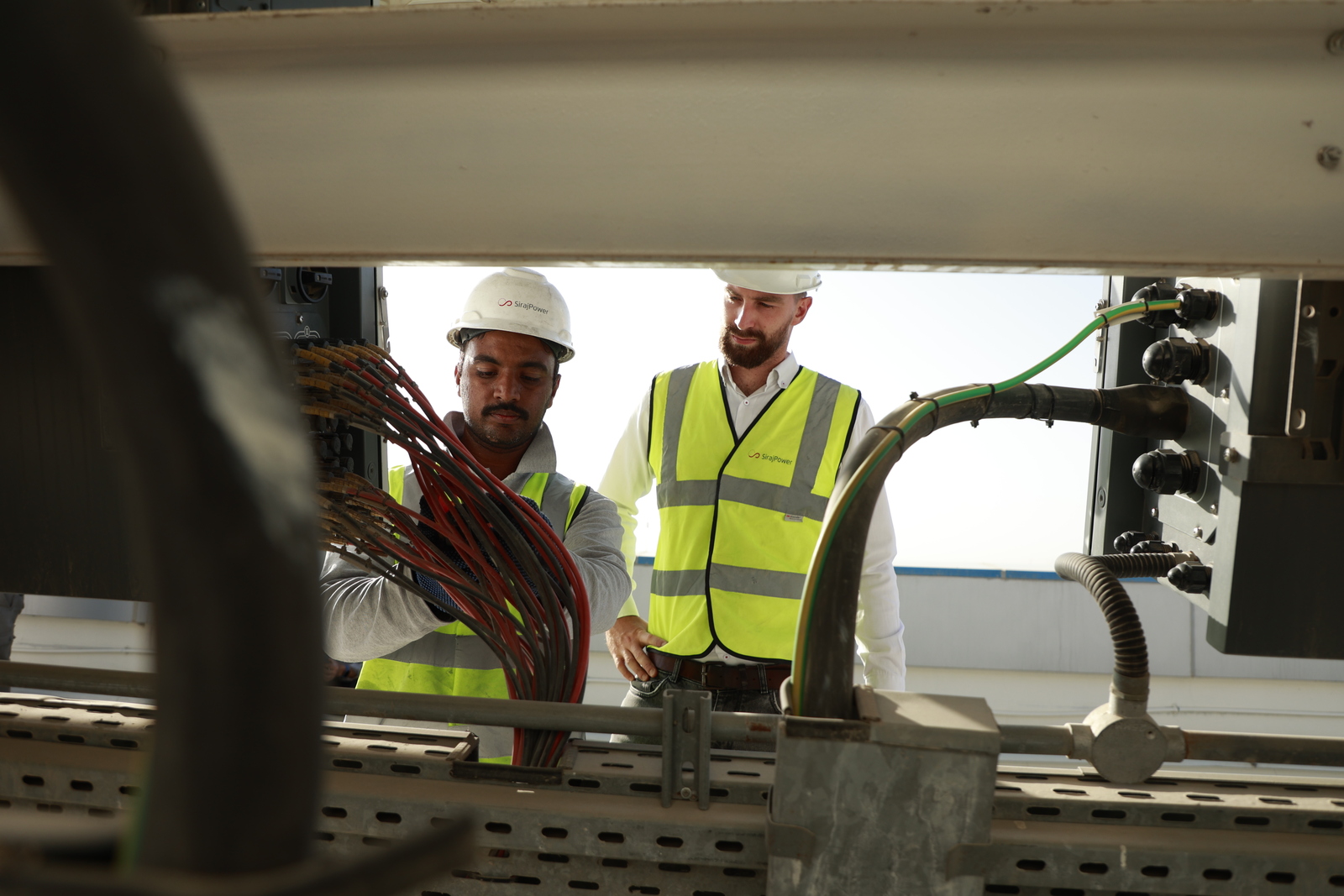 Green energy for the world
SirajPower not only offers solar solutions but also develops completely new ways of producing energy. Thibaud Duchateau plays a key role here as his job is to develop efficient processes for upcoming operations. For instance, the company has developed solutions that enable them to transfer unused energy from the solar systems to construction sites through batteries. "Instead of using a diesel generator, we can offer an entirely new type of solution. Through this hybrid solution, we will be able to power a much larger part of the UAE and the Middle East in the coming years," Thibaud Duchateau explains. "What is being done here has the potential to be replicated worldwide."
It is precisely this spirit of innovation that drives him day in and day out: "I am always striving to advocate for more renewable energies, because if we don't move towards greener energy production, we simply have no future. Every day, I come to work knowing that I'm contributing to a more sustainable future. And that really spurs me on. For me, it is important to be a part of the solution and help more people make the switch to green energy."
You may also be interested in: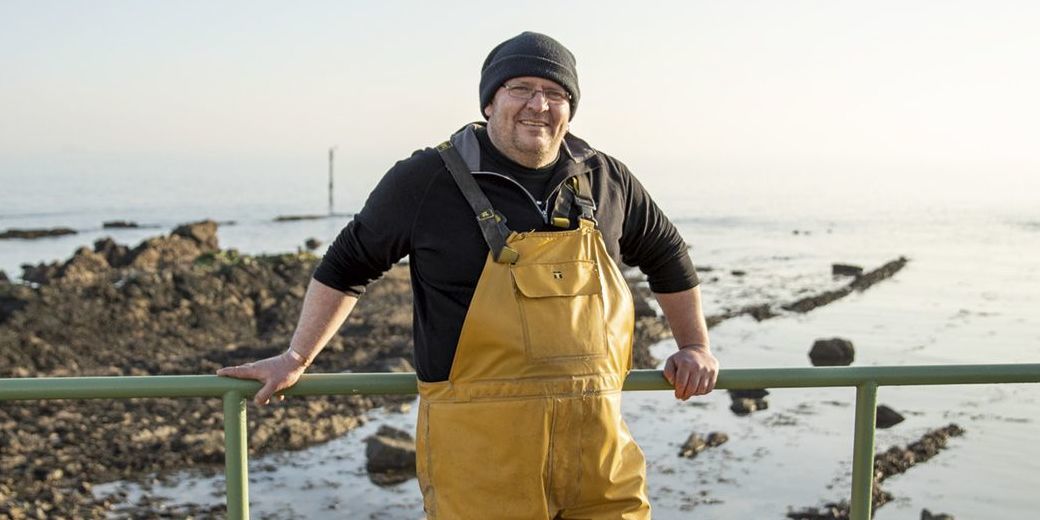 A Life for the Big Catch
Each day fishermen sail out from the harbour in the small Scottish village of Pittenweem on the Firth of Forth estuary on the North Sea coast and catch lobsters and brown crabs. The work is hard, but nobody here would change it for the world.
Queen of the Wine Cellar
Since the Middle Ages, vines for premium red wines have been ripening on the slopes of the La Braccesca vineyard under the blazing Italian sun, which was in ample supply last summer. Today, the grapes mature under the watchful eye of oenologist Fiamma Cecchieri, who always has plenty to do at the winery.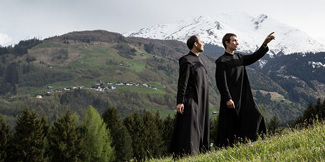 Reaching for the Sky
Many people aim to reach for the sky in life, but only few follow the path being trodden by Murezi Casanova. At the Benedictine Monastery in Disentis, Switzerland, the novice and trained landscape gardener takes care of the greenery and monastery garden, and will soon add the salvation of his fellow human beings to his list of duties.