Effective cleaning processes and what they mean for hotels
As cleanliness, hygiene and health are increasingly important, effective cleaning processes are more relevant than ever in the hotel industry. They are the only way to ensure that hotels create a pleasant, reassuring atmosphere that guests will equate with safety.
Cleanliness for comfort and safety
Some leaves in the foyer, dust on the indoor plants, a fingerprint left on the window – it's the little details that determine whether hotel guests feel like they have found a comfortable place to stay. This first impression can unintentionally tarnish how guests see other areas, such as bedrooms and bathroom facilities. Since cleanliness, hygiene and health are currently hot topics, effective cleaning processes are more important than ever in the hotel industry. They are the only way to ensure that hotels create a pleasant, reassuring atmosphere that guests will equate with safety.
Looking for a room: Through corridors, up stairs and in lifts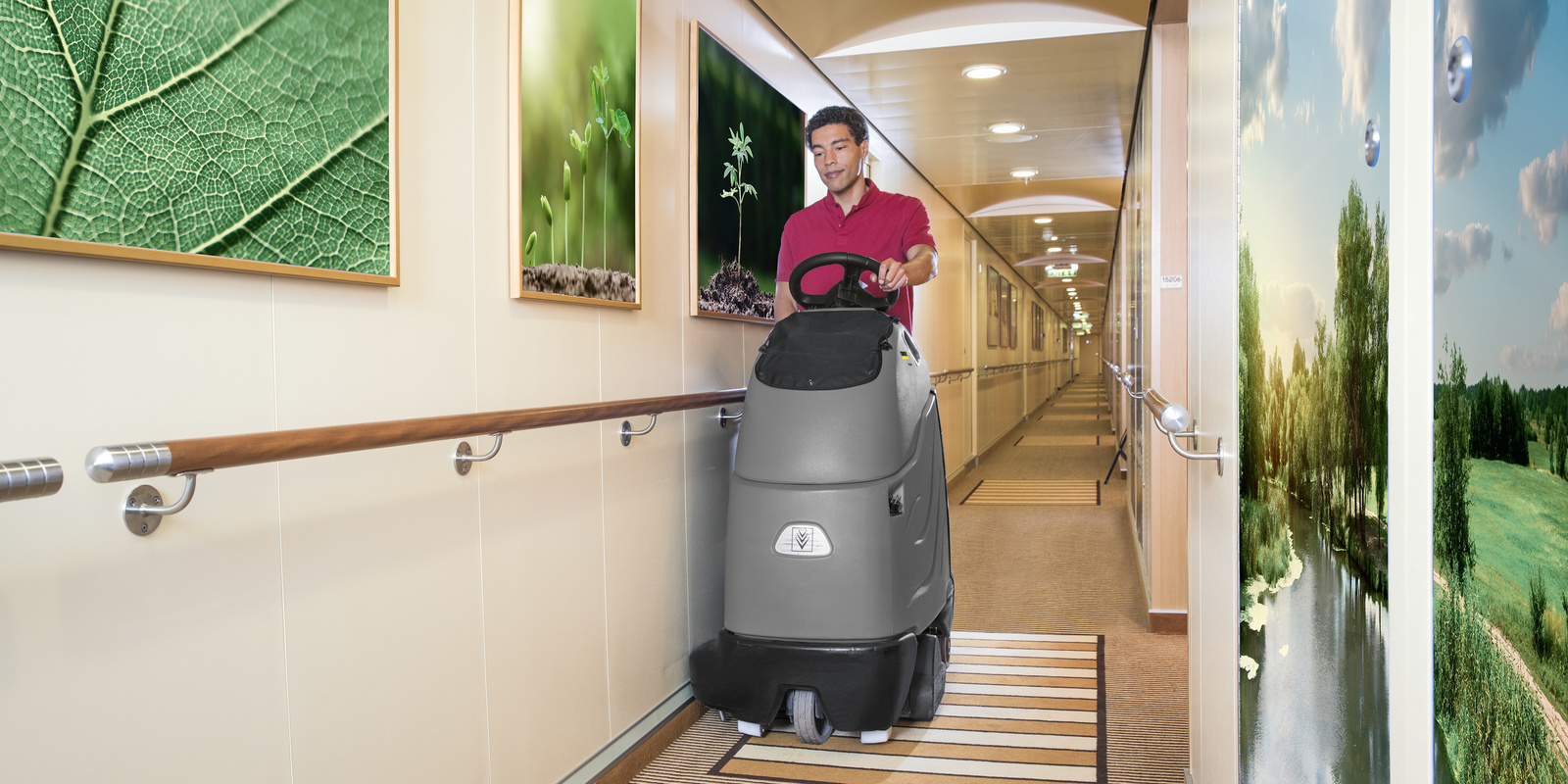 Depending on their size, hotels can occasionally contain several kilometres of corridors, which are very often furnished with carpets. To save time and effort when cleaning them, we recommend using battery-powered step-on upright brush-type vacuum cleaners. Scrubber driers like those used in the foyer can be used for other floor coverings, as they are suitable for the size and condition of these areas.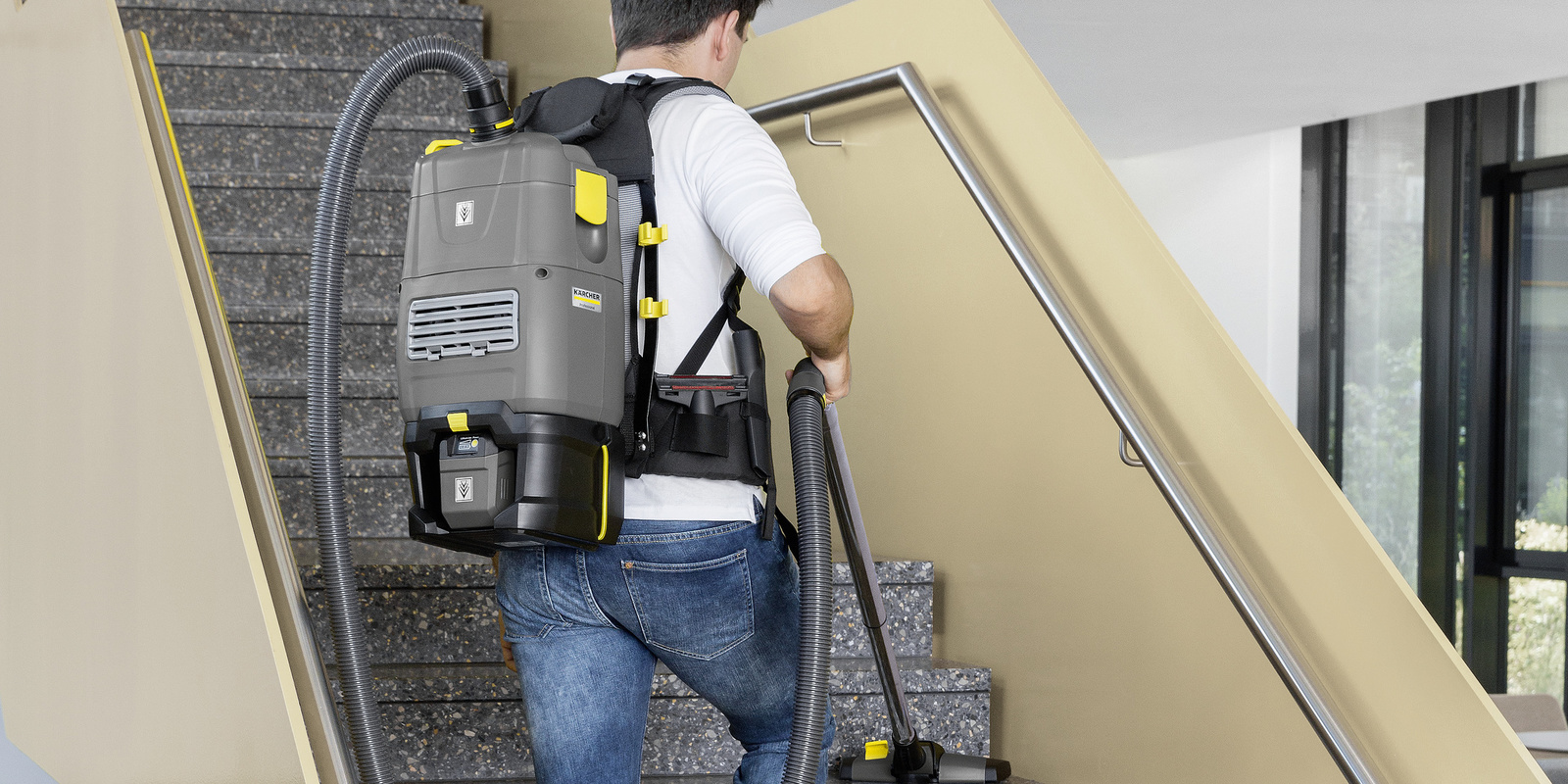 On staircases, flooring made of fabric, resilient materials or stone can likewise be kept clean with backpack battery-operated vacuum cleaners, which are comfortable for the user. Their primary advantages are that there is no tripping hazard from a cord, and that unnecessary routes from and to the last or next socket are a thing of the past. An alternative that has recently been launched on the market is a mini scrubber, which enables fast, ergonomic work. Depending on the time of day, if foot traffic is high we recommend cleaning and disinfecting the handrails on staircases regularly.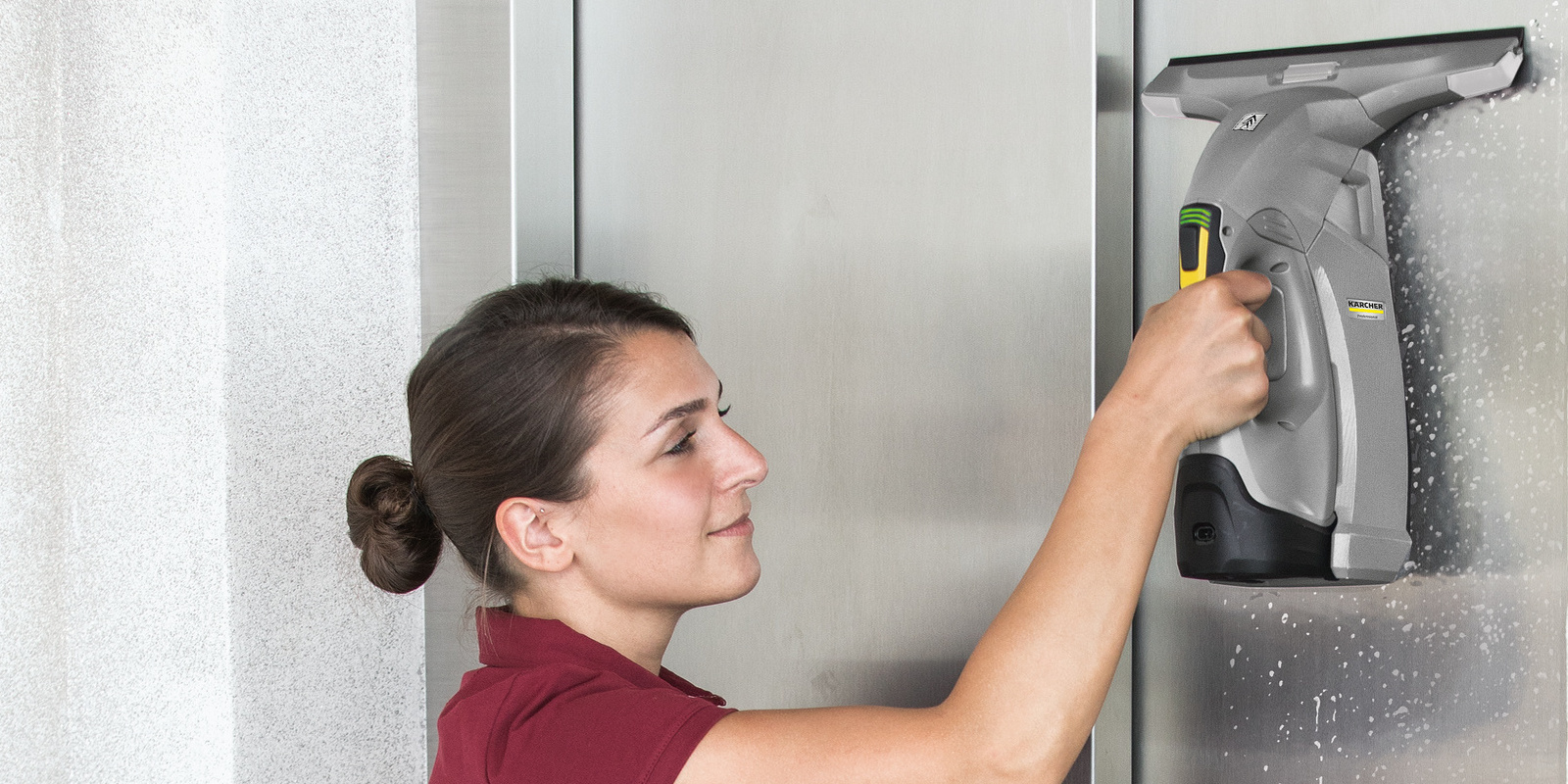 Due to their confined space and frequent use, lifts are a particularly tricky area. All contact surfaces should be cleaned and disinfected multiple times a day. Carpets can be cleaned with a cordless vacuum cleaner to remove dirt, while other floor coverings can be cleaned quickly and efficiently using large surface wiping machines. If the lift is fitted with glass or mirrors, these surfaces must be cleaned thoroughly with a hand-held window and surface vacuum cleaner. These absorb the water after cleaning, thereby preventing splash water from creating a slip hazard or leaving dirt behind.
Unpacking at last: The hotel room, a home from home
Day-to-day maintenance cleaning is performed under time pressure – it is therefore all the more important to ensure that it is a systematic process which will create a reassuring, comfortable environment for hotel guests. Typically, the beds are freshly made and then the surfaces in the bedroom and bathroom are cleaned. This process usually involves two techniques. The first, the colour method, helps staff to avoid transferring germs from one location to another: Blue is used for surfaces, yellow is used for bathroom facilities (washbasins and showers), red is used for urinals and toilets, and green is used for special applications, such as disinfection.
The second useful working technique is the 16-fold method for sheets, which is much more ergonomic for the hotel staff than carrying around heavy buckets of water. The cleaning cloth is folded in half three times (once downwards and twice to the side) so that there are a total of 16 sides. In one bucket, a precisely defined quantity of folded cloths are soaked with a specified quantity of cleaning agent. They are fully soaked and are then ready for use. Next, the hotel staff wipe each surface with a fresh side. Once all the sides have been used, the employee throws away the cloth and uses a new one. After the surfaces have been cleaned, contact surfaces can be disinfected as well.
The floor covering in hotel rooms is often carpet – it can be cleaned quickly and effectively using an upright brush-type vacuum cleaner. Small stains can be removed using a stain removal product. Here it is important to work from the outside to the inside in order to not spread the stain. If a room is unoccupied for a couple of days, the spray extraction method can also be used to remove stains. However, the drying time for this process is six to eight hours.

Relaxing in paradise: A well-manicured spa facility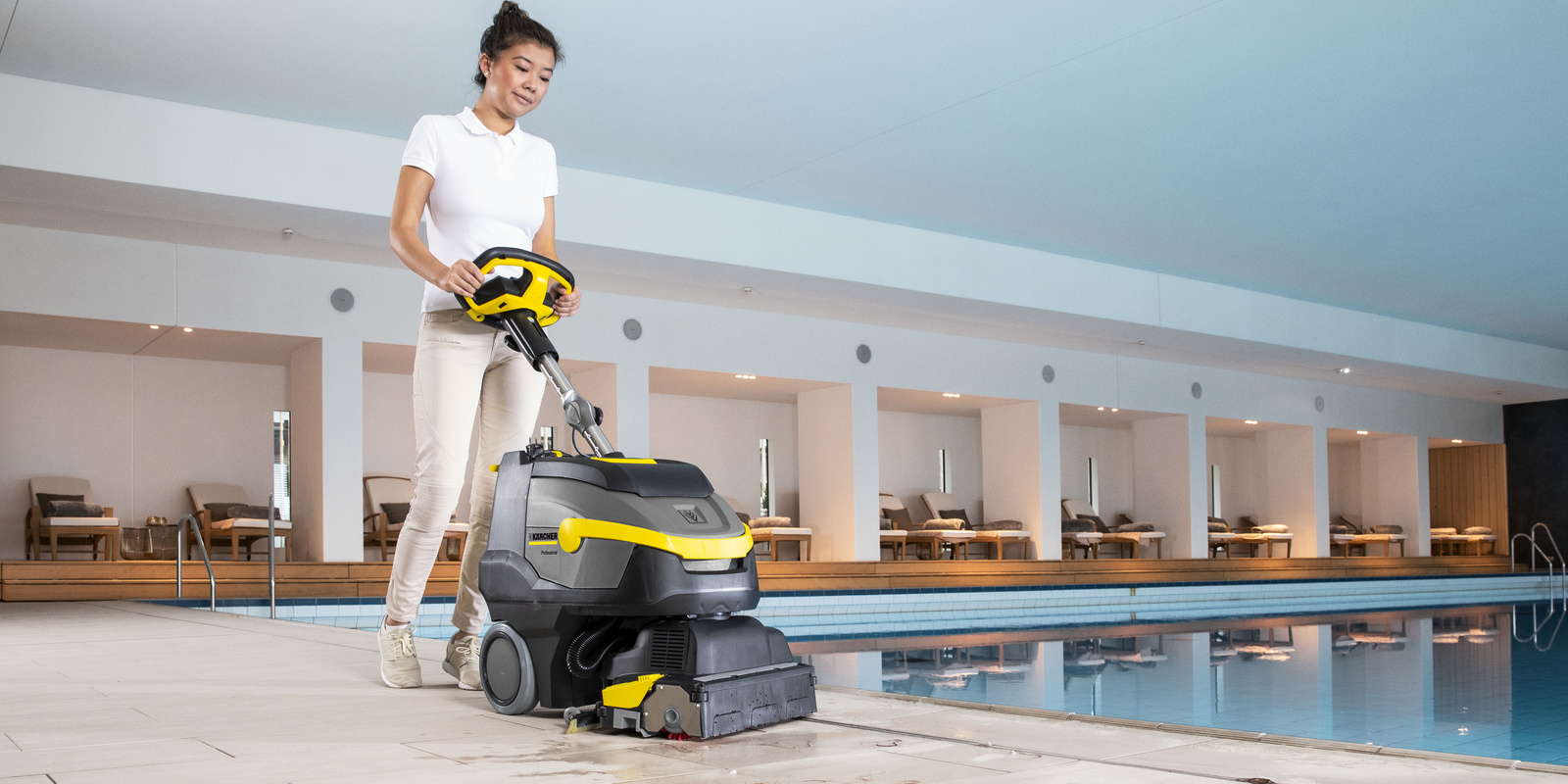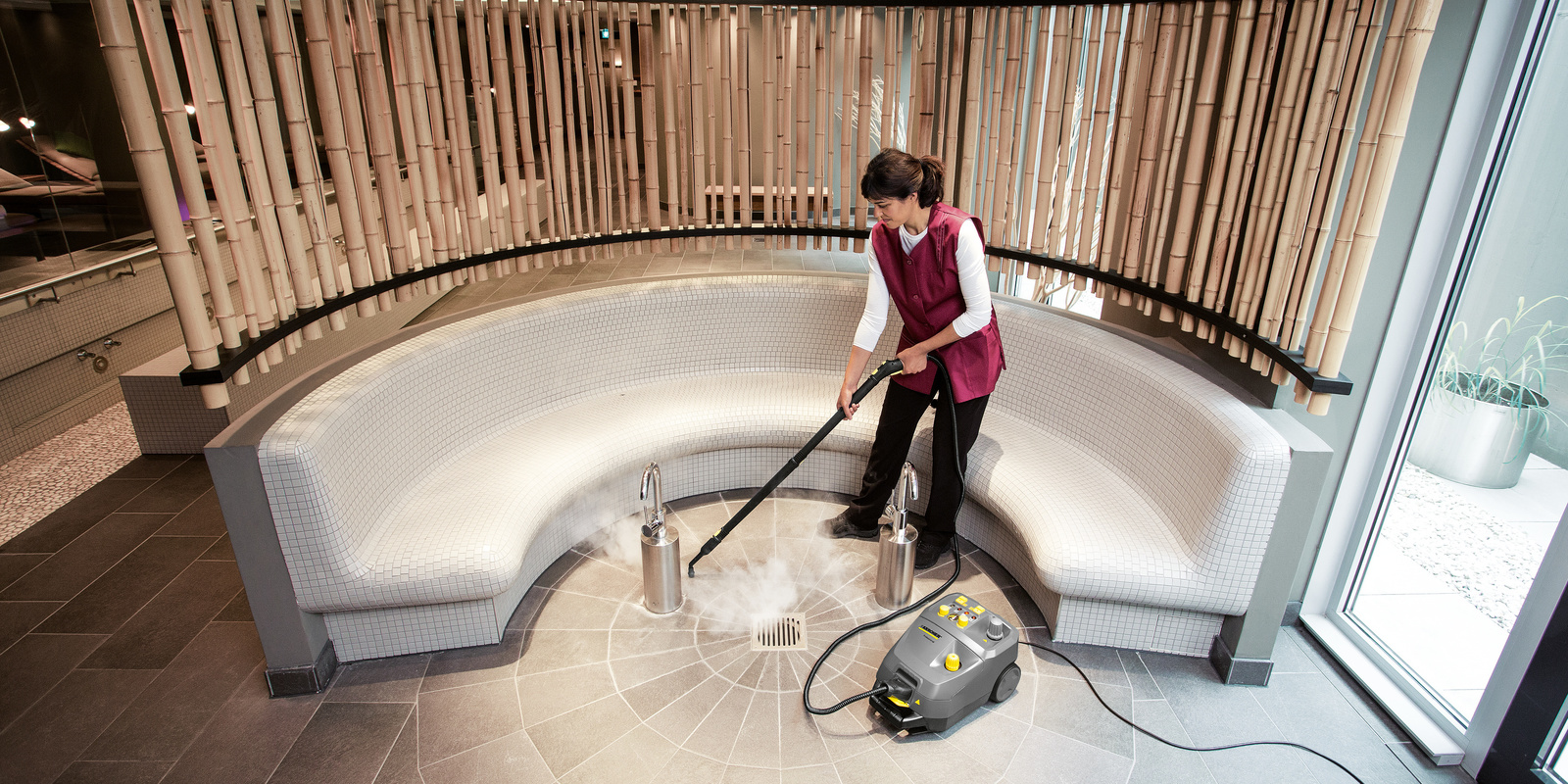 As wonderful as a trip to the sauna after a long day at work or on holiday is, cleanliness in this high-risk area is even more important. One key aspect to consider is areas where guests go barefoot, where it is essential to prevent the spread of athlete's foot via the floor. By alternately using acidic and alkaline cleaning agents, you remove mineral-based and organic dirt – the basis of life of these unwelcome guests. The only thing to be aware of is that if your floor has joints or tiles that contain cement, these must be rinsed with water before using an acidic detergent. This means the surfaces are saturated with water first and are therefore protected from damage.
Hotels that use the mechanical power of compact scrubber driers or single-disc machines to keep floors clean for longer can avoid the need for additional disinfection work. To achieve the desired cleaning result without causing any damage, it is most important to choose the right brushes or pads for the machines. Tiles with a coarse structure scrub up especially well with the use of very deep roller brushes, while tiles with a finer structure require microfibre rollers. In smaller rooms, a small high-pressure cleaner with a cup foam lance or a large surface wiping machine can be used for manual cleaning.

To deep clean walls or loungers, a steam cleaner may be the ideal solution, depending on the available space. A combination of lint-free terry cloths and a large floor nozzle enable effective cleaning over larger areas.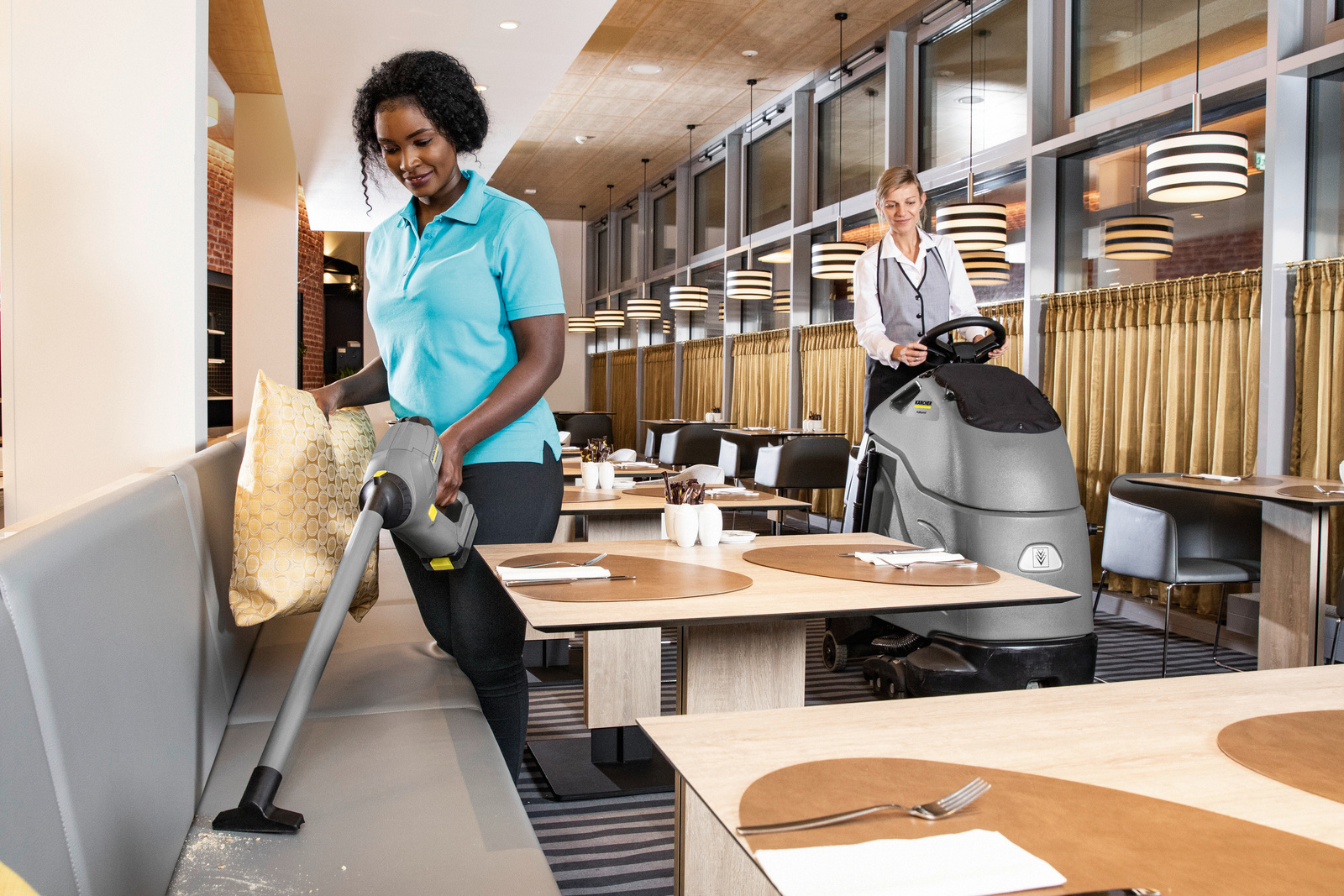 Not just "done": Achieve outstanding results despite time and cost pressure
This brief overview shows that alongside the obvious, major tasks when it comes to room cleaning, there are many smaller tasks that need to be performed in order to maintain high levels of overall cleanliness and hygiene in hotels. Those who invest in the right cleaning technology and suitable cleaning concepts will relieve their staff of this extra burden and achieve better results in no time at all. In the long term, this is more cost-effective than many established processes and provides hotel owners and operators with what they need most – satisfied guests who will return to their hotel.