Scrubber drier
BD 50/55 W Classic Bp Pack 80Ah
A disc brush head with 51 cm working width and 55 l tanks allow area performances of 2000 m²/h with the versatile walk-behind scrubber dryer BD 50/55 W Classic Pack.
Robust, compact, versatile and user-friendly: Our battery powered walk-behind scrubber dryer BD 50/55 W Classic Pack knows how to impress during maintenance cleaning in various locations. Whether it is in retail or industry: The disc brush head with 51 cm working width and 27 kilogram contact pressure, the two large 55 l tanks, as well as the 850 mm wide squeegee, ensure excellent cleaning results. Disc brush head and squeegee are made from high-quality aluminium and designed to last a very long time. The excellent view of the area to be cleaned, the integrated traction drive and the comfortable four-wheel system impressively highlight the high level of user-friendliness of the BD 50/55 W Classic Pack. The BD 50/55 W Classic Pack comes with a long-lasting AGM battery with 80 Ah capacity, which can be charged using an external battery charger supplied.
Features and benefits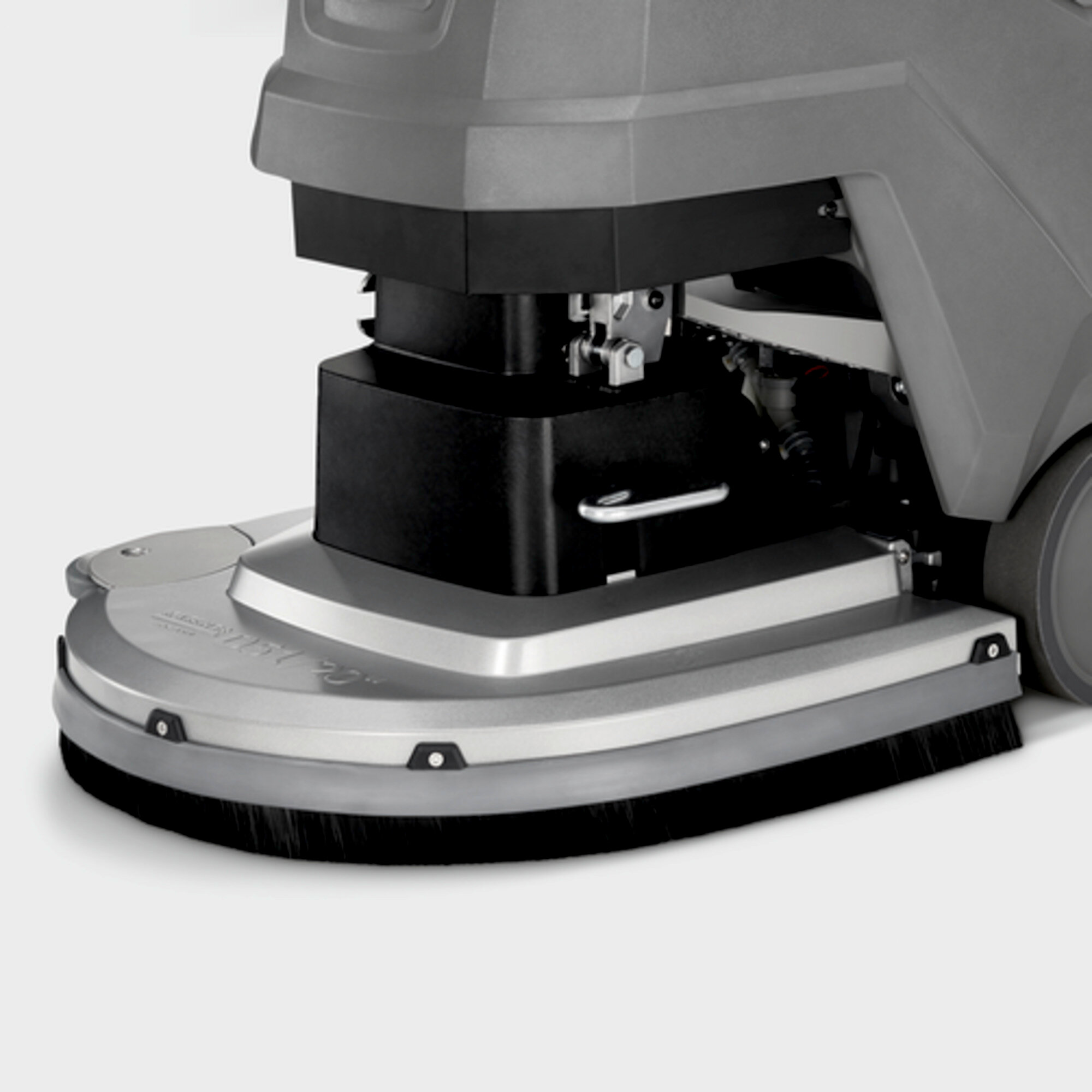 Raisable aluminium brush head
For excellent cleaning performance. Extremely robust design. High-quality material for a long lifetime.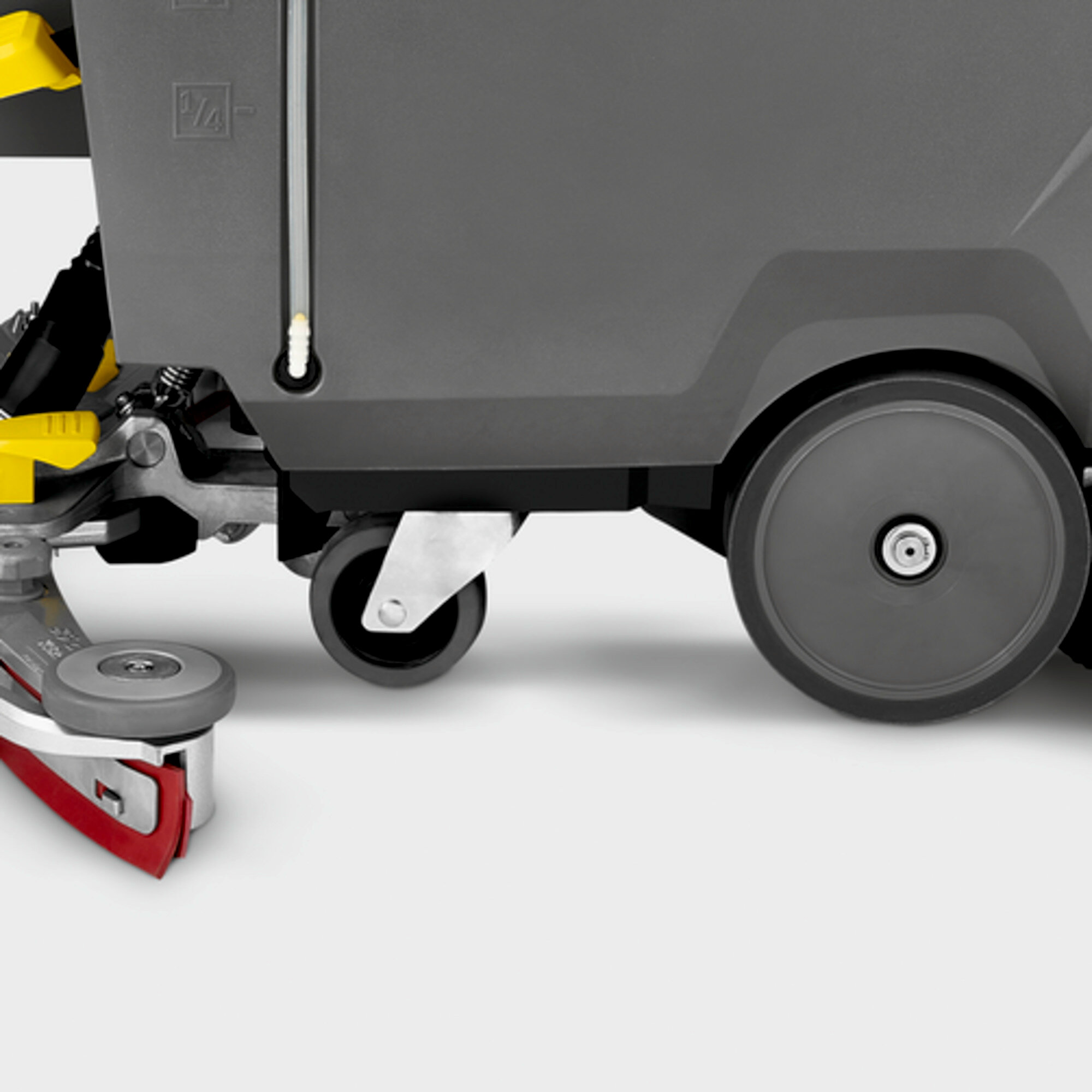 Four-wheel system with two-wheel drive
Very easy to transport. Increases user-friendliness and reduces physical effort considerably. Ideal for long, fatigue-free applications.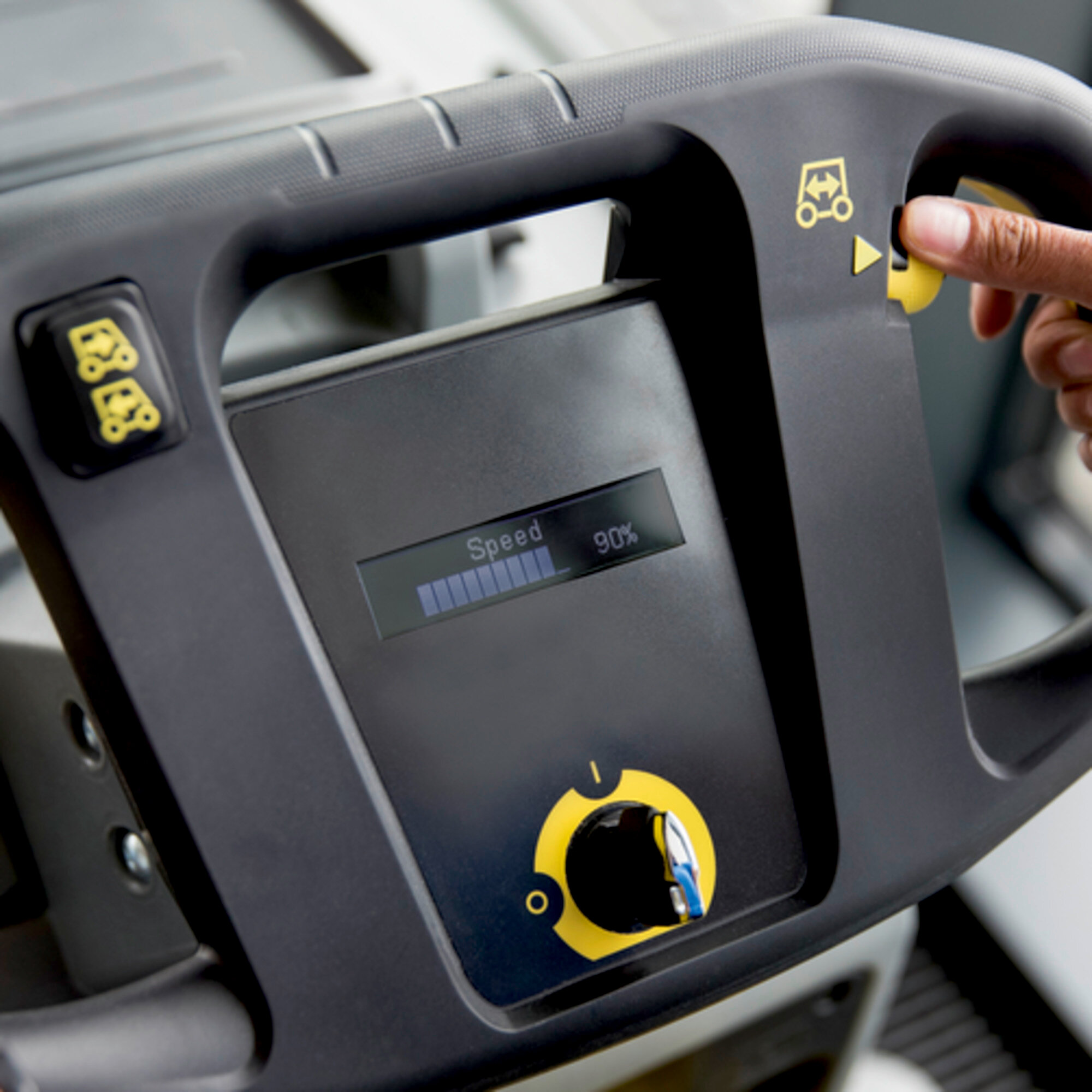 Self-explanatory operation
Easy to start the machine. Reduces training requirements and shortens familiarisation phases. Operating errors are almost ruled out thanks to the self-explanatory concept.
Standard curved squeegee
Quick drying thanks to less residual water on cleaned areas.
Minimises the risk of slipping on recently cleaned areas.
Increases suction power and safety.
Ergonomic design
For operators of different heights.
Increases operating comfort.
Enables higher productivity during cleaning applications.
Robust standard chassis
High quality prevents deformations.
Increases reliability.
Lowers maintenance effort and costs.
Unique design of suction system
Easy maintenance work.
Reduces the operating noise.
Increases the user-friendliness.
Separate dirty water tank system
Very easy cleaning.
Increases hygiene.
Fresh water cap with cleaning agent dosing
For convenient and accurate dosing of cleaning agents.
Lowers cleaning agent consumption and costs.
Practical Home Base
For carrying various accessory parts.
Utensils for manual cleaning are always within easy reach.
Specifications
Technical data
| | |
| --- | --- |
| Drive type | Battery |
| Traction drive | Traction motor |
| Working width of brushes (mm) | 510 |
| Working width, vacuuming (mm) | 850 |
| Tank of fresh/dirty water (l) | 55 / 55 |
| Theoretical area performance (m²/h) | max. 2550 |
| Practical area performance (m²/h) | 1530 |
| Battery type | maintenance-free |
| Battery (V/Ah) | 24 / 80 |
| Battery runtime (h) | max. 2 |
| Battery charging time (h) | approx. 8,7 |
| Brush rotational speed (rpm) | 180 |
| Brush contact pressure (kg) | 27 |
| Aisle turning width (mm) | 1400 |
| Water consumption (l/min) | max. 5 |
| Sound pressure level (dB(A)) | 65,2 |
| Total permissible weight (kg) | 240 |
| Weight without accessories (kg) | 156 |
| Dimensions (L x W x H) (mm) | 1328 x 610 x 1073 |
Equipment
Disc brush
Powerful traction drive
Battery and charger included
2-tank system
robust aluminium die-cast suction bar
Motor: Battery
Type of suction lips: Linatex®
Kärcher colour and operating concept
Home Base fastening possibilities for mop or similar
Application areas
Perfect for building service contractors for use in public buildings or offices.
For use in hotels and in the catering industry, retail trade and car dealerships
For cleaning in the healthcare sector, in the transport industry and in industry