Cleaning restrooms and changing rooms
There are many reasons why careful cleaning is required in restroom areas: Depending on the environment, many people use toilets, shower areas and changing rooms, for example in office buildings, production facilities, hotels, restaurants, sports halls or shopping centres. In restrooms, this inevitably leads to people's skin coming into contact with various different surfaces that have been touched by practically all users – such as door handles, taps or toilet flush buttons. In this way, microorganisms can pass from one person to the next. This must be avoided by following defined cleaning sequences.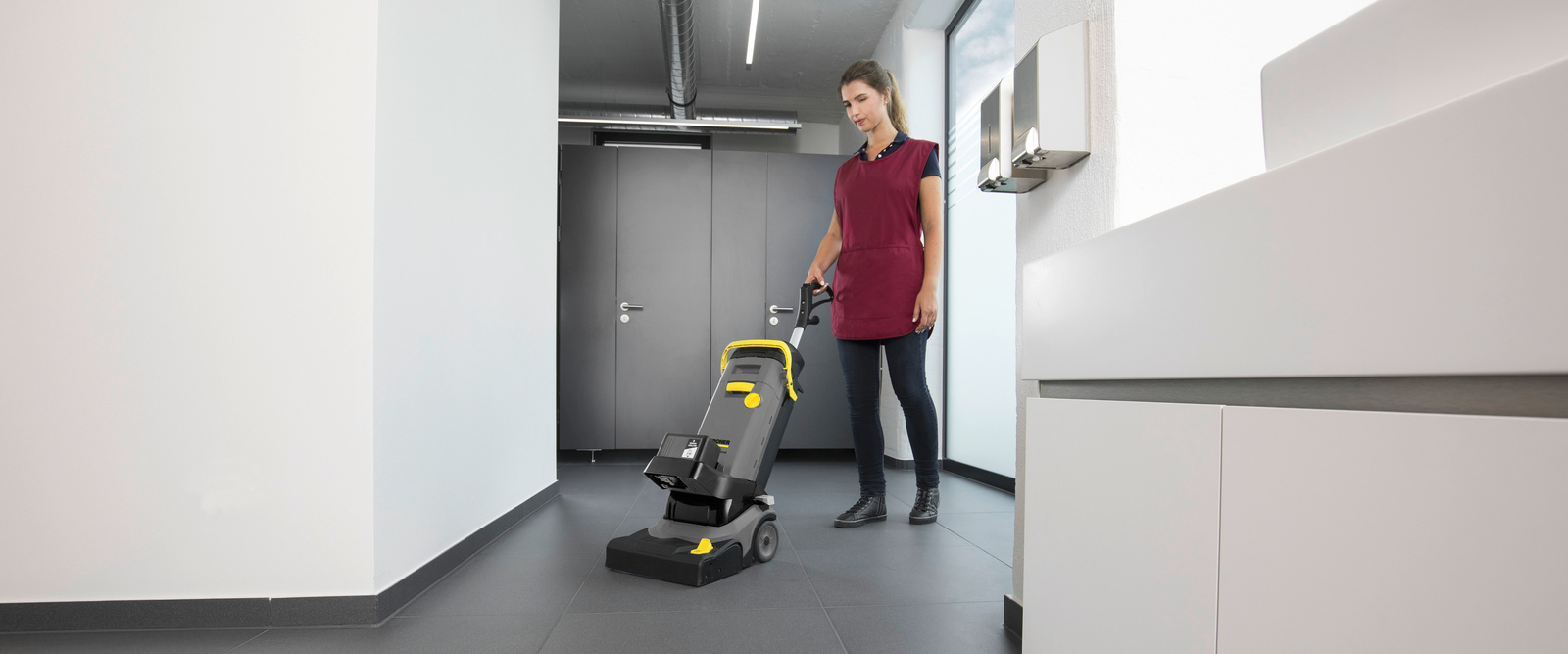 Special requirements for cleaning restroom areas
If cleaning is inadequate, microorganisms such as bacteria and fungi are able to multiply particularly successfully as a result of moisture, heat and small crevices. They are able to feed on organic substances such as dead skin cells. Dirt such as lime and lime soap deposits, urine scale, rust, etc. presents particular challenges when cleaning. Aggressive cleaning agents often have to be used, which can damage surface materials. All of these special requirements must be taken into account during cleaning – in order to achieve the required standard of hygiene, on the one hand, while avoiding damage to surfaces, such as joints or fittings, on the other.
Virus, bacteria or fungus?
Irrespective of whether you are looking at viruses, bacteria or fungi—some of them are pathogenic for humans. Dirt can offer a breeding ground for microorganisms until they find their way into the human body. For this reason, cleaning plays an important role when it comes to hygiene.
Colour theory: Four colours to improve safety
To ensure safe and hygienic cleaning and to prevent the spread of germs, there is a colour system for different areas. Four easily distinguishable colours – red, green, blue and yellow – are used. Each colour represents an area. This prevents a cloth that was used to clean a toilet from then being used to clean a kitchen counter. While cleaning utensils such as buckets and cloths are available in these colours, there are also cleaning agents based on this colour scheme.
The colours yellow and red are used in the restroom area: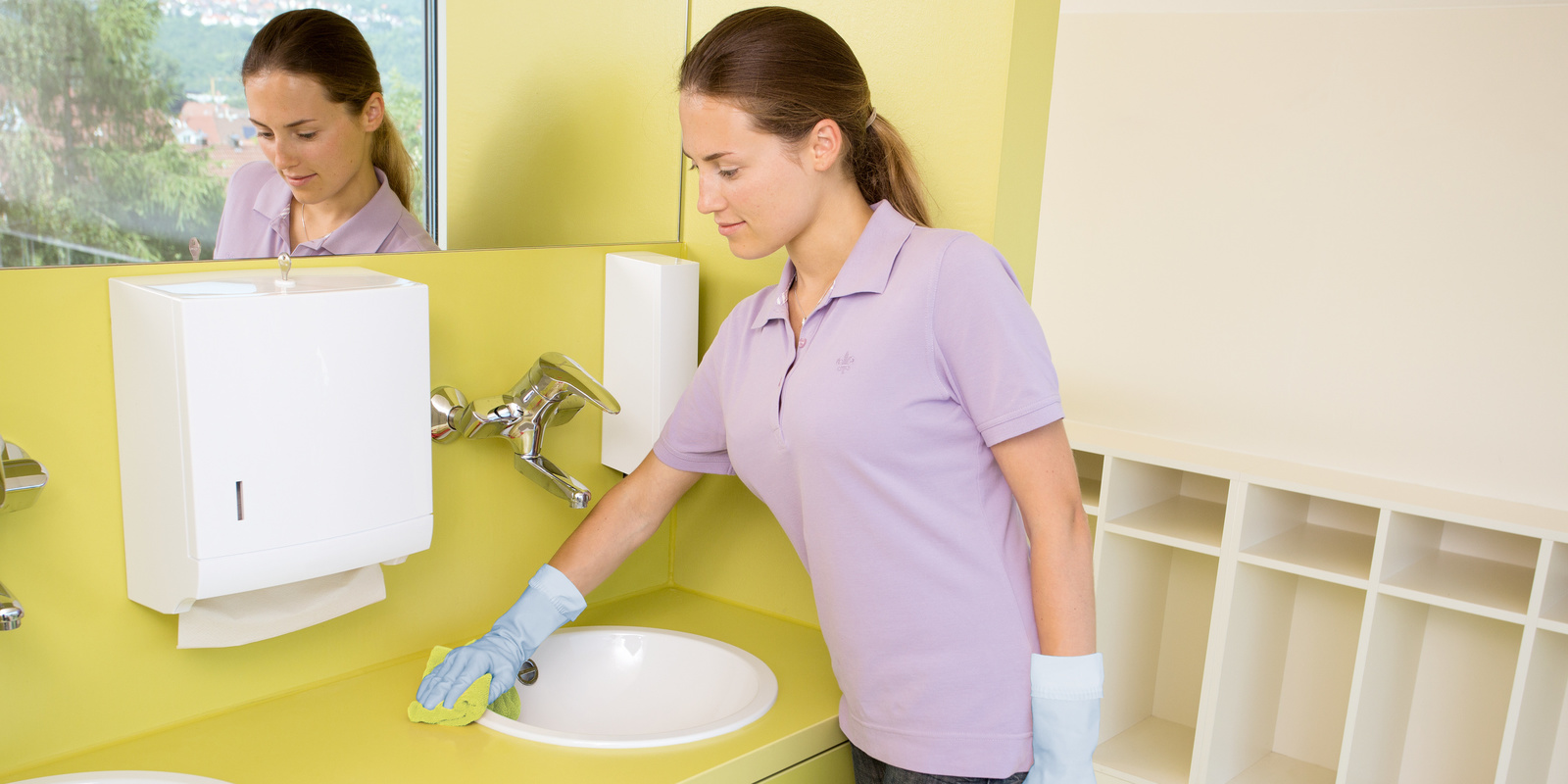 Yellow manual cleaning equipment is used for washbasins, tiles, storage, fittings, mirrors, shower cabins and bathtubs in the restroom area.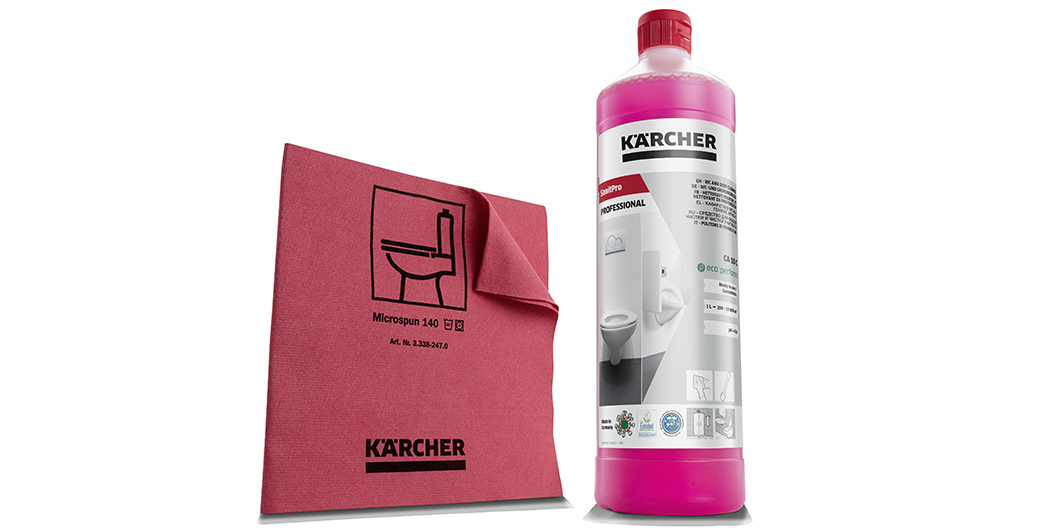 Red cleaning utensils are used for toilets, urinals and the tiles in their immediate vicinity.
Cleaning agents
When using acidic cleaners to clean different materials in the restroom area, note should be taken of the specific acid on which the cleaning agent is based. This is because not all acids are the same. A look at the safety data sheet will help. Cleaning agents based on hydrochloric, formic and phosphoric acid are particularly aggressive. When carrying out maintenance cleaning, anti-limescale cleaning agents are usually used with amidosulfonic acid, methanesulfonic acid and/or citric acid, in particular to avoid damaging fittings such as shower heads, mixing valves and taps.

Safety during cleaning
It is essential to observe protective measures when handling cleaning products for sanitary facilities and to comply with accident prevention regulations. Protective gloves and eye protection should be worn. As a rule of thumb: Never mix different cleaning agents, pay attention to the specified dosage, do not use warm or even hot water – this can cause aerosols to form and the cleaning agents to become more active – and rinse well with clean water.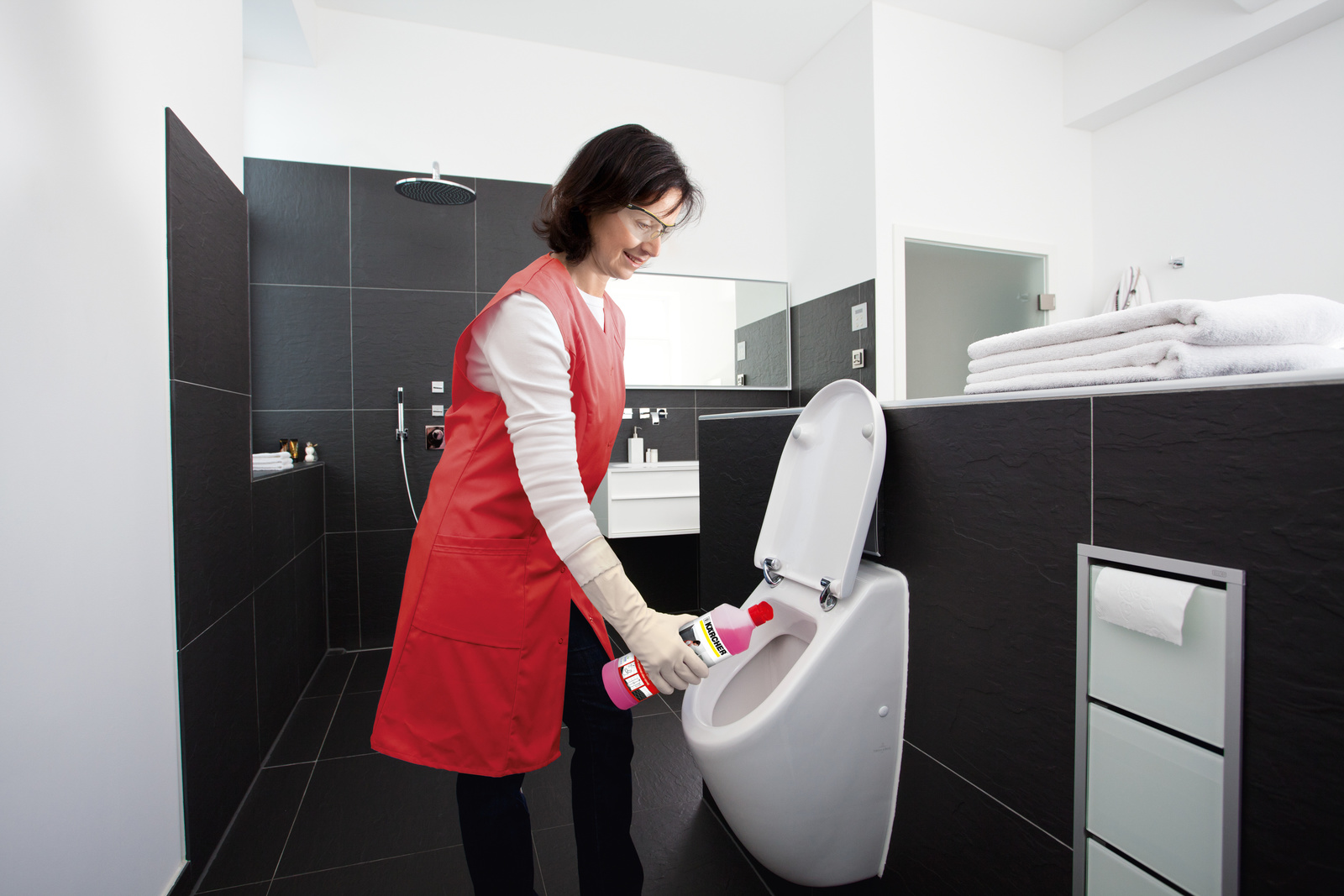 Deep cleaning in the restroom area
Wall tiles, washbasins and mirrors, toilet bowls and urinals and, of course, their respective fittings must be thoroughly cleaned on a regular basis for the reasons mentioned above. This means that the cleaners must take special care, as it is likely that the various materials will have different reactions to the cleaning agent.
The surfaces should not be sprayed directly with acidic deep cleaner, so that the acid cannot cause long-term damage as it travels through the crevices. The cleaner should therefore be applied to the cleaning cloth or a sponge pad. The fittings may only be cleaned using scratch-free sponge pads (white pad surface) in order to prevent scratches. This also applies for mirror surfaces. To prevent lasting damage to the fittings, the acidic cleaning agent must be rinsed off very thoroughly. Calcified tap aerators on water outlet valves should be unscrewed and placed in an acidic solution overnight. Toilet seats and lids must be cleaned using an all-purpose cleaner or alcohol-based cleaner, as acids may change the colour and possibly cause light staining. It is not possible to then return them to their previous state. Doors, door frames and partition walls should also be cleaned thoroughly using all-purpose or alcohol-based cleaners. In addition, only non-scratch sponge pads should be used here.
Other items, such as seats or coat racks, are scrubbed manually using a mild alkaline cleaning agent or everyday cleaner and a hand brush, then rinsed with clean water and dried with a yellow cleaning cloth.

Use of steam cleaners
Depending on the space available, a steam cleaner or steam vacuum cleaner is also suitable for deep cleaning. The machines are an effective and time-saving solution thanks to the high cleaning temperature, helping to ensure appropriate hygiene and combat germs or viruses. The steam emerges in very fine drops and, depending on the machine type, at a temperature of around 100 °C and a pressure of up to 8 bar.
It is possible to not only clean walls, floors and furniture effectively, but the steam also reaches areas that are difficult to access such as rubber folds or crevices. Steam cleaning is also particularly recommended for delicate surfaces such as wood.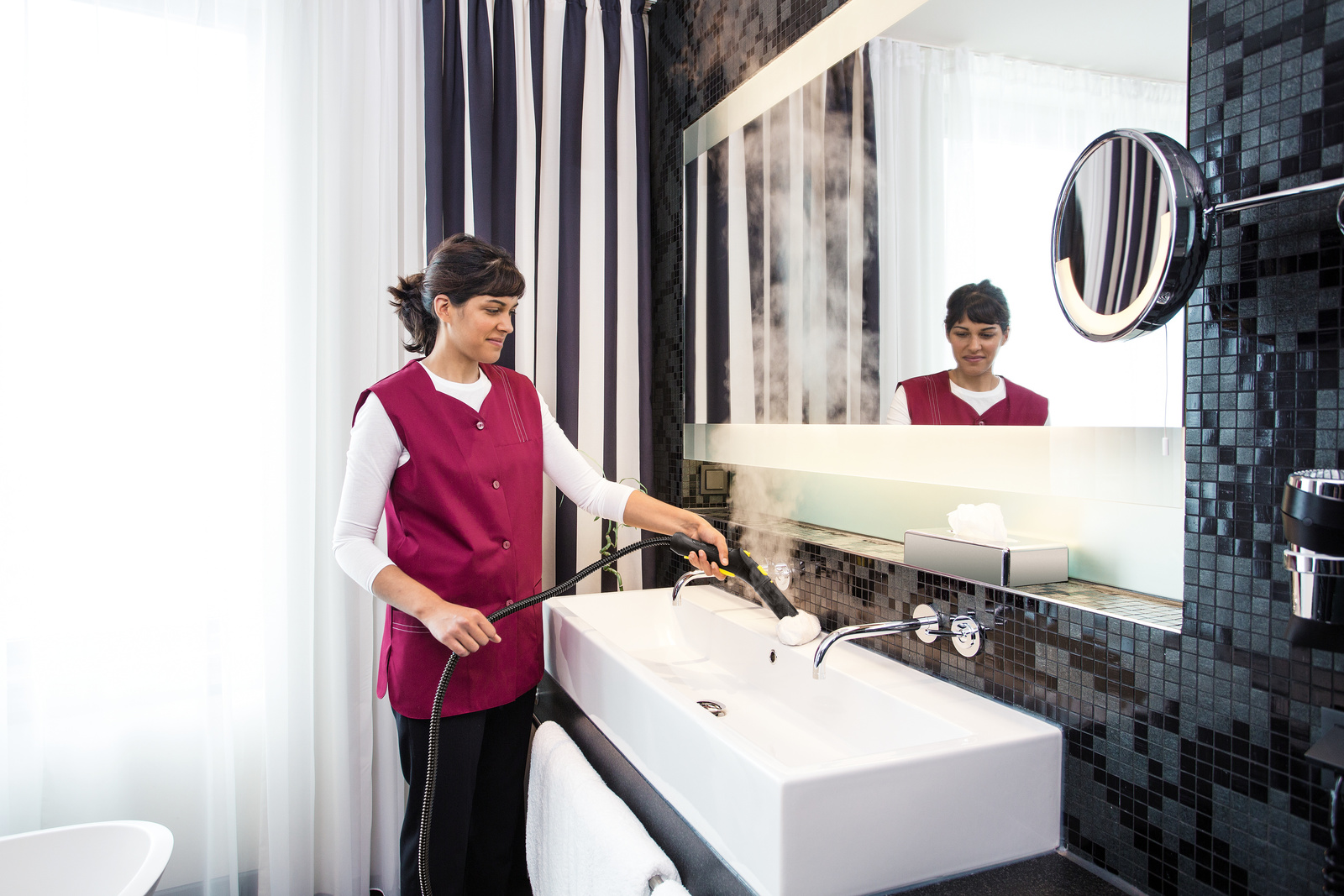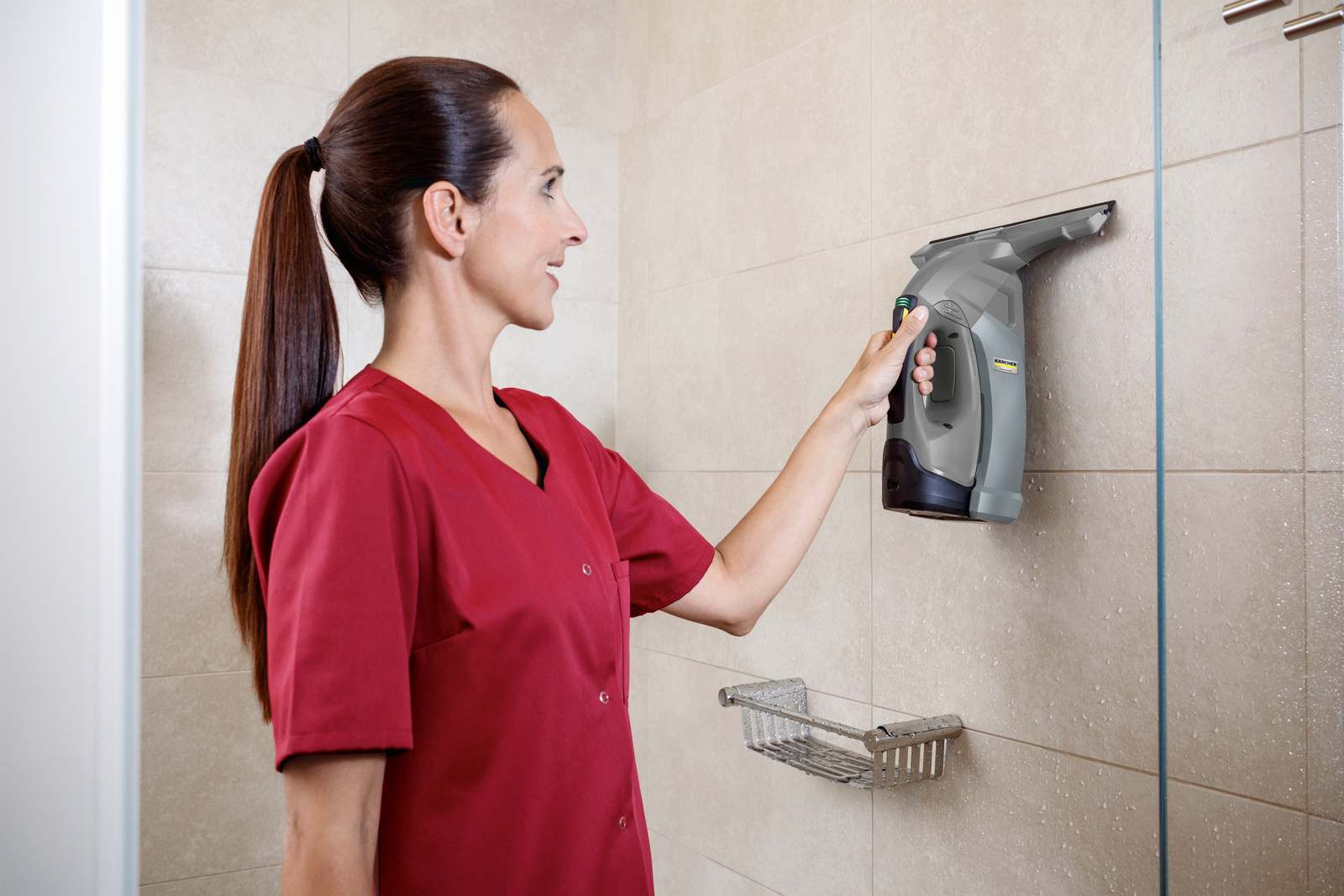 Cleaning shower cabins
Before using an acidic cleaning agent, water must first be thoroughly applied to cement joints in order to prevent damage. To remove any dirt on the wall tiles, such as skin oil or cream residues, lime residue or lime soap deposits, the area is washed in sections using an acidic deep cleaner and rinsed with plenty of clean water after the dirt has been loosened. During contact time with the cleaner, the area is scrubbed using a green hand pad to help loosen the dirt. The contact time depends on the level of dirt.
After rinsing, a rubber scraper is used to remove the water from the tiles. Alternatively, a window and surface vacuum cleaner can be used. Black mould in the joints can be removed using hydrogen peroxide. In cases of ingrained mould, the silicone joint must be replaced.
For larger shower areas, the use of a high-pressure cleaner with a foam device is economical. If a cleaning agent is used, it should be applied in cold water mode as it may react more aggressively when combined with hot water.
The high-pressure cleaner is not only suitable for cleaning shower cabins; it can also be used for large-scale cleaning in public toilets, for example. For this purpose, it is often advisable to use battery-powered machines that can be used independently of the power supply.
Floor cleaning
Today, fine stoneware tiles are a preferred construction material in restroom areas, as they have a "microporous" structure due to their manufacturing process and therefore have excellent anti-slip protection, which is particularly important in wet rooms (slipping hazard due to moisture). They are also highly resistant to acids and alkalis and are available in almost any colour and surface texture (from ground, polished, matt or textured through to a natural stone finish).

Cleaning fine stoneware tiles
Fine stoneware tiles are an attractive, very popular floor covering which stands out thanks to its robust and slip-resistant qualities, as well as its very low moisture absorption rate. A modern and safe design medium, it is impossible to imagine floor coverings without fine stone nowadays.
Suitable products for your area of application