Cleaning scaffolding
Scaffolds are usually rented for the duration of a construction project and afterwards given to the next customer. As such, thorough cleaning is necessary to ensure they are safe and can be used for as long as possible, while maintaining their well-kept appearance. To achieve this, ultra-high-pressure cleaners are an excellent choice for removing any paint, concrete, or silicone residues that may remain on the surface of the scaffolds. However, it's crucial to select the appropriate accessories and water pressure to effectively cleaning scaffolding without causing any damage. By doing so, you can ensure customer satisfaction and maintain the safety and longevity of the scaffolds.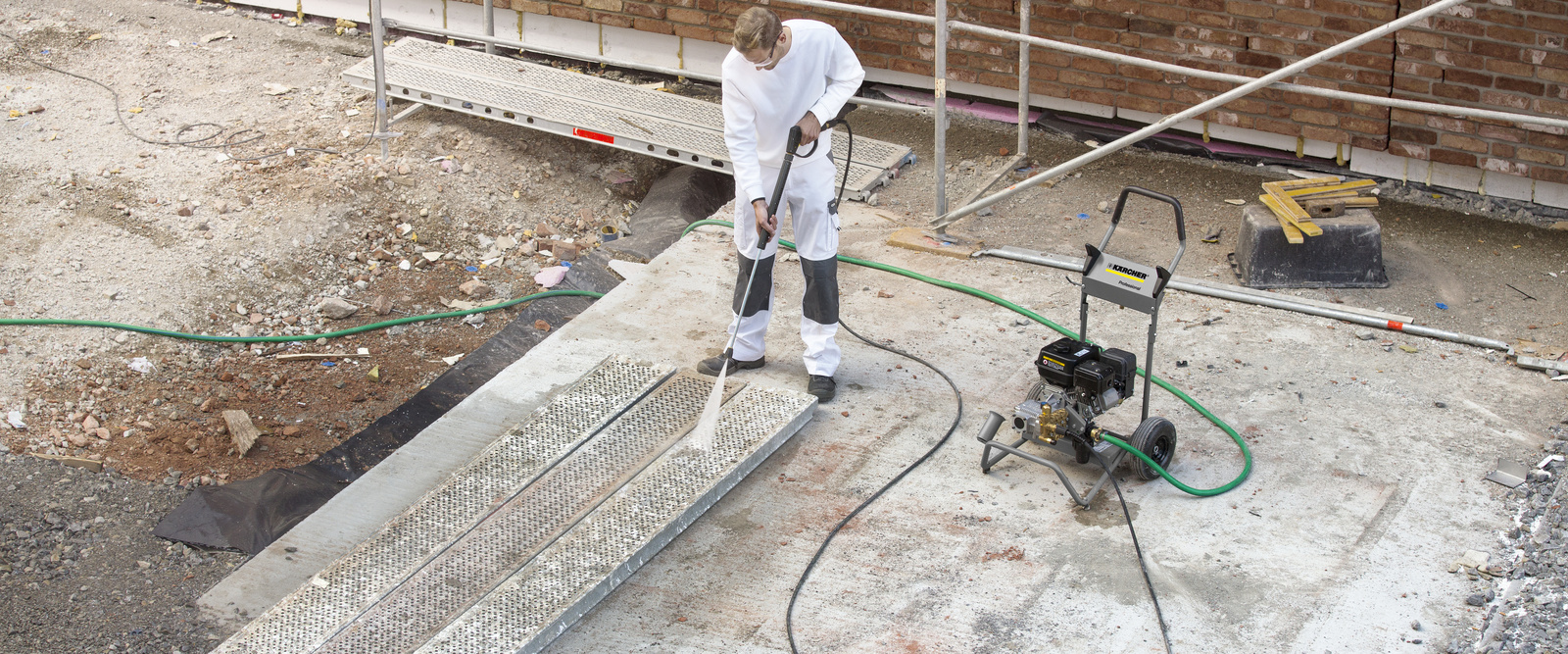 Cleaning scaffolding with an ultra-high-pressure cleaner
Scaffolds often face harsh conditions on construction sites, which can cause wear and tear over time. As such, it's essential to clean the scaffold thoroughly after each use, checking welded seams and metal components for deformations, and inspecting plywood coverings for any signs of damage. Hinges, latches, cotter pins, and safety levers must also be carefully cleaned of any plaster, mortar, or paint residues that may accumulate.
High-pressure cleaning with powerful HDS trailers is often sufficient for most cleaning jobs. However, in some cases, the scaffold may be so heavily soiled that ultra-high-pressure cleaning is required. It's important to note that country-specific regulations may dictate who is responsible for cleaning the scaffolding. In the UK only licensed individuals or companies can put up scaffolding and are also responsible for making sure it's safe to use. Depending on the agreement between the client and the rental company, the client might need to pay for the cleaning or the costs for the rental company to clean the dirty scaffolding.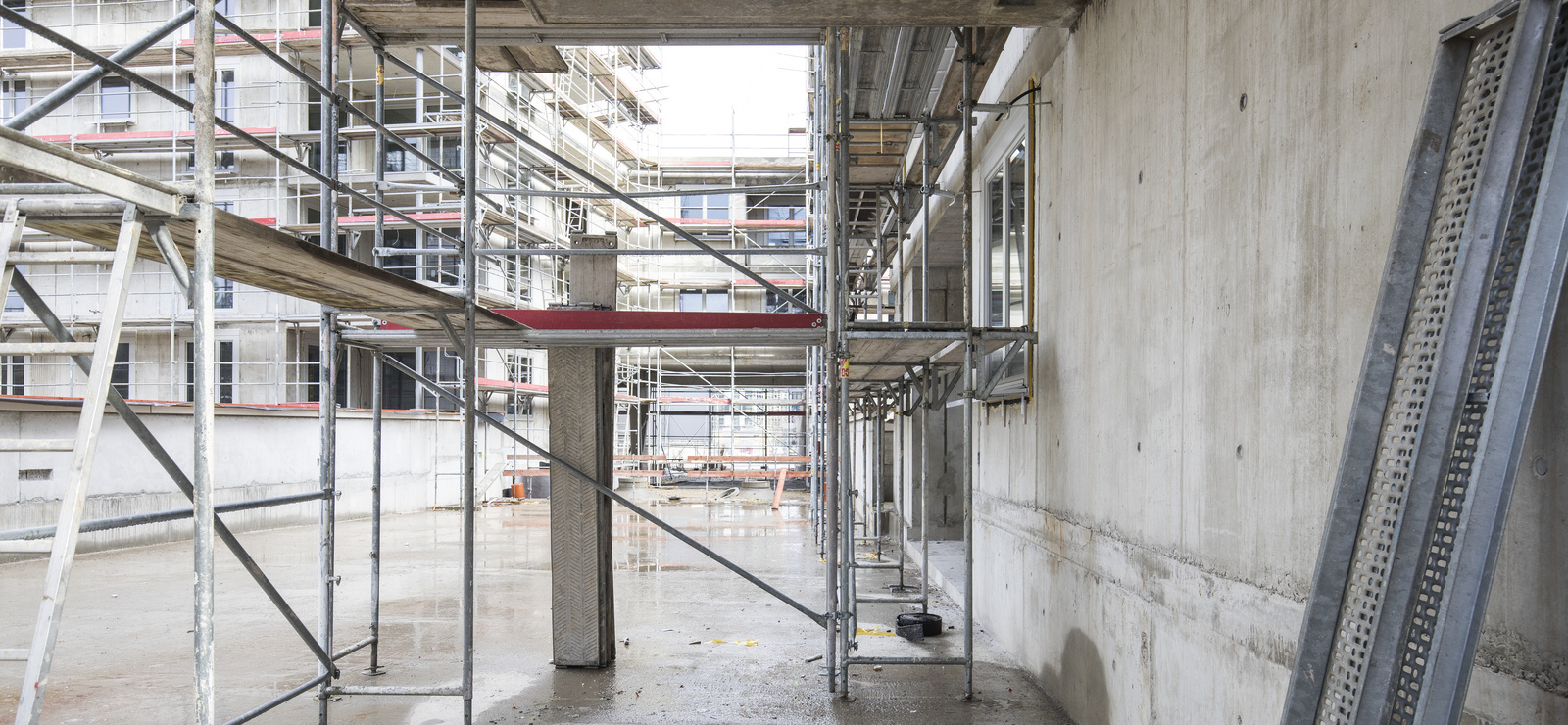 Technique and accessories for cleaning dirty scaffolding
Ultra-high-pressure cleaners have proven to be a powerful and efficient method for removing stubborn dirt, offering the added advantage of flexibility in adjusting the water flow rate, working pressure, and nozzle shape to meet specific cleaning requirements.
Devices with a water flow rate of 900 litres or more are typically used for scaffold cleaning, with a maximum pressure of up to 1,000 bar for metal structures with stubborn dirt. For wooden planks, a lower pressure of 350 to 500 bar is recommended. The use of a rotary nozzle is also advised for powerful and fast cleaning, with a choice of a single jet stream or a 4- to 6-fold jet for accelerated cleaning.
When using ultra-high-pressure technology to clean scaffolds, it's essential to wear the required personal protective equipment (PPE). Depending on the pressure level, PPE may include a safety helmet with visor, safety gloves and boots, waterproof protective clothing, and industrial hearing protection.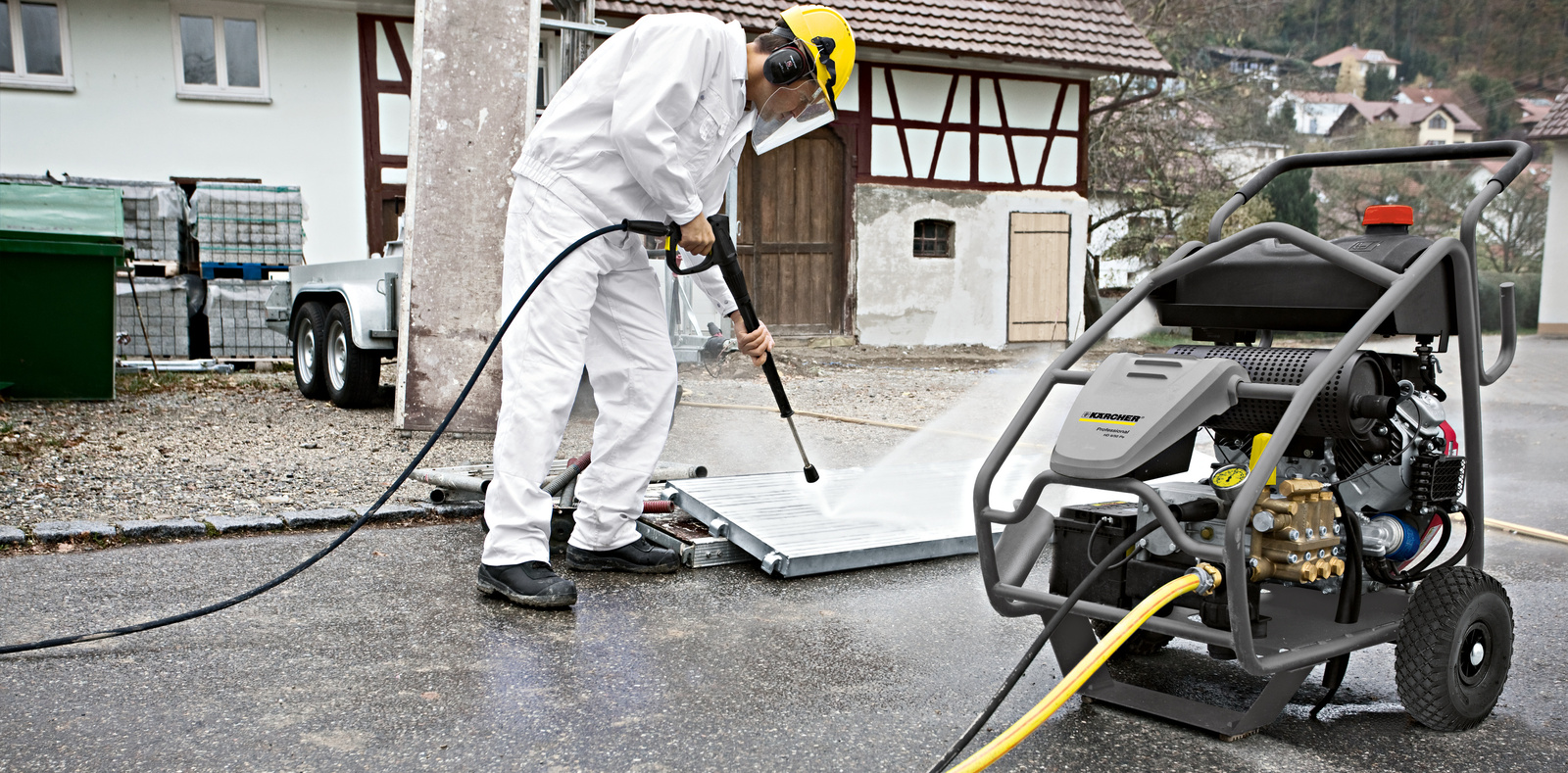 Tip 1 – No detergents or hot water needed:
The high mechanical energy of ultra-high-pressure cleaners makes the use of detergents or hot water unnecessary when cleaning scaffolding.
Tip 2 – Automated ultra-high-pressure systems are available:
Automated ultra-high-pressure systems are also available to speed up cleaning dirty scaffolding. These can usually be individually adapted to local conditions.
EXCURSUS – Cleaning dirty scaffolding: important for the construction site quality
Companies that rent out scaffolds often offer formwork rental services as well. However, if formwork is not cleaned thoroughly after use, concrete residues can make it challenging to assemble tightly and may cause leaks in newly poured concrete. Moreover, these residues can leave unsightly dents and marks on walls, ceilings, or columns. For effective cleaning of fresh concrete, a pressure of 350 to 500 bar is sufficient. However, after four days, when the concrete has already hardened, a pressure of at least 1,000 bar is needed for efficient cleaning.

Cleaning formwork
The quality of the formwork is crucial when producing different concrete construction surfaces and elements such as precast concrete moulds. Special attention needs to be paid to the cleanliness of the formwork, as that's what high-quality concrete surfaces demand. The formwork used to precast concrete should therefore be cleaned after each application. Powerful cleaning equipment such as high-pressure cleaners are very suitable for this purpose. The devices not only clean thoroughly but are also gentle to the concrete surface and flexible to use. They can also be used to remove hardened concrete residue without leaving any marks. The cleaner, water pressure and the quantity of water can all be adjusted depending on the amount of soiling. That way it's possible to clean formwork thoroughly without damaging it.
Suitable products for your area of application