OCCUPATIONAL SAFETY ON CONSTRUCTION SITES
Each area of work brings its own individual dangers – whether physical or psychological. However, occupational safety plays a very important role on construction sites, because according to statistics, the accident capacity here is almost twice as high as at other workplaces. Occupational safety in the construction industry also includes proper maintenance and the associated proper cleaning of the workplace.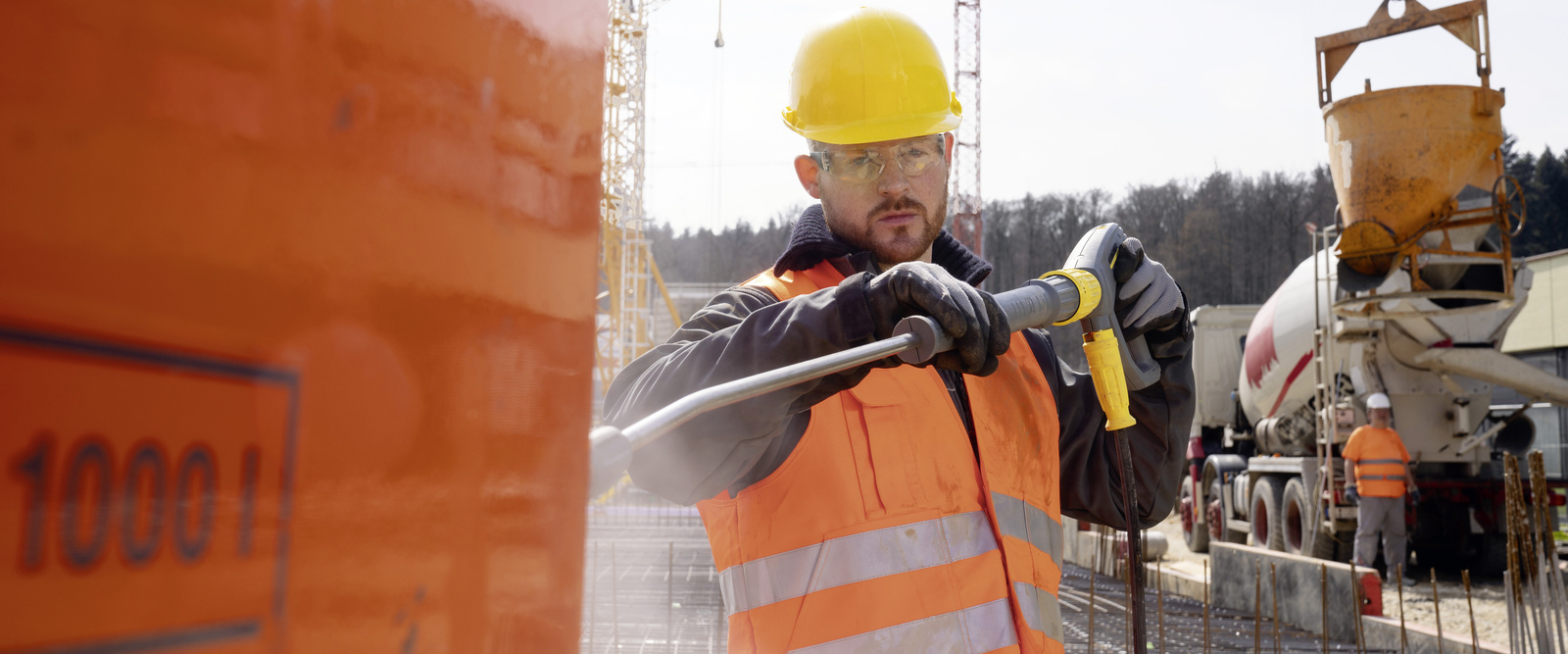 Why is occupational safety so important on construction sites and in workshops?
The construction industry is subject to constant change and is subject to many legal regulations to protect the health of workers. The topic of occupational safety plays a special role on the construction site. Depending on the construction phase or weather conditions, the workers are exposed to enormous physical and psychological risk. Dangerous fumes, dusts or high time pressure can lead to health problems. This makes it even more important to know the most common sources of danger and to take appropriate protective measures. This not only protects employees, but also simplifies processes and increases the profitability of construction projects.
The employer is legally obliged to ensure a safe working environment by taking adequate safety precautions on the construction site or in workshops. Occupational safety measures include, for example, the right protective clothing or suitable protection. On the other hand, workers must abide by these regulations and implement them conscientiously.
Sources of danger on construction sites and in workshops
Different hazards and loads can occur on the construction site as well as in workshops. Because a construction project consists of many small processes. Possible sources of danger include:
Constantly changing places of work and working conditions
Working in heat, cold or high humidity
The direct handling of heavy equipment & machines
Working at great heights or narrow and dark working environments
The use of hazardous building materials & chemicals
Working with harmful construction dusts and dirt
Dirt & dust as sources of danger
One factor that has a significant influence on occupational safety on construction sites is the above-average exposure to noise, construction dust and other dirt. Construction dust, for example, is part of everyday work in the construction industry. These dusts can cause massive damage to workers' health. Because when inhaled, they can affect the respiratory tract and damage health in the long term. Various types of dust are produced during cutting, milling, or grinding. In addition to wood dust, quartz dust is also one of the possible hazardous substances in the construction industry, which occur during the processing of bricks, concrete, or mortar. But also, the processing of gypsum, various types of limestone or hard rocks such as marble releases toxic dusts.
Dirt such as concrete residues that are stuck to the implement can also endanger occupational safety in the long term and have a lasting effect on the functionality of the machines. Proper maintenance is therefore essential and should be carried out at regular intervals.
The use of modern technology and suitable protective equipment minimizes the dangers on the construction site enormously and ensures the right occupational safety in the construction industry.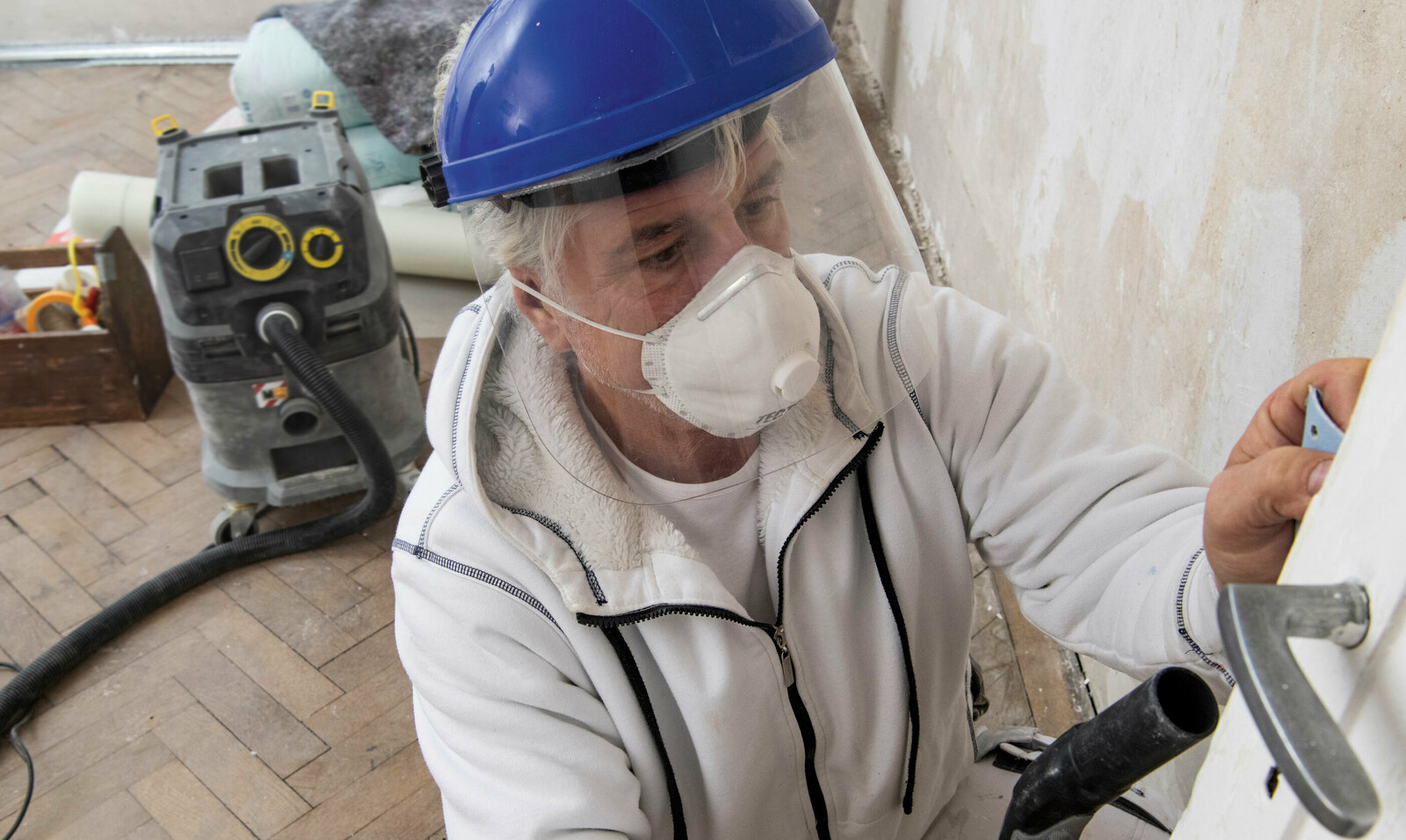 Removing construction dust
Poor visibility or idle work equipment are just some of the reasons for increased dust in the workplace. It's not only a potential safety risk but also a risk for the workers' health. Construction dust related health problems range from respiratory system irritation and inflammation to chronic lung diseases and an increased risk of cardiovascular diseases. Professional control and removal of construction dust can effectively ensure a safer environment.
Increase occupational safety on the construction site and minimize hazards
Construction sites must be properly secured by law. For this purpose, operators of the construction site should develop a suitable safety concept and draw up fire protection and rescue plans. Here are some general tips for improving worker safety in construction:
1. Ensure stability on the construction site
Scaffolding, walkways, and equipment must be secured and in good condition at all stages of construction.
2. Provide protective clothing
Protective measures for work also include the right work clothes. Safety shoes, safety helmets, hearing protection and safety goggles must be provided.
3. Install fall protection
From a fall height of more than 1 meter, fuses must be attached.
4. Place warning and information signs
For work areas with a higher hazard level, warning signs must be installed. These indicate, for example, which hazardous substances are used, or which protective clothing must be worn in this area.
5. Regular cleaning of work areas
Even though many work areas are exposed to heavy dirt at almost every stage of construction, they should be cleaned of dirt and dust regularly. With technical aids such as construction vacuum cleaners or construction dust extractors, construction dust can be avoided directly in many work steps and occupational safety on the construction site can be increased.
Increasing safety: Targeted use of technical aids
To increase occupational safety on construction sites quickly and easily, workers in the construction industry can be specifically protected against particulate matter with small technical adjustments. But even after the work is done, the cleaning of construction equipment, cement mixers, scaffolding and vehicles is important to ensure functionality.
Here are more tips to improve occupational safety in the construction industry:
1. Edit material in specially marked areas
To ensure that fine silica dust and construction dust do not spread too much when processing different materials, materials should be processed in separately designated areas if possible. Although this can lengthen the distances somewhat, it has several advantages: Workers only use heavy equipment such as sawing or milling in certain areas of the construction site and thus protect other employees from noise or dirt. In addition, the danger zone is minimized to a fraction of the working area.
2. Dust-free work: Pick up construction dust during processing
In order not to let construction dust stir up in the first place, it should always be vacuumed directly where work is currently being carried out. Suction attachments for sawing or milling machines start at the emission source and extract a large part of the fine and construction dust directly during the processing of concrete or other building materials.
By means of a device socket on wet and dry vacuum cleaners, many commercially available machines can be connected directly to the construction vacuum cleaner or construction dust extractor. While construction vacuum cleaners are used to vacuum deposited dust, construction dust extractors are used to vacuum dust emissions from hand, electric or pneumatic tools and are connected directly to the processing tool via a suction hose. Thanks to the integrated automatic start-up, the extraction system switches on directly when working. The integrated filters capture even the finest dust particles and prevent them from spreading within the work area.
Another advantage is offered by vacuum cleaners with a fully automatic filter cleaning system. You can see when the integrated filters need to be cleaned. Through a short burst of air reversal, the filters clean themselves, ensure uninterrupted work and save time, as they make manual cleaning superfluous.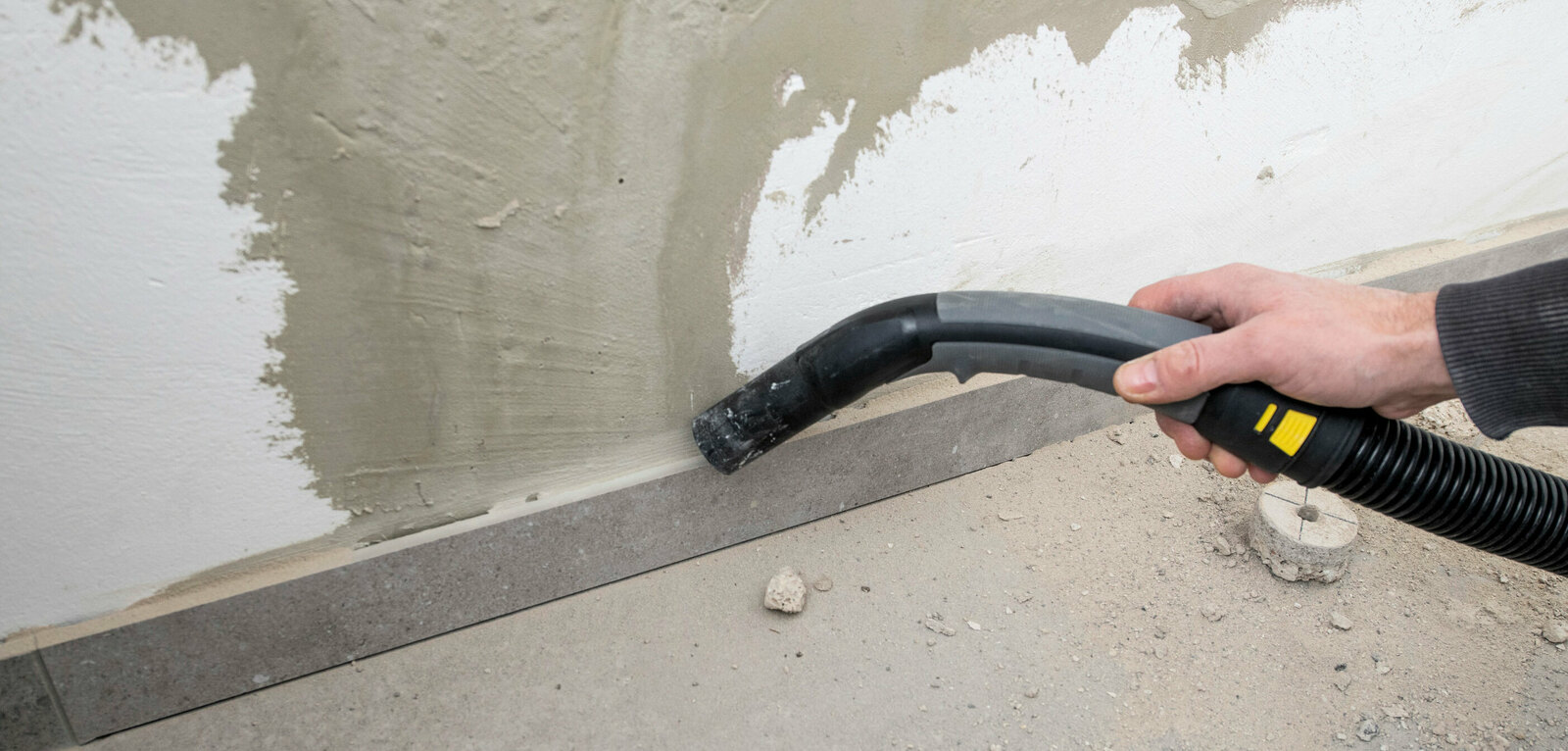 3. Clean work surfaces regularly
Despite the extraction of the dust, it can happen that it is still distributed in the work area. But even in work steps where direct extraction is not possible, thorough cleaning of the work area is necessary to always guarantee occupational safety on construction sites. Otherwise, the dust can stir up and permanently damage employees, machines, systems, or electronic components. To ensure that this fine dust is also safely absorbed, work areas should be freed from harmful dusts. If the dirt is vacuumed up directly after the work is done, this increases occupational safety on the construction site. If the construction dust settles overnight on the ground, a thorough post cleaning should be tackled the following day.
For larger areas, the use of sweepers and suction machines with drive or ride-on sweepers is recommended. Thanks to the sweeping rollers, a large amount of construction dust and other dirt can be removed in the shortest possible time.
4. Maintain and clean tools and construction machinery
To ensure long-term occupational safety on the construction site, the equipment used must also be regularly maintained and cleaned. This includes tools such as saws, grinding machines or drills, but also construction machinery such as excavators, cement mixers or wheel loaders. After some time, not only superficial construction dust or other dirt, such as wood or metal chips, earth, or concrete residues, can adhere to the devices, but also penetrate inside the machines. This can sometimes influence the functionality and, in an emergency, endanger occupational safety on the construction site.
For machines and work equipment to be preserved as a long-term investment, regular cleaning of construction machinery, tools and small appliances should be part of everyday work. With the appropriate devices such as a high-pressure cleaner, this work can be done quickly and effectively. In conjunction with high-performance cleaning agents, even stubborn road and construction site dirt can be effortlessly removed with cold or hot water.
Smaller aids such as tools, power tools or machines should always be freed from coarse, superficial dirt with a vacuum cleaner in the first step. For example, a high-pressure cleaner is suitable for stuck dirt on devices without a power connection, as well as for slightly larger construction machines. For particularly heavy soiling such as concrete residues, a hot water high-pressure cleaner is used. Thanks to the high pressure, even stubborn dirt can be reliably removed without attacking the devices and their surface. In this way, vehicles, construction equipment or entire metal surfaces can be cleaned during occupational safety on construction sites.

Cleaning power tools
Working effectively on a construction site requires the right tools. The accumulating dirt and dust can take its toll on equipment such as shovels, wheelbarrows and other tools. To ensure the equipment functions reliably and safely in the long term, careful cleaning and maintenance must be an essential part of the work routine. Depending on the equipment and the amount of dirt, you can use different cleaning devices, from high-pressure cleanersto vacuum cleaners.

Cleaning construction equipment
The construction equipment industry is no stranger to tough and messy environments. Constant exposure to dirt, mud, clay, paint, and varnish splashes, as well as the accumulation of dried concrete, can cause significant wear and tear on expensive equipment. To ensure the longevity and value of these machines, it is crucial to implement effective cleaning measures on the construction site, in the company, and across the vehicle fleet, including construction equipment cleaning. Maintenance and repair are equally important, and cleaning plays a vital role in the upkeep of these machines. It is key to understand the importance of cold and hot water high-pressure, ultra-high-pressure technology, dry ice, and cabin cleaning. By doing so, you can help to maintain the function and value of these costly machines, thereby ensuring the success of your business.
Suitable products for your area of application