Why is it important to remove construction dust correctly?
Poor visibility or idle work equipment are just some of the reasons for increased dust in the workplace. It's not only a potential safety risk but also a risk for the workers' health. Construction dust related health problems range from respiratory system irritation and inflammation to chronic lung diseases and an increased risk of cardiovascular diseases. Professional control and removal of construction dust can effectively ensure a safer environment.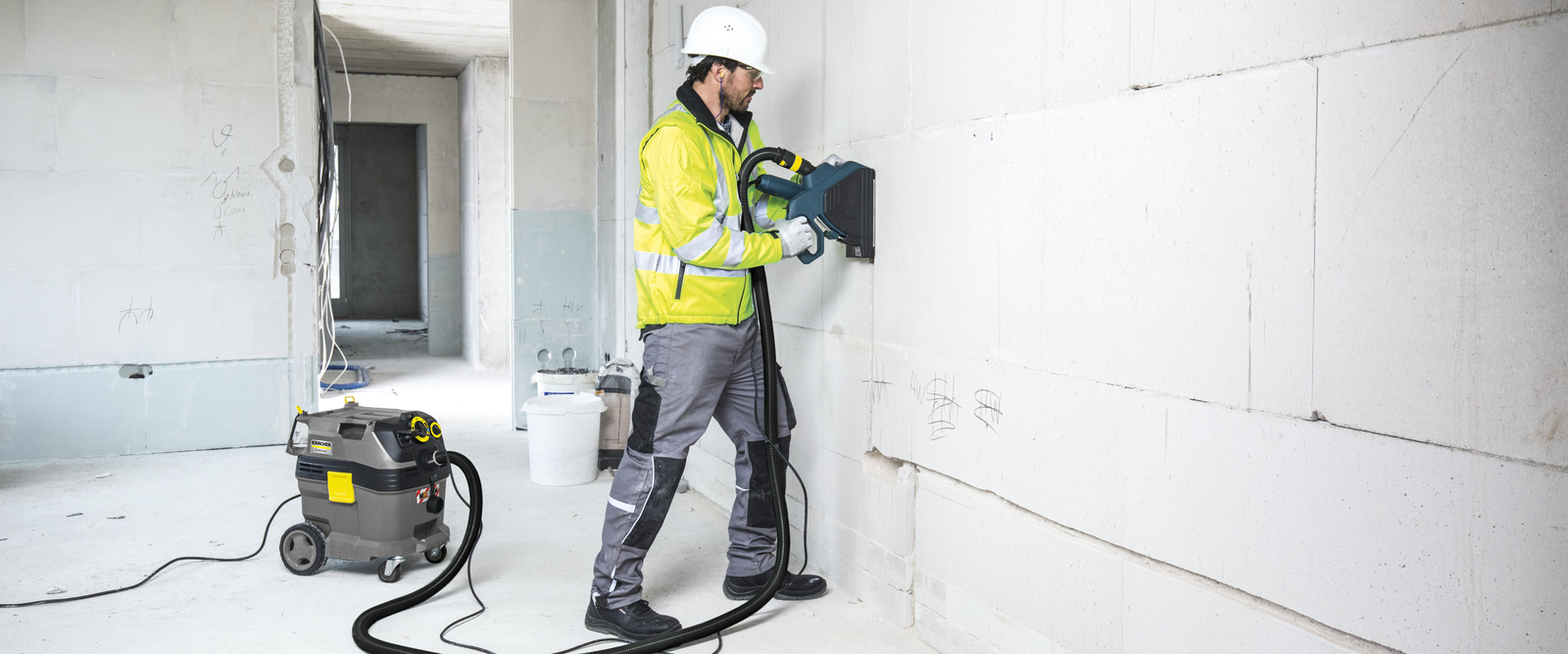 What types of construction dust exist?
To remove construction dust safely, it's important to know the type of dust you are dealing with. Even supposedly harmless dusts can have a negative impact on your health or cause lasting damage if the dust concentration in the air is very high. Also, if you are working with combustible materials, it can generate explosive dust. Dusts can be classified according to their hazard potential, which depends on particle size, type of material and external shape.
Coarse dust consists of particles with a diameter of at least 10 μm. Smaller fine dust particles between 10 μm and 0.1 μm can already enter the nose, throat and trachea (inhalable or E dust). Alveolar (respirable) or A dust has the particle diameter of less than 0.1 μm and is so fine that it also reaches the deeper airways and the alveoli.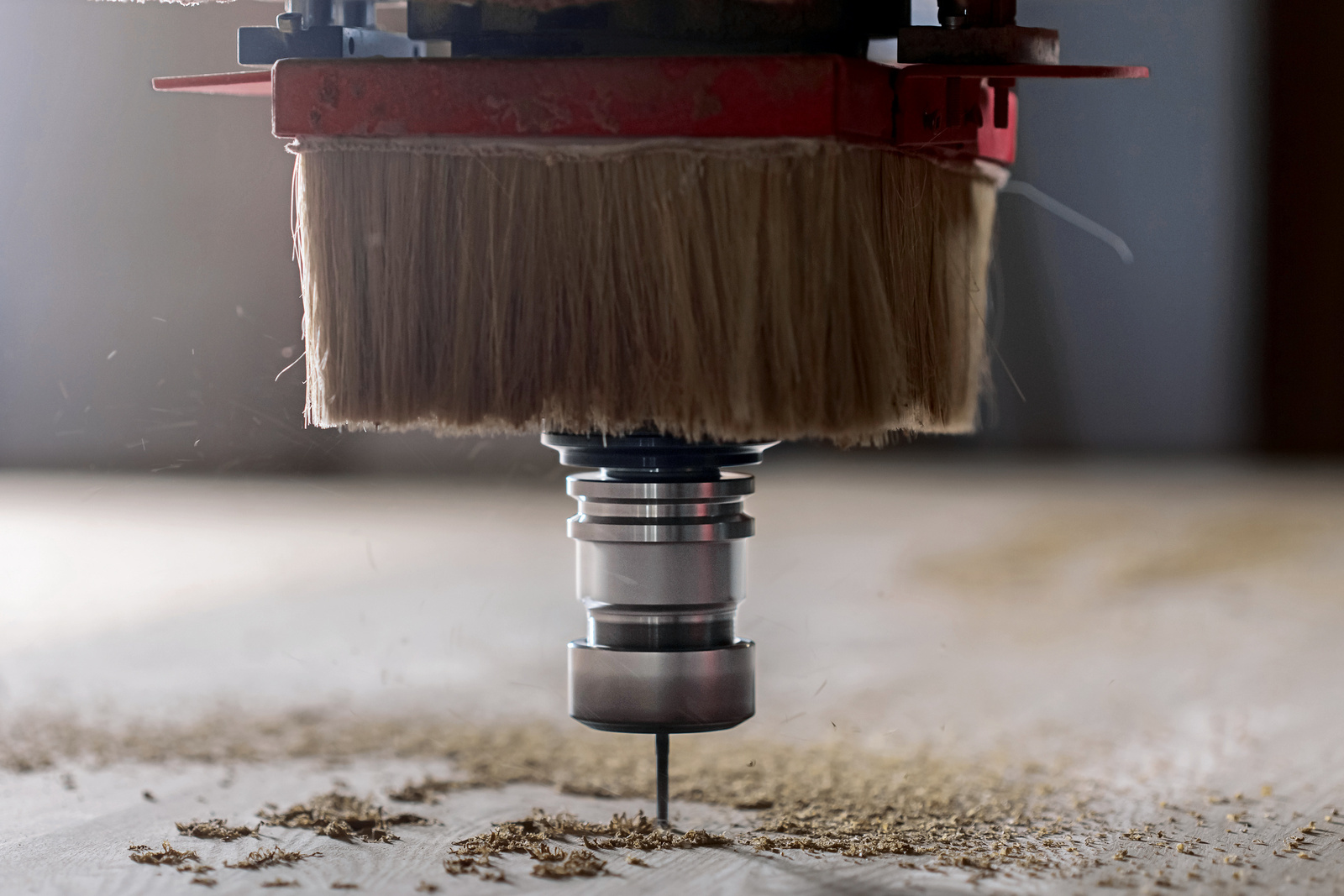 Dust can be categorised according to its material, such as these examples below:
Wood dust
Working and processing softwood, hardwood, or plywood produces not only wood chips but also fine wood dust. It can lead to severe stress on the airways, lungs and nasal mucosa, and can even be carcinogenic. Wood dust is also combustible and explosive when mixed with air, which creates an additional risk.
Silica dust
Silica dust is released into the air when you are working with materials such as mortar, concrete or tiles. Silica dust penetrates deep into the airways and can permanently damage the lungs. Particularly dangerous are fine fibre particles that get lodged in the lungs. This can lead to scarring of the lung tissue (pulmonary fibrosis).
Asbestos dust
Special care must be taken when handling asbestos, which is still found in many existing buildings. Asbestos dust is classified as carcinogenic since asbestos fibres can cause not only asbestosis (chronic inflammatory disease of the respiratory tract and lungs) but also tumour formation in the lungs.
Harmful construction dust
Toxic dust produced by lead, manganese or cadmium can irritate airways or skin. They also contain hazardous substances. These by-products from these harmful construction site dusts are carcinogenic or damage internal organs such as the liver, spleen and kidneys. They are produced, for example, during welding (welding fumes).
Explosive dust
Dust can be explosive when meeting air if the dust is of combustible material. Examples of such are coal, wood and flour as well as inorganic substances such as magnesium and aluminium. Only a tiny spark resulting from, for example, pulling an electrical plug or discharging static electricity, can be enough to ignite a fire.
What do construction dust classes L, M and H mean?
Construction dust is categorised into three classes: L (low), M (medium), and H (high) based on the level of health risk it poses. These classifications aid in determining the appropriate cleaning equipment needed to effectively eliminate construction dust. Essentially, the higher the potential health risk of the dust, the lower its concentration in the indoor air should be. To comply with legally defined maximum allowable concentration (MAC) values, which are specified in mg/m³, the vacuuming device's filter performance and air flow rate must be of higher quality if the MAC value is lower.
Vacuum cleaners categorised as Class L are suitable for cleaning construction dusts that pose a low risk, like lime or gypsum dust. These cleaners have adequate filter performance, and no specific guidelines are necessary for dust disposal. In contrast, Class M and H vacuum cleaners are required for extracting moderately and highly hazardous dusts, such as hardwood or concrete dust, asbestos dust, lead dust, or dust containing bacteria. These safety vacuum cleaners have specific design requirements, such as monitoring airflow and alerting users when suction power drops. Furthermore, proper filters must be used to prevent dust generation during removal, storage, and disposal, and the device must be adequately sealed to ensure effectiveness.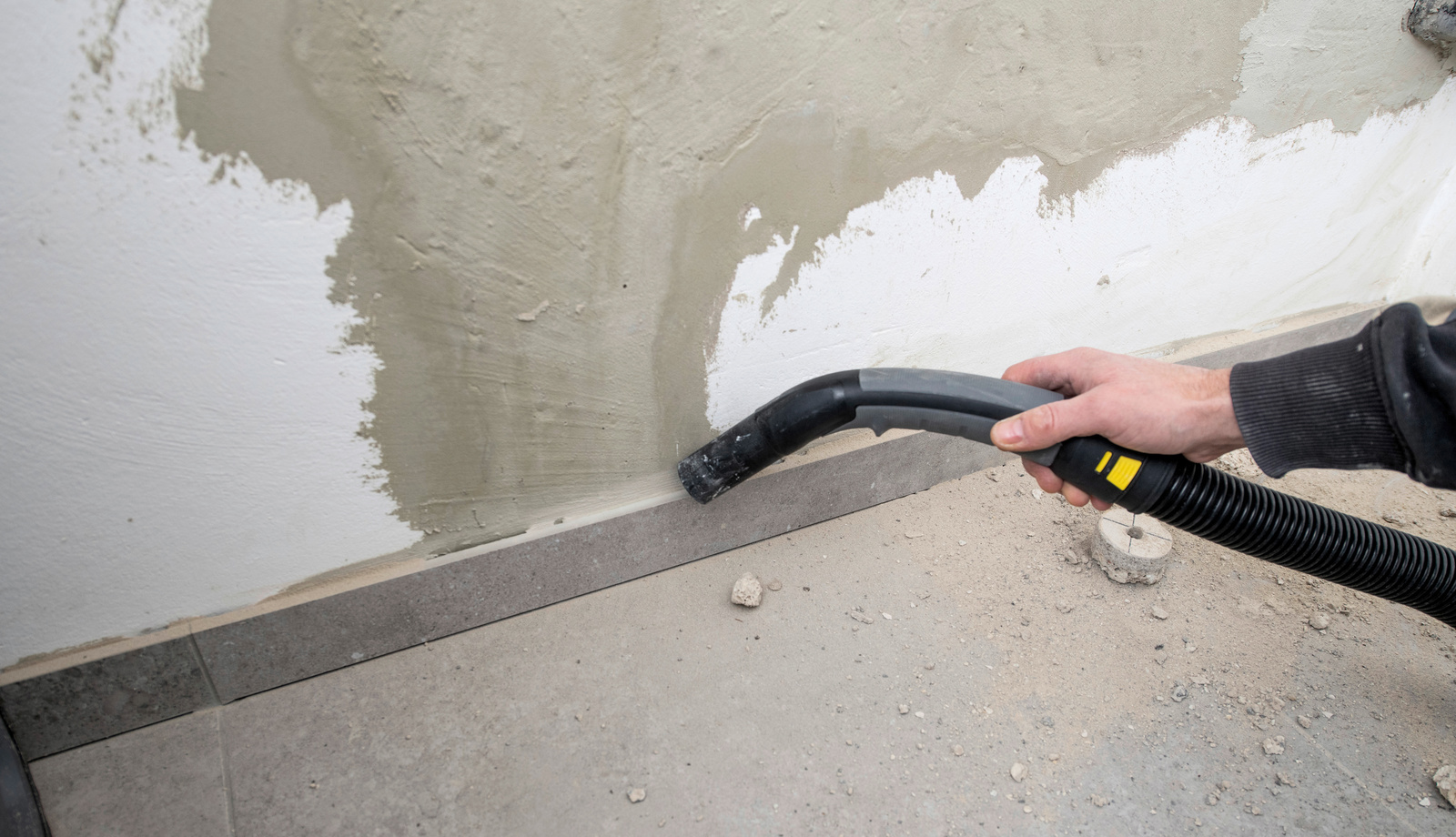 Dust class
L
Max. exposure limit
≤ 1.0 %
Suitable for
Dusts with a MAC value of > 1 mg/m³
Use cases
---
Dust class
M
Max. exposure limit
< 0.1 %
Suitable for
Dusts with a MAC value of > 1 mg/m³
Wood dust with max. 1200 W/50 l
Use cases
Wood dust (beech, elk)
Paint dust
Ceramic dust
Plastic dust
---
Dust class
H
Max. exposure limit
< 0.005 %
Suitable for
Dusts with a MAC value of > 0.1 mg/m³
Carcinogenic dust (Control of Substances Hazardous to Health (COSHH) Regulations 2002)
Pathogenic dusts


Use cases
Carcinogenic dust (lead, coal, cobalt, nickel, tar, copper, cadmium etc.)
Mould, bacteria
Germs
Formaldehyde
---
Dust class
Add. Requirement for asbestos
Max. exposure limit
< 0.005 %
Suitable for
Use cases
Asbestos dust from electric heaters or fire protection walls
---
Dust class
Explosive dust (ATEX zone 22)
Max. exposure limit
Like classes L, M and H with add. requirements
Suitable for
Dusts of explosive dust classes in zone 22
Use cases
---
Which industries and occupations have an increased risk of dust exposure?
Dust exposure is a problem in many industries, notably in bakeries, in construction, quarrying, manufacturing warehousing and agriculture. Recycling materials has also brough a new set of workers in contact with harmful dust.

Guidelines for controlling dust and getting rid of dust after construction work
Whether you're working on a construction site, in a metal processing plant or as a carpenter, the everyday cutting, sawing, sanding and milling results in dust in the air. This dust formation must be always kept in check. The good news is that removing construction dust can be done effectively and safely. Nevertheless, it's of vital to control construction dust by keeping the workplace as dust-free as possible from start to finish. The amount of construction dust should be suppressed, but if it does occur, the dust should not be allowed to spread. Additional precautions such as wearing protective clothing and respiratory masks are recommended to protect the workers' health.
First step: take dust-reducing precautions
1. Assess dust exposure
If dust occurs in your workplace, you need carry out a risk assessment before the work begins. Check the legally defined workplace exposure limit (WEL) values for different types of dusts from HSE and measure the dust exposure in your workplace. Sometimes you might need to take a sample from the air to determine the level of dust exposure.
2. Limit the use of materials and procedures that generate dust
It can be easier to prevent dust than to remove it. If possible, choose materials that generate as little dust as possible. Examples are granulates, moistened raw materials or finished products such as mortar. Use wet or moist processing if possible as well as silica-free abrasives and less powerful tools.
3. Enable training and prevention
The hazardous effects of dust on workers' health often go unnoticed, making training a crucial aspect of promoting safe dust handling practices in the workplace. Moreover, regular check-ups conducted by company or external doctors are highly recommended to monitor and maintain the workers' well-being.
4. Organise workflows
A workplace should be designed so that it can be cleaned quickly and thoroughly as it helps to reduce the amount of dust. Employees can quickly remove construction dust with vacuum cleaners. You should also consider setting up fixed cleaning schedules and hygiene rules. Providing washing and showering facilities for workers, is also a good option.
5. Wear protective clothing
Wearing personal protective equipment (PPE) – especially respirators, goggles and gloves – is highly recommended, and often mandatory, for dust-intensive tasks. Protective clothing is washed and stored separately from normal work clothing. Workers should also receive adequate training regarding the correct use of PPE and RPE.

Occupational safety on construction sites
Each area of work brings its own individual dangers – whether physical or psychological. However, occupational safety plays a very important role on construction sites, because according to statistics, the accident capacity here is almost twice as high as at other workplaces. Occupational safety in the construction industry also includes proper maintenance and the associated proper cleaning of the workplace.
6. Dust-proof storage
Dust-proof storage and the disposal of materials that generate dust should be stored in closed containers or bags. Dust waste is best removed immediately and, if possible, via the vacuum cleaners container.
7. Check and take care of equipment
To control dust on construction sites and other workplaces, cleaning equipment must be regularly checked for sufficient suction power and filter performance. Extraction systems such as exhaust ventilation systems in workshops, factories or on construction sites should be professionally installed and regularly maintained.
Second step: Remove construction dust through consistent cleaning
8. Vacuum the workplace
When removing construction dust, extraction is the be-all and end-all. To prevent dust from being stirred up, its extraction should always be carried out directly where it's generated. The extraction unit should be positioned as close as possible to the dust source and directed to where the dust is moving. If it's not possible to collect the generated dust at the source, you can alternatively use mobile dust extractors, extraction systems, vacuum cleaners or air cleaners.
Extraction units
Hand-held machines utilised for sawing, grinding, or milling can be effortlessly connected to an extraction unit via a power socket with an automatic start-up mechanism. This ingenious feature allows the extraction system to activate immediately when the machine is started, simplifying the process and reducing the risk of dust inhalation.

Vacuum cleaners and filters for different dust classes
The suitability of vacuum cleaners for extracting dust depends on the industry, work processes, and dust amounts. Wet and dry vacuum cleaners, construction dust extractors, explosion-proof vacuum cleaners for Zone 22, and classes M and H vacuum cleaners are some examples. These devices have varying levels of suction power and filter performance. When disposing of asbestos dust, special technical requirements must be met, such as being of class H and approved for asbestos dust removal. Additionally, vacuum cleaners utilised for explosive construction dust must meet specific legal standards, including ATEX certification and classification for different hazard zones (zones 20-22). Ideally, the vacuum cleaners filter should have its casing, allowing for filter replacement without direct contact, thus limiting contamination.
In industrial vacuum cleaners, flat pleated filters are highly popular due to their ability to offer a relatively large filter area in a compact space. These filters are typically crafted from nano-coated paper or durable plastics, such as PES (polyethersulphone). PES filters are notably robust, resistant to dampness and even liquid dirt, making them superior to paper filters. Glass fibre materials are frequently employed in H-class vacuum cleaners, although these filters are not washable. However, modern H-class safety vacuum cleaners now utilise PTFE (polytetrafluoroethylene) filters, which can be washed and cleaned with blasts of air, and their disposal is notably easier. Unlike the prescribed safety filter set required for dust-free disposal, using a dust-tight, specially approved PE disposal bag is typically sufficient to ensure a dust-free disposal when using a PTFE filter. This feature streamlines the disposal process considerably. However, it's crucial to note that highly dangerous dust, such as asbestos, remains an exception to this rule.
When removing large amounts of dust, the filter can rapidly become clogged, resulting in a reduction of suction power. To prevent this, safety vacuum cleaners are equipped with filter cleaning systems. They prevent the filter from clogging, ensuring that large quantities of fine dust can be removed without interrupting workflow or losing suction power.
9. Clean the floors
In order to achieve a truly dust-free working environment, it's important to ensure that once construction dust has settled on the floor, it's not simply pushed around or stirred up again. In addition to vacuum cleaners, you can also use sweepers and vacuum sweepers to remove construction dust and ensure a dust-free working environment. If construction dust has settled on the floor overnight, it's recommended to clean the floor first thing in the morning before starting work. You can also use manual walk-behind sweepers for cleaning smaller areas. For larger areas push sweepers with electric motors are recommended. Very large areas can be easily cleaned with ride-on sweepers. The type of brush has a significant impact on the result as well. Machines with a soft main sweeper roller with very fine and dense bristles are the best for collecting fine dust. They are therefore particularly suitable for removing construction dust from smooth floors.
The sweeper's effective filter system also ensures clean exhaust air, preventing further impurities in the air. The dust whirled up by the sweeper roller is extracted by a suction turbine and separated in a corresponding filter. The filter is either made of paper, polyester or fleece material. To ensure and longer filter durability when cleaning large amounts of dust, filters need to be either cleaned manually or, if available, with an automatic filter cleaning system.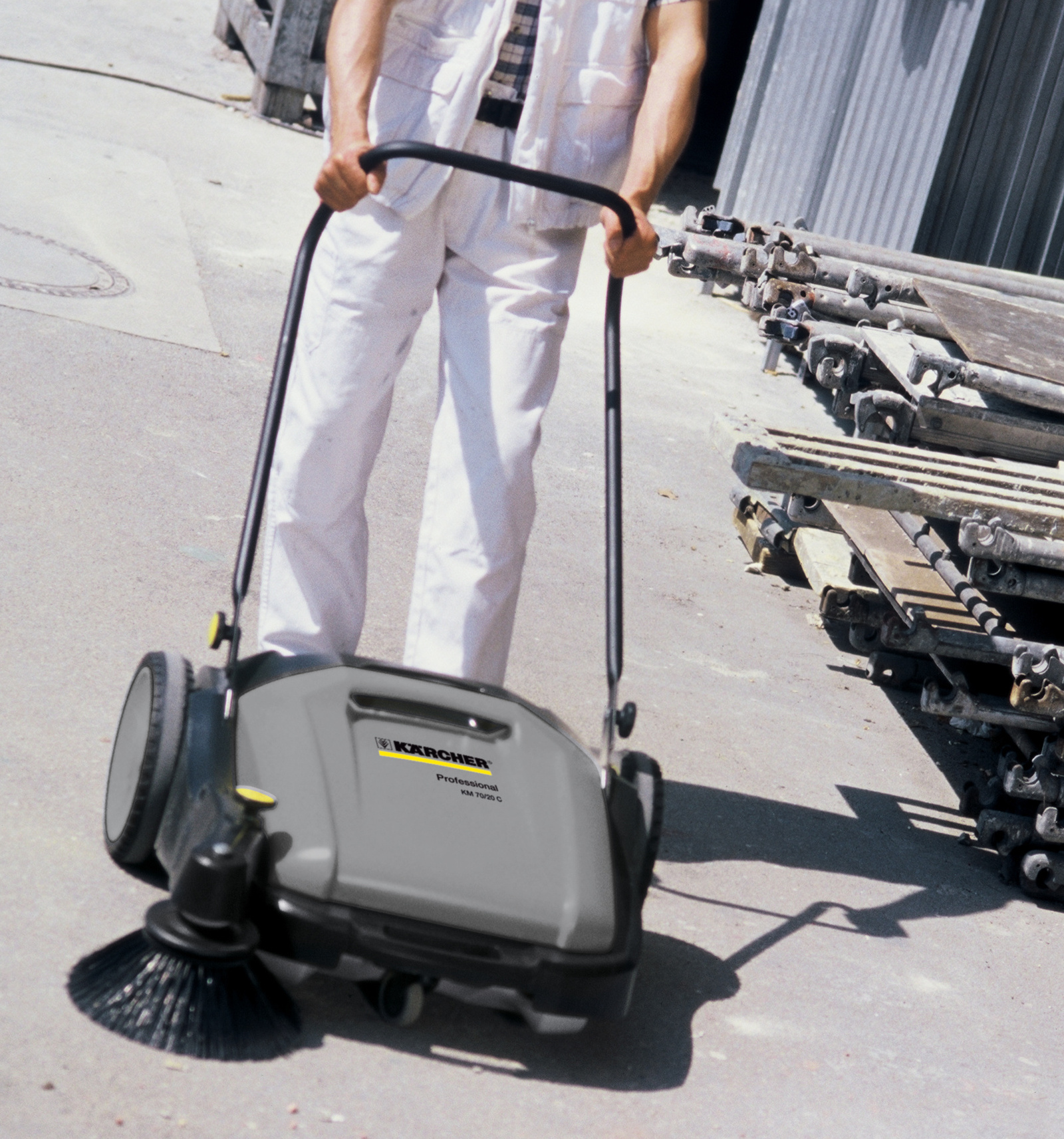 Tipp – Use markings to help:
Markings on the floor can help estimate the amount of dust build-up and serve as an indicator of whether immediate cleaning is necessary.
10. Important: Don't use compressed air
Blowing off construction dust from machines, tools or clothes with compressed air might seem like a convenient thing to do. However, even though the dust disappears, it's only momentary; it's still there. Blowing off the dust just swirls it up into the air but doesn't remove it. For the same reason sweeping the floors with a simple broom should also be avoided.

Woodchip removal and wood dust extraction
In addition to wood chips, processing wood also produces fine wood dust through sawing, drilling, sanding. Exposure to wood dust can result in negative impacts on both the respiratory system and skin, as well as cause allergic reactions. Additionally, there is a potential hazard for wood dust to mix with air and create an explosive mixture. To ensure a safe work environment with minimal dust and hazards, it is crucial to implement appropriate methods for extracting wood chips and dust. Industrial-grade vacuums and dust extractors are commonly used for this purpose, with the specific type of filter selected based on the intended usage area.

Asbestos removal
Asbestos was used by the ton in the construction industry for decades. However, due to the health risks associated with inhaling asbestos, the import, supply, and use of all types of asbestos has been banned in the UK since 1999. Nevertheless, asbestos' dangers still pose challenges to specialist companies even today, because construction materials still containing asbestos are often detected during renovation or demolition work on old buildings. From our article you'll learn how asbestos can be removed and disposed of, and what safety measures need to be taken.

Metal swarf and dust vacuuming
Swarf are an inevitable byproduct of metalworking, whether through automated production or manual machining. However, the accumulation of coarse metal chips can cause damage to expensive manufacturing machines and reduce product quality over time. In addition, when combined with coolant residues, swarf can create slippery floors, increasing the risk of accidents. To ensure the safety of workers and protect production infrastructure, regular removal of metal swarf from the work environment is crucial. Effective extraction systems or vacuum cleaners capable of handling metal dust should be used, equipped with the appropriate accessories to enable efficient and thorough cleaning.
Removing construction dust according to the law
The maximum workplace exposure limit (WEL) is usually regulated by law, but this might vary in different countries. To ensure that the specified maximum amount of construction dust in the air is not exceeded, vacuum cleaners and filter systems must meet the appropriate requirements. This also depends on the type of dust. You should therefore carefully review the applicable rules for each use case in order to ensure a dust-safe and healthy working environment.
Suitable products for your area of application