Manual woodchip removal and wood dust extraction
In addition to wood chips, processing wood also produces fine wood dust through sawing, drilling, sanding. Exposure to wood dust can result in negative impacts on both the respiratory system and skin, as well as cause allergic reactions. Additionally, there is a potential hazard for wood dust to mix with air and create an explosive mixture. To ensure a safe work environment with minimal dust and hazards, it is crucial to implement appropriate methods for extracting wood chips and dust. Industrial-grade vacuums and dust extractors are commonly used for this purpose, with the specific type of filter selected based on the intended usage area.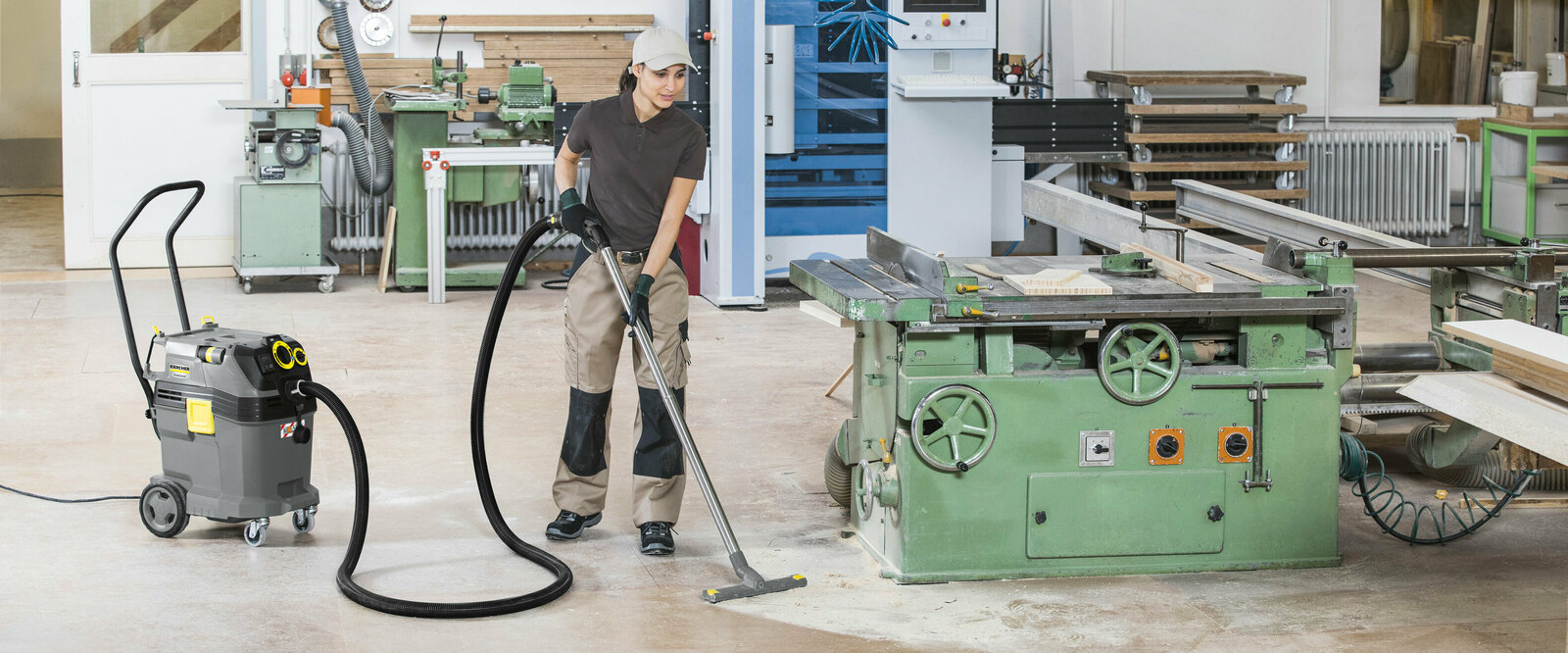 Why do you need to remove wood dust?
Health Hazards
While wood chips and coarse sawdust particles fall to the ground and settle there, fine wood dust spreads in the air and enters the body through the respiratory tract. The smallest particle fraction even reaches the alveoli (alveolar dust). Those working in a sawmill with coarse wood chips may therefore be less exposed to this than carpenters and parquet layers who are frequently exposed to very fine wood dust.
Processing hardwood such as oak and beech, but also MDF (medium density fibreboard), plywood or exotic woods such as mahogany creates dust that is hazardous to health. The wood dust can cause irritation of the skin, bronchial tubes and nasal mucosa. Other consequences can include allergic reactions and asthma. Hardwood dust is also considered carcinogenic and is suspected as a cause of nasal cancer. In addition, treated wood is mixed with secondary substances (such as glazes, varnishes or glues), which are transported into the human body via the dust particles.
Dust classes help classify
For assessing the potential hazard of the wood dust, the concentration of dust particles in the air is an important indicator because it informs the decision on which equipment is needed. Dust concentration is divided into the classes L, M, and H. L stands for 'light hazard', M for 'moderate hazard' and H for 'high hazard'. Depending on the type of wood and the application, wood dust falls into either the dust class M or H. Devices for wood chip removal and wood dust extraction must meet requirements with regard to their design, filter performance and degree of permeability.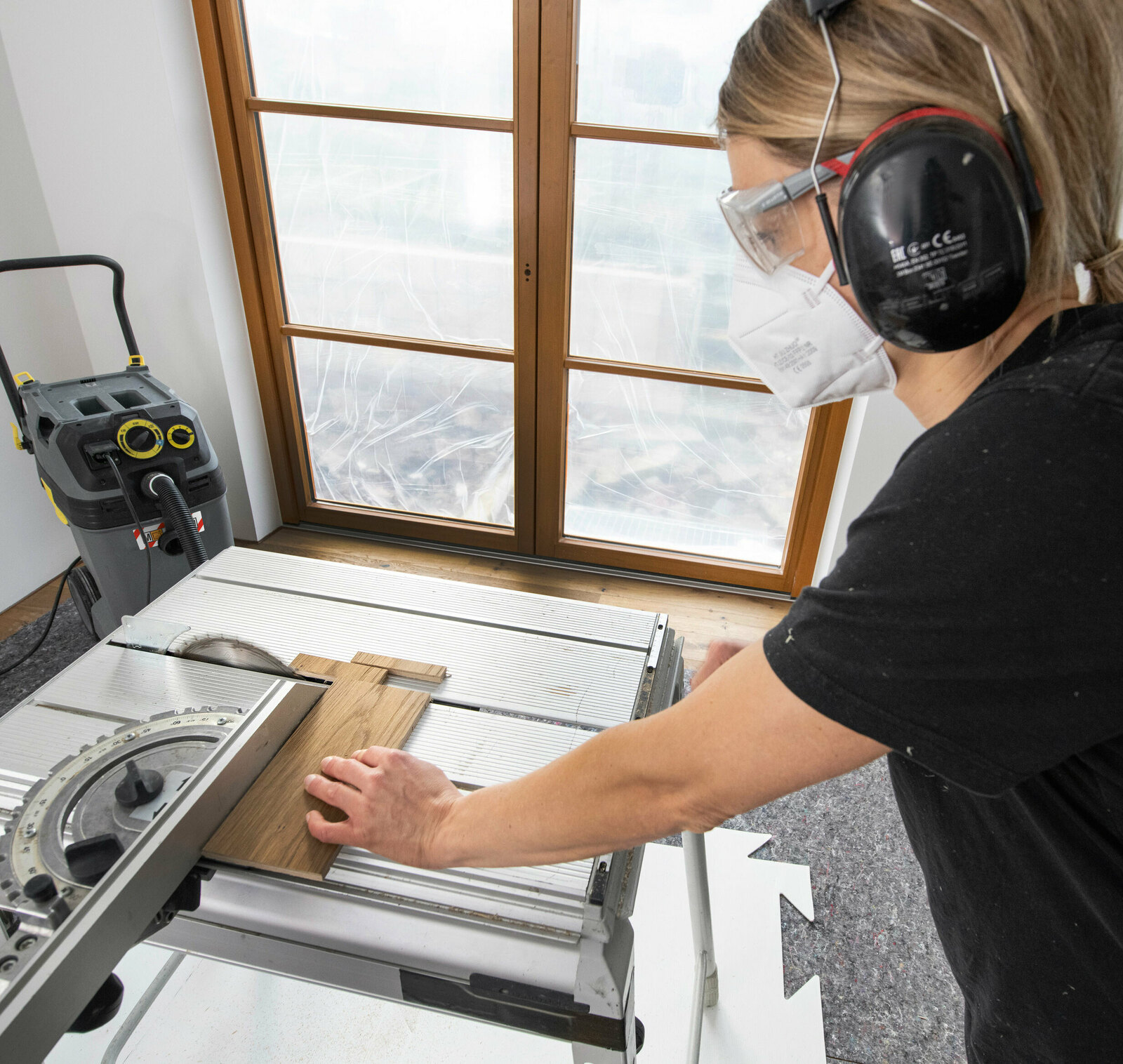 Warning! Danger of explosion
Wood dust is combustible and forms an explosive mixture with atmospheric oxygen. A hot surface or a spark, for example when pulling a plug, can be enough to ignite the dust. Another source of danger is static electricity caused by friction or movement; when this is discharged it can ignite. In addition to the ignition source, the concentration of dust is an important factor. The problem is that the dust density can vary greatly over time. Settled dust that is kicked up can result in an explosive atmosphere within seconds.

Construction dust removal
Poor visibility or idle work equipment are just some of the reasons for increased dust in the workplace. It's not only a potential safety risk but also a risk for the workers' health. Construction dust related health problems range from respiratory system irritation and inflammation to chronic lung diseases and an increased risk of cardiovascular diseases. Professional control and removal of construction dust can effectively ensure a safer environment.

Asbestos removal
Asbestos was used by the ton in the construction industry for decades. However, due to the health risks associated with inhaling asbestos, the import, supply, and use of all types of asbestos has been banned in the UK since 1999. Nevertheless, asbestos' dangers still pose challenges to specialist companies even today, because construction materials still containing asbestos are often detected during renovation or demolition work on old buildings. From our article you'll learn how asbestos can be removed and disposed of, and what safety measures need to be taken.
What to consider when extracting wood dust
Precautionary measures must be taken for all activities that create wood dust. This includes proper woodchip removal, as well as recirculation of the purified air into work rooms. During work, woodworking machines and hand-held power tools must always be operated coupled with an exhaust system, i.e. a woodworking dust extractor. Exceptions to this are less dust-intensive machines such as drills. All surfaces in the work area that are contaminated with wood dust, including machines and tools, must also be vacuumed regularly. Woodchip removal and wood dust extraction should only be carried out with tested suction equipment that meets at least dust class 'M'.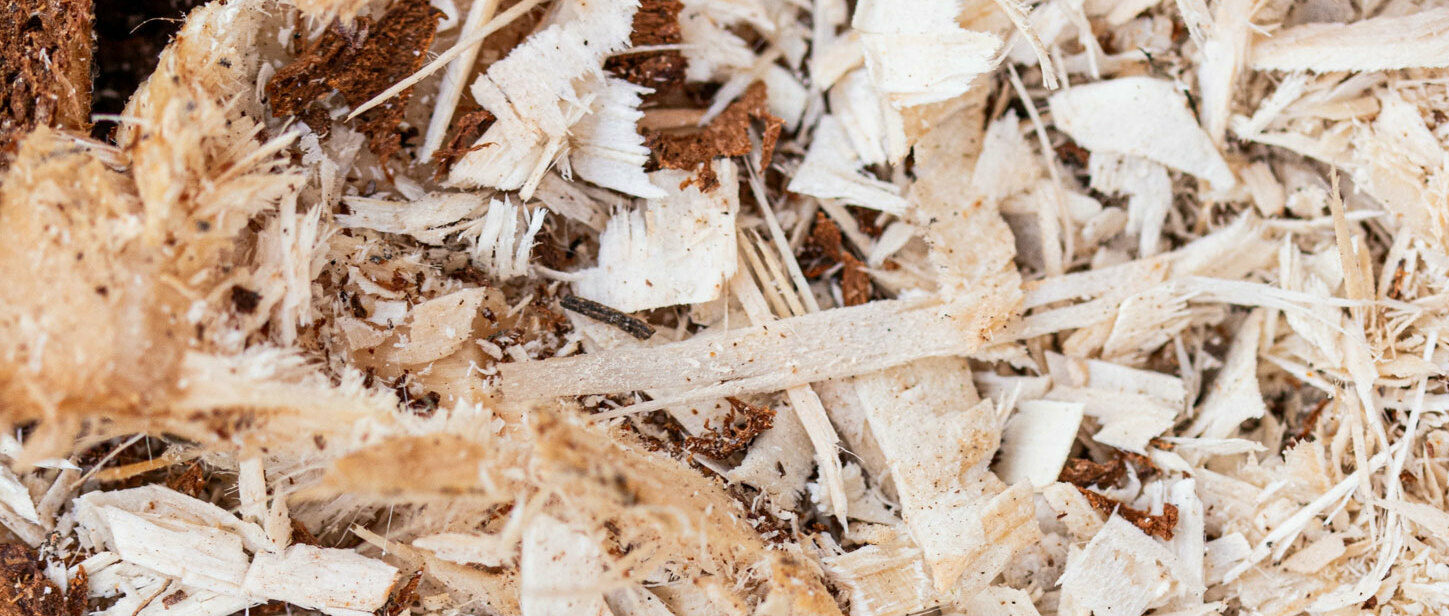 Which devices are suitable for wood dust extraction?
Industrial vacuums (or industrial dust extractors) and portable dust extractors for dust classes M and H are recommended for the manual wood dust extraction. Due to the explosion hazard posed by wood dust, the extraction units must also have the appropriate fire and explosion protection and be equipped, for example, with electrostatically dissipative suction sets. The selection of an appropriate wood dust extraction system depends on the intended application and location. For woodworking shops and construction sites, industrial vacuums and mobile dust extractors are both suitable options.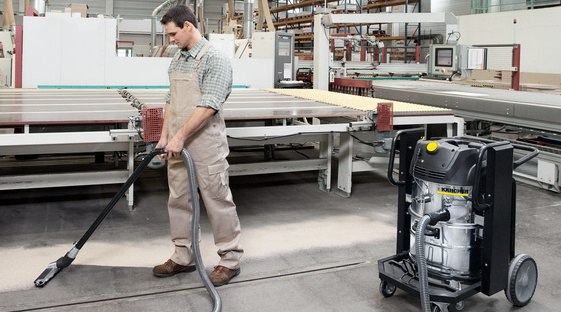 Sawdust collectors remove wood dust at the point of origin
Portable dust extractors are utilised to promptly extract dust particles produced during work. They can be connected to the processing unit directly through a suction hose or positioned in the area where the dust is generated with a suction opening. These devices include a warning mechanism that signals when the flow rate drops below the minimum level and often come equipped with a power socket for woodworking machinery, which can operate automatically with an on/off switch.
Industrial vacuum cleaner for cleaning surfaces
An industrial vacuum is equipped with a suction harness, comprising of a nozzle and hose, and is apt for extracting wood chips from surfaces, such as cleaning tools or work areas. However, it should be noted that industrial vacuums are not intended for vacuuming hand-held power tools, as the warning device for such usage is not present.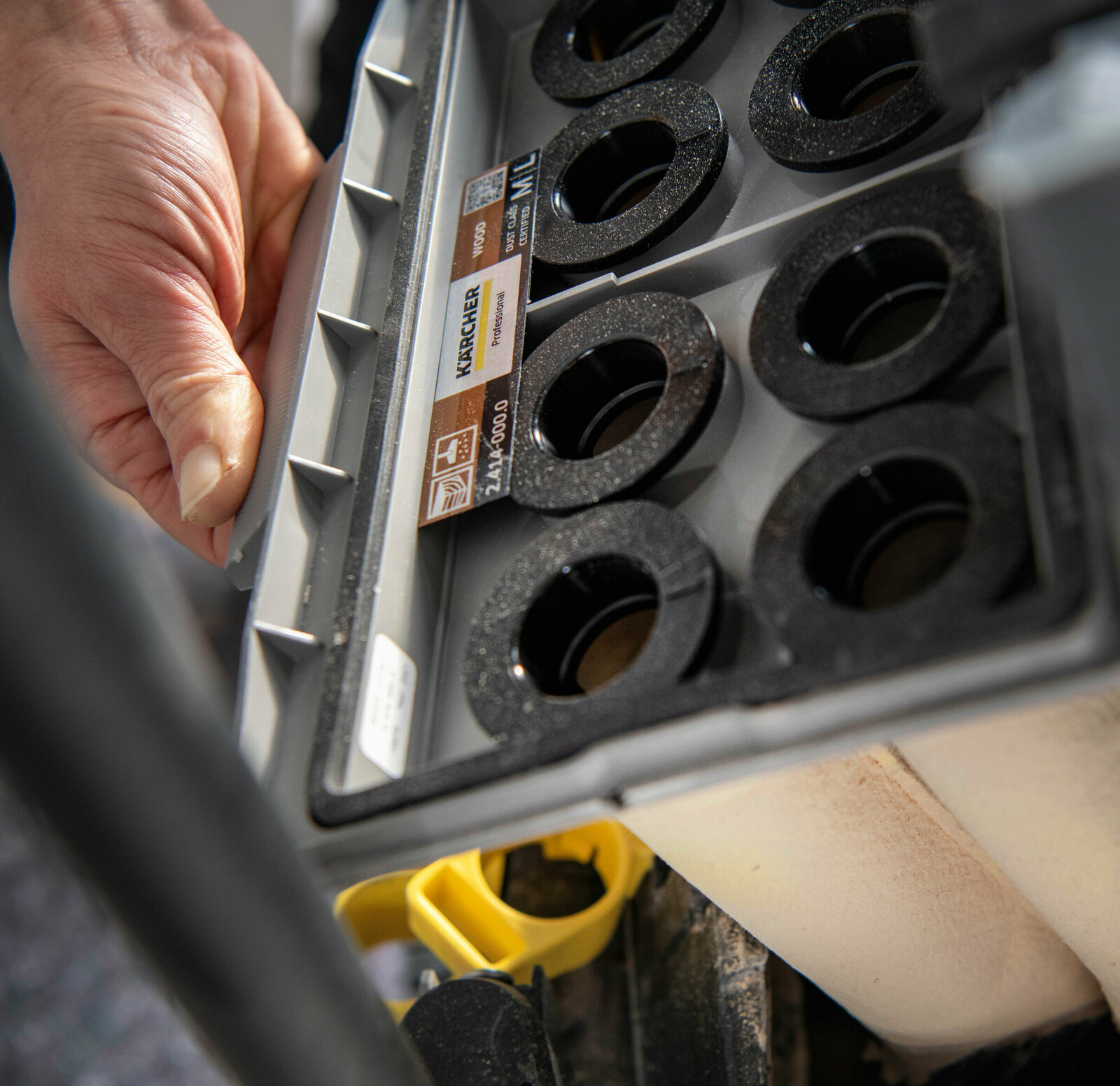 Filter performance is crucial
The performance of filtering equipment plays a crucial role in meeting the specified dust class or in not exceeding the associated limit value for the dust concentration at the workplace.
To ensure compliance with workplace safety standards, it is mandatory to use at least class M vacuums in a wood processing facility. These vacuums must have filter performance that meets the limit value of 0.1 to 1 milligram per cubic meter of air, with a permeability level of less than 0.1 percent. In addition, the vacuum cleaners must be fitted with a paper or fleece filter bag that features a sealing slider and a disposal bag made of polyethylene. This setup helps to minimise the amount of dust released when the vacuum is emptied.
Candle filters are an ideal choice for extracting wood chips and dust in industrial settings. These filters, which feature cloth candles arranged side by side, can absorb large amounts of wood dust and prevent blockages even when long fibres are vacuumed up. One major advantage of candle filters over standard flat pleated filters is that they can be more easily cleaned by filter cleaning systems, such as TACT, due to the greater distance between the candles and their high mobility.
In workplaces where the limit value for dust is below 0.1 milligrams per cubic meter of air, a Class H vacuum must be used to ensure filter performance of less than 0.005 percent permeability. To maintain a dust-free disposal process, these vacuums are equipped with a safety filter bag and a main filter of Class H, made from glass fibre. The filter bag is covered with a plastic cover that can be pulled over and securely closed.
To allow In order to enable the purified air to be recirculated back into the work environment, some vacuum units are equipped with either a paper flat-fold filter or a flat-fold filter made from polyester fleece to clean the exhaust air.
Vacuum wood chips and wood dust both during and after work
Wood chip removal with hand-held power tools
Hand-guided machines such as hand-held circular saws, hand-held routers and orbital sanders need to be connected to a suitable dust extractor with a warning function during use. The reason being that insufficient suction power is not immediately evident when extracting dust-filled air. The warning function ensures that workers are not exposed to an increased dust load without noticing it. Additional help is provided by the automatic 'on' function, usually by means of a power socket. The suction unit always starts when the connected machine is put into operation, so there is no need for extra manual operation.
Tip – Use an extraction table:
Work with some sanding machines such as manual belt sanders, random orbital sanders and orbital sanders should always be carried out on an extraction table alongside machine extraction.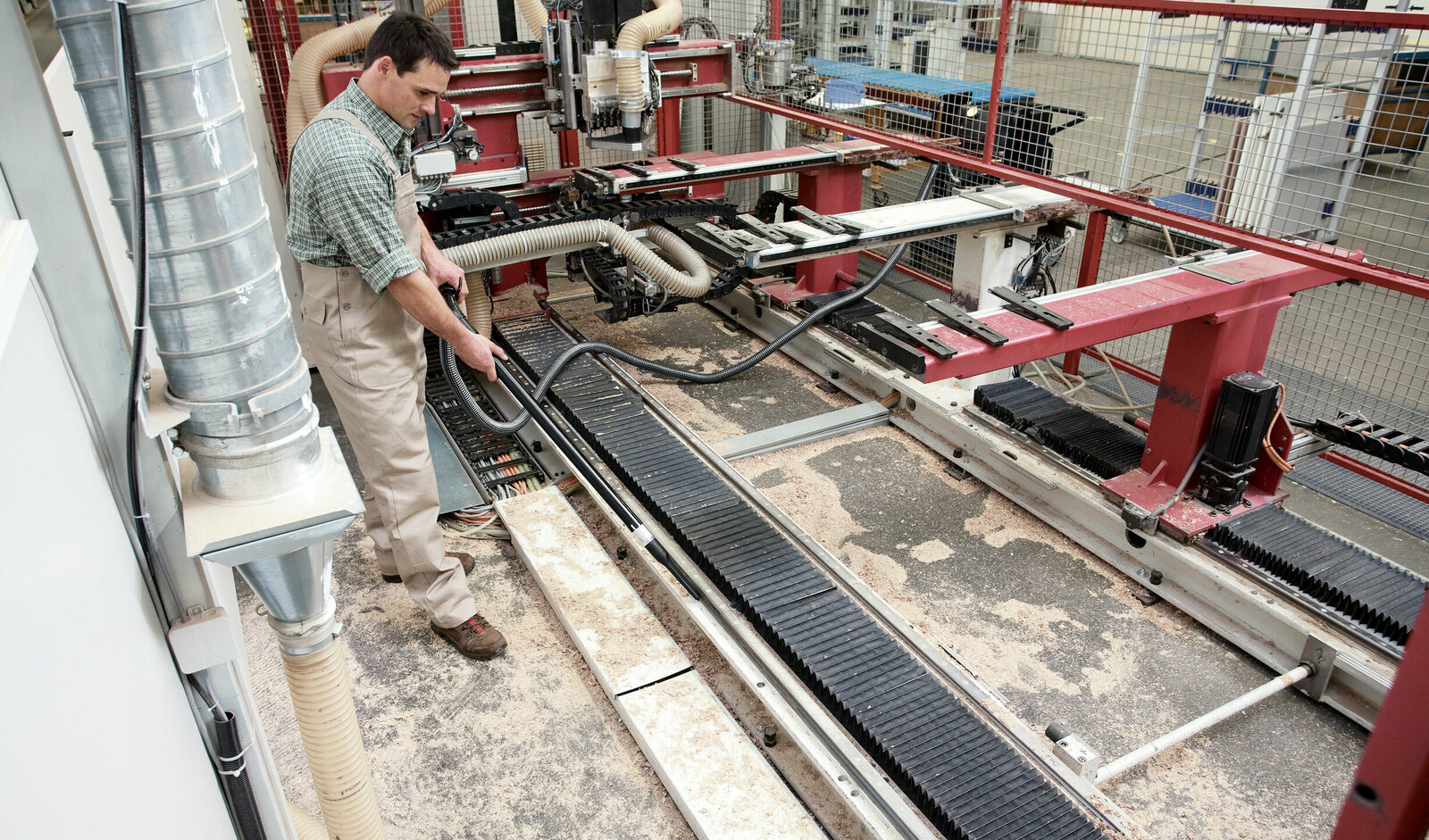 Wood chip removal from surfaces
Settled wood dust that is stirred up again is harmful to the respiratory tract and can also form an explosive dust-air mixture. Therefore, all surfaces of the work area, including equipment, machinery and material, should be thoroughly cleaned in between and at the end of the job. For the extraction of wood chips and dust, industrial vacuums for classes M and H are suitable. Alternatively, industrial vacuums or combination units with the test mark H2 or H3, which have an ATEX certificate for Hazardous Zone 22 work, too. Zone 22 designates a working area where an explosive atmosphere caused by combustible dust is not expected to occur during normal operation, but may nevertheless occur for a short period.
The accessories of the industrial vacuum cleaner used should be optimised for the respective application. When selecting the appropriate suction harness, the diameter and length of the suction hose should be considered. For wood chips and coarser material or when using wider floor nozzles (from approx. 30 centimetres), for example, it is recommended to use a suction hose with an inner diameter of at least 35 millimetres.
Caution: Do not sweep the working area using compressed air guns or brooms during wood dust extraction. This increases the dust concentration in the air.
Other factors in choosing equipment
If a particularly large amount of fine dust accumulates when sanding parquet floors with larger floor sanding machines, for example, an additional pre-separator can be connected between the vacuum unit and the machine. The pre-separator filters large quantities of the accumulating woodchips and fine wood dust through a cyclone, relieving the main filter of the dust extractor.
In addition to suction and filtration performance, there are other points to consider when selecting a suitable vacuum cleaner. If a mobile unit is required for the construction site, a robust chassis should be available. It's also better if the suction unit can be separated from the frame, if necessary, in order to take it with you on a ladder, for example.
Important criteria also include the container volume and the amount of air that can be taken in per second. In addition to factors such as the amount of dust or also the place of use, the selection of the suitable vacuum cleaner also depends on the wood dust's hazard potential.
Measures for a low-dust environment
In addition to proper woodchip removal and wood dust extraction, various precautionary measures help to create a safe and largely dust-free working environment and protect the health of users.
Measure wood dust exposure
Dust measurements at the workplace provide concrete information on whether measures are required to comply with the specified limit values for the concentration of wood dust in the air, and if so, which ones are needed.
Instructions and procedures
Clear rules of conduct and protective measures for handling wood dust contribute significantly to reducing dust exposure. Employees should receive regular training and be confident in the proper use of extraction equipment.
Personal protective equipment
For dust-intensive activities, e.g. wood sanding, personal protective equipment (PPE) such as respirators with particle filters and protective glasses must be worn.
Dust-proof storage and disposal of waste
Dust collection bags and filter elements must be removed when closed and should not be emptied or reopened. They should always be stored and disposed of in closable containers.
Check the suction cup regularly
All extraction equipment should be checked regularly for suction and filtration performance and should be professionally maintained.

Manual swarf vacuuming
Swarf are an inevitable byproduct of metalworking, whether through automated production or manual machining. However, the accumulation of coarse metal chips can cause damage to expensive manufacturing machines and reduce product quality over time. In addition, when combined with coolant residues, swarf can create slippery floors, increasing the risk of accidents. To ensure the safety of workers and protect production infrastructure, regular removal of metal swarf from the work environment is crucial. Effective extraction systems or vacuum cleaners capable of handling metal dust should be used, equipped with the appropriate accessories to enable efficient and thorough cleaning.
Suitable products for your area of application