Kärcher
S 650
17663030
https://www.kaercher.com/us/home-garden/push-sweepers/s-650-17663030.html
The S 650 sweeps large areas up to 5X quicker than usual a regular push broom. Dual side brushes allow you to sweep right up to edges.
S 650
The S 650 sweeps large areas up to 5X quicker than usual a regular push broom. Dual side brushes allow you to sweep right up to edges.
Sweeps five times faster than with a broom: the S 650 makes it possible – and is easy on your back. This sturdy, corrosion-resistant sweeper has a total sweeping width of 25.6 inches and features a powerful roller brush and two side brushes. It is ideal for areas 400 ft² or larger. The mechanical sweeper draws debris directly into its 4.2 gallon waste container and delivers outstanding cleaning results. It's extremely easy to maneuver, and the extra long bristles on the side brushes ensure thorough cleaning right up to edges. The adjustable push handle has two height positions and can be adjusted to the height of the individual operator (or completely folded down, if desired, for compact, upright storage). The waste container can be easily removed and safely set down and emptied without coming into contact with dirt. The S650 is perfect for cleaning driveways, sidewalks, garages, decks, patios and other large areas. WARNING: This product can expose you to chemicals including lead and Diisononyl phthalate, which are known to the State of California to cause cancer. For more information go to www.P65Warnings.ca.gov.
Features and benefits
Two side brushes (S 650)
Greater flexibility with two side brushes. The long bristles ensure thorough cleaning even on edges.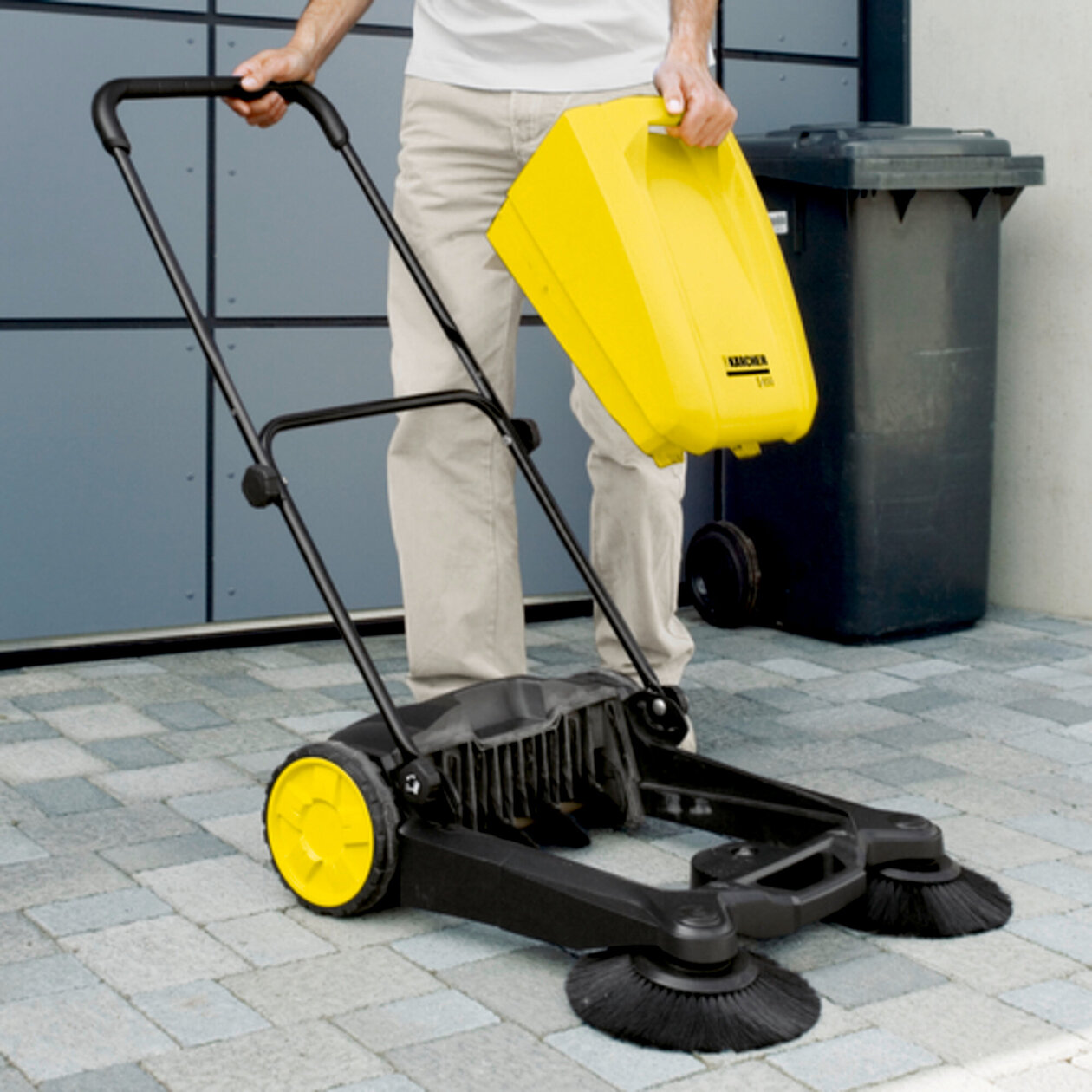 No contact with dirt.
Convenient waste container: waste is drawn directly into the container, which can be easily removed and emptied.
Space-saving storage
With its fold-down push handle, the sweeper can be stored upright, thus taking up very little space.
Adjustable push handle with comfortable handle
Thermally-clad (S 650) and height-adjustable (extendable with two angle adjustments). For sweeping that is easy on your back.
Stand-up wast container
The waste container is easy to remove and is designed so that it can be safely set down.
Comfortable carry handle
The sweeper is easy to transport.
Cleaning application
For cleaning paths, streets, yard and garage driveways and areas around the home.
Recommended for areas of 430 ft² or larger.
S 650
is rated out of
5
by
19
.
Rated

5

out of

5
by
CatherineL
from
Love sweeping the sand off the sidewalks now!
We live at the beach during the summer and constantly have people dragging sand onto our sidewalks. The S650 is easy to walk back and forth behind and seems to take less energy that sweeping using a broom. It's ideal for this application! Emptying it is a breeze as well. It works best in wide open spaces as it's a bit clumsy on corners.
Date published: 2019-07-11
Rated

5

out of

5
by
Zoe3
from
Quiet, efficient and long lasting.
We bought this several years ago. It is used daily in a large area. The greatest part is that it collects not only leaves and dirt but the very tiny seeds of our many, messy Crape Myrtle trees. The only thing is now it seems the rubber stripping in the back is starting to wear and I don't see replacement parts.
Date published: 2019-07-04
Rated

4

out of

5
by
CJCass
from
This thing really works well
The guys in the shop looked at it when I unboxed it. They all were thinking that this thing will never work. One guy started using it and in a few days the others did. The floors are poc marked ang dusty concrete. There are metal chips and dirt on the floor and so far it's working well. We'll have to see how long it takes to wear out and need rebuilt.....
Date published: 2019-06-24
Rated

5

out of

5
by
Gman67
from
Best products
We have the bigger model at work and it makes sweeping so much easier I could not resist getting the home version for myself. This is the 4th item I have from Karcher and like the rest, it works like a dream with no problems.
Date published: 2019-02-01
Rated

5

out of

5
by
john74
from
Good Product
I buy one annually. I have many oak trees on my property that surround a concrete driveway. I use the sweeper daily for several months.
Date published: 2018-12-04
Rated

4

out of

5
by
Wiz Races
from
Not great, but very good.
Not great, but very good. Are use this on cement floors in my barn. It doesn't pick up Hay very well, but it gets the dust without making the barn dusty.
Date published: 2018-11-27
Rated

5

out of

5
by
JoeBoats
from
Great Floor Sweeper
I bought this a week ago to sweep the floors in a department in my company that creates a lot of fine dust the a broom will not pick up. The broom just moves it around. This thing is pretty amazing. It sweeps right down to the bare concrete. I will see how long it lasts but so far it is working great. Not only taking the dust off the floor but saving tons of time pushing the dust around with a broom.
Date published: 2018-07-21
Rated

5

out of

5
by
annieday9909
from
I am saving so much time now!
I have a lot of yards and gardens that have chestnut trees on them, as well i have a lot of pavement and walkways. Every spring, summer and especially fall time the trees and surrounding foliage make for a ton of cleanup. During these seasons i am outside cleaning up for several each day, it is a lot of raking and sweeping involved. I truly adore and really rely on my Karcher S 650, it makes for quick work for me, i am literally just 'pushing' this along. I love that this sweeps up the chestnuts wonderfully and in a snap. I love keeping my paths, walkways and patios beautifully manicured and with this i am literally just sweeping and takes little effort and i am done in no time! My karcher has been essential to me and my home!
Date published: 2017-12-04