Battery Pressure Sprayer
Plant protection and care at the touch of a button: The PSU 4-18 pressure sprayer with an 18 V exchangeable battery, 4 l tank and telescopic lance fertilises plants with its fine, even spray mist, fights pests and weeds in a targeted manner and conveniently waters small seedlings – without the need for laborious, manual pumping.
How to use the pressure sprayer in the garden
Fertilising
Sometimes our plants need more than just sun and water to grow. The PSU 4-18 pressure sprayer with its extendible telescopic lance makes it easy and convenient to apply fertiliser, even in higher areas.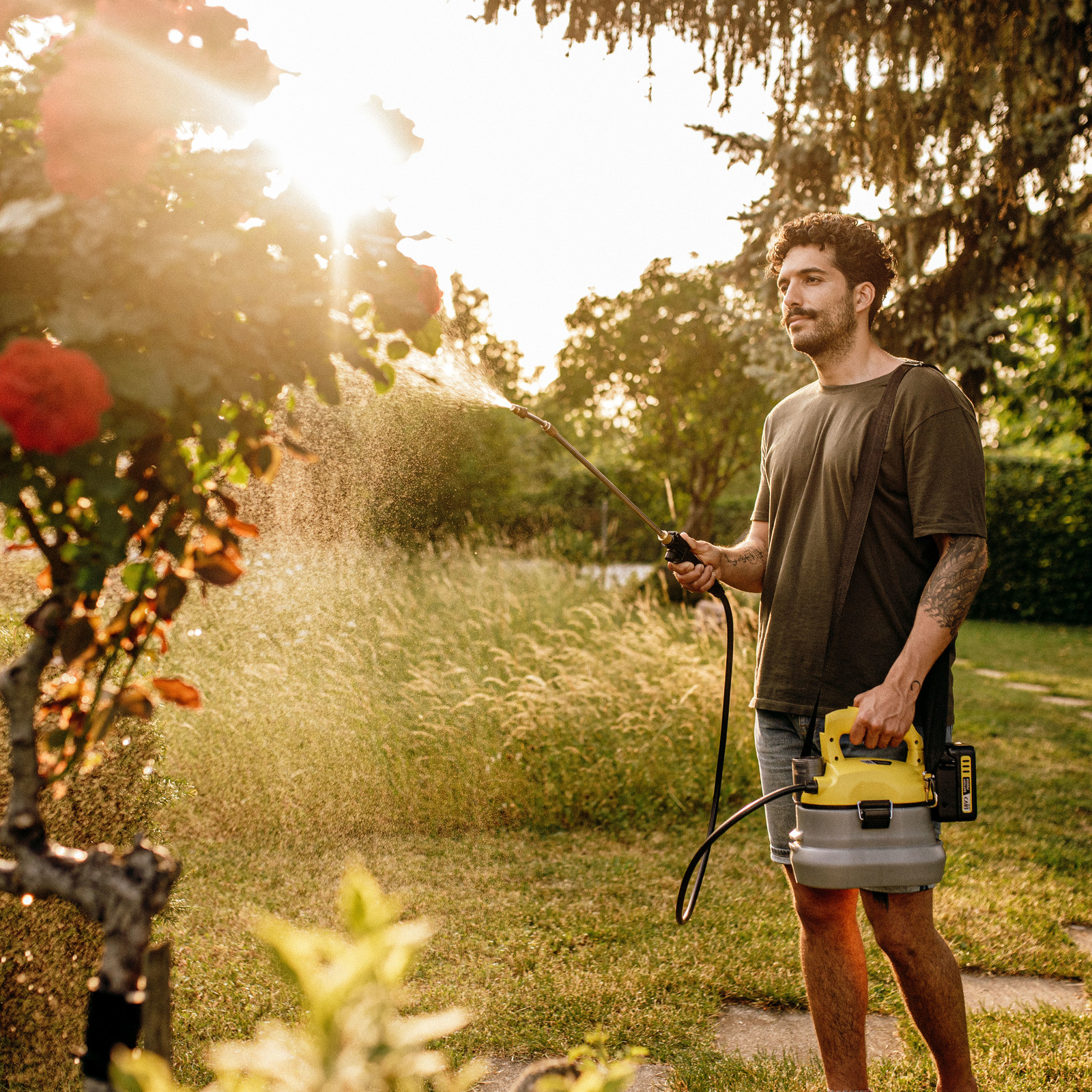 Pest control
Bushes and trees are often infested by pests, such as aphids or box tree moths. With its many setting options, the battery pressure sprayer lets users either completely mist an affected area or deliver a targeted spray jet.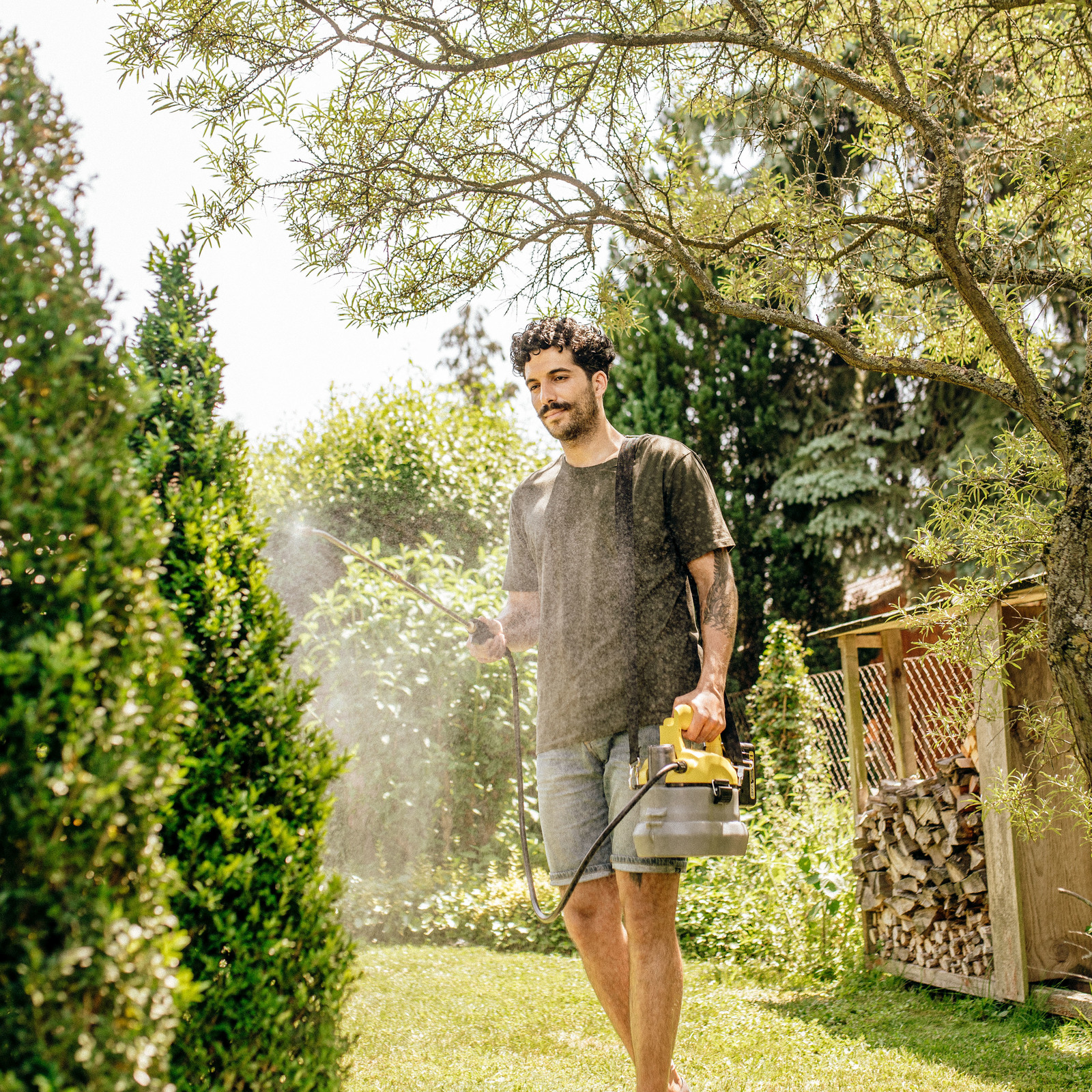 Weed removal
More grass, fewer weeds: The PSU 4-18 battery pressure sprayer conveniently and effectively tackles weeds. The result is a well-kept and evenly green lawn area.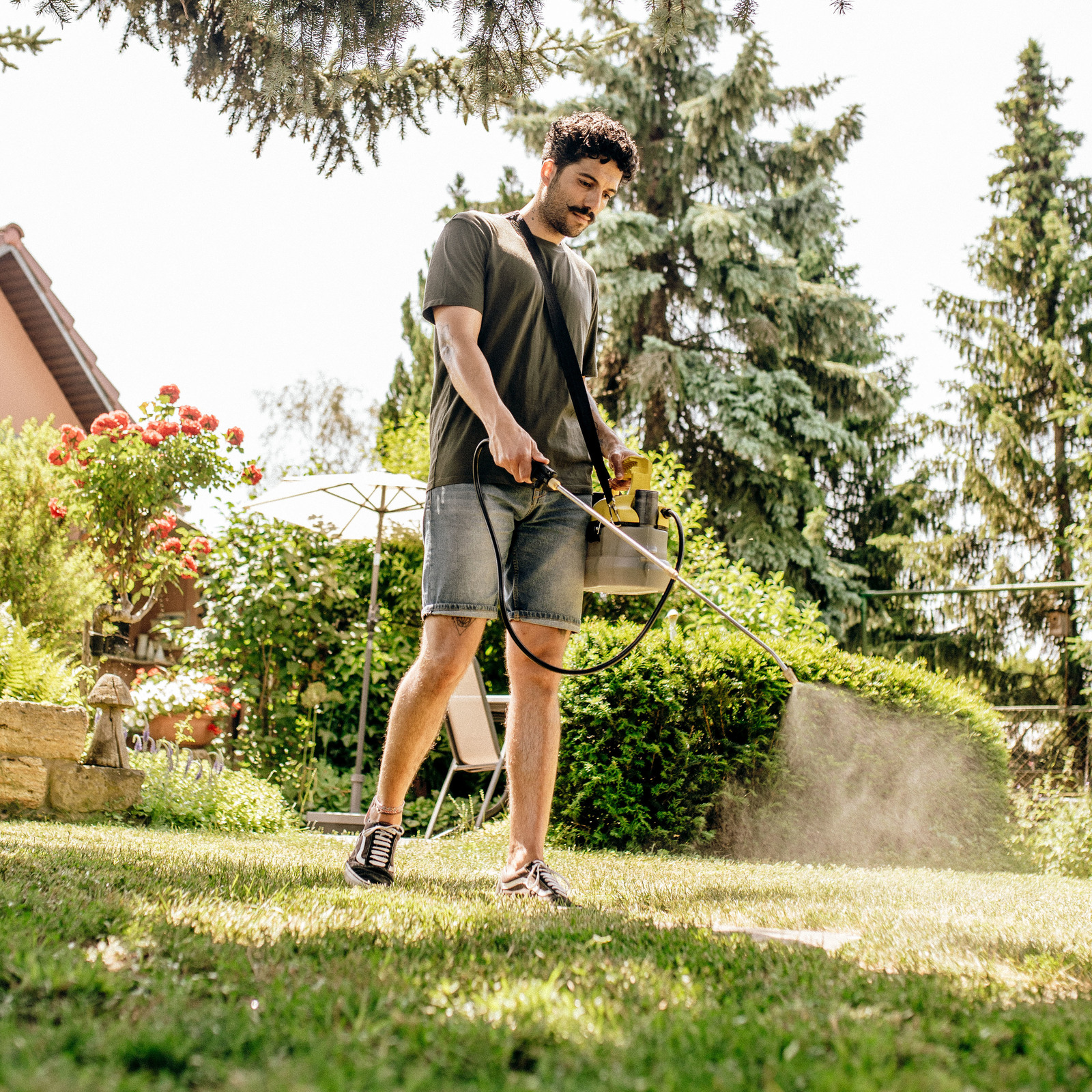 Watering
Careful watering for delicate plants: Small seedlings in the bed must be treated with particular care. The fine spray mist supplies the plants with sufficient water, without damaging the fine structures.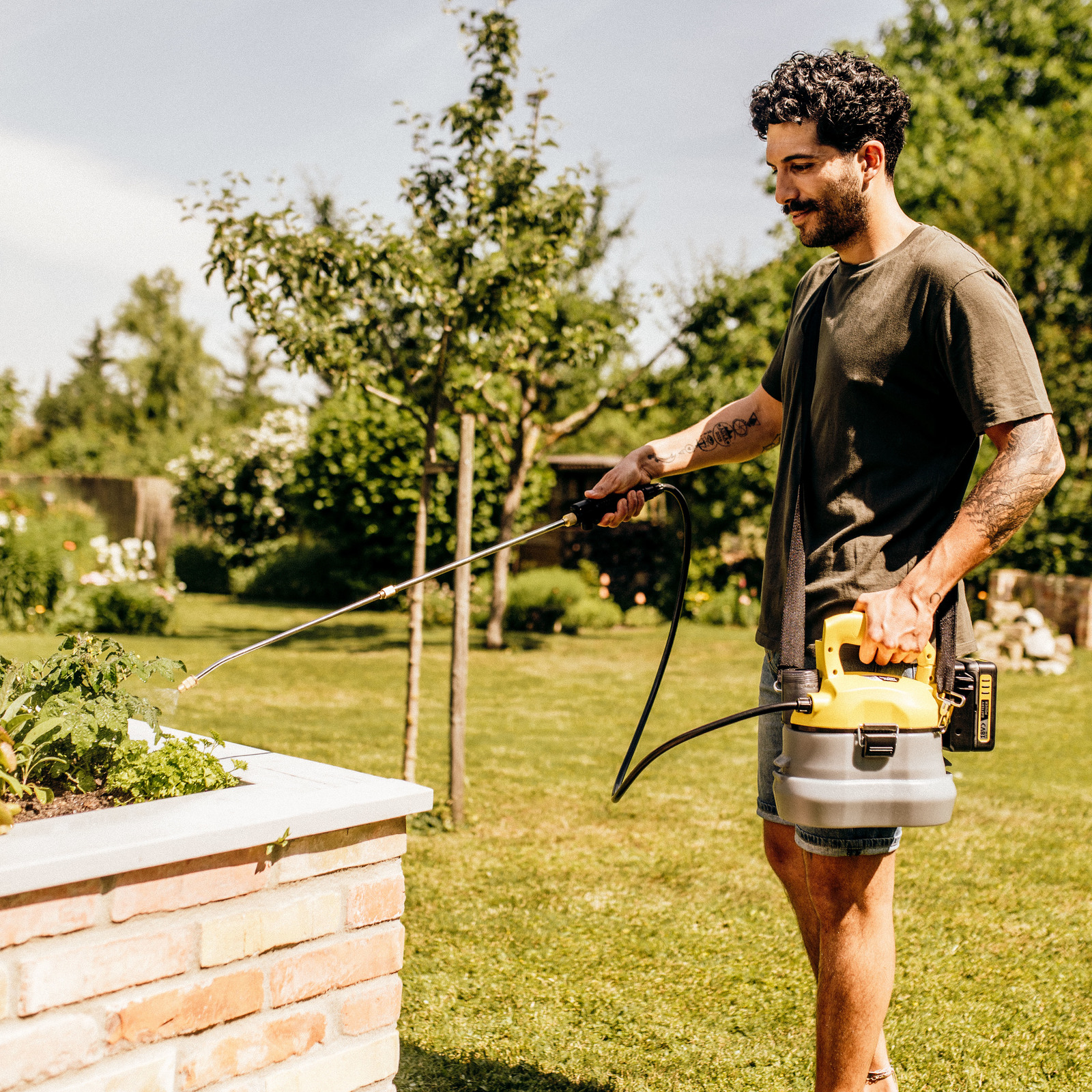 The pressure sprayer from Kärcher: caring for the garden has never been so easy
Whether it is for a small front garden, a manageably sized balcony in a city apartment or a large outdoor area including a patio — the cordless pressure sprayer has all-round talent. Thanks to the pressure sprayer's adjustable telescopic lance, the spray's reach can be conveniently adapted to individual needs.
The pressure sprayer is equipped with a rechargeable battery for effortless garden maintenance. This means that the device can be used almost anywhere. The 18 V rechargeable battery with either 2.5 or 5.0 Ah enables several hours of work in the garden — without needing to connect to a power source or cable.
Every type of plant requires individual care. The pressure sprayer comes with a telescopic lance that has an adjustable nozzle to help you meet various requirements in the garden — from working on large areas to applying liquid in precise amounts.
Highlights
When using a pressure sprayer, they used to say, "the only way to get more spray is to pump harder". But with the Kärcher PSU 4-18, you can forget about this labourious preparatory work. Simply fill the container, connect the battery to the pressure sprayer, and then give your plants some TLC with up to 3 bars of pressure. The pressure sprayer enables you to apply liquid fertiliser, target specific plants with plant-protection agents, kill weeds, and gently water delicate seedlings with a light mist. Whether for a rooftop terrace or an allotment garden — the PSU 4-18 is guaranteed to be one of the garden tools you won't want to put down.
Pressure sprayer features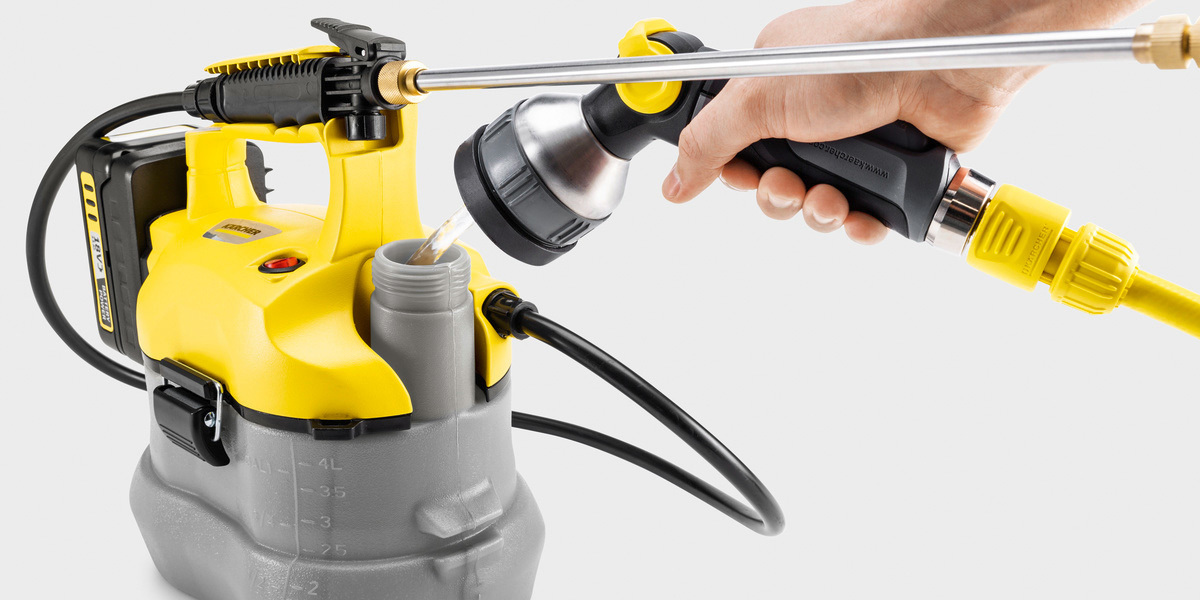 Liquid level overview
The pressure sprayer's tank is transparent, which means you can easily see how full it is when watering or fertilising large outdoor areas.
Easy to transport
The pressure sprayer is equipped with a carrying strap, making it comfortable to carry even with a full tank. Place the strap on your shoulder and let the device hang comfortably.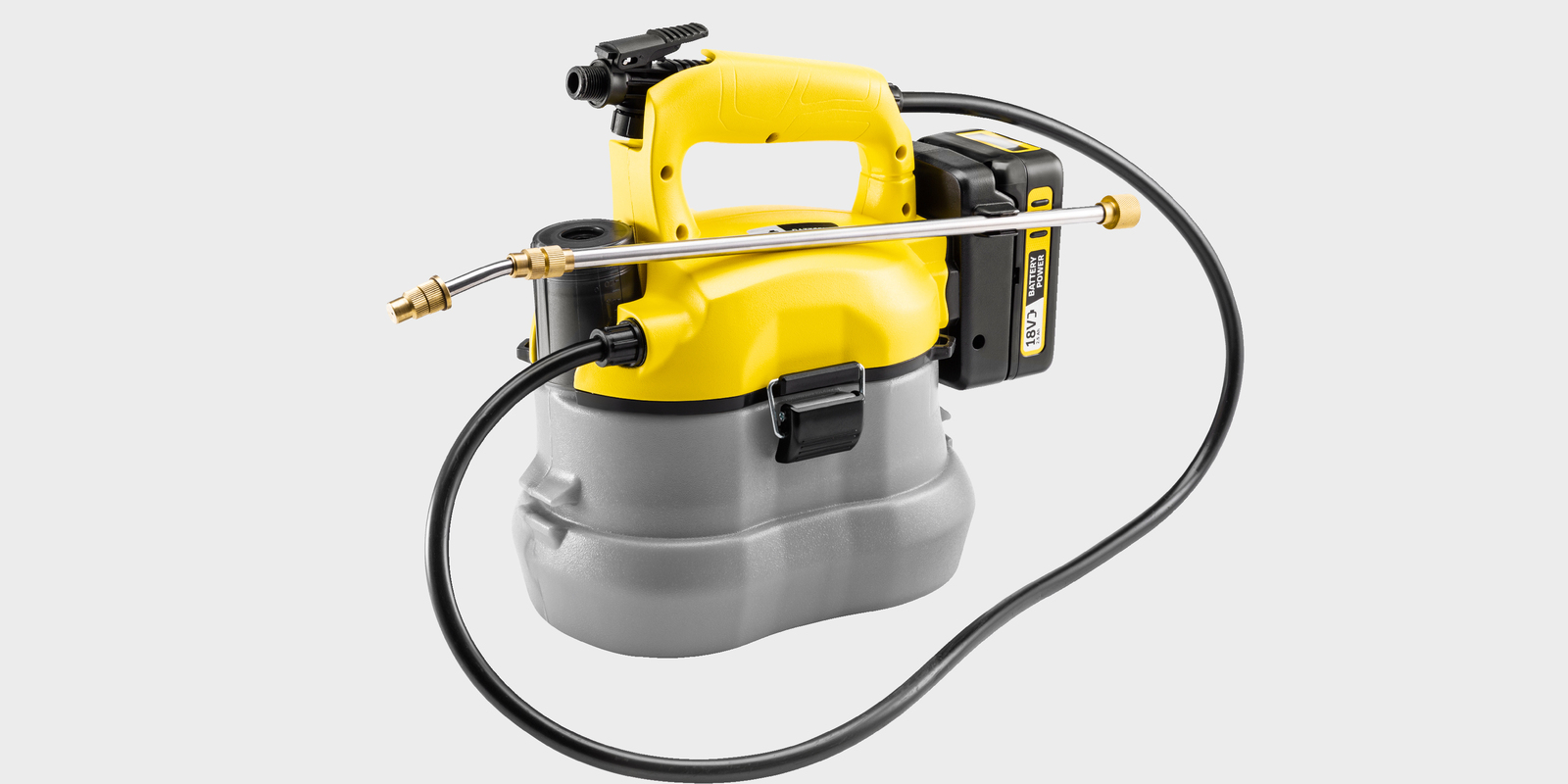 Easy to store
A mobile appliance should be easy to stow away. For this reason, the cordless pressure sprayer was designed with a telescopic lance that can be removed and attached to the battery holder. The device can therefore be easily transported around and stored in the tool shed or garage to save space.
FAQ: More information about the pressure sprayer
Kärcher Battery Power battery platform
The battery pressure sprayer is a product in the 18 V Kärcher Battery Power battery platform. Discover the entire product range and see which other products are compatible with your 18 V Battery Power battery.