SUBMERSIBLE PUMPS
Kärcher submersible pumps are extremely robust and very long-lasting – even with demanding use in the private sector. This is made possible by a tried-and-trusted ceramic slide ring sealing used in professional applications, which is particularly hard-wearing. With our submersible pumps for dirty water, even contaminated, sludgy water can be conveyed easily from A to B at high pressure and a considerable delivery height. Flat-suction pumps can suck away clear or only slightly dirty water down to a level of just 1 mm. All that's left to do is wipe the surface dry. The new submersible flat-suction dirty water pump meets both challenges brilliantly.
Please note that different country versions are available for most products: 120 V / 60 Hz or 220-240 V / 50 Hz.
Kärcher submersible pumps for demanding tasks
Submersible dirty water pumps
Robust through and through and particularly long-lasting, our submersible dirty water pumps do their job perfectly wherever they are needed. They are the first choice if quick action is required in a flood situation, but are also ideal for pumping out ornamental garden ponds before a restorative clean, for example. The dirty water can contain particles with a grain size of up to 30 mm.
Flat-suction submersible pump
Our flat-suction submersible pumps can transport clear or slightly dirty water with particles of up to 5 mm. Flat suction means that, thanks to the folding stand, water can be pumped out right down to a level of 1 mm for mop-dry results. Perfect for when a garden pool needs to be emptied or water needs to be cleared from the cellar.
Areas of application
Depending on the area of application and degree of contamination of the water being pumped, you can purchase either a submersible clear water pump or a dirty water pump. The following table shows which products are most suitable for each application.
Highlights
Powerful, robust and extra long-lasting – these are the qualities our Kärcher submersible pumps have to offer. At considerable delivery heights, they can handle any task in or around the home, no matter how demanding, and, depending on the performance class, transport up to 22,000 litres of water per hour. Protected by an oil chamber, a ceramic slide ring sealing reduces wear and considerably increases the lifetime of the submersible pumps.
Features and advantages of Kärcher submersible pumps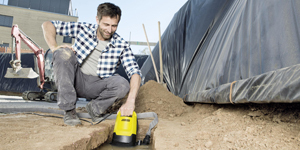 Extremely long-lasting
Protected by an oil chamber, the ceramic slide ring sealing increases the lifetime of the submersible pumps.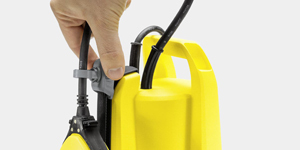 Flexible switching level adjustment
Setting the switching level is particularly easy thanks to the height-adjustable float switch.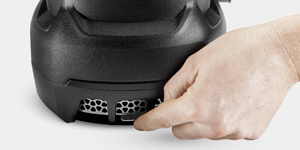 Perfect protection
The prefilter, available in integrated form or as an optional accessory, reliably protects the pump against blockages.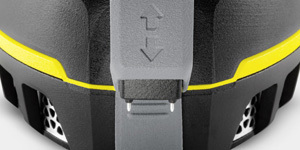 Automatic pump start
The level sensor reacts immediately – even at a low water level.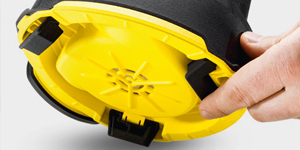 Mop-dry pumping results
Once the stand has been folded away, the flat-suction submersible pumps can remove water to a depth of 1 mm for mop-dry results.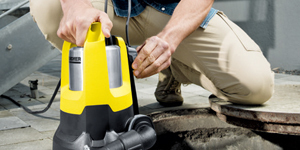 Individual switching level
The switching level can be infinitely adjusted – simply by moving the level sensor.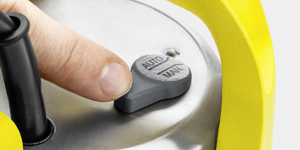 Manual or automatic
Easy switching from manual on and off to automatic mode.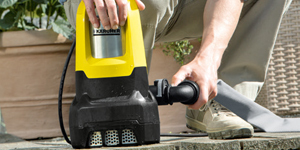 Practical, quick connection
Fast and convenient hose operation thanks to Quick Connect.
Calculation of pump capacity
Pump performance curve
The relevant criteria include the flow rate and delivery pressure required for the application (= delivery height). From the pump performance curve, a suitable pump can be selected using the calculated values.
The pumps shown may vary depending on the range available in each country.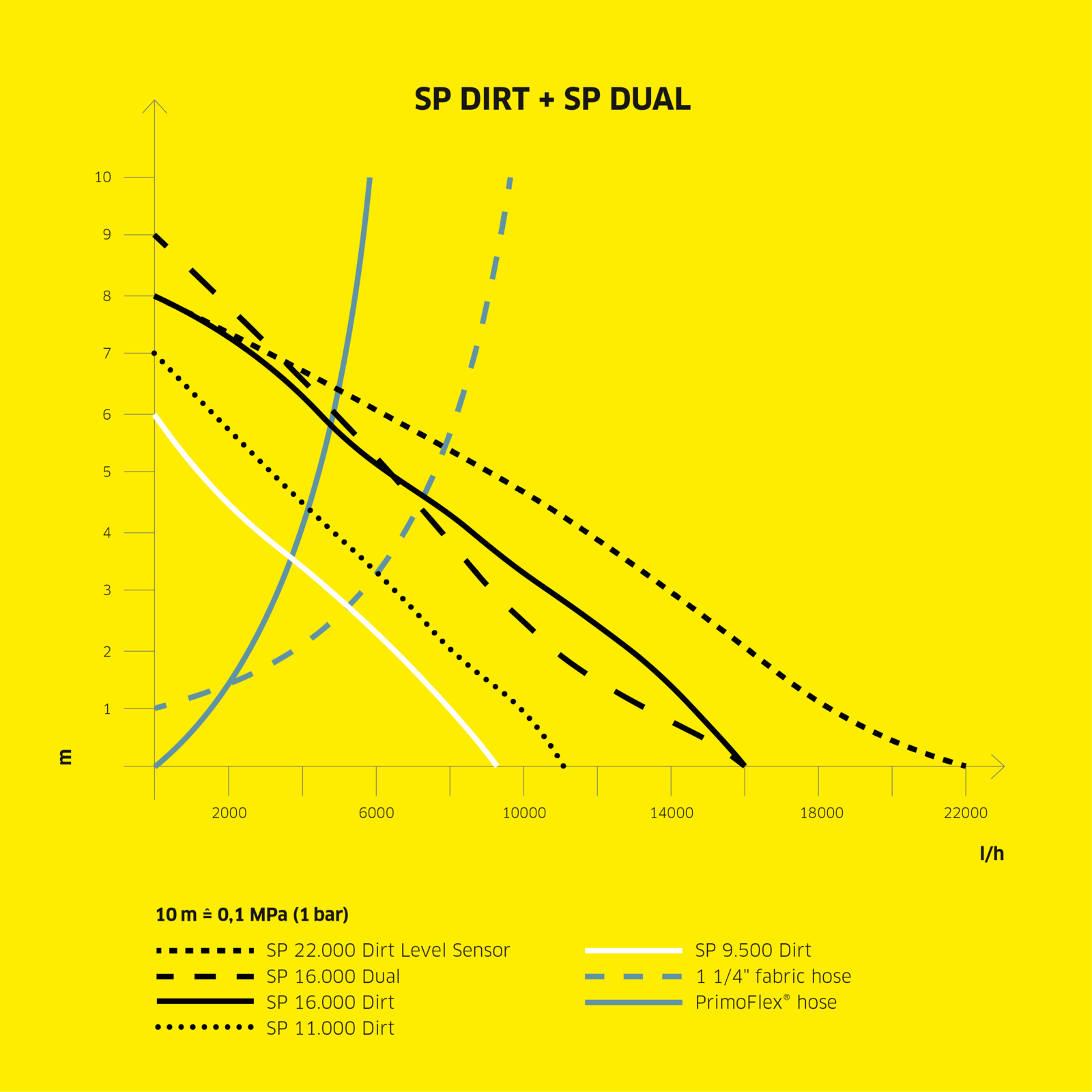 Sample calculation for choice of correct submersible pump:
Choosing the right pump largely depends on the volume of water, which is calculated as follows: rectangular area: length × width × average depth (m) × 1000 = tank content (l). Round area: diameter × diameter × average depth (m) × 0.78 × 1000 = tank content (l).
(Example of pool: 6 m × 3 m × 1 m × 1000 = 18,000 l)
Depending on the area of use and application, you can opt for a dirty water pump or a flat-suction pump. The overview of applications above can help you choose the right pump type.
(Example: flat-suction pump)
Look at the relevant diagram and focus on the pump performance curves, as well as the performance curves for a 10 m long 1"

PrimoFlex

® hose or a 10 m long 1 1/4" fabric hose, depending on the type of hose you want to use. (Example: 1"

PrimoFlex

® hose)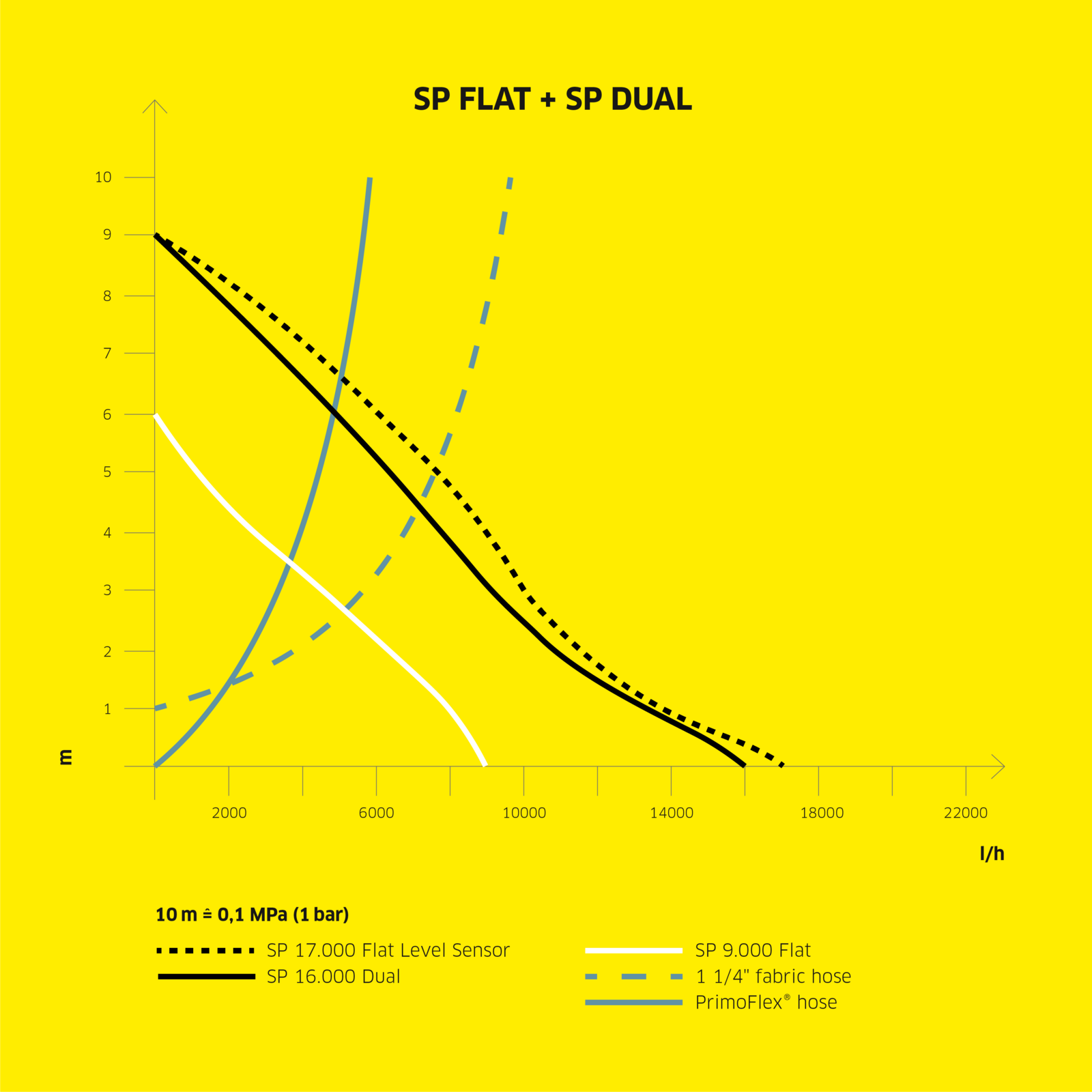 Result of sample calculation:
You can now comfortably read off the corresponding approximate flow rate at the intersections of the hose performance curve and pump performance curve. Divide your previously calculated water volume by the flow rate (can be read from the horizontal axis). In this way, you can obtain the expected pump duration in hours.
If you have to overcome a height difference* when pumping, move the performance curve of the corresponding hose up by the respective number of metres. (Example: max. height difference = 1 m; performance curve must be moved up 1 m on the vertical axis.)
The intersection for the SP 9.000 Flat is at approx. 3100 l/h, for the SP 17.000 Flat Level Sensor at 5000 l/h. This gives a pumping duration of approx. 5 ¾ hours with the SP 9.000 Flat. Whereas the SP 17.000 Flat Level Sensor would only need 3 ¾ hours and would therefore be the better solution for this application.
* Difference in height between the water surface and end of the hose.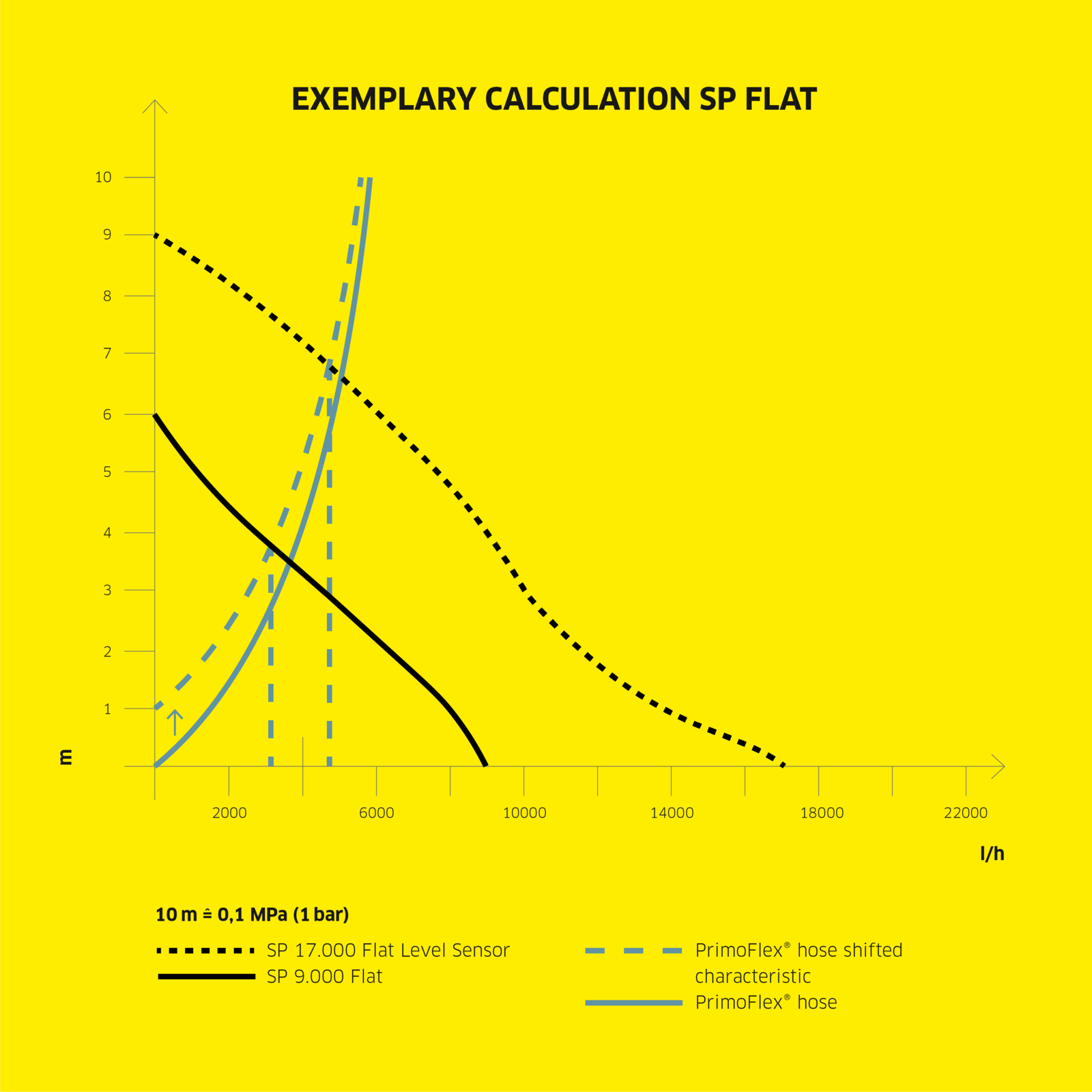 Accessories
As a reliable system provider, we offer our customers a comprehensive range of high-quality original accessory parts. There are many different fields of application around the home for our tried-and-trusted pump systems. With Kärcher original accessories, you are always well-equipped.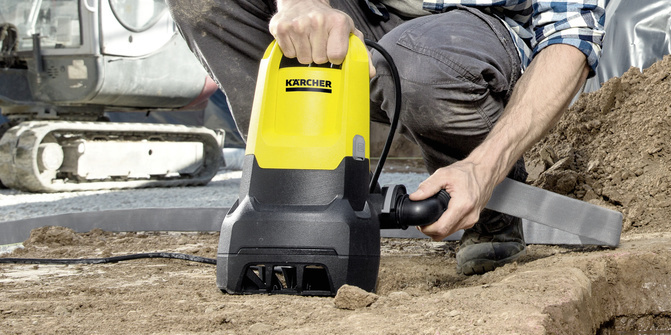 Practical fabric hose
The flexible fabric hose with stainless steel hose clamp and wing screw can be connected without any tools and stored in a space-saving manner.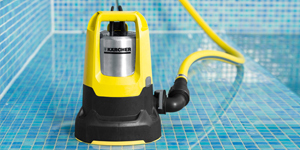 Reliable and compatible
Spiral and garden hoses are perfect for connecting to all Kärcher pumps.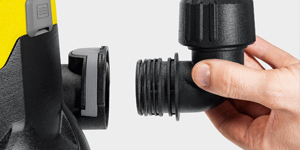 Easy connection
By using Kärcher adapters and connections, you can join hoses and pumps together safely and without problems.
Perfectly equipped
The removable prefilter increases the functional reliability of your submersible pump and protects the pump impeller against any blockages.
You can find the right accessories for your pump on the product page.
Extended warranty
You can extend the warranty for your BP Garden, BP Home, BP Home & Garden and SP Dirt, SP Dual and SP Flat to 5 years here!