Everything spick and span: From the shopping trolley to the bakery
Many people in a restricted space and the sale of food under perfectly hygienic conditions: cleaning in the supermarket is important in every respect and should be carried out conscientiously. Why the vegetables section has special requirements, why a hidden vacuum cleaner sometimes saves lots of walking, and how hygiene can be guaranteed – an overview.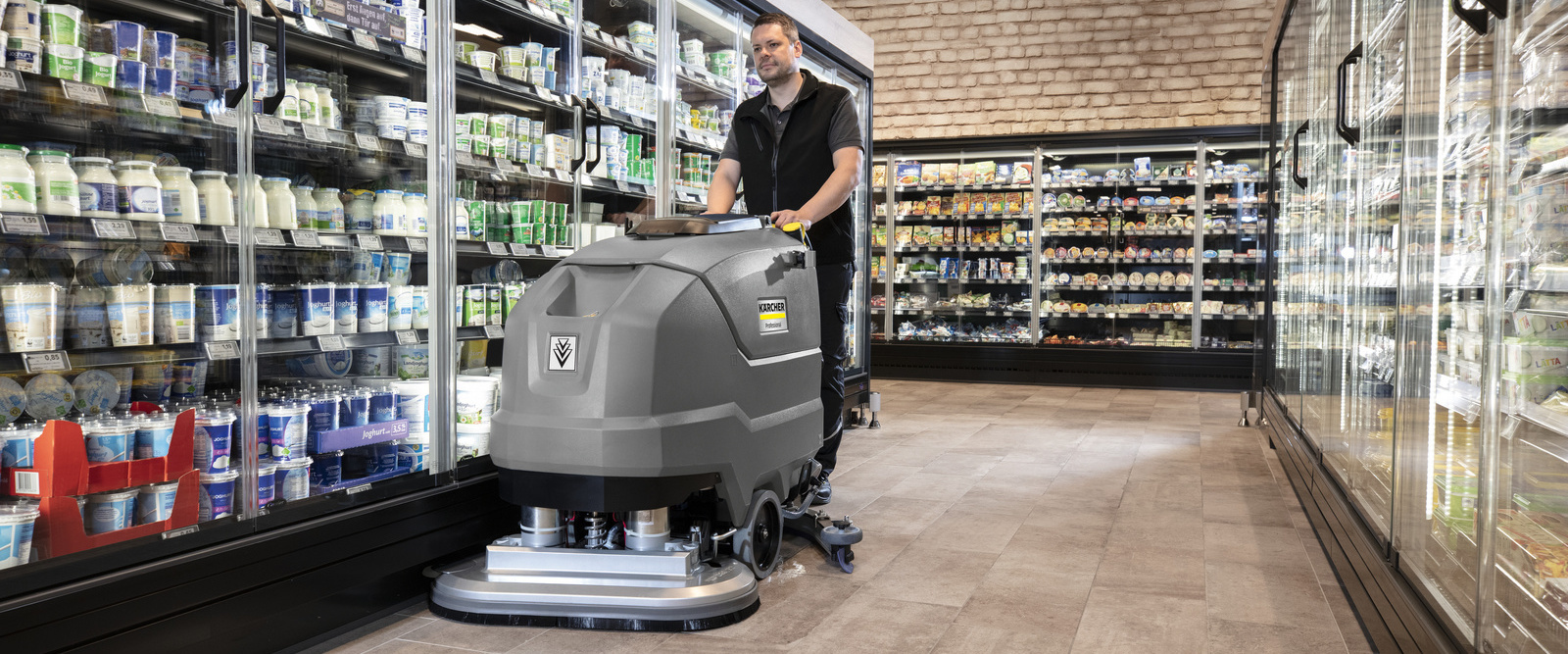 It all starts outside: Car parks and shopping trolleys
Firstly, if the outside area of a supermarket is clean and well-kept, it is appealing to customers. Secondly, it prevents dust and dirt getting into the building. Service providers are often commissioned to keep the car parks clean. If vacuum sweepers are used, they pick up swirled up particles directly so that the parked cars do not get covered in dust.
A feature that also reduces dirt being brought into the supermarket is dirt collection mats and screens at the entrance. They should be four to six paces in length in order to remove dirt both from the customers' shoes and from the wheels of the shopping trolleys. For good results, the mats should be regularly cleaned with a wet and dry vacuum cleaner or a high-pressure cleaner or replaced.
Litter accumulating near the shopping trolley stations can be best removed with a sweeper on which the coarse dirt flap can be opened. In this way, even large amounts of litter and dirt can be removed effortlessly. The shopping trolleys themselves can be cleaned with hot-water high-pressure cleaners. As a service for the customers, it is worthwhile providing a disinfectant cloth dispenser, so that the trolley handles can be wiped clean before use.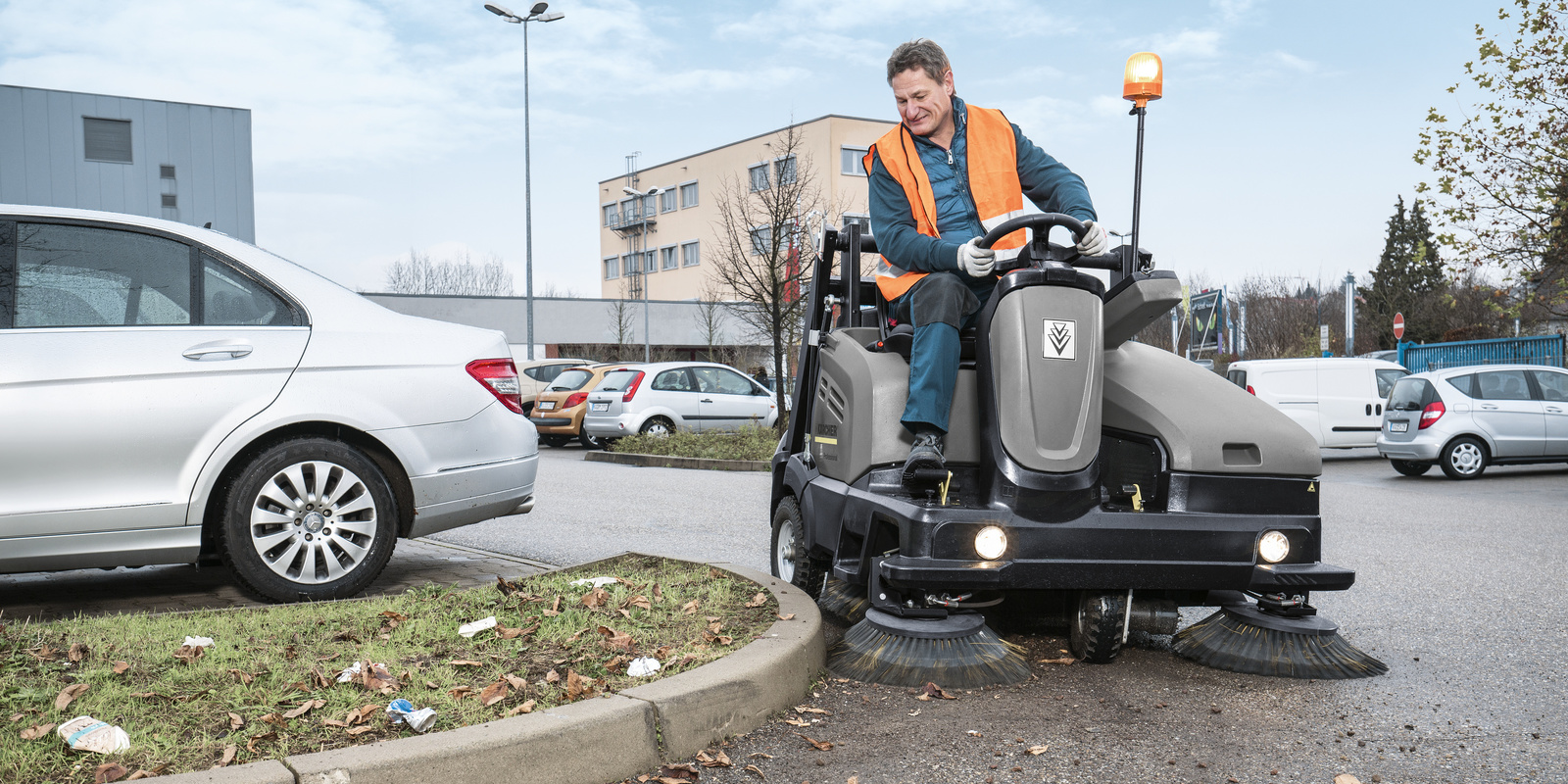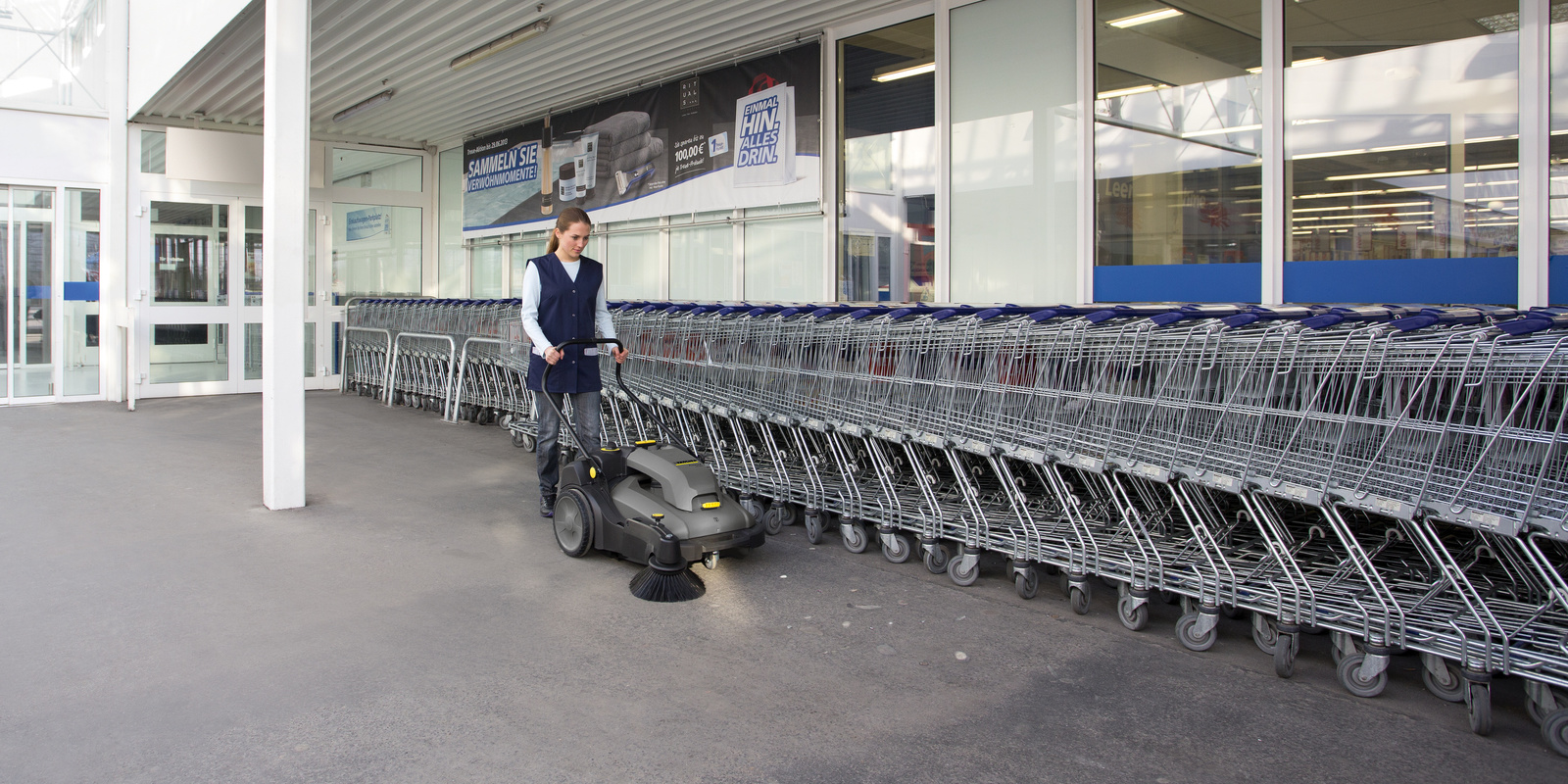 From the entrance to the vegetables section: Gleaming glass, structured floors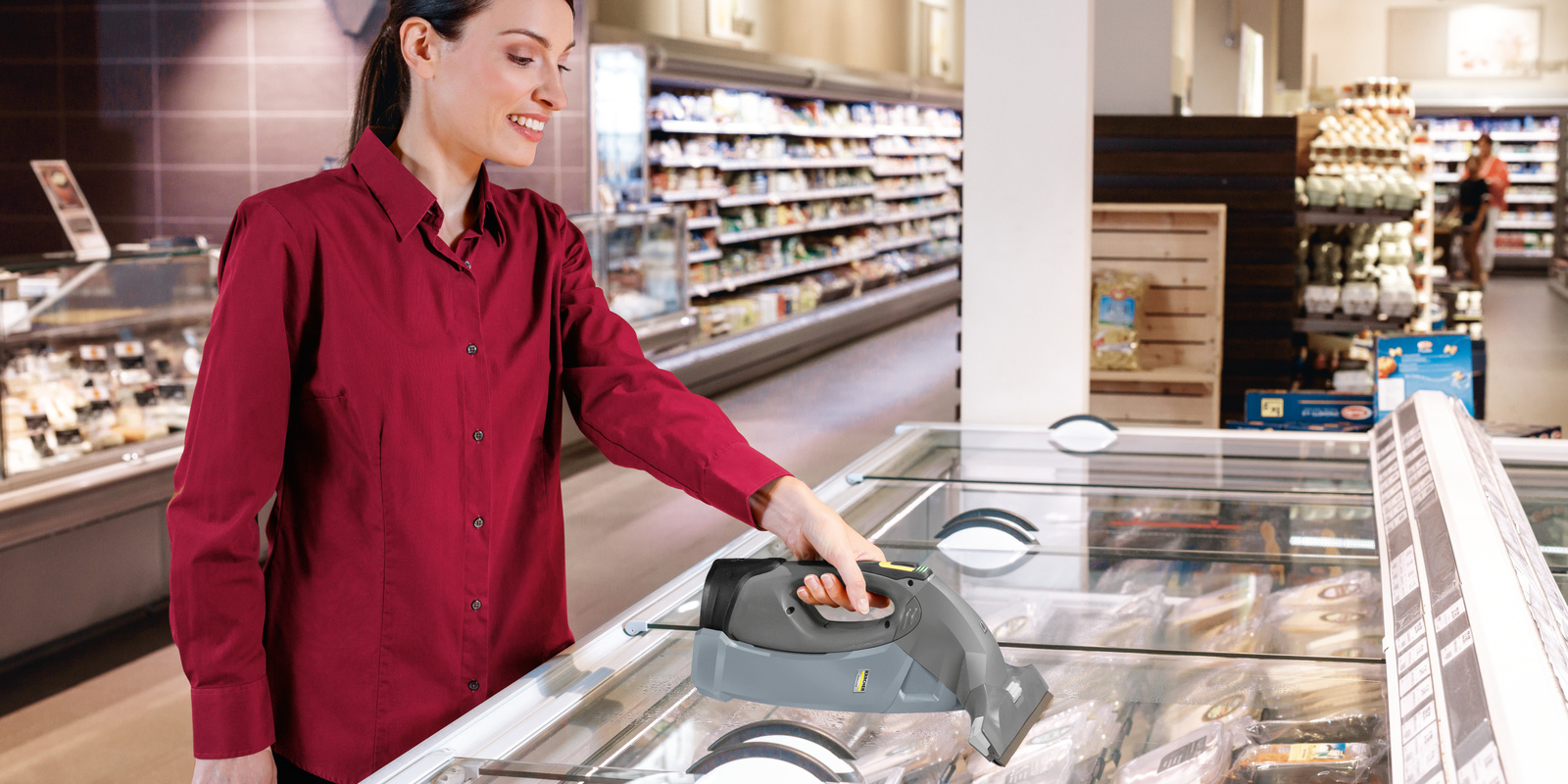 Clean glass surfaces thanks to Window Vac and Co.
The supermarket entrance area should be bright and friendly. That's why there are mostly large glazed areas - but they only make a good impression if they are clean. Localised dirt can best be removed with a glass cleaner and a glass or disposable cloth. In order to achieve a uniform cleaning result on large surfaces, a professional window washer with a squeegee or a commercial Window Vac should be used. With the Window Vac, no liquid remains on the floor, which would be a safety risk. Its easy handling also not only makes it the ideal tool for the quick cleaning of window panes, but also for the glazed areas in self-service refrigerated counters. In this way, the use of disposable cloths can be reduced.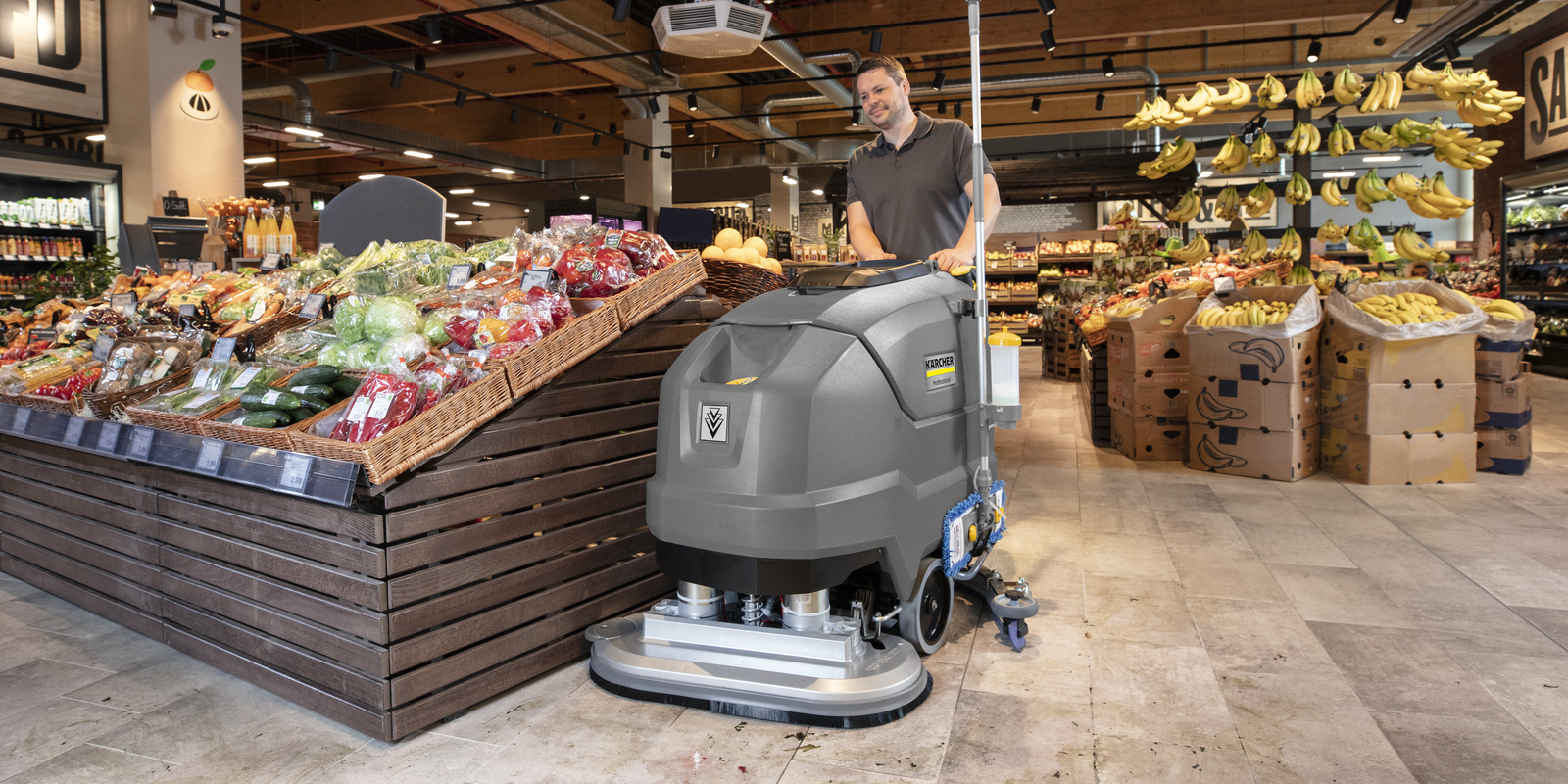 Cleaning of finely structured floors
The vegetable and fruit section is often directly by the entrance area. In this area, permanently elastic, finely structured floors with a wooden look frequently ensure a feel-good atmosphere. However, dirt can accumulate in such areas more easily, which is a problem in particular when pieces of fruit are trampled down and become sticky. In order to clean these floors, first loose dirt should be swept away. Then, scrubber driers with a roller scrubbing head are very good for the fine work. The soft brushes also get into the fine structures and irregularities of the floors, so the dirt can be effectively removed. The suction ensures that after the cleaning the area is immediately dry and can be walked on again.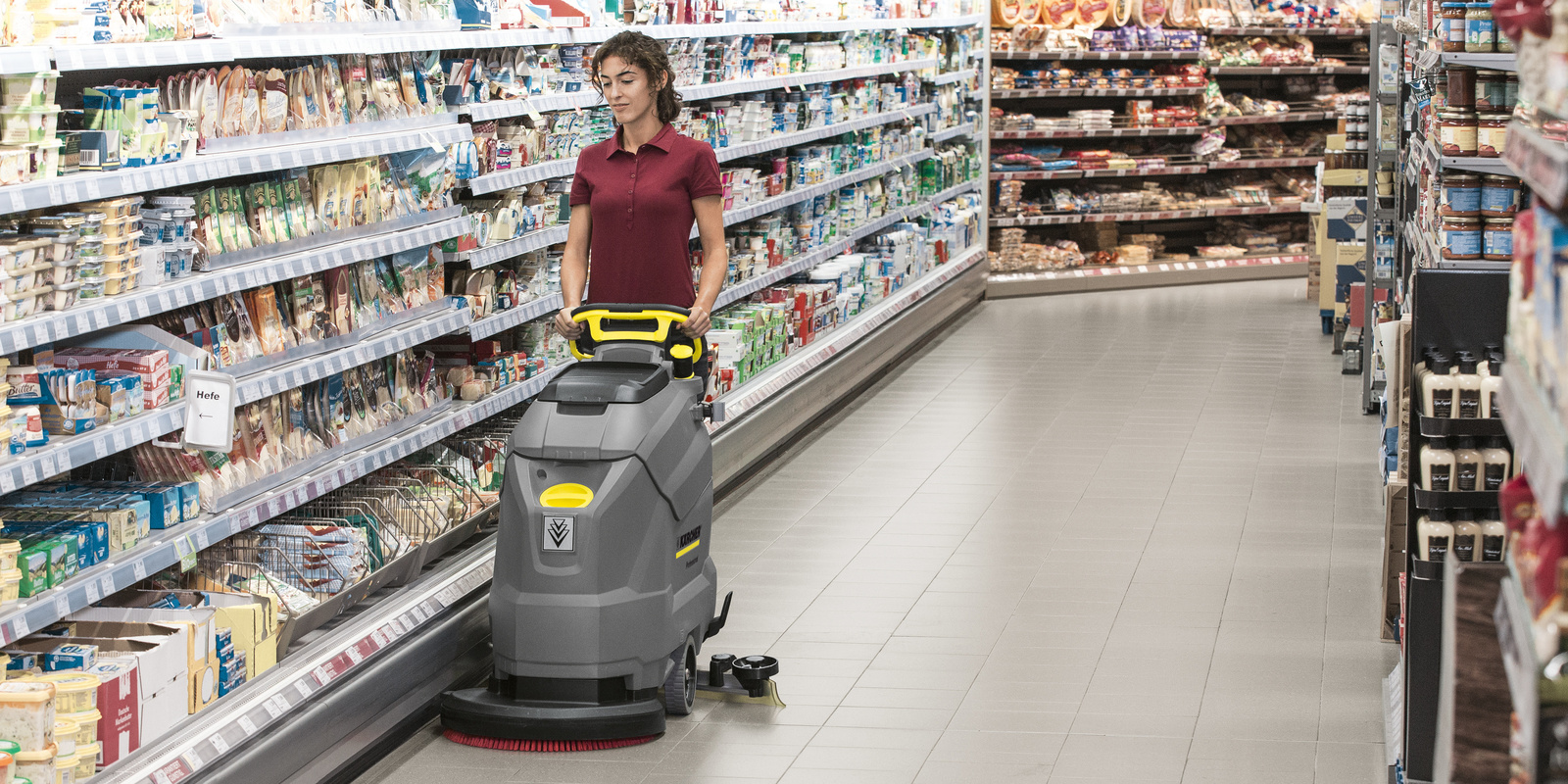 Aisles and shelves: Scrubber drier, wide wiper and Co.
Filling the shelves with new goods several times a day means that small pieces of cardboard cuttings are left on the floor in the aisles. To clear them up, a wide wiper unit with a dust-binding cloth can be used, available in widths of 60 cm to 1.60 m. For thorough cleaning, scrubber driers with disc or roller technology are suitable. The rubber heads are designed for modern shop construction and shelf concepts, and are available for every aisle width.
In order to wipe the shelves or to remove dirt resulting from products that are past their sell-by date, wet and dry vacuum cleaners can be used. As an alternative, surface cleaners in a ready-to-use spray bottle are easy to use in combination with a microfibre cloth. In order not to spread dirt around, the cleaning should be done using the 16-side cloth-folding method. The cleaning cloth is folded in half four times so that there are a total of 16 sides. Each surface can be wiped with a fresh side – when each side has been used, the cloth is thrown away and a new one is used.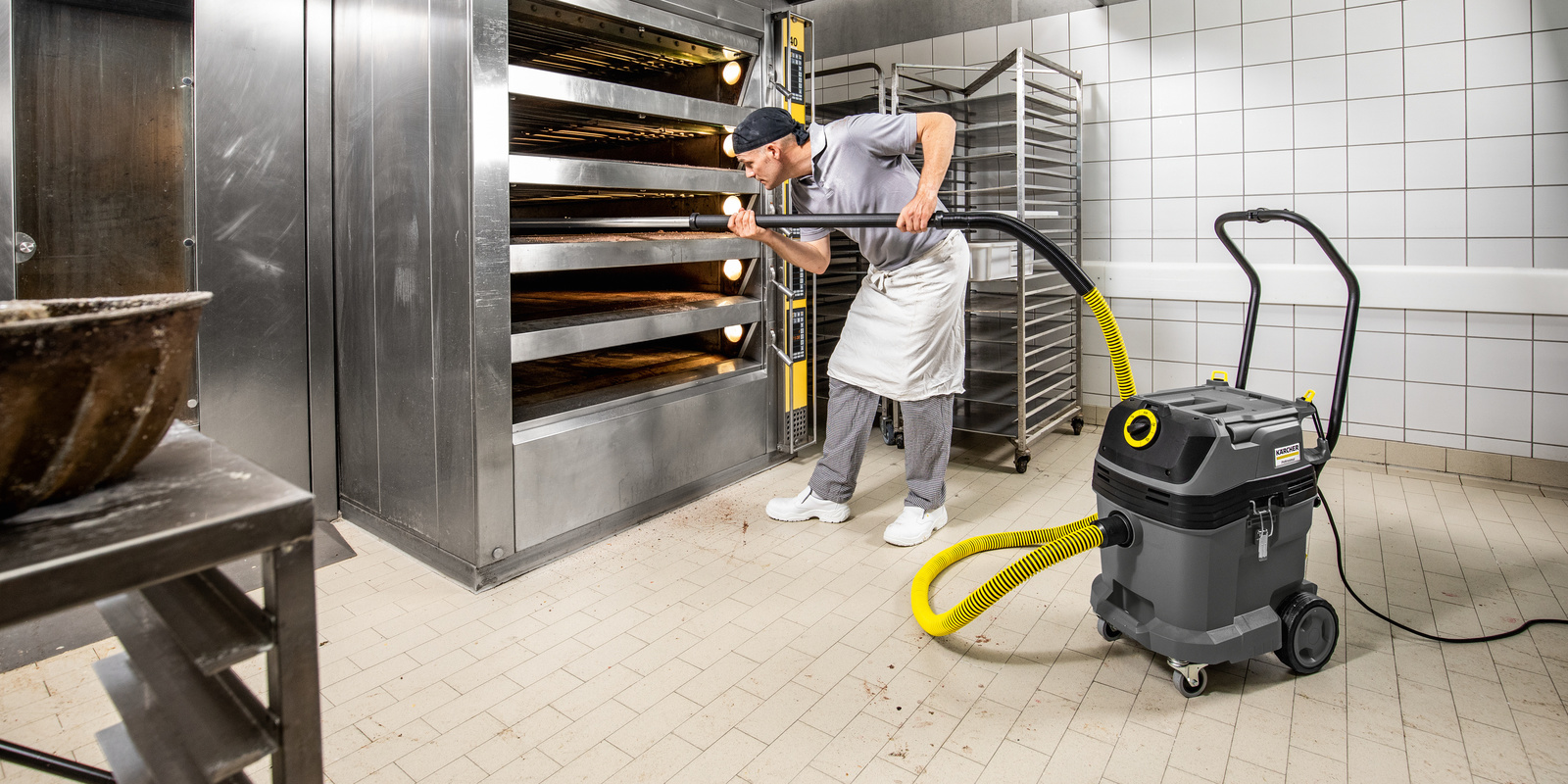 Bakery and bread displays: Battle against crumbs
For cleaning the ovens in the bakery, bakery vacuum cleaners with special suction hoses and oven nozzles are available. They are heat-resistant and make it possible to scrape out and vacuum up food remnants in the hot oven between individual baking processes. These vacuum cleaners are also designed to minimise the risk for example of a flour explosion.
In addition to the ovens, the displays for bread rolls etc. must be continually cleaned. In order to facilitate the work and to save unnecessary walking, a small dry vacuum cleaner can be kept in the drawers which are designed to catch the crumbs below the goods displays. So the vacuum cleaner can simply be taken out, used to clean up the spaces, then placed back in the drawer.
Wherever it matters: Ensuring good hygiene with a steam cleaner and disinfection
On account of their high cleaning temperature, steam cleaners and steam vacuum cleaners are generally an effective and time-saving solution to ensure appropriate hygiene standards and to fight germs or viruses. The steam emerges from the nozzle in very fine drops and, depending on the machine type, at a temperature of around 100 °C and a pressure of up to 8 bar. Thus, for example the plexiglass panels at the checkouts, stainless steel doors and handles, glass surfaces of counters, doors and nappy-changing tables in the customer toilets, as well as difficult-to-access nooks and crannies, can all be reliably and effectively cleaned.
Whether the keypad on the vegetable scales, the displays in the fresh food departments for meat, cold cuts etc. or the EC card-reading device at the checkouts: There are surfaces that must also be regularly disinfected to prevent the transmission of germs.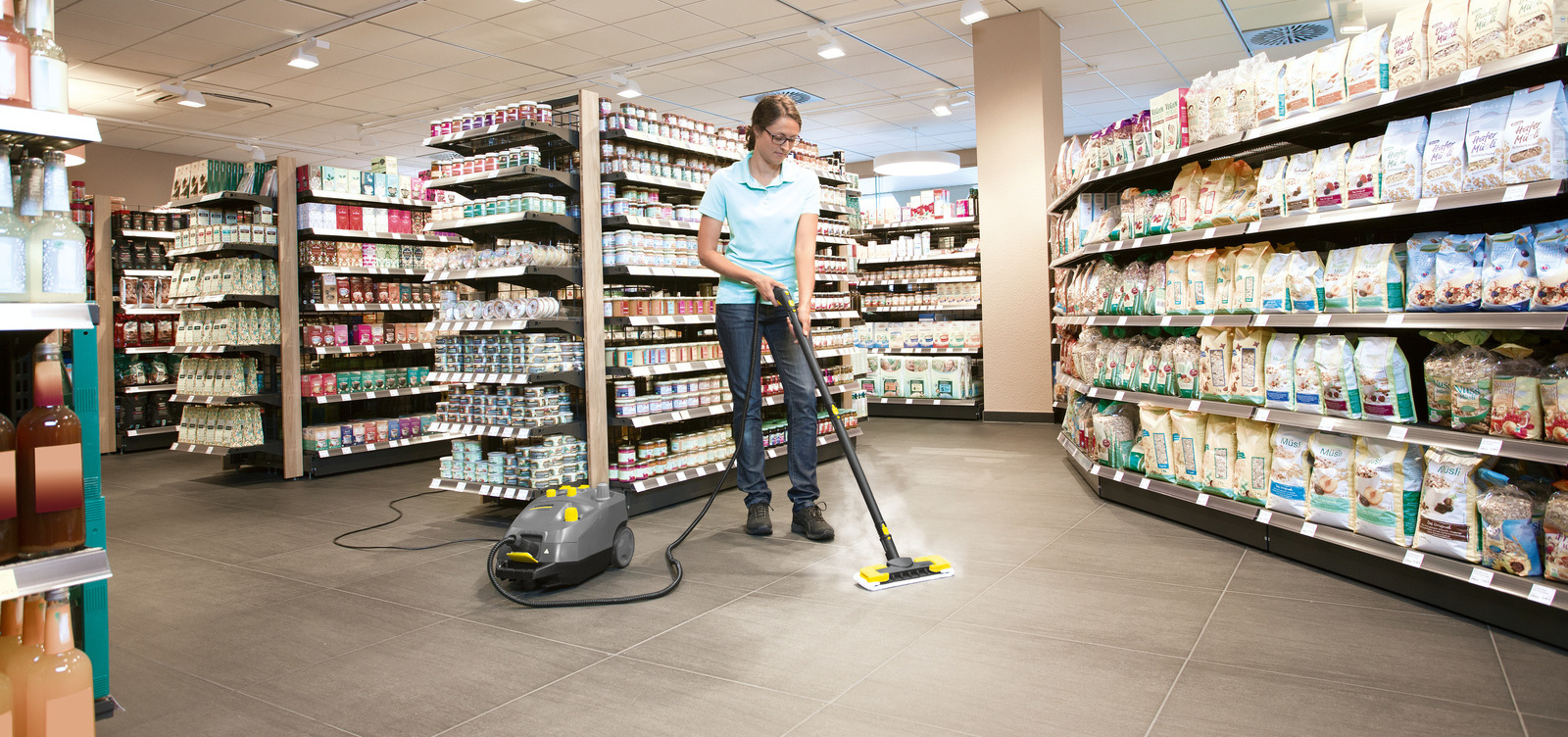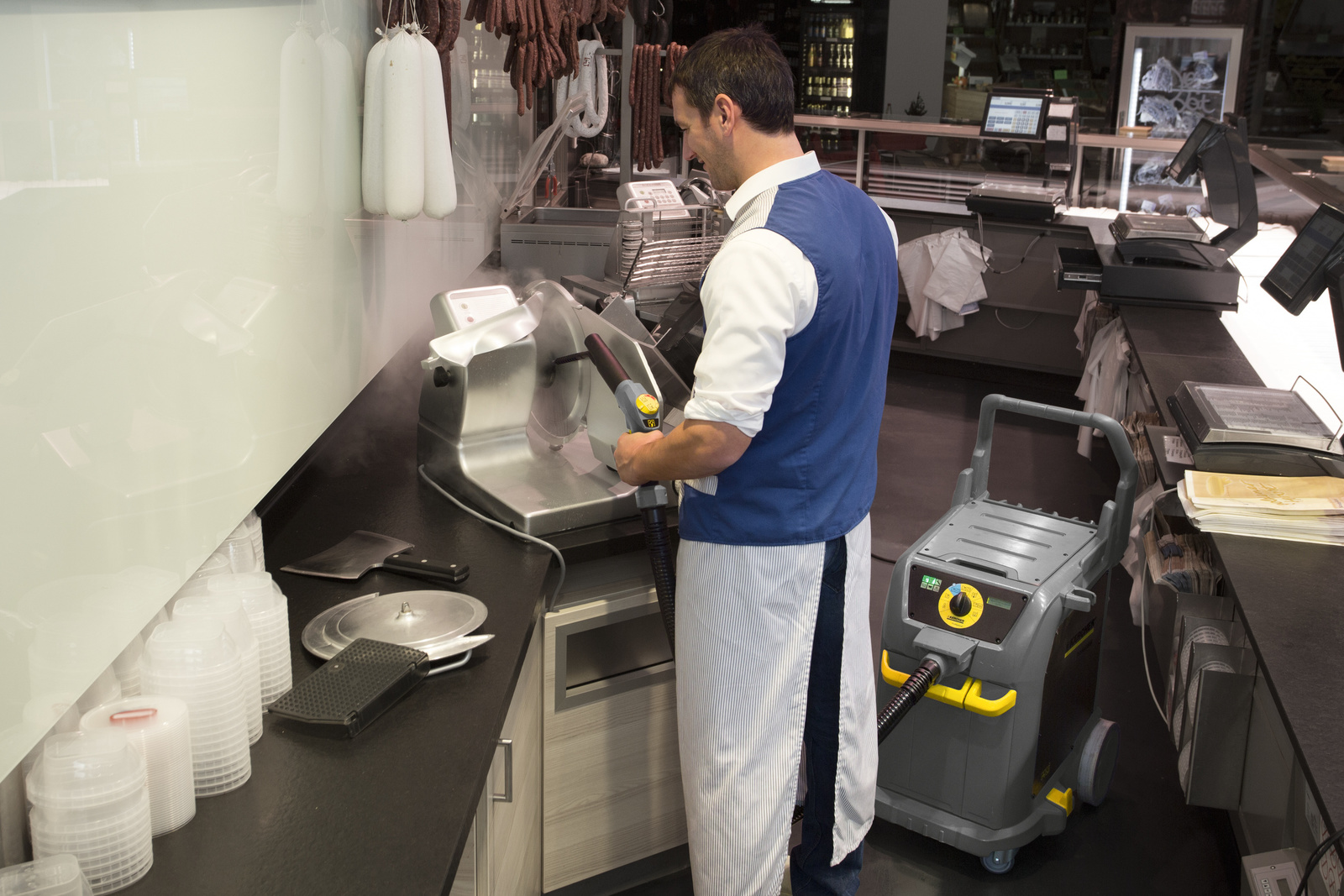 Disinfection: Avoid protein erros
If there are protein-containing contaminants, fat or food remnants on the surface, the disinfectant concentrates on these contaminants and not on inactivating the viruses. On account of this so-called protein error, the efficacy of the disinfectant is no longer guaranteed.
In order to avoid this undesired chemical reaction, the surface should be briefly cleaned manually and mechanically to ensure that no coarse contaminants remain on the surface. For subsequent disinfection, the disinfectant is then evenly spread so that the surface is moistened 100 per cent. After the acting time, residues are flushed away with clear water, which is important especially for surfaces that come into contact with raw food. Quick-acting disinfectants, which are used for example at the checkouts, can simply dry in the air.