Only the best on board!
Our MC 250 showcases the best in sweeping performance, comfort and environmental protection.
When you want the best
You need sweeping performance. You want comfort and environmental protection. Now you can have it all with the new MC 250. This compact, robust sweeper has a powerful drive that complies with the highest environmental standards.
The logical operating concept is intuitive. In the spacious, uncluttered and comfortable cab, you can enjoy the greatest comfort all year round. Thanks to the intuitive operating concept, you can take control immediately. And with a driving speed of 60 km/h, hydropneumatic suspension and fast access to
all service components, you can complete all works more quickly and effciently than ever before.
Go crazy for this machine!
We asked experts from the municipalities to test drive various vehicles and incorporated their feedback directly into the development of the MC 250. This allowed us to make the MC 250 what it is: the optimal solution for municipalities.
Cutting-edge technology wherever you look
Driving dynamics redefined
No compromises. Those who want the best overall cannot be fussy about the detail. We also equipped the MC 250 with top-quality components for the drive and chassis and suspension. For driving dynamics previously only found in cars.
Like all Kärcher municipal sweepers, the MC 250 combines compact dimensions with robust quality and a powerful drive with the highest possible environmental friendliness. The hot-dip galvanised frame is corrosion-free and has been tested in endurance tests. With its high driving speed, the hydro-pneumatic suspension and quick access to all service components, you are always prepared and ready faster with your MC 250.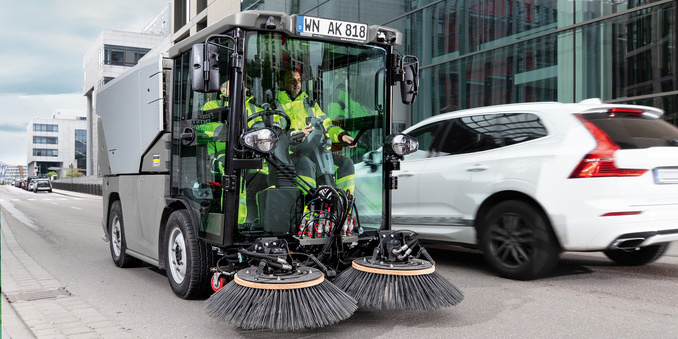 MC 250 Express: 60 km/h
With a maximum driving speed of 60 km/h the MC 250 takes you to the next operation site quickly and safely. Without being a hindrance to other road users in owing traffic.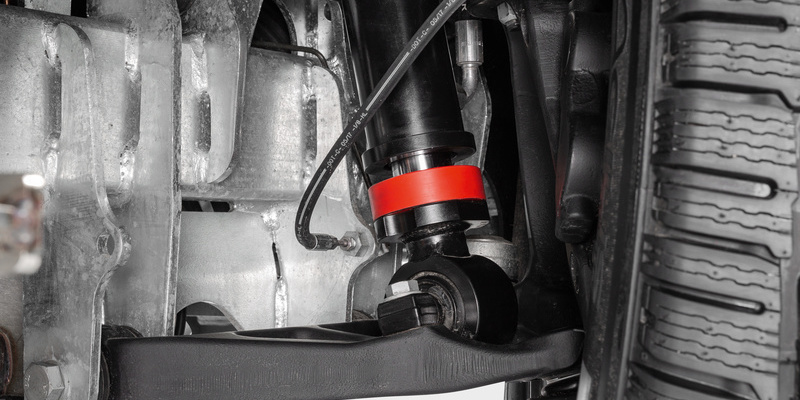 Exemplary: comfort and chassis
Whether it's sweeping or during transportation – your MC 250 ensures a safe driving experience at all times, giving you the ride comfort of a car. For that to happen, we equipped the MC 250 with a hydro-pneumatic suspension on both axles and an independent front-wheel suspension.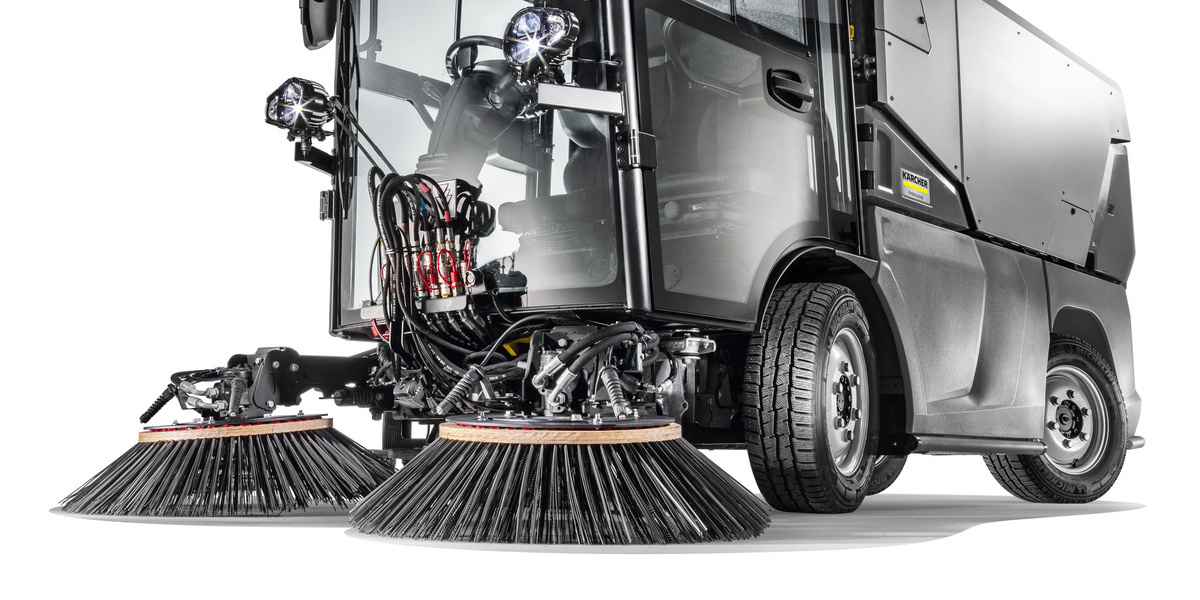 Manoeuvrability: all wheels steer with you
When you activate the switchable all-wheel steering during operation, you can turn on a road with 2 lanes with your MC 250 in one go. You mainly bene t from this extreme manoeuvrability in the city centre.
Climb in and feel happy
Those who spend their working hours almost entirely in a vehicle should be relieved with maximum ergonomics and comfort. The MC 250 offers a modern workstation, which supports concentration on the activity and the surrounding area and protects the driver's health.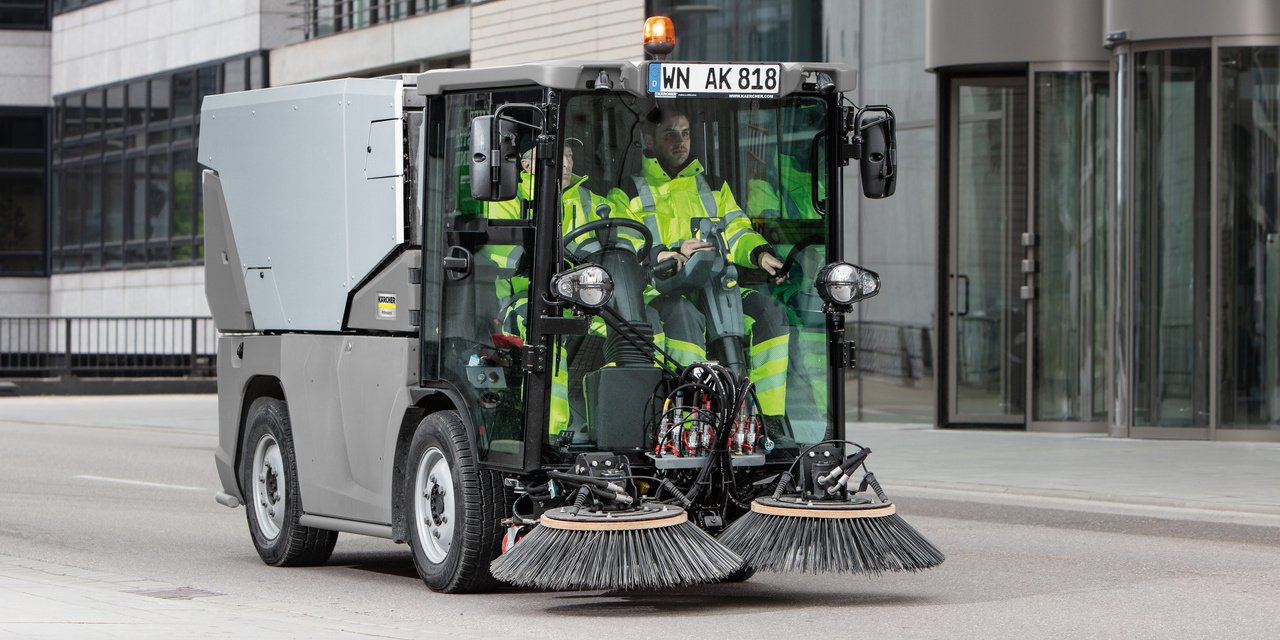 Everyone sits perfectly
The spacious two-seater cab offers a generous workstation with a pleasant spatial feeling also for tall individuals with comfortable leg room. The comfort driver's seat from the premium manufacturer König is certied by the employers' liability insurance association. The machine with the particularly back-friendly workstation and sitting comfort like in a truck was awarded with the AGR seal of quality by an independent body of doctors and physiotherapists.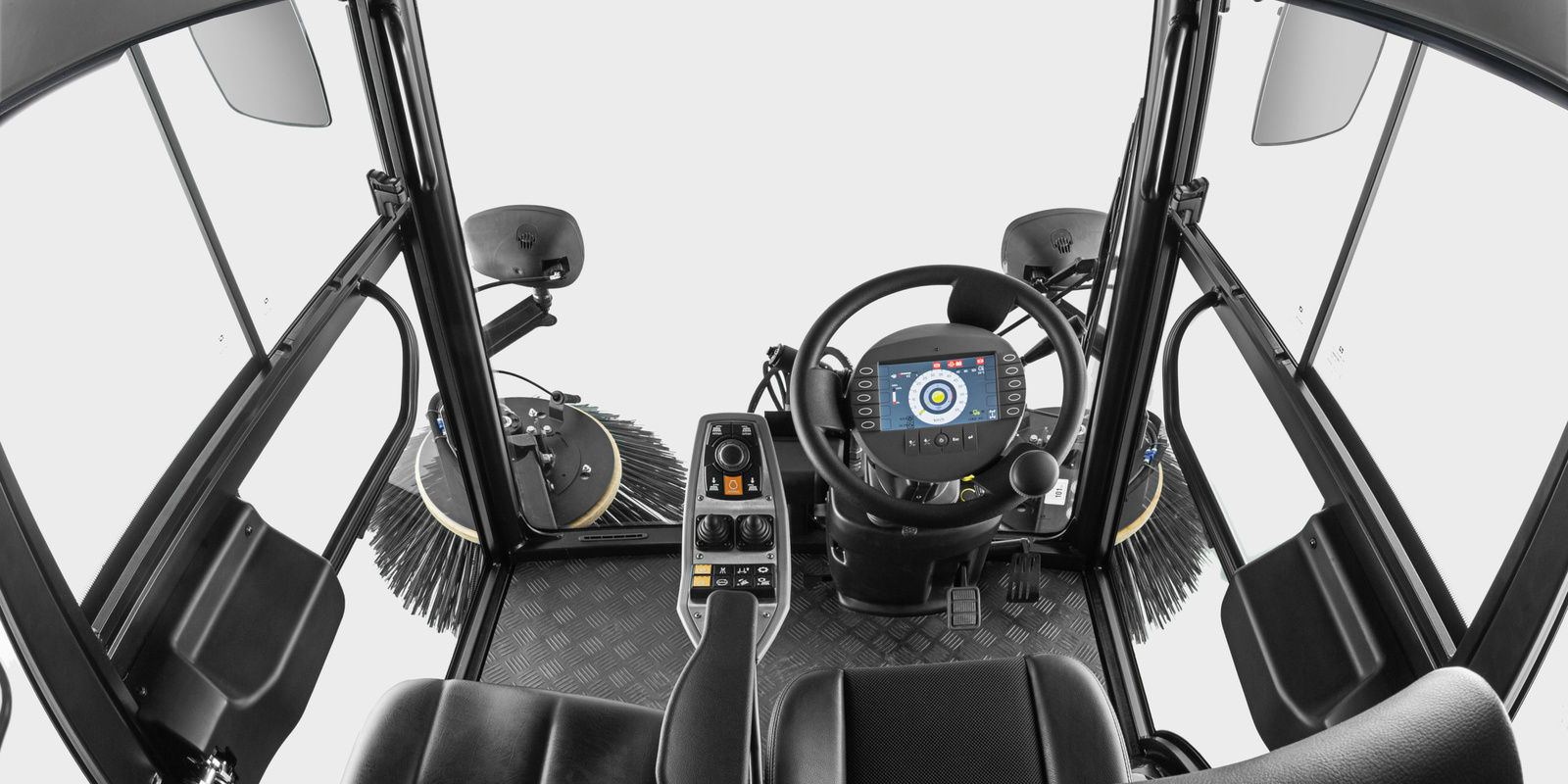 View: perfect
The very large, sloping windscreen of the MC 250 gives you a perfect view of the work environment and reduces direct sunlight. Large sliding windows on both sides which can be opened to the front and back make it easier for you to adjust the side mirror and open compartments.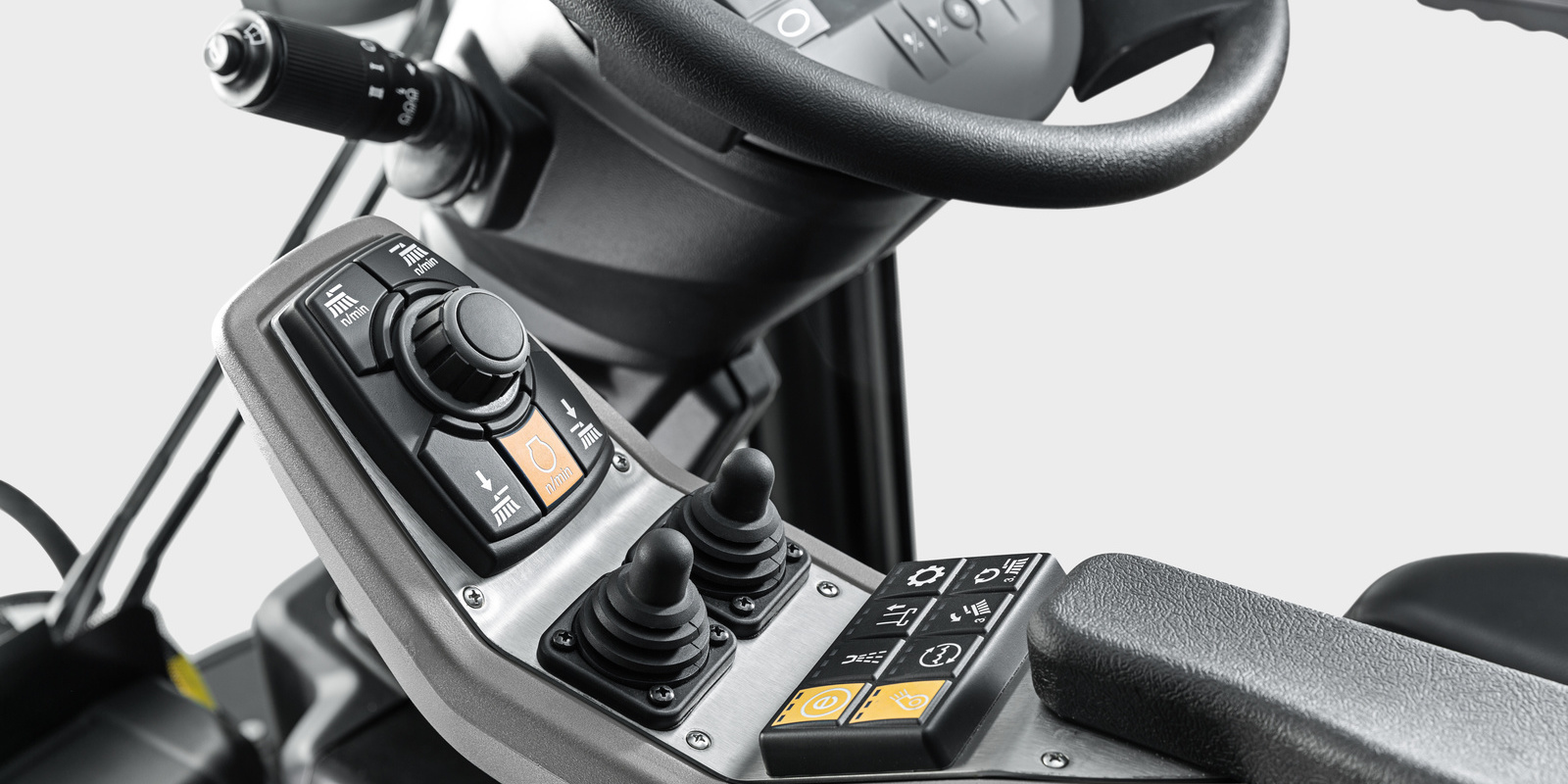 Operation: the very best
The central display integrated in the steering wheel hub makes an important contribution to occupational safety. The ergonomic operating panel, offers you a consistent, self-explanatory operating concept with symbols that are easy to understand, like the Kärcher Eco button: at the touch of a button, the MC 250 automatically goes into its work position. This saves time and ensures safety.
Twice and three times as good
There are good solutions and there are very good solutions. If you prefer perfect solutions, the MC 250 is perfect for you. It offers so much more and makes everything so much better than you have known up to now.
With your MC 250 you not only have a modern sweeper, but the ideal solution for all cleaning work in the city centre area. Use the MC 250 on footpaths and cycle tracks, in industrial areas or car parks or wherever. You will be so impressed by the results, especially in terms of comfort and safety. Numerous optional implements open up additional applications, e.g. clearing and spraying in winter service, wet cleaning, high-pressure cleaning and weed removal. Always reliable, efcient and with superior results.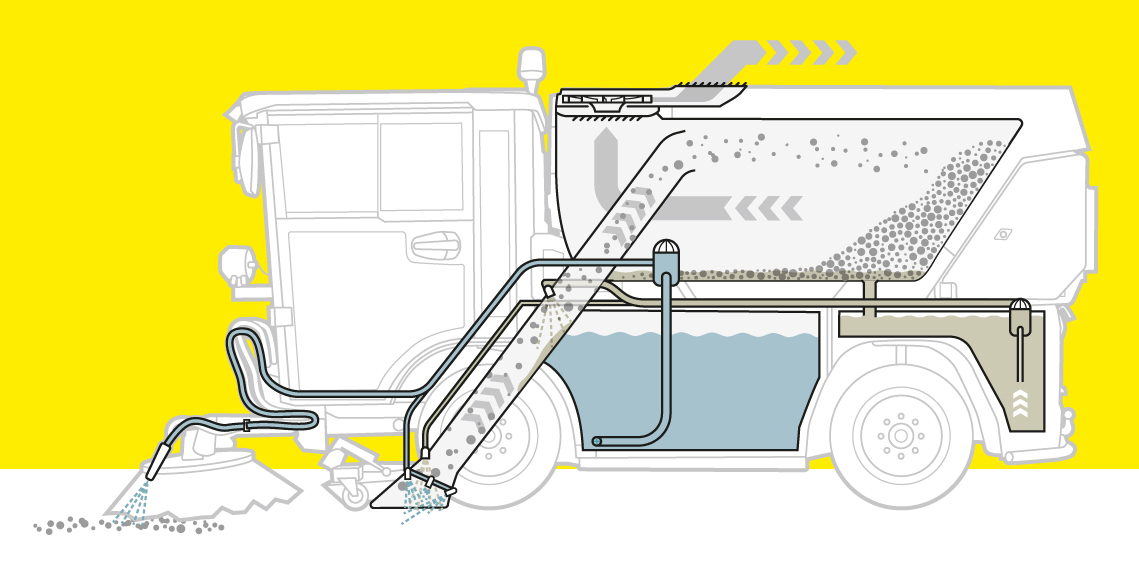 Calculation on the computer: sweeping system
We designed the sweeping system using CFD technology. In this way, we have ensured that the high-quality, effcient fan generates the perfect vacuum, the air flow passes optimally through the container, suction pipe and suction mouth and the dirt can be picked up efciently. Positive side effects include a pleasant noise level and low fuel consumption.