Dry ice blaster
IB 15/120
The Ice Blaster IB 15/120 is one of the most powerful dry ice blasting machines on the market. It impresses with its robustness, highly reliable technology and the best results in dry ice cleaning.
The Ice Blaster IB 15/120 is powerful, robust and extremely reliable. The intelligent, detailed solutions such as case holder, ice emptying, retaining bracket and storage compartments also contribute to its positive overall impression, increase operating comfort and make dry ice cleaning more enjoyable. And from a technical point of view, the solution lies in the detail, which is why we have significantly improved the air streaming in the machine, hose, trigger gun and nozzle. The result: outstanding cleaning performance. In spite of its size, the IB 15/120 is very mobile and can be carried easily by one person, for example over stairs. In short: dry ice blasting at its best!
Features and benefits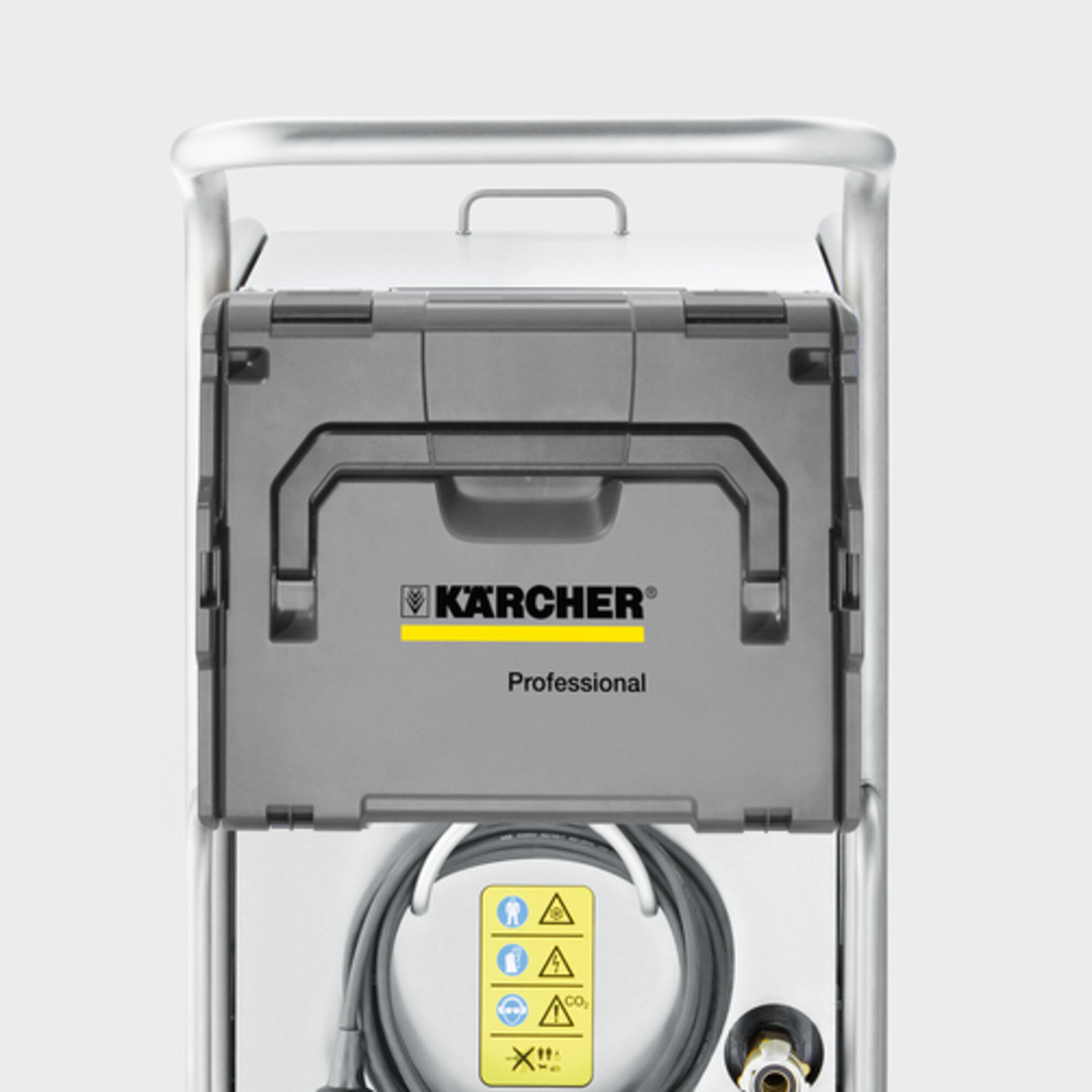 Nozzle case holder
Blasting spray nozzles and tools are always at hand on the machine. The nozzle case is attached to the side of the machine to protect it from dirt.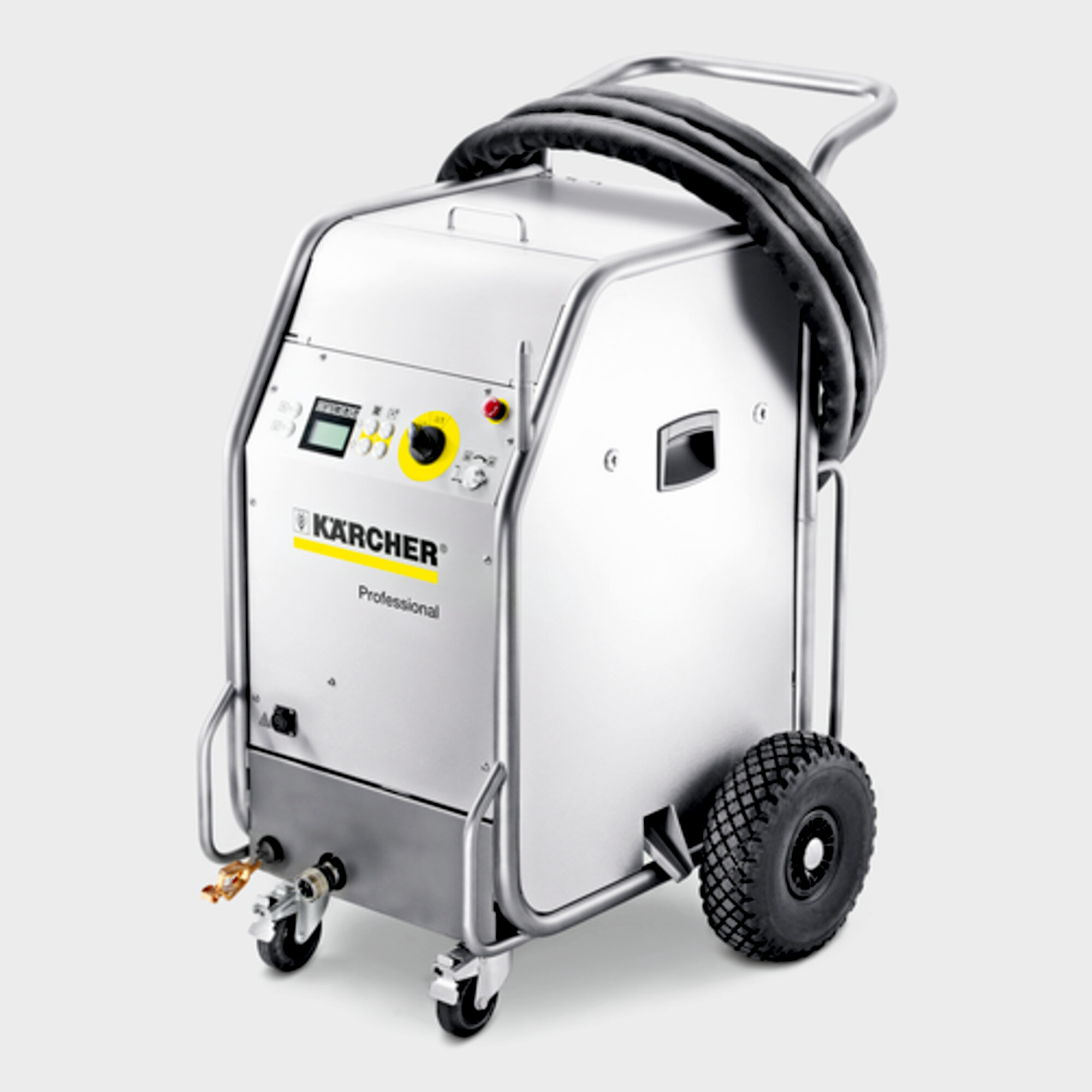 Outstanding mobility
Optimum balancing of the device for convenient manoeuvring on uneven terrain. Bars at the front and rear of the device make it easy to negotiate stairs.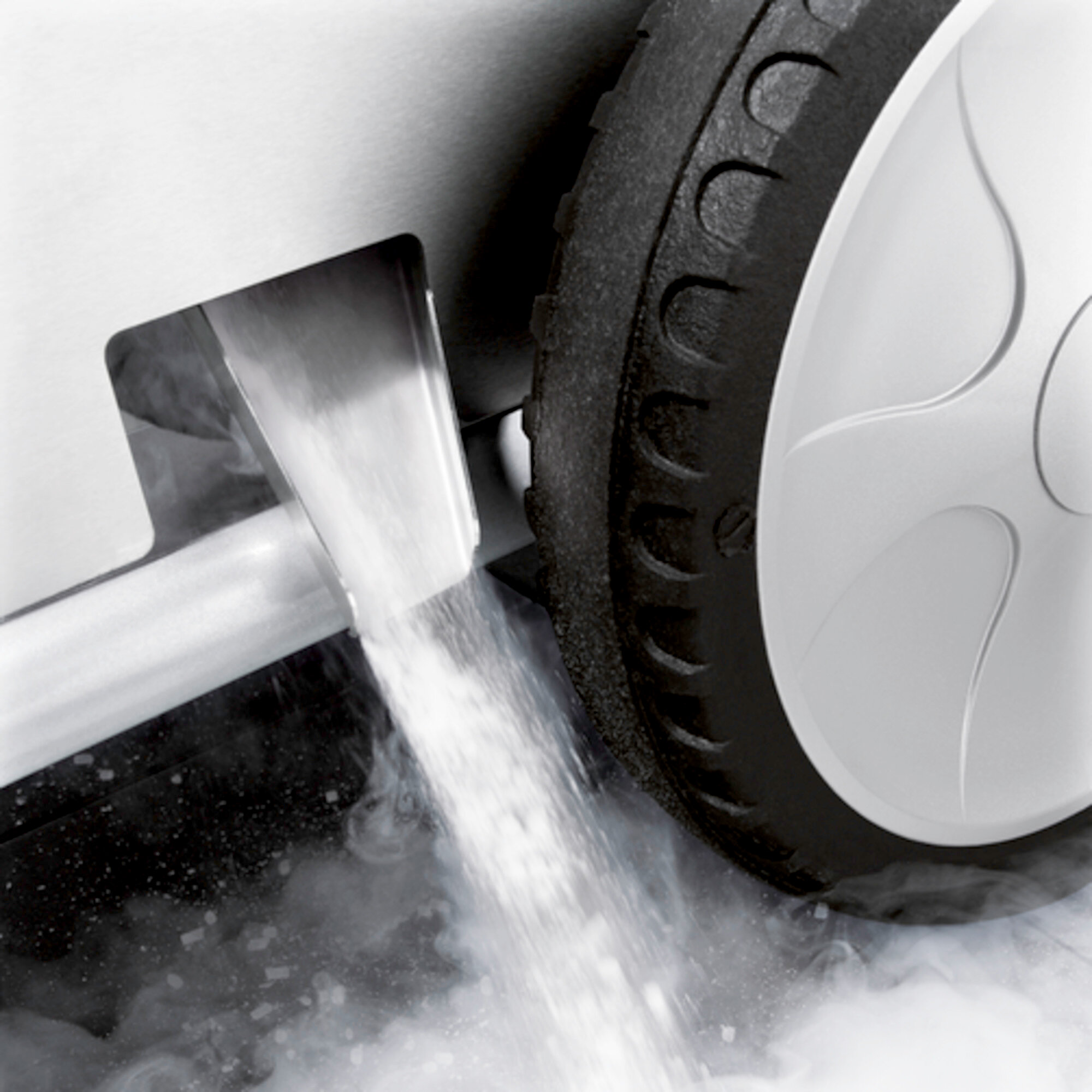 Automatic residual ice discharge
The ability to empty the residual ice tank at the touch of a button prevents the device from icing up once work is complete. The machine does not freeze.
GFRP dry ice container
Optimum insulation of the dry ice.
No condensation.
No icing up of the machine.
Efficient airflow in the device
The dry ice is transported from the device to the nozzle without any damage.
Ultimate cleaning performance at the nozzle.
Integrated ground strap coil
Easy earthing of the object being blasted.
Protection from arcing from the user to the object.
Improved jet convenience.
Integrated oil and water separator
No icing up of the device.
Refined trigger gun holder
The trigger gun is always perfectly stored.
Ideal position (e.g., for changing the nozzles).
Integrated storage compartment for nozzles and tools
Everything always to hand – directly on the device.
Specifications
Technical data
Connected load (kW)
0,6
Compressed air connection
Claw coupling (DIN 3238)
Casing / frame
Stainless steel (1.4301)
Air pressure (bar/MPa)
2 - 16 / 0,2 - 1,6
Air quality
Dry & oil-free
Air flow (m³/min)
2 - 12
Sound pressure level (dB(A))
125
Dry ice capacity (kg)
40
Dry ice pellets (diameter) (mm)
3
Dry ice consumption (kg/h)
30 - 120
Number of current phases (Ph)
1
Frequency (

Hz

)
50 - 60
Voltage (V)
220 - 240
Weight without accessories (kg)
91
Weight (with accessories) (kg)
101,5
Dimensions (L x W x H) (mm)
1000 x 800 x 1300
Equipment
Nozzle case with foam insert
Grease for nozzle threads
Flat jet nozzle
Flat jet nozzle insert: 8 mm
Open-end wrench (for changing nozzles): 2 piece(s)
Round jet nozzle, XL, long
Spray hose with electrical control cable and quick coupling
Jet gun (ergonomic and safe)
"Air only" or "Air and ice" switch on the trigger gun
Electronic control system
Includes ground strap coil
Oil and water separator
Application areas
Cleaning of moulds and casting tools
Deburring plastic parts
Cleaning forging tools
Cleaning of filling systems and mixing plants
Cleaning of conveyor, transport and handling systems
Cleaning ovens
Cleaning printing presses and their peripherals
Cleaning woodworking machines
Cleaning generators, turbines, control cabinets and heat exchangers