Scrubber drier
B 300 R I LPG + SSD right
The environmentally-friendly liquid gas drive and side scrubbing deck mounted on the right side of the machine are typical features of our ride-on combination machine B 300 R I LPG. Cleans up to 16,550 m² per hour.
Economical in operation, robust in use, effective in cleaning: our ride-on combination machine B 300 R I LPG with side scrubbing deck shines with an area performance of up to 16,550 m²/h, which makes it the ideal choice for deep and maintenance cleaning of large surfaces. The side scrubbing deck – spring-mounted on the right side of the machine to prevent possible collision damage – has a generous working width of about 1,300 mm. It enables cleaning right up to walls and edges and together with the extra large roller brush, 300-litre water tank and excellent suction by the wide and curved squeegee, enables time-saving scrub vacuuming and sweeping in a single pass. The economical drive and generous tank size ensure long and uninterrupted operation, whilst features such as convenient high container emptying for waste disposal make it easier for the operator.
Features and benefits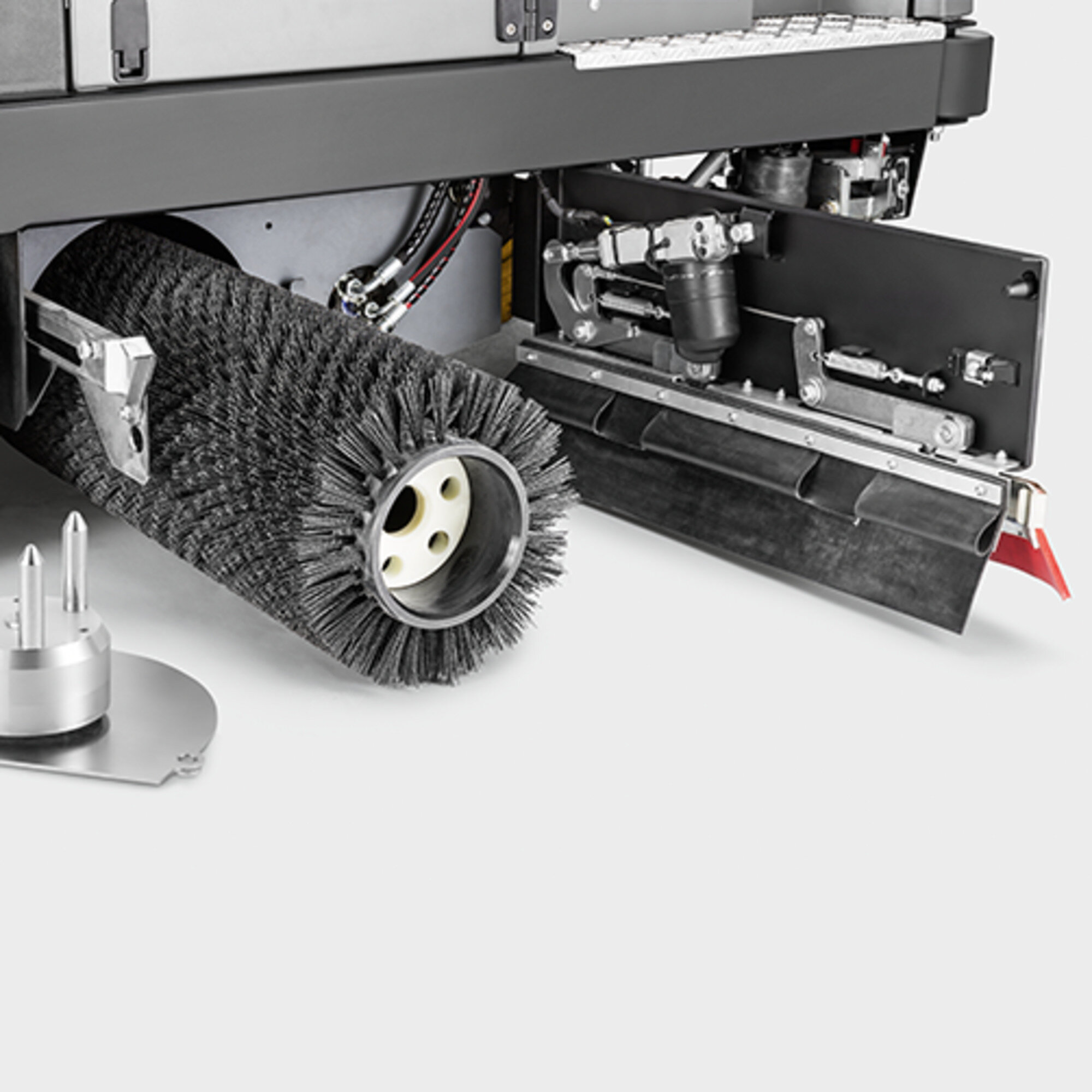 Scrub vacuuming and sweeping in a single work process
Double productivity of man and machine. Halving of the hours worked. Pre-sweeping not necessary.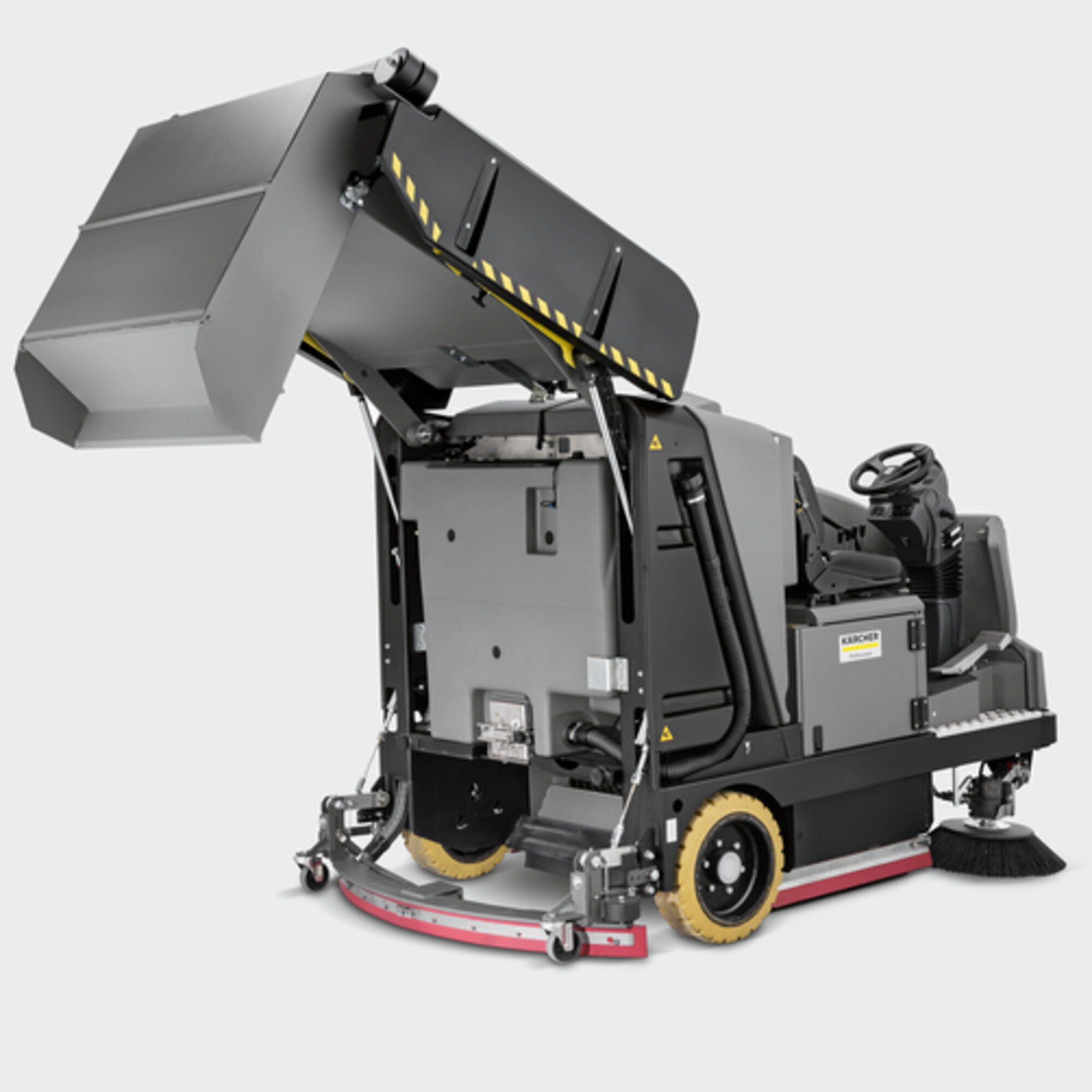 Simple high container emptying of the rubbish bin
Convenient for the operator. No direct contact with dirt. Emptying of the rubbish bin takes place while you are seated.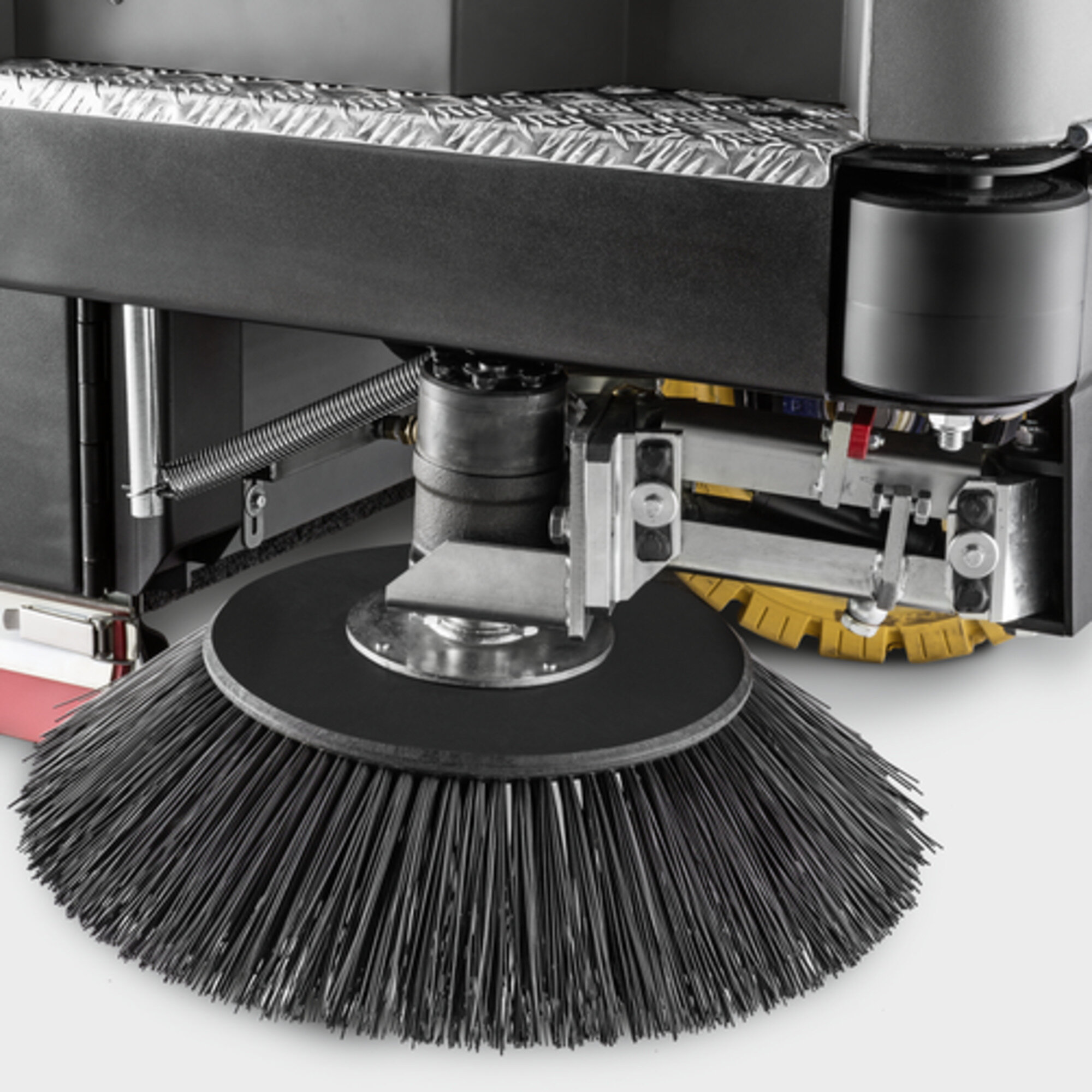 Rotatable side brush/side scrubbing deck brushes on both sides of the machine
Expansion of the working width up to 1,755 mm. Allows area performance of over 16,000 m²/h. Protects machine and objects.
Raised driving position
Very good view of the surface to be cleaned.
Agile handling.
Solid steel frame
Robust machine that is also suitable for more heavy-duty jobs.
Curved squeegees
Very good suction, even in tight curves.
Economical, with liquid gas (LPG) combustion engine
Long, uninterrupted periods of work.
Also suitable for interior use.
Independent cleaning.
Specifications
Technical data
| | |
| --- | --- |
| Working width of brushes (mm) | 1045 - 1350 |
| Working width with two side brushes (mm) | 1755 |
| Working width, vacuuming (mm) | 1440 |
| Tank of fresh/dirty water (l) | 300 / 300 |
| Waste container (l) | 180 |
| Theoretical area performance (m²/h) | 16550 |
| Practical area performance (m²/h) | 12400 |
| Battery type | Starter battery |
| Battery (V/Ah) | 12 / 80 |
| Brush rotational speed (rpm) | 460 |
| Brush contact pressure (kg) | 25 - 150 |
| Water consumption (l/min) | max. 12 |
| Sound pressure level (dB(A)) | 87 |
| Weight without accessories (kg) | 1465 |
| Dimensions (L x W x H) (mm) | 2420 x 1460 x 2050 |
Equipment
Roller brush
Powerful traction drive
Parking brake
Integrated sweeper
Sweeping function
Squeegee, curved
2-tank system