Scrubber drier
BR 55/40 RS Bp Pack
Compact step-on scrubber drier with roller technology, 55 cm working width, 40 litre tank and about 120 cm turning circle. With eco mode for energy-saving and eco-friendly cleaning.
The very compact BR 55/40 RS Bp Pack step-on scrubber drier with powerful 36 V batteries combines the manoeuvrability of a walk-behind machine with the speed of a ride-on machine. The small turning circle of about 120 cm makes it ideal for use in narrow and awkward areas. Raised operating position for a clear view. Efficient roller technology for excellent scrubbing performance and cleaning in crevices. Effortlessly removes stubborn dirt on structured surfaces. The integrated sweeping unit makes time-consuming pre-sweeping unnecessary. Suction lips, brushes and squeegees can be changed without tools in seconds. The eco mode can be selected at the push of a button. This makes maintenance cleaning energy-efficient, eco-friendly and saves time and costs - with excellent cleaning results. Batteries can be charged quickly and easily from any standard power outlet with the integrated charger.This machine is ideal for contract cleaners and use in supermarkets, industrial systems, public buildings and healthcare facilities.
Features and benefits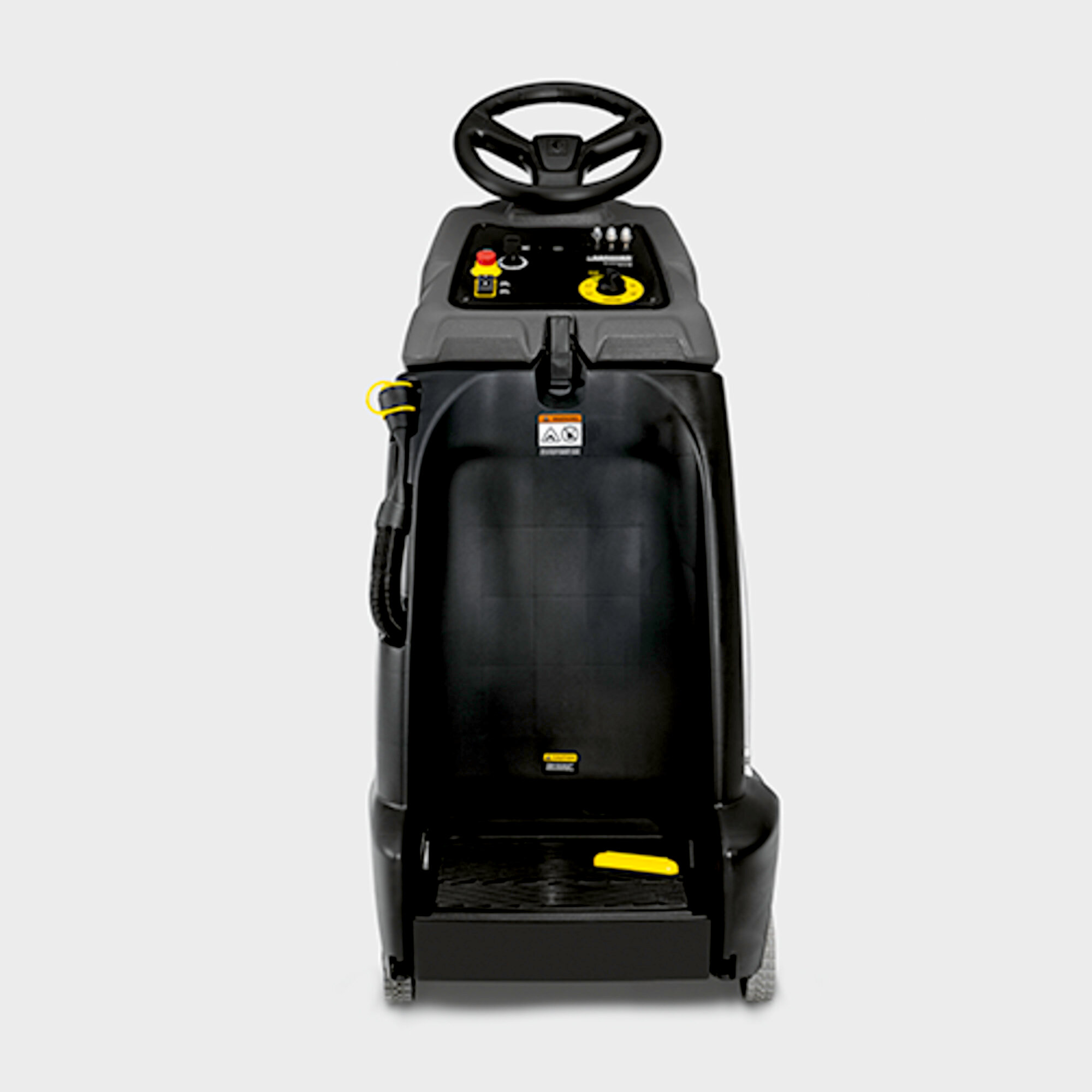 Compact dimensions
Full view from 30 cm in front of the vehicle. For predictive cleaning. Compact dimensions allow narrow clearance widths as well as easy storage and transport.
With sweeping function
Coarse dirt is picked up by 2 contra-rotating rollers and collected in a waste container. Coarse dirt is picked up in advance by 2 rollers to maintain suction power.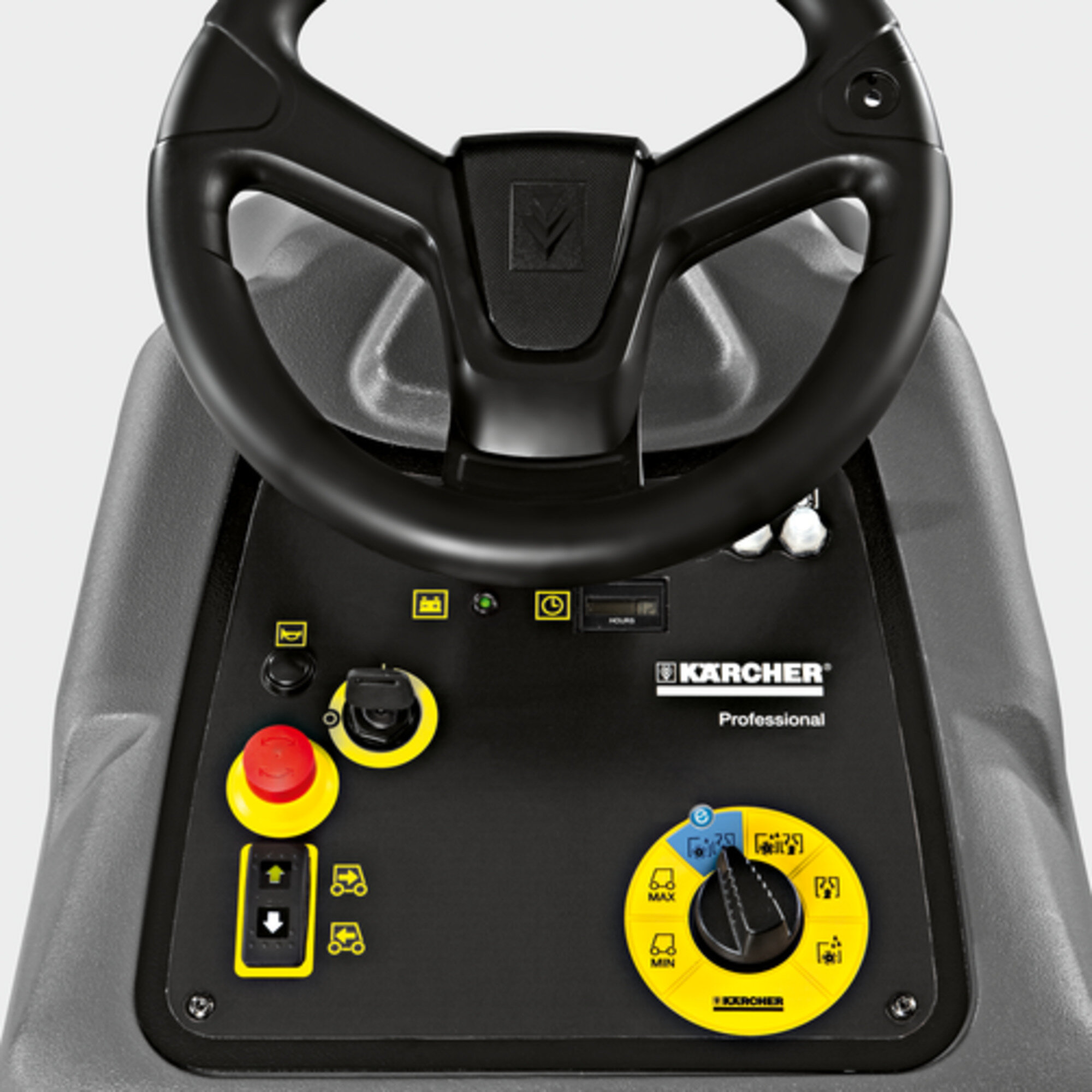 Easy operation
Easy to use.
eco!efficiency
mode saves time, energy, water and cleaning agent.
Automatic filling option
Easy connection to the water supply. The water supply stops automatically when filling is complete.
This saves time, as the operator can do other jobs in the meantime.
Eco mode
Saves time, energy, water and cleaning agent.
Easy to use controls
Only 1 control for all adjustments. For clear and simple handling and minimum training.
Easy changeover
Suction lips and brushes can be replaced without using tools.
Vacuum bars can be replaced in no time at all.
Highly manoeuvrable
For excellent manoeuvrability, large area coverage and less re-cleaning.
Unfolds completely
For easy access to the fresh and dirty water tank as well as the batteries.
Dirty water tank is removable.
With battery and charger
Ready-to-go: including powerful gel batteries with matching charger for a long service life.
Specifications
Technical data
Drive type
Battery
Traction drive
Traction motor
Working width of brushes (mm)
550
Working width, vacuuming (mm)
716
Tank of fresh/dirty water (l)
40 / 40
Theoretical area performance (m²/h)
3025
Practical area performance (m²/h)
2200
Battery type
maintenance-free
Battery (V/Ah)
36 / 76
Battery runtime (h)
max. 2,5
Power supply for battery charger (V/

Hz

)
230 / 50 - 60
Brush rotational speed (rpm)
1200
Brush contact pressure (kg/g/cm²)
24 / 315
Water consumption (l/min)
1,5
Sound pressure level (dB(A))
60
Total permissible weight (kg)
330
Dimensions (L x W x H) (mm)
1118 x 691 x 1316
Equipment
Roller brushes
Squeegee, curved
Battery and built-in charger included
Powerful traction drive
Automatic water stop
Sweeping function
2-tank system