Scrubber drier
B 60 W Bp Pack 170Ah+R65+Rinse+Autofill
Walk-behind scrubber dryer (60 l) for areas from 1000 to 2500 m² with a traction drive, KIK system, tank rinsing system, auto-fill, roller brush head and maintenance-free battery (170 Ah).
The B 60 W Bp walk-behind scrubber dryer with traction drive, maintenance-free 170 Ah battery and KIK key system offers comfort as well as easy and safe handling. With the KIK key system, access rights are assigned to protect against incorrect operation. With the R 65 roller brush head (working width 65 cm) and a brush speed of up to 1200 rpm, the machine is ideally equipped for cleaning structured floors with an area performance of up to 2500 square metres. The brushes are quickly mounted and replaced. The eco!efficiency mode extends battery runtime enormously, and the tank rinsing system simplifies cleaning of the dirty water tank after floor cleaning. In addition, there is the auto-fill function for easy and time-saving filling of the fresh water tank and the V-shaped squeegee with a working width of 900 millimetres for residue-free suction of the dirty water even when cornering.
Features and benefits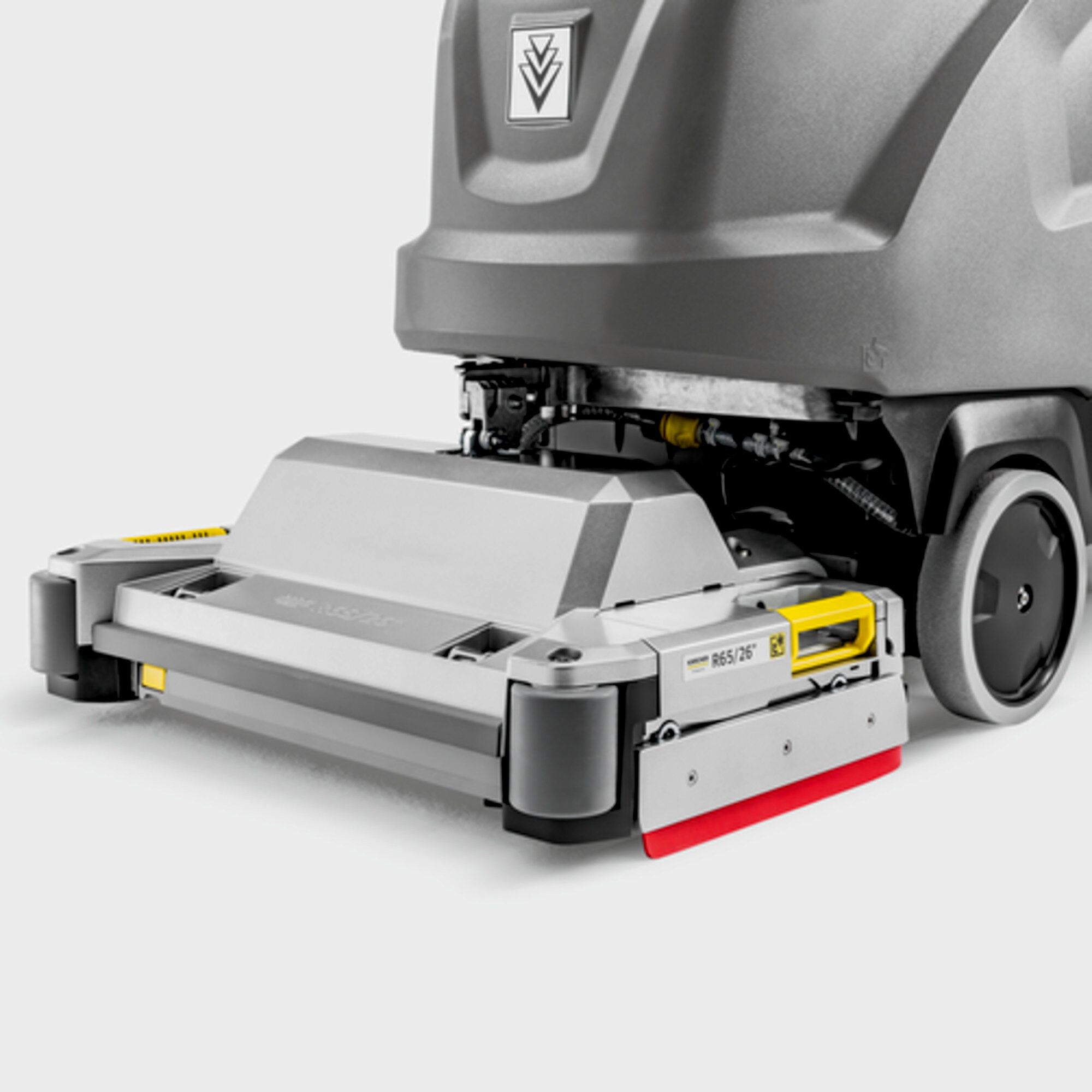 Roller brush head with integrated sweeping unit
Simple brush replacement in seconds: unlocking the brush via foot pedal, locking by lowering the machine or clipping in manually. Made from die-cast aluminium with large bumper wheels. Extremely hard-wearing against external influences.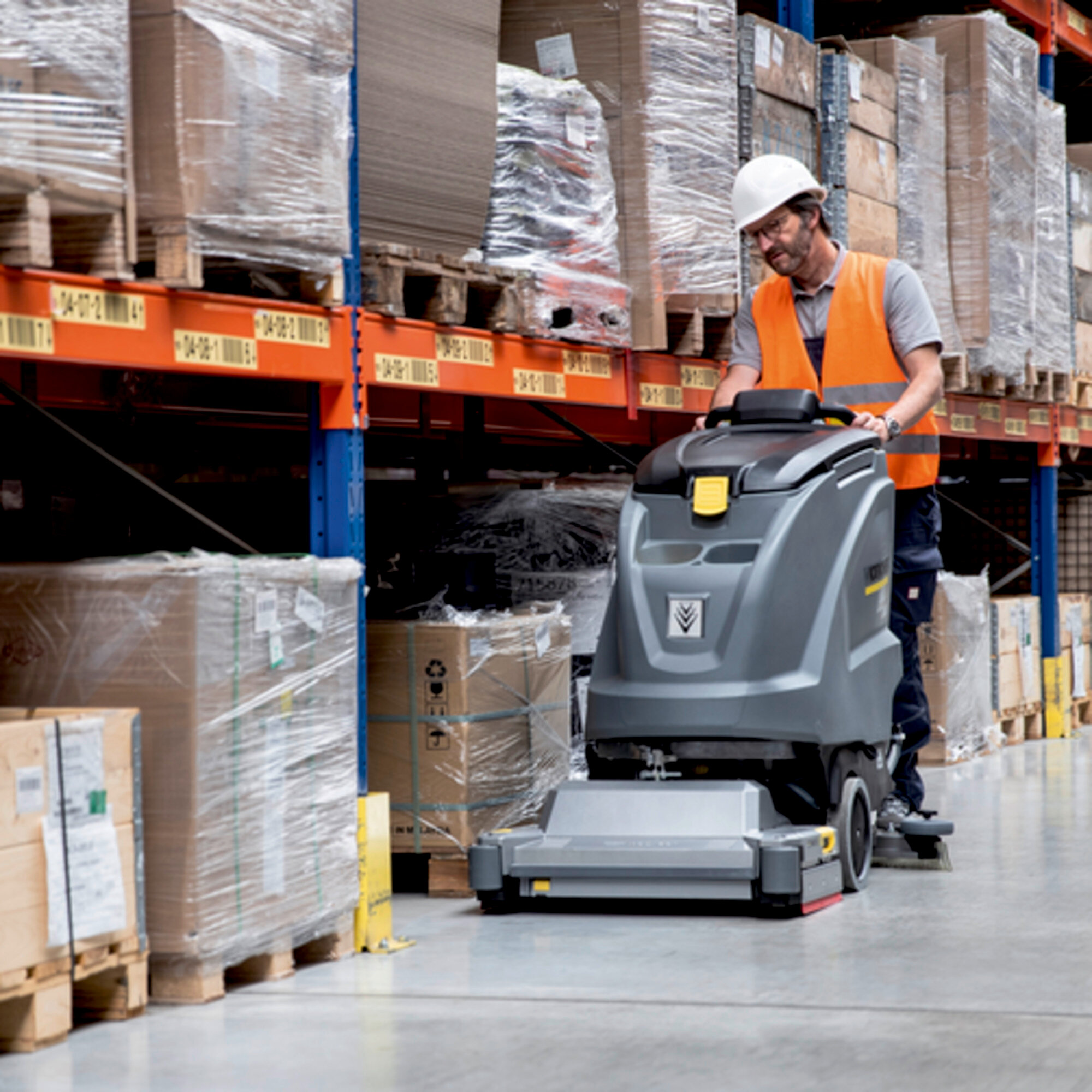 Powerful traction drive
Easy to operate thanks to continuous speed adjustment (forwards and backwards). Maximum speed can be preset. Operated by control levers on the handle.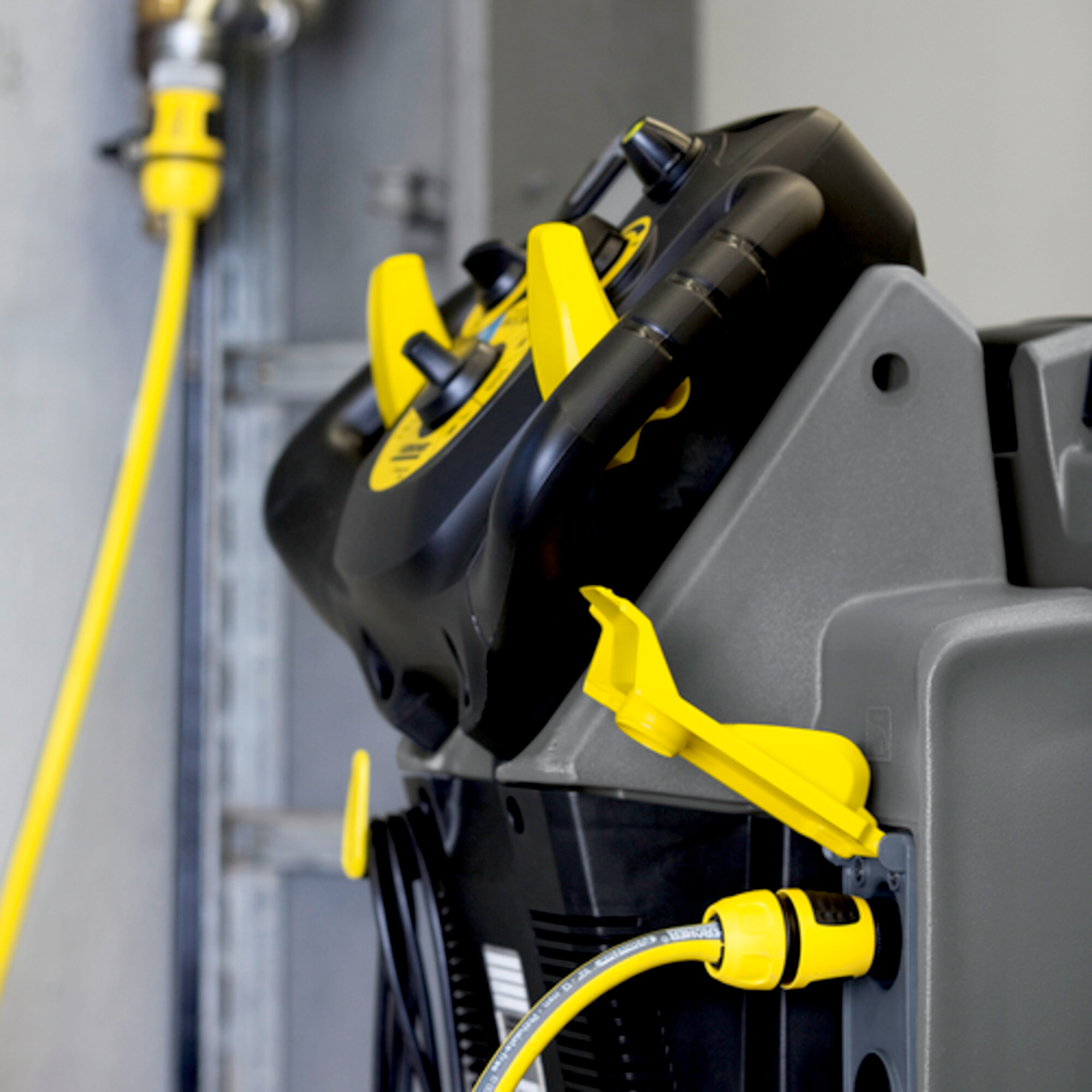 Convenient Auto Fill function
Comfortable filling of tank by hose. With automatic stop when the tank is full. Time-saving, as other work can be completed in the meantime.
EASY Operation selector switch
Simple operation.
The basic functions are easily controlled using the EASY switch.
Easy handling
Easy handling thanks to logically structured control elements with colour coding.
Simplifies operation and reduces teach-in time.
Powerful 170 Ah battery with on-board charger
Compatible built-in charger increases the lifetime of the battery.
Energy-saving
eco!efficiency

mode
For significantly reduced energy consumption and substantially longer battery runtime.
The

eco!efficiency

mode is extra quiet and optimal for noise-sensitive areas (such as hospitals or hotels).
Innovative KIK system
Prevents operating errors with 2-key system.
Reduced service costs thanks to less operating error.
Machine can be optimally adjusted to different cleaning requirements.
Practical machine shape
Slim design for easy manoeuvrability also in confined areas.
The asymmetrical shape improves the view of the area to be cleaned.
The brush head is independent of the chassis, optimal for uneven terrain.
Patented tank rinsing system
Easy and hygienic cleaning of the dirty water tank.
Specifications
Technical data
Drive type
Battery
Working width of brushes (mm)
650
Working width, vacuuming (mm)
940
Tank of fresh/dirty water (l)
60 / 60
Theoretical area performance (m²/h)
3900
Practical area performance (m²/h)
2340
Battery type
maintenance-free
Battery (V/Ah)
24 / 170
Battery runtime (h)
max. 2,5
Power supply for battery charger (V/

Hz

)
100 - 240 / 50 - 60
Brush rotational speed (rpm)
600 - 1300
Brush contact pressure (g/cm²)
315
Sound pressure level (dB(A))
61
Total permissible weight (kg)
300
Dimensions (L x W x H) (mm)
1520 x 900 x 1160
Equipment
Roller brush
Powerful traction drive
Battery and built-in charger included
Squeegee, v-shape
Tank-in-tank design
Patented tank rinsing system
Motor: Battery
Auto Fill
Type of suction lips: oil-proof
Kärcher colour and operating concept
Kärcher Intelligent Key System (KIK) with over 30 user languages and individual user rights
Home Base fastening possibilities for mop or similar
Easy Operation selector switch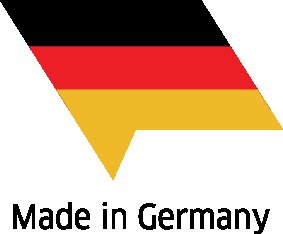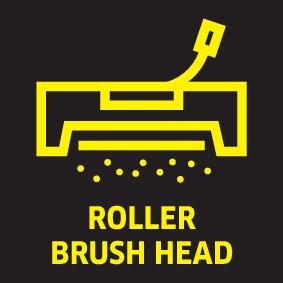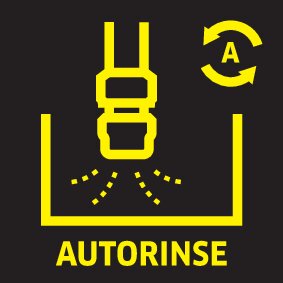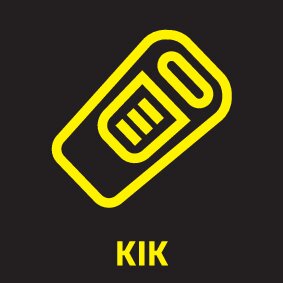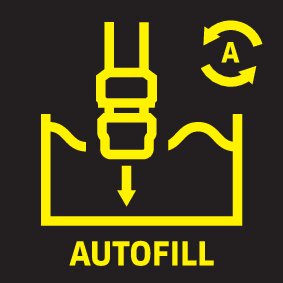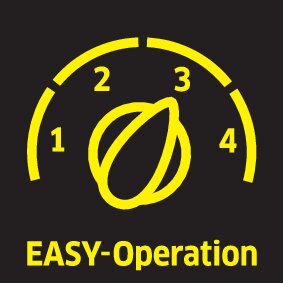 Application areas
Ideal for maintenance cleaning in retail, DIY stores, shopping centres, commerce, industry and at airports.
Ideal for building service contractors, e.g. in sports halls
Ideal for cleaning airports, in industry and in the transport industry