Professional technology for maintaining green spaces
Mowing lawns, landscaping grassy areas, keeping hedges and trees in check: The list of jobs for gardening and outdoor maintenance is a long one. Powerful cordless machines are now available on the market for many tasks, from strimmers to pole-mounted pruners and hedge trimmers. In addition, there are various types of mowers for implement carriers, sustainable options for weed removal and safety vacuum cleaners to aid in the fight against the oak processionary moth.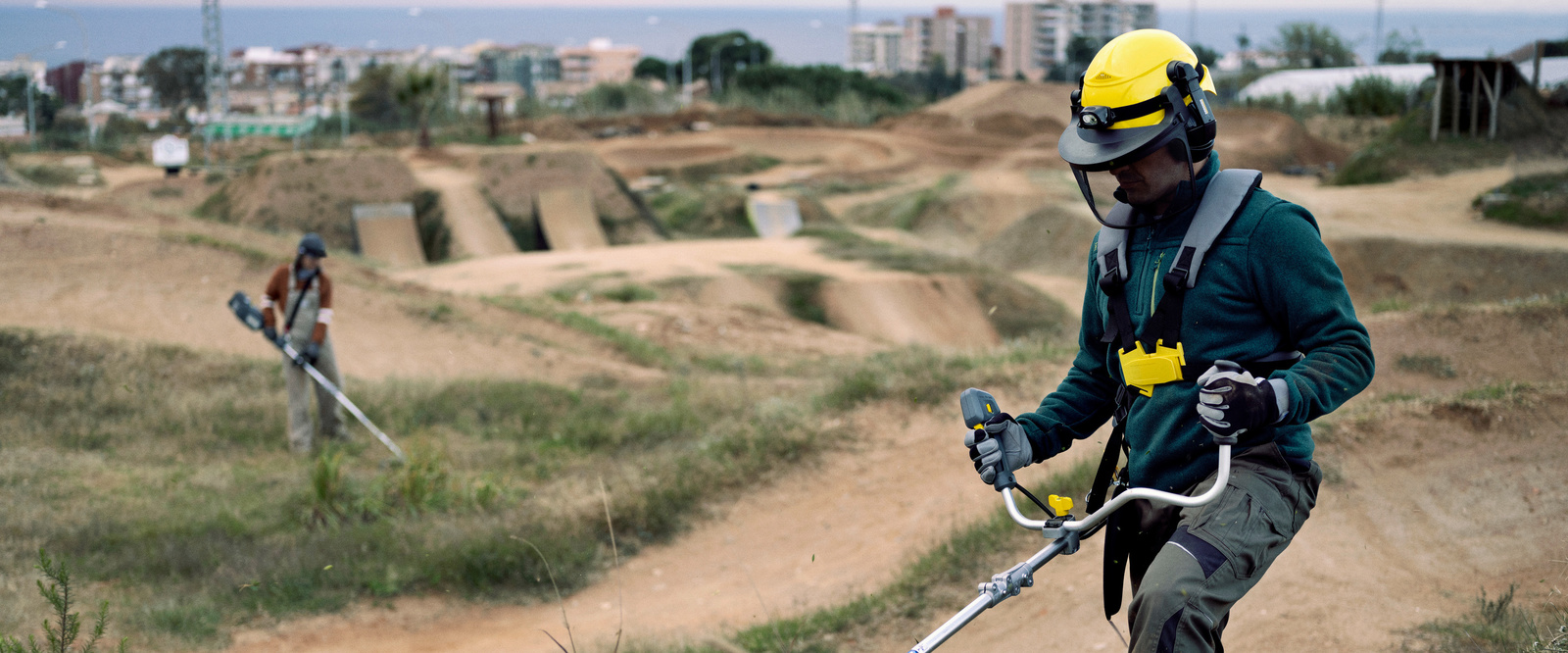 Why use cordless machines when maintaining green spaces?
Hardly anyone finds handling fuel-powered garden tools very practical – they're noisy, heavy and always need to be correctly refuelled. Nevertheless, cordless machines are not popular with professional users, as the performance, runtime and charging times have typically not really been appropriate for maintenance in green spaces. Since then, battery development has come on in leaps and bounds, meaning that in many cases it is easier to work with the battery-powered alternatives.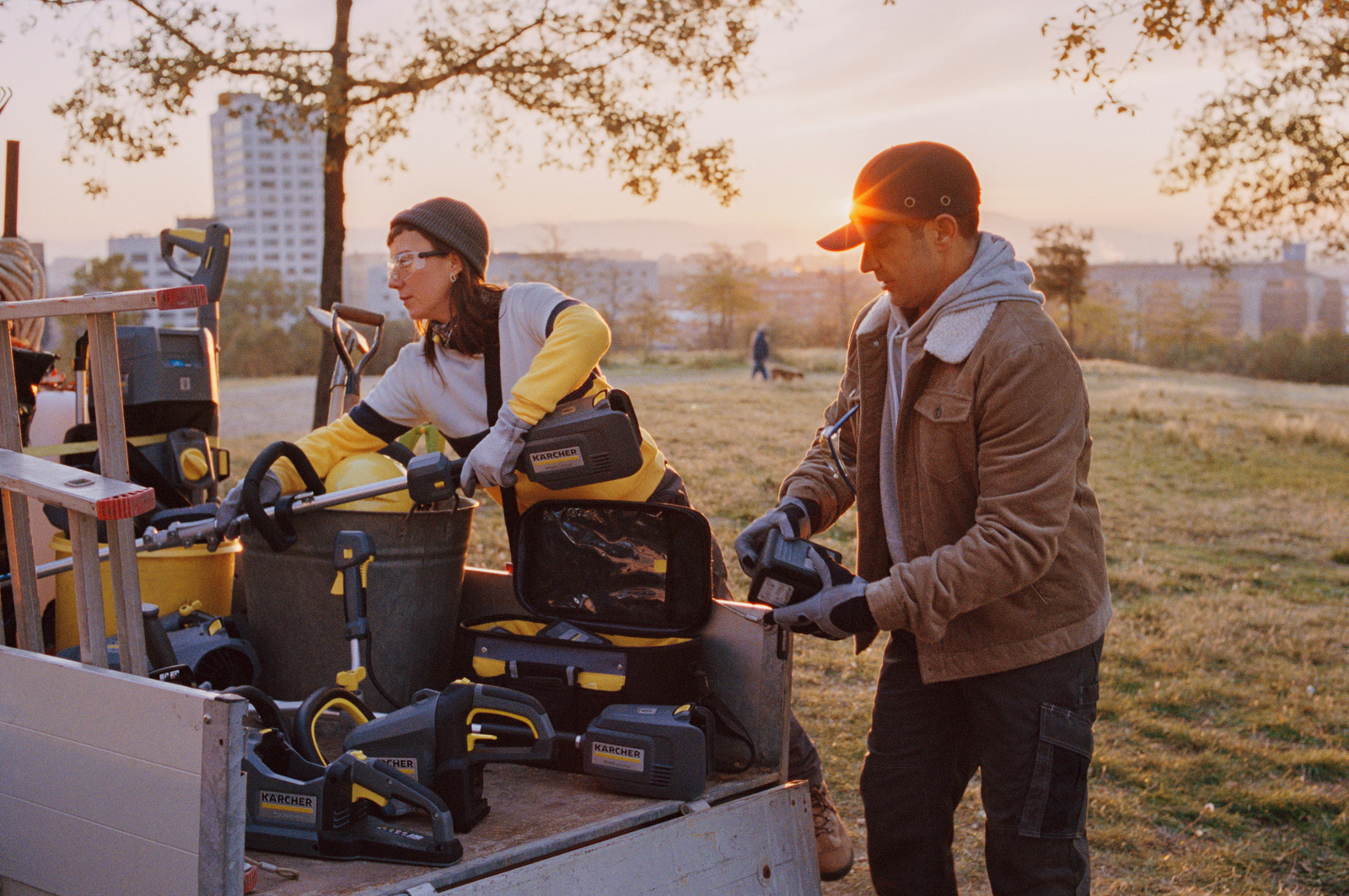 Many manual operations no longer needed, running costs reduced
From the period when growth begins in spring up until the autumn, strimmers, hedge trimmers and lawn mowers are indispensable for maintaining green areas. For fuel-powered models, several steps are required before the machines can be used. Before use, checks must be carried out to ensure that there is enough fuel. There is always a risk of misfuelling, and refuelling is unpleasant when the machine is hot. Maintenance costs are incurred due to continuous fuel consumption, as well as for service work and spare parts.
Cordless machines are more practical in comparison:
If a universal battery platform is used for all models, you only need a sufficient quantity of identical batteries.
Thanks to lithium-ion technology, there is no self-discharge during storage.
Set-up times are practically zero; an empty battery is replaced with a fully charged one.
Cordless machines are low-maintenance, which minimises work and costs for regular customer service compared with fuel-powered models.
More efficient operation and lower running costs very quickly make up for the higher purchase costs.
Where cordless machines beat the rest – and with which features
Battery-powered gardening tools have many advantages, especially in inner-city or noise-sensitive areas – for example around schools, kindergartens, hospitals or residential complexes. The same is true for management of medium to large areas. The machines should, however, have the required properties for the intended application.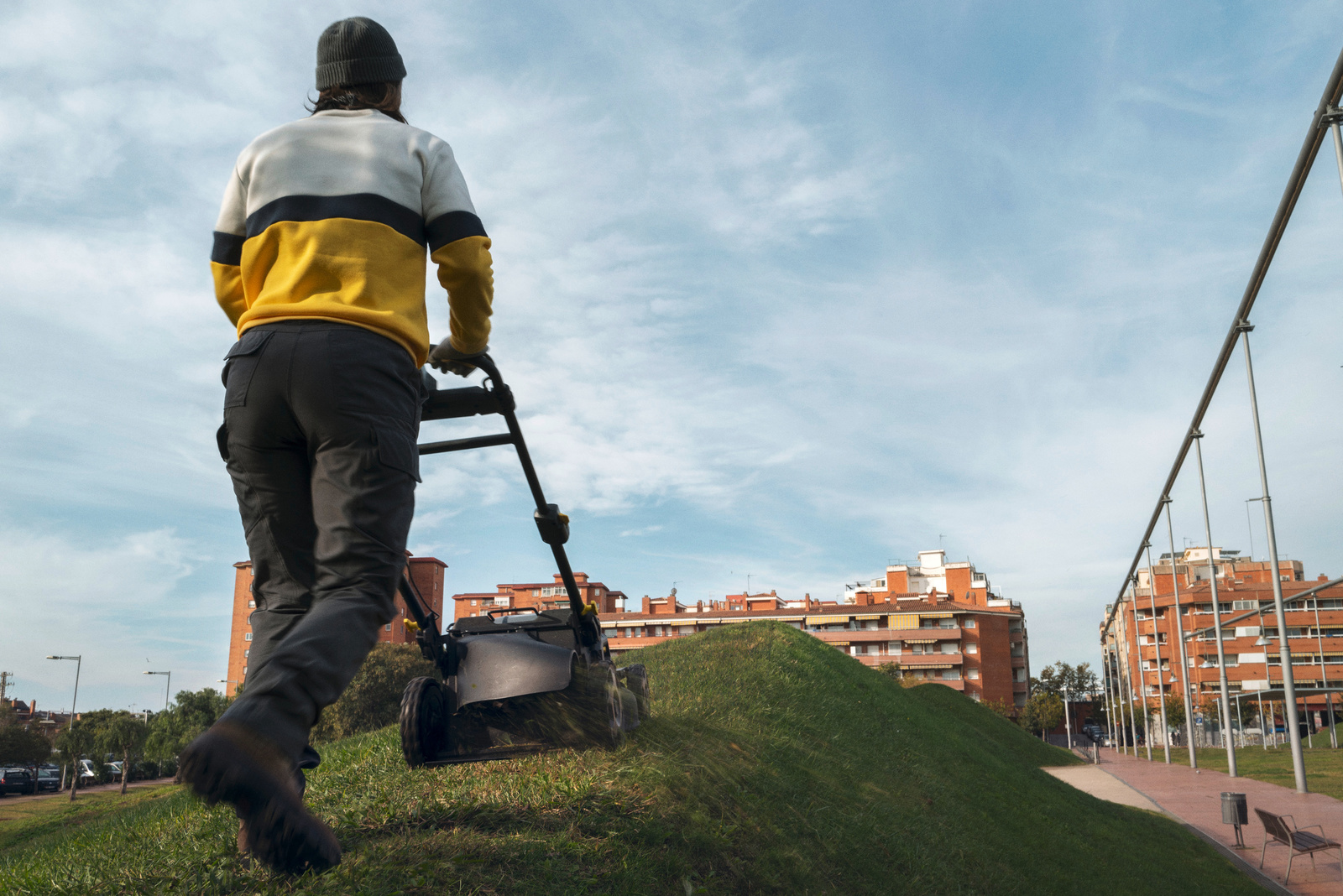 Tips for choosing a lawn mower
For a lawn mower, it should be possible to use the basic unit with a collecting bag, and additionally there should be a mulching function and a side/rear discharge. For anyone who often has to work on slopes or uneven surfaces, the best model to use is one with traction drive on both sides, which ensures you can mow in straight line. A central cutting height adjustment means that the lawn mower can be used in a variety of ways, even in difficult conditions. The machine should run quietly and with low vibration to reduce physical strain and facilitate ergonomic working.
Tips for strimmers and leaf blowers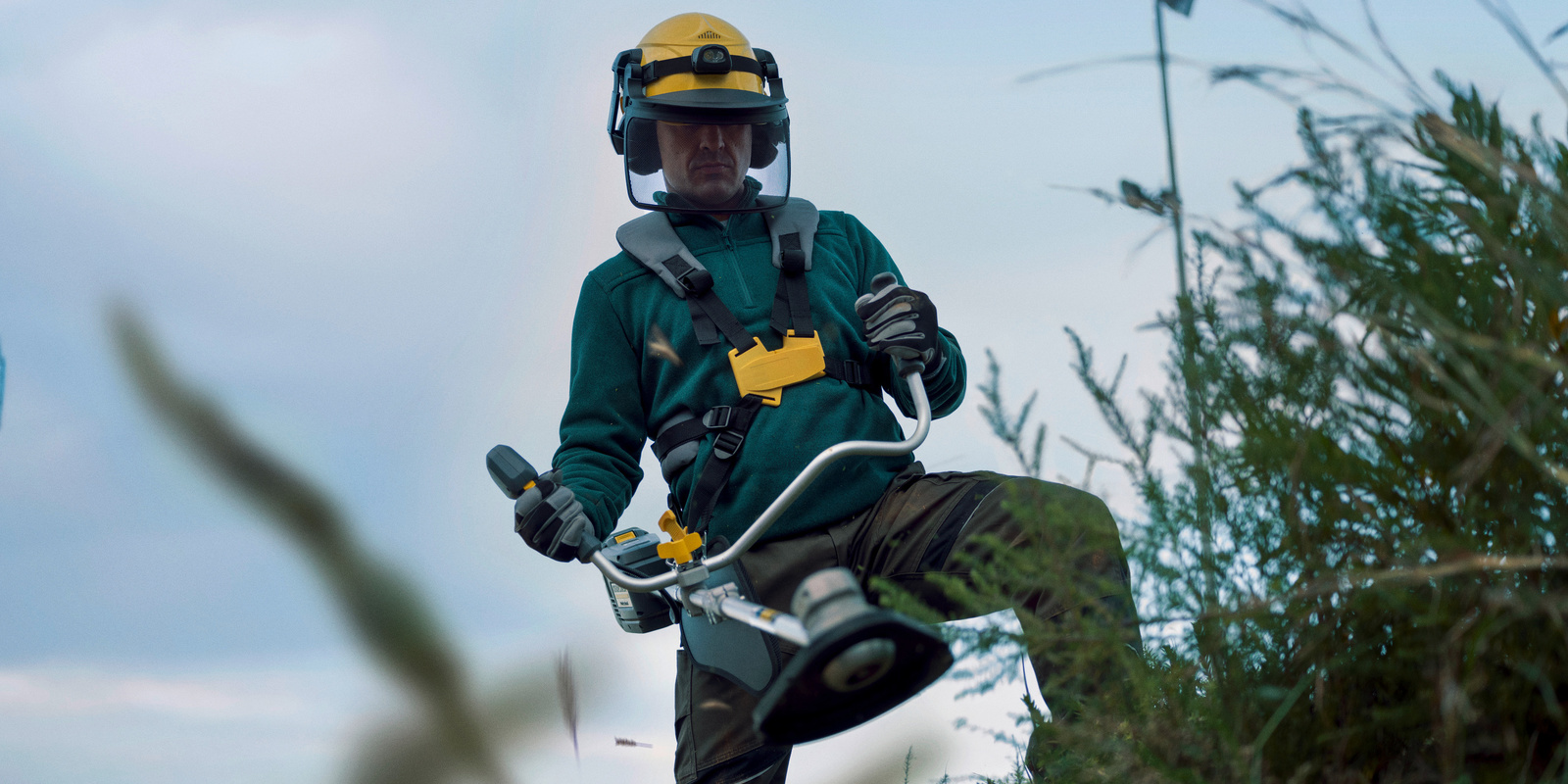 Strimmers are particularly suited to removing undergrowth or taller grass, as well as for mowing on steep slopes. Cutting blades sharpened on both sides allow the blade to be turned and therefore have a longer service life. Models with a trimmer head that do not cause damage to blades and/or objects thanks to the trimmer line are recommended for fine work around trees or road signs. For longer periods of work, lightweight aluminium models are more suitable as they are robust but require less effort due to their lighter weight. Equally important is an ergonomic handle position, which prevents incorrect postures.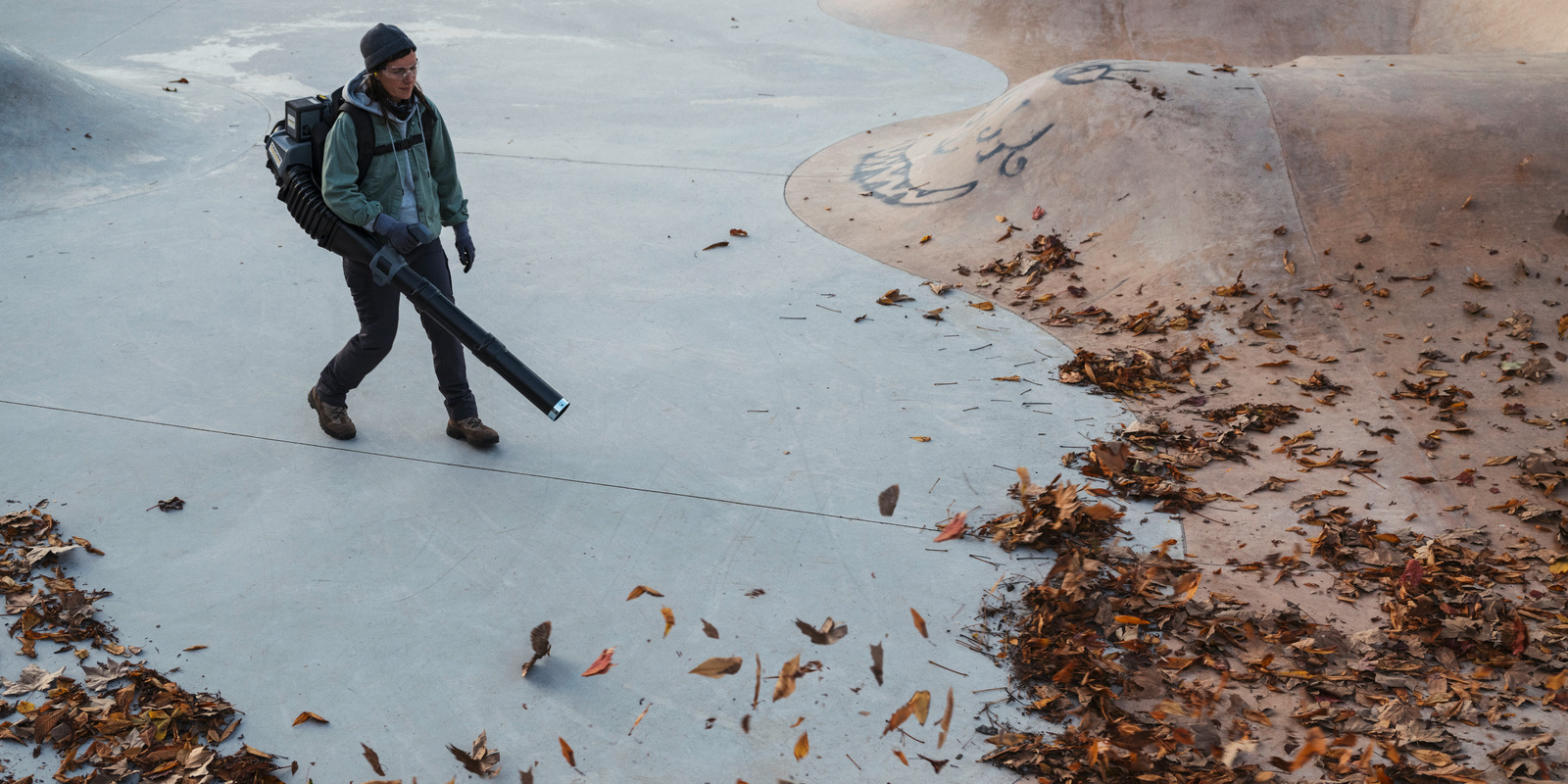 As autumn approaches, battery-powered leaf blowers gain importance. In public parks, for example, they are essential for blowing the leaves under park benches or leaves from other hard-to-access areas onto the paths, where they can then be picked up by sweepers. Models with spring-mounted blowers significantly dampen vibrations for the user – Kärcher's backpack model runs at 0.8 m/s2, while comparable fuel-powered machines are 3.5 m/s2. There are also handheld machines with a suspension eyelet, which enables a carrying strap to be attached, allowing fatigue-free working.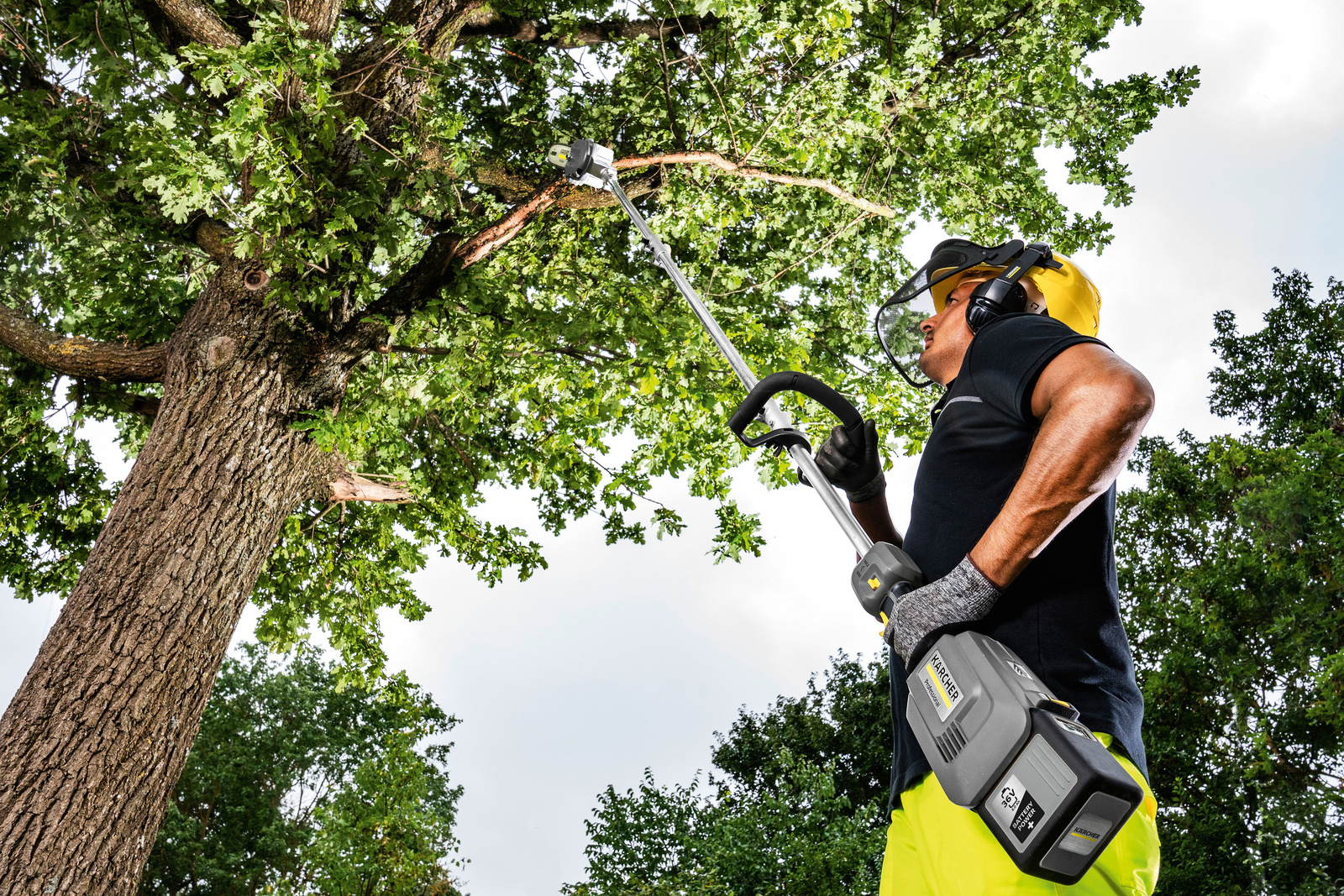 Tips for hedge trimmers, pole-mounted pruners and chainsaws
When pruning trees and shrubs, applicable national or regional regulations concerning growth phases must be respected, while gentle shaping and maintenance pruning is normally permitted all year round. Various machine features can also make work easier here. For example, trimming the sides of a hedge is easier if the hedge trimmer has a rotating handle. What's more, models with a carrying strap or backpack for the batteries are comfortable, since the user consequently has to handle less weight above shoulder height. For tree maintenance, battery-powered pole-mounted pruners or multitools with a lightweight design are convenient to handle. A low chain pitch ensures that pole-mounted pruners have the required running smoothness. Extensions facilitate using the equipment when working in the tops of trees.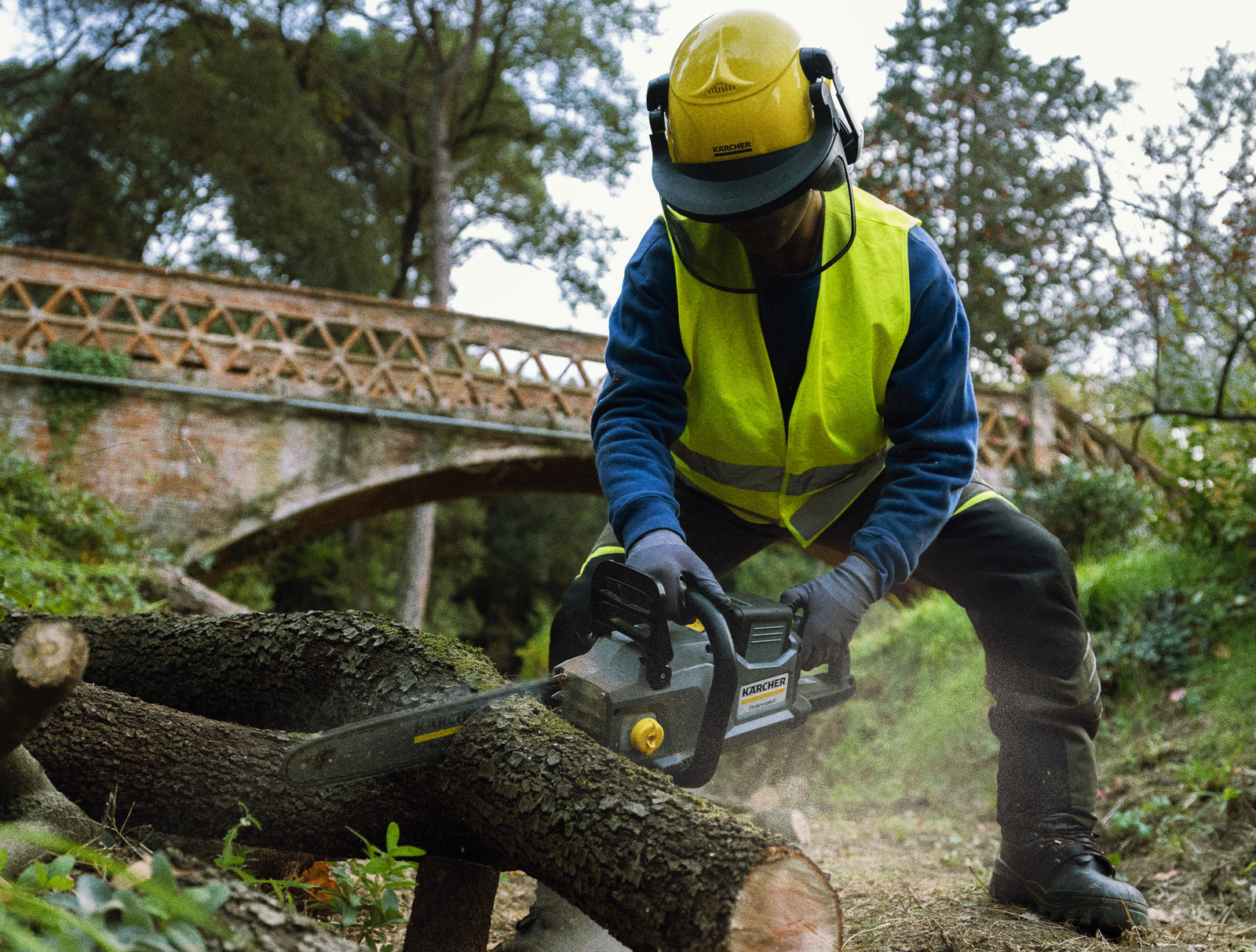 With a chainsaw, it is important to ensure that the power is adjusted to the task. If you're clearing up after storm damage or cutting down small trees, models that can cut through approximately 30-centimetre-thick pieces of wood are ideal. The noise level is significantly lower than a conventional chainsaw, and the maintenance effort is also much lower with the battery version. Another advantage for the user is that there is no need to tighten the chainsaw or refill the fuel.
Tip:
Noise is just as harmful to health as exhaust fumes. A battery-powered chainsaw has a noise level of 105 dB and the fuel-powered model's is 113 dB – human hearing perceives a 10 dB reduction in noise level as a reduction by half. As a result, the cordless variants are often greeted with more acceptance and appreciation when maintaining green spaces. At the same time, they are within the legal noise limits, so that work can normally take place without interruptions on working days.
Lawn care over large areas: Sickle mowers come to the fore
Cultivating lawns forms a large part of green space maintenance. The sickle mower is often used for this very purpose. It is very well suited to parks, roadside greenery, sports grounds and playgrounds, as it offers excellent area performance and an adjustable cutting height. There are different design variants from which users can select their preferred option:
Front mowers are very manoeuvrable and provide a good view of the implement. The cutting deck is accessible and can be fitted quickly.
Central mowers are impressive thanks to their consistent driving characteristics, with a fitted deck and the system's responsiveness. This makes straight mowing lines easier to achieve.
Lawn sweepers remove the cut grass from the ground using a roller and throw it backwards into a container.
Grass suction devices which are connected to the mower extract cut grass via a vacuum fan and deposit it in a waste container.
Tip:
Regardless of the required cutting height and associated cutting frequency, it is important not to mow too low. The reason for this is that grass stalks grow leaf blades, which transport moisture from the root to the tip of the stalk. If these leaf blades are cut off, the grass will die.
Extra info: Sustainable methods for dealing with weeds
Regular sweeping is the most effective method to prevent weeds spreading – this is because seeds settle in dust and dirt, from which dandelions, thistles and other weeds later sprout. However, if regular sweeping is not possible due to constraints on resources, there are various effective ways to keep weeds under control without using chemicals.
Hot air: Air is heated to 450 °C via a gas burner, and plants that have not yet grown very tall are literally dried out.
Hot water: Water is heated to temperatures of up to 99 °C, which is effective on weeds right down to the roots, meaning that plants – even tall ones – can be destroyed.
Water steam: An alternative to hot water, but does not penetrate to the root and must be repeated more frequently.
Sweeper with weed broom: For very tall plants, the demands on the load-bearing capacity of the broom arms and the connection between the implement and the vehicle are very high.

Removing weeds
Countering weeds effectively is a major challenge in municipalities and agriculture. Chemical products are available, but they are often harmful to the environment and can only be used in a limited way in public spaces. Dandelions, thistles, etc. can be removed totally using hot water and without herbicides – a procedure that protects the environment as well as surfaces.
Extra info: Using safety vacuum cleaners against oak processionary moths
Oak processionary moths can become a health risk due to their poisonous stinging hairs in areas around where people live. Their fine stinging hairs can cause rashes, breathlessness and shock responses. Chemical or biological control measures may be possible, but other useful species are often harmed in the process. An infested tree at a kindergarten or in a public park must therefore be thoroughly cleared of the pests.
A mechanical, environmentally- and user-friendly method is the extraction of insects and nests using certified safety vacuum cleaners for dust class H. Safety filter sets allow for safe disposal all the way to the incinerator, providing a solution for municipalities and other users without a great deal of effort and expense.

Combatting oak processionary moths
For some years now, the oak processionary moth has been on the rise thanks to climate change and a lack of natural competitors or predators. It can become a health risk where people live due to its poisonous stinging hairs. The right approach to tackling the insect is therefore decisive. An environmentally and user friendly method is picking up caterpillars and their nests using safety vacuum cleaners in dust class H.
Suitable products for your area of application