KM 85/50 R Bp Pack 2SB
Our compact and manoeuvrable ride-on vacuum sweeper KM 85/50 R Bp Pack comes as standard with 2 side brushes, battery and battery charger and impresses with a high area performance.
Compact, outstanding equipment, easy to operate and very affordable: our ride-on vacuum sweeper KM 85/50 R Bp Pack impresses in all respects. The small size of this entry-level model also makes the machine ideal for work in narrow, congested spaces, whereas it impresses in the indoor and outside area with a high area performance and can demonstrate its strengths with confidence. Two swerving side brushes with speed regulation – on the right and left of the machine –, a large dust filter for dust-free work, a wear indicator on the main sweeper roller that is visible on the outside, as well as a battery and battery charger, come as standard. The oscillating roller does not have to be readjusted and yet still removes dirt leaving no residue also on uneven ground. Maintenance work can be easily completed. For instance, the dust filter can be conveniently cleaned from the seat and the main sweeper roller can be changed without the need for any tools. The wide-opening machine hood allows convenient access to internal components. Thanks to the intelligent Home Base system it is also possible to carry along additional cleaning utensils.
Features and benefits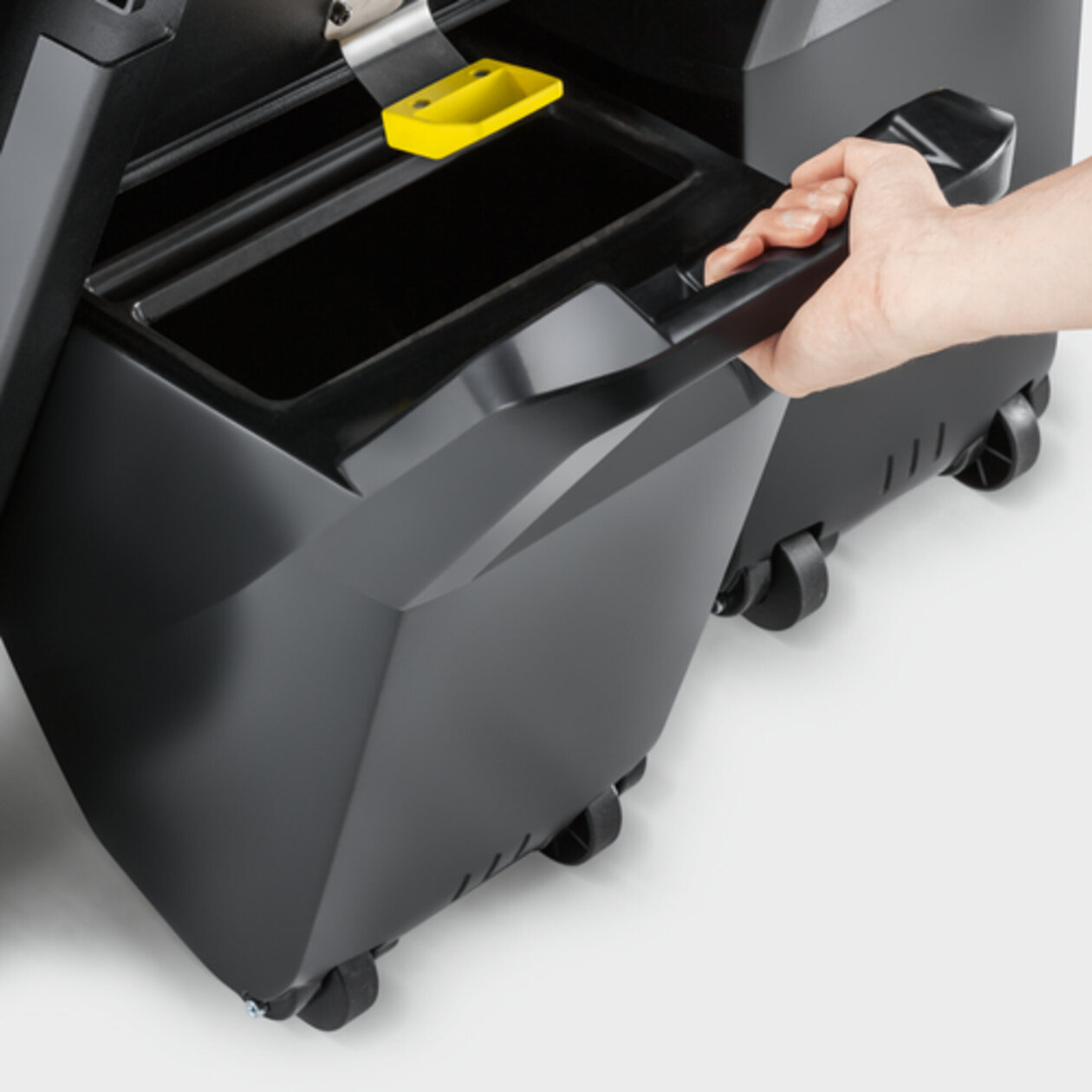 Clever container concept
2 tanks for simple removal and safe emptying of waste. Waste container free of rough edges permits emptying without leaving behind any residues. Castors on waste container simplify handling when emptying.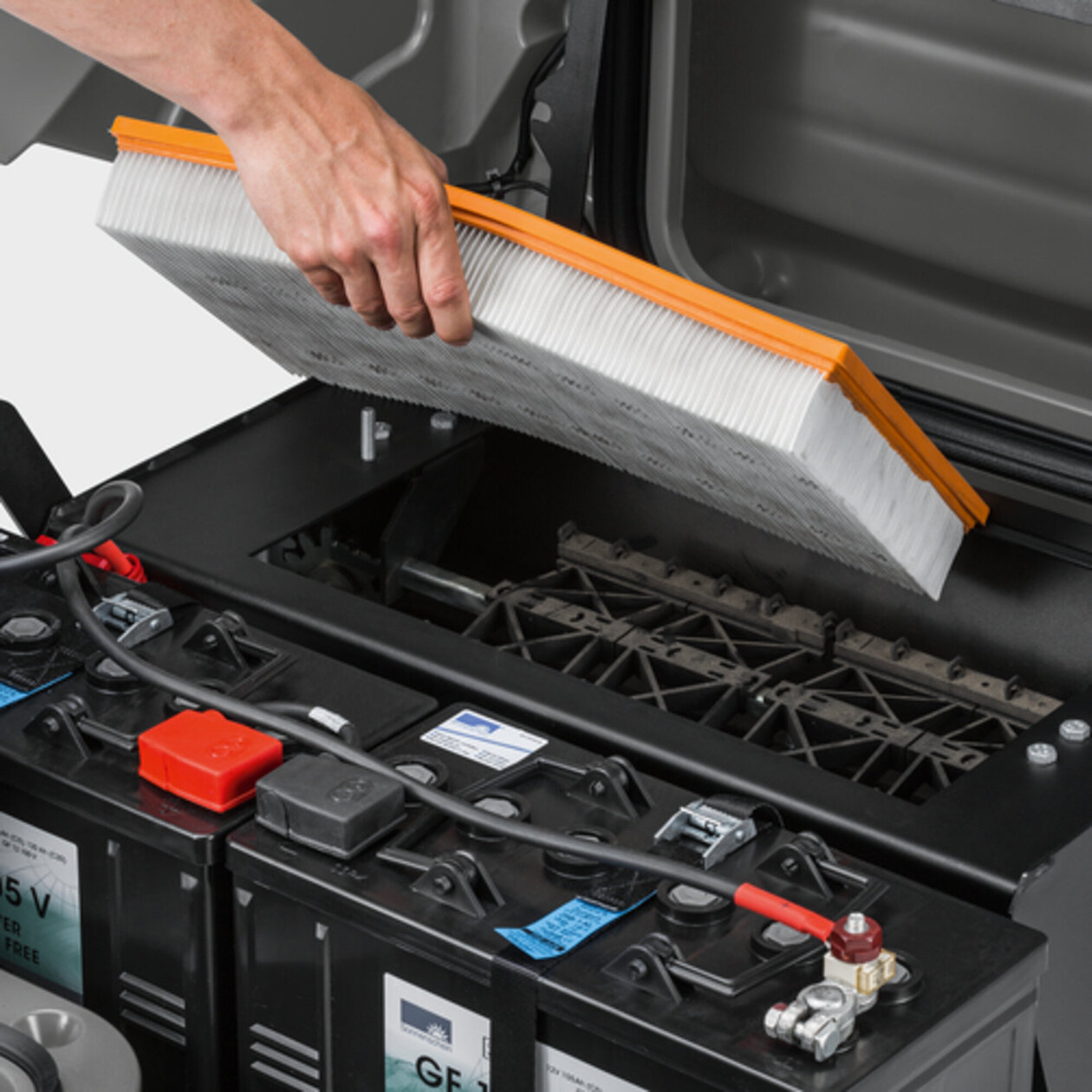 Efficient filter system
Polyester flat pleated filter. Effective cleaning with dual scraper. Comfortable operation from operating position. Access to the filter through wide-opening cover without the need for any tools.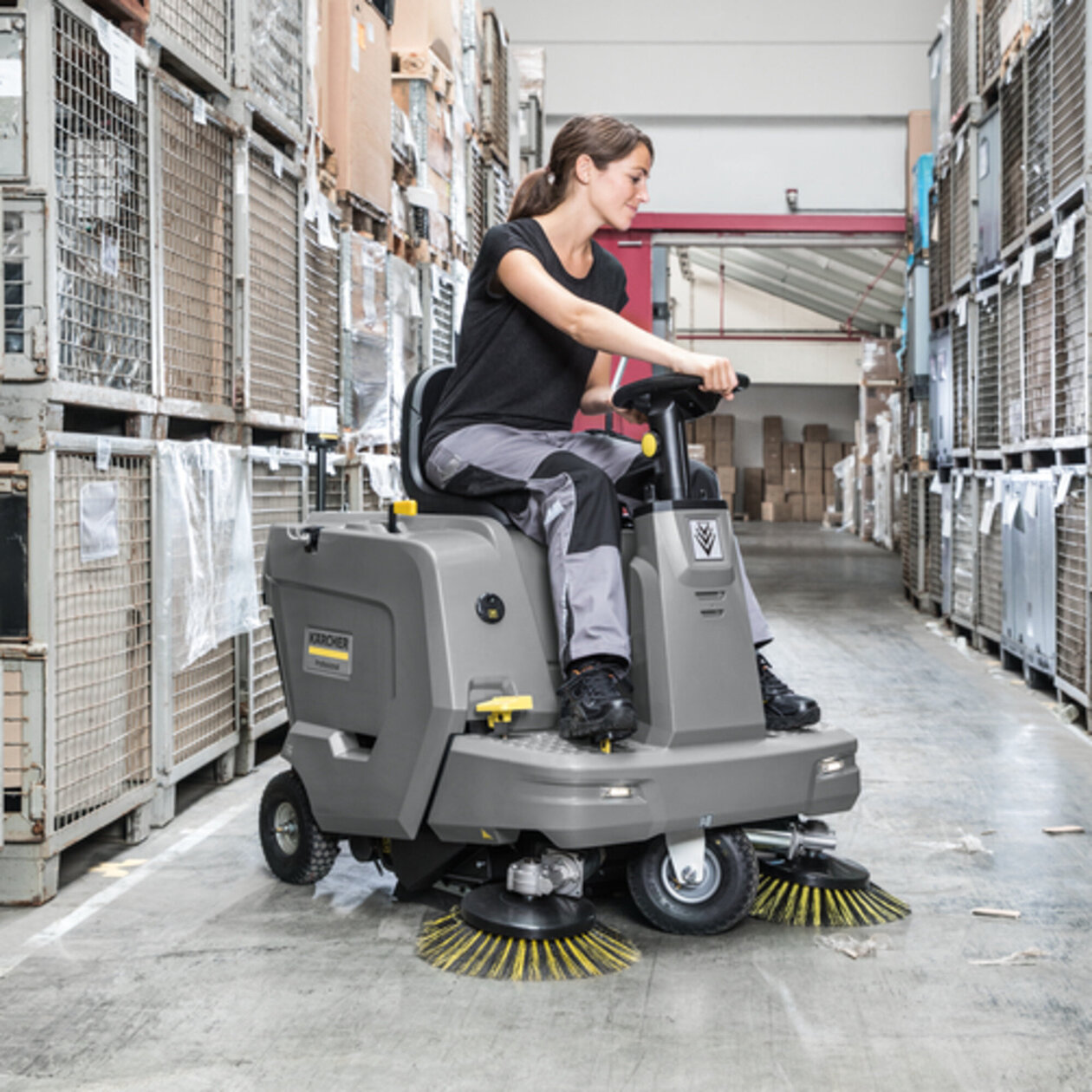 Clever ergonomics for high level of comfort at workplace
Clear and ergonomic attachment of operating elements. Adjustment of driver's seat without the need for any tools. Height-adjustable steering wheel.
Integrated Home Base system and storage areas
Practical connection for the uncomplicated carrying of additional cleaning utensils.
Convenient carrying of, e.g. litter picker, brush, cloths or containers.
Large storage area in rear of machine.
Wear indicator for main sweeper roller
Can be easily and conveniently viewed from the outside.
Precise determination of replacement time.
Retractable side brush
Protects the side brush against damage.
Reliable and robust design.
Lowers maintenance and service costs.
Compact design for maximum manoeuvrability
Excellent manoeuvrability of the machine.
Also ideal for congested and confined areas.
Possible to drive through normal door openings (90 cm).
Speed regulation of side brush
For adapting the side brush speed to the respective type and volume of dirt.
Reduces any dust dispersions.
Floating main sweeper roller
No wear adjustment necessary.
Excellent dirt pick-up also in the case of bumps/unevenness.
Simple operating concept
Sweeper roller and side brushes can be conveniently switched on and off using the foot pedal.
Forward and reverse movements can be conveniently set and adjusted using a selector switch.
Suction volume regulation for sweeping wet surfaces.
Specifications
Technical data
| | |
| --- | --- |
| Drive | DC motor |
| Traction drive | Electric |
| Drive– performance (V/W) | 24 / 1000 |
| Drive type | Battery |
| Max. area performance (m²/h) | 6510 |
| Max. area performance with 2 side brushes (m²/h) | 6510 |
| Working width (mm) | 615 |
| Working width with 1 side brush (mm) | 850 |
| Working width with two side brushes (mm) | 1085 |
| Battery capacity (Ah) | 115 |
| Battery voltage (V) | 24 |
| Battery runtime (h) | max. 2,5 |
| Waste container (l) | 50 |
| Climbing ability (%) | 12 |
| Working speed (km/h) | 6 |
| Filter areas (m²) | 2,1 |
| Max. load (kg) | 90 |
| Weight (with accessories) (kg) | 238 |
| Weight, ready to uset (kg) | 238 |
| Weight incl. packaging (kg) | 240 |
| Dimensions (L × W × H) (mm) | 1350 x 940 x 1170 |
Equipment
Filter cleaning manual
Filter cleaning mechanical
Powerful traction drive, Electric
Main sweeper roller, floating
Suction volume regulation
Coarse dirt flap
Battery and built-in charger included
Overhead sweeping principle
Forwards traction drive
Backwards traction drive
Suction
Outdoor use
Indoor use
Side brush speed, adjustable
Battery indicator
Elapsed time counter
Waste container, mobile
Sweeping function, can be switched off
Wheels, pneumatic
Side brush, automatically swings out
Automatic wear adjustment of the main sweeper roller
Multifunctional display
Home Base fastening option
Application areas
Ideal for cleaning production halls, warehouses and smaller logistics halls
For rapid maintenance cleaning in car parks
Also suitable for workshops, schools, service stations or car dealerships