Warehouse Cleaning
Keeping your warehouse in pristine condition is absolutely essential. This is not only true of very small storage rooms, such as those in workshops, but also applies to very large warehouses. It is import to prioritize occupational health, safety, and the protection of warehouse inventory. In particular, the floors must be clean and safe to walk on to prevent the risk of accidents caused by inadequate cleaning. This cleaning can be carried out efficiently using commercial floor sweepers and commercial floor scrubbers.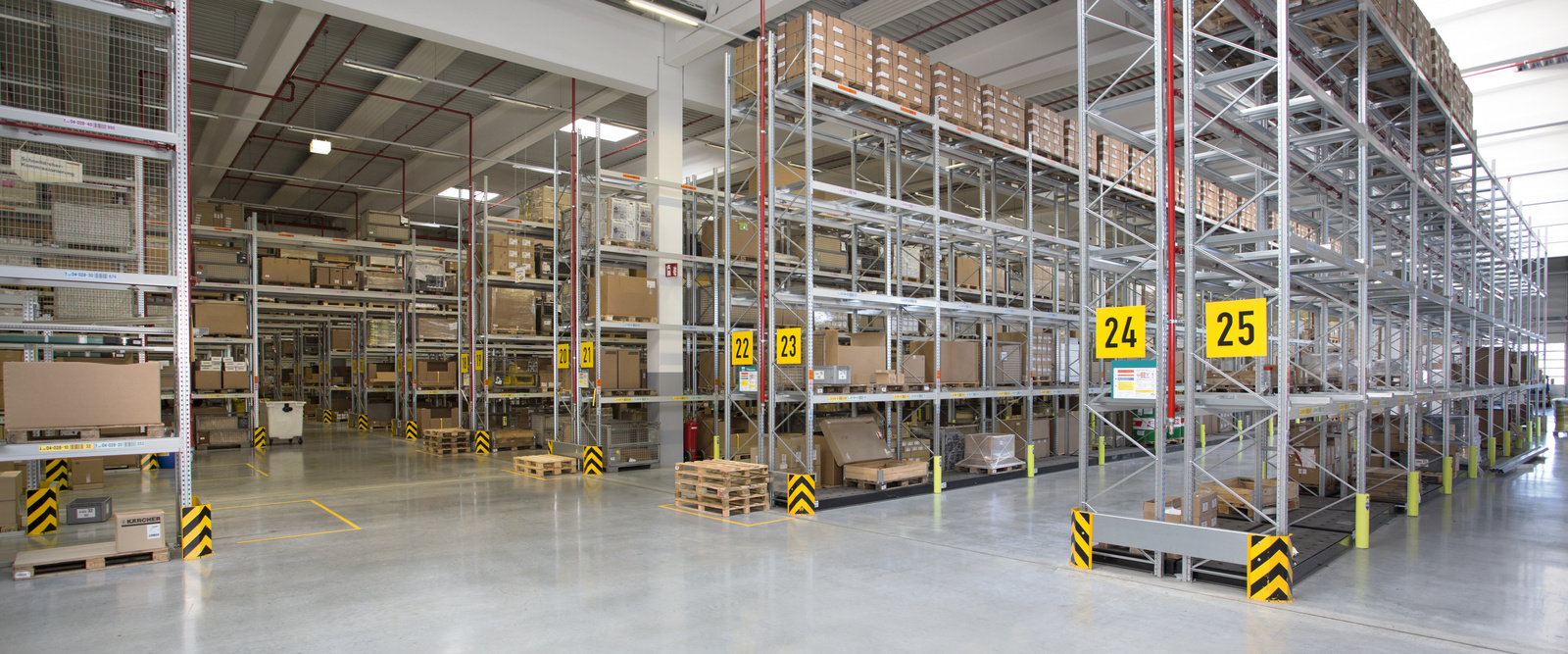 Different cleaning techniques for different types of dirt
When transporting warehouse material from A to B, any movement made by warehouse workers, forklifts and floor vehicles will kick up dust. Systematically vacuuming this dust not only helps to ensure cleanliness and safety, but also protects inventory and prevents it from getting dusty. It is common to find paper scraps from torn labels or transport documents, pieces of foil or wood splinters in warehouses. You can easily remove any dust, fluff and small paper residue with a broom, a commercial floor sweeper or a commercial vacuum – depending on the size of the warehouse. When it comes to choosing the appropriate cleaning machines and concepts, the size of the space is a key factor.
Sweeping in the warehouse: Safely removing dust
Particularly when cleaning warehouses, a vacuum sweeper is preferable to a single-purpose sweeper because of the higher volumes of dust involved. During the sweeping process, the vacuum sweeper stirs up the dust with a roller brush, vacuums up the dirt using a fan, and then separates it via a filter system. This means that the amount of dust is reduced during the cleaning process. The fine dust filters' service life can be extended considerably by cleaning them regularly. This can be done at the push of a button or automatically, depending on the machine type.
In addition to dust and paper residue, you can often find foil residue, packaging tape and wood splinters from pallets on warehouse floors. This coarse dirt should be manually removed. Otherwise, there is a risk of machines becoming clogged or of material getting caught in the roller brush. This coarse dirt can be removed using a broom or trash picker.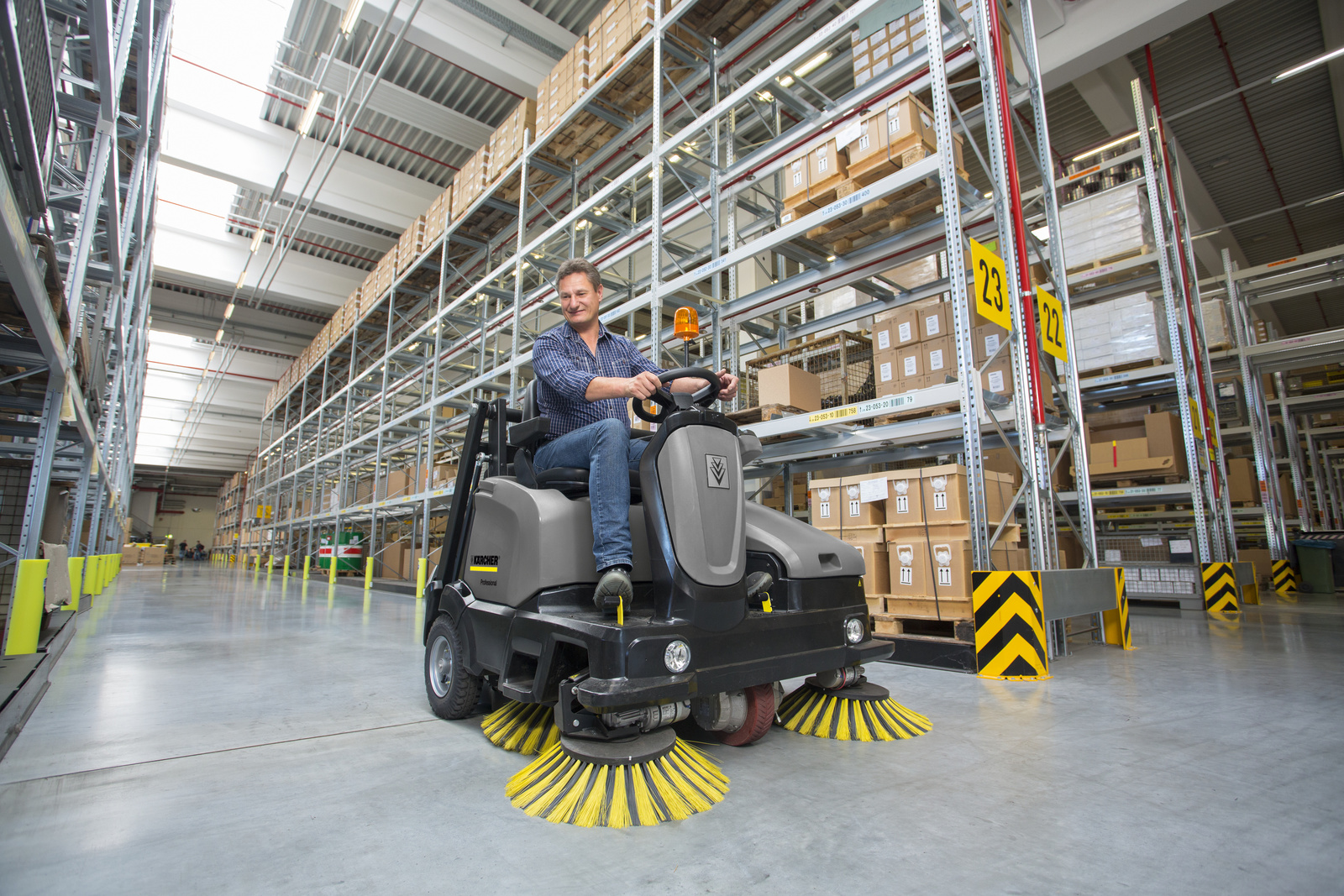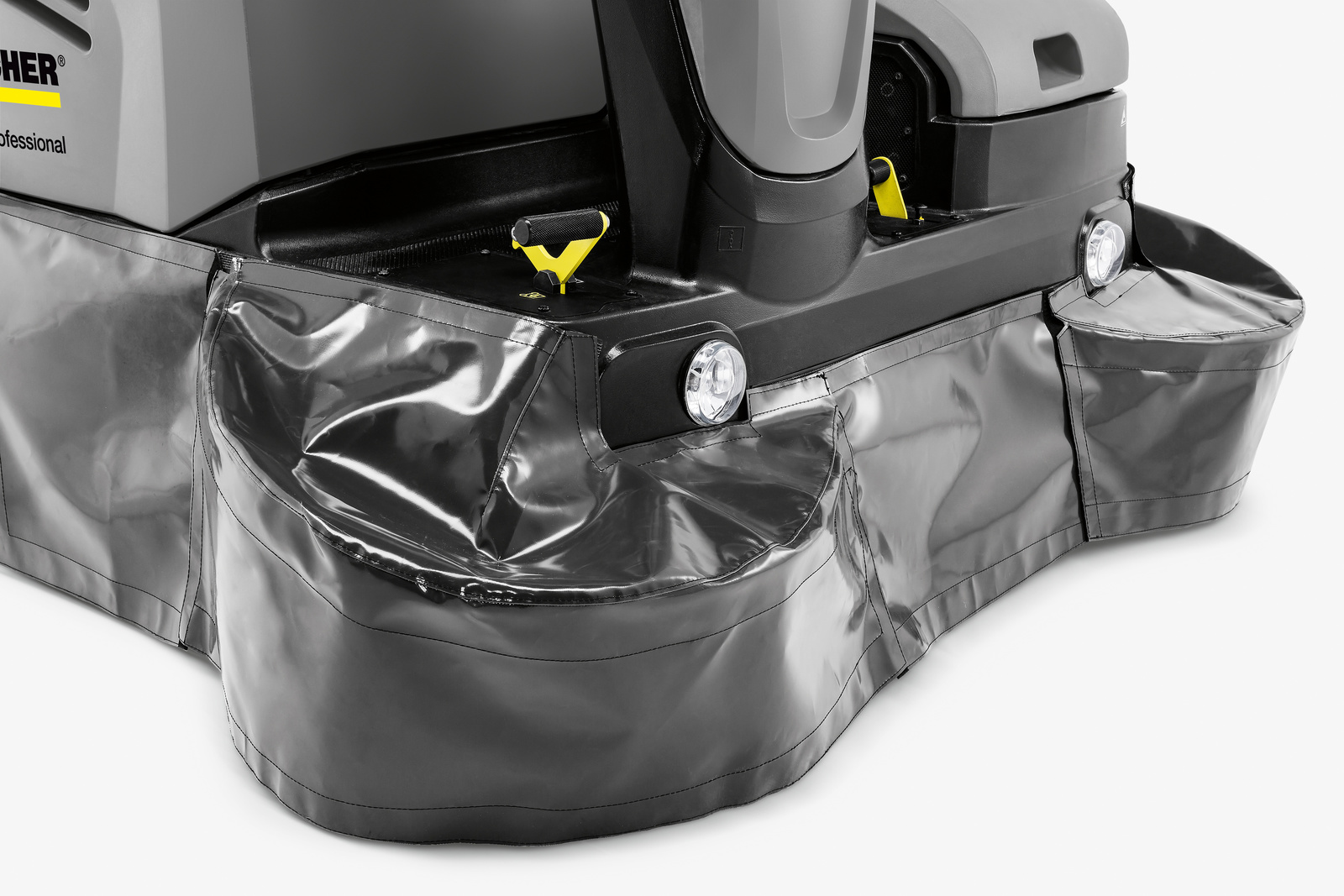 Tip: Dust-free working
In order to work in as dust-free an environment as possible, there is a precisely fitting cover made of a PVC-coated linen fabric. It is stretched over the entire front area of the sweeper up to the rear wheels with a hook-and-loop fastener. The accessories therefore reduce dust dispersion even further.
Spot cleaning in the warehouse
For small, occasional cleaning tasks – whether on floors, on shelves or in storage rooms – a wet dry vacuum of the appropriate size is the ideal solution since it is versatile and quickly ready for use, particularly in very small storage areas. This makes it quick and convenient to vacuum dust, water marks, and spilled liquids. If you are cleaning very small storage shelves, manual equipment consisting of wiping cloths and buckets can also be used.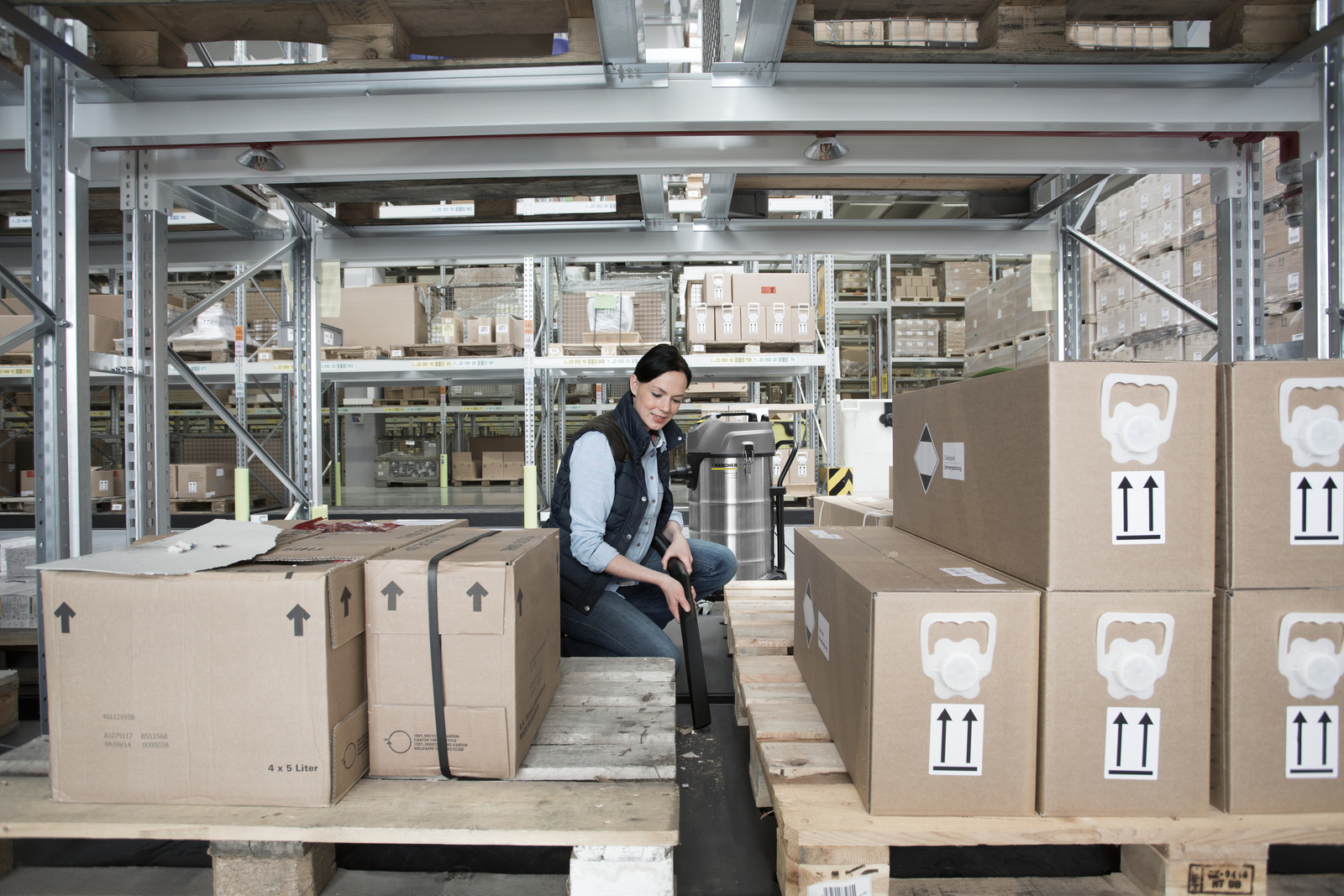 Floor cleaning in the warehouse with floor scrubbers
The first thing that needs to be considered is the floor type. Small workshop warehouses often use ceramic tiles, such as fine stoneware tiles, because they are durable and have very low moisture absorption. Meanwhile, corporate warehouses and logistics centers often have industrial flooring made of concrete or resilient synthetic coverings such as synthetic resin.
Since warehouse floors can vary so greatly, there is also a variety of cleaning technologies to choose from. Two of the main criteria for deciding which technology to use are the condition of the floor and the types of dirt in the warehouse. Floor scrubbers with roller technology are particularly well suited to this type of cleaning because of the large amount of coarse dirt. This is because the remaining coarse dirt can be picked up in a single operation thanks to the rollers' pre-sweeping function.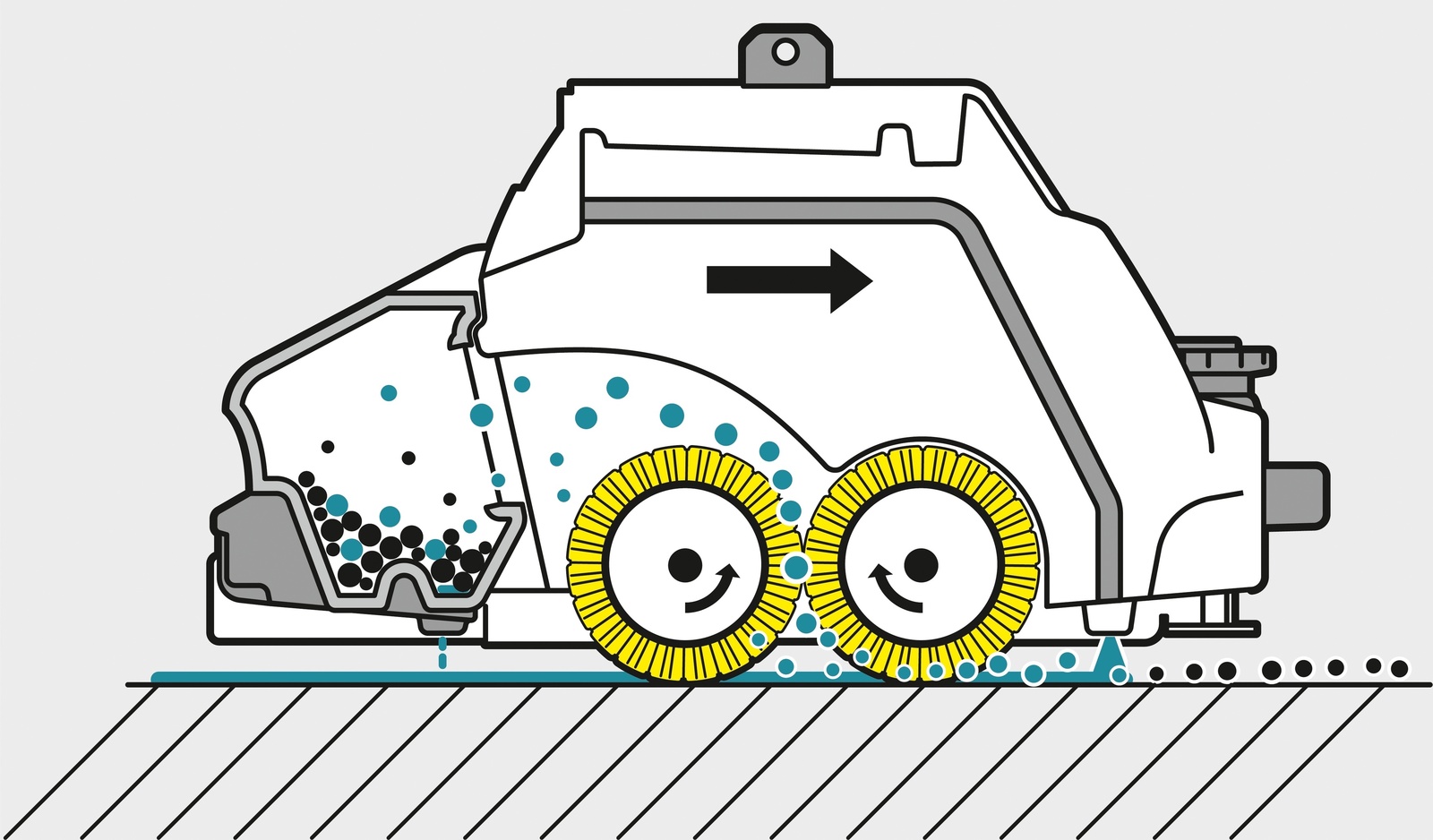 Cleaning fine stoneware tiles
Fine stoneware tile floors are an attractive and very popular floor covering which stand out thanks to their durable and slip-resistant qualities, as well as their very low moisture absorption rate. A modern and safe design medium, it is impossible to imagine floor coverings without fine stone nowadays.

Cleaning cement flooring
This floor covering requires special attention when it comes to cleaning and care. This is because it not only has to withstand a considerable amount of strain, but it also needs to meet occupational safety standards at the same time. For deep, maintenance and intermediate cleaning, it therefore all comes down to selecting the right equipment.
Selecting the right mechanical process (roller or disc) and the appropriate cleaning tool (pad or brush) depends on the floor covering and the type of dirt.
As a general rule, if it does not harm the floor, an alkaline detergent should be used. If you use an acidic detergent, you must ensure that cement joints are pre-soaked in water so as not to damage them.
In particular, when using commercial floor scrubbers in warehouses, you must ensure that these machines leave the floor dry. This is particularly important because the cleaned areas are often immediately walked on again or driven over by forklift trucks. It is imperative that occupational health and safety is ensured.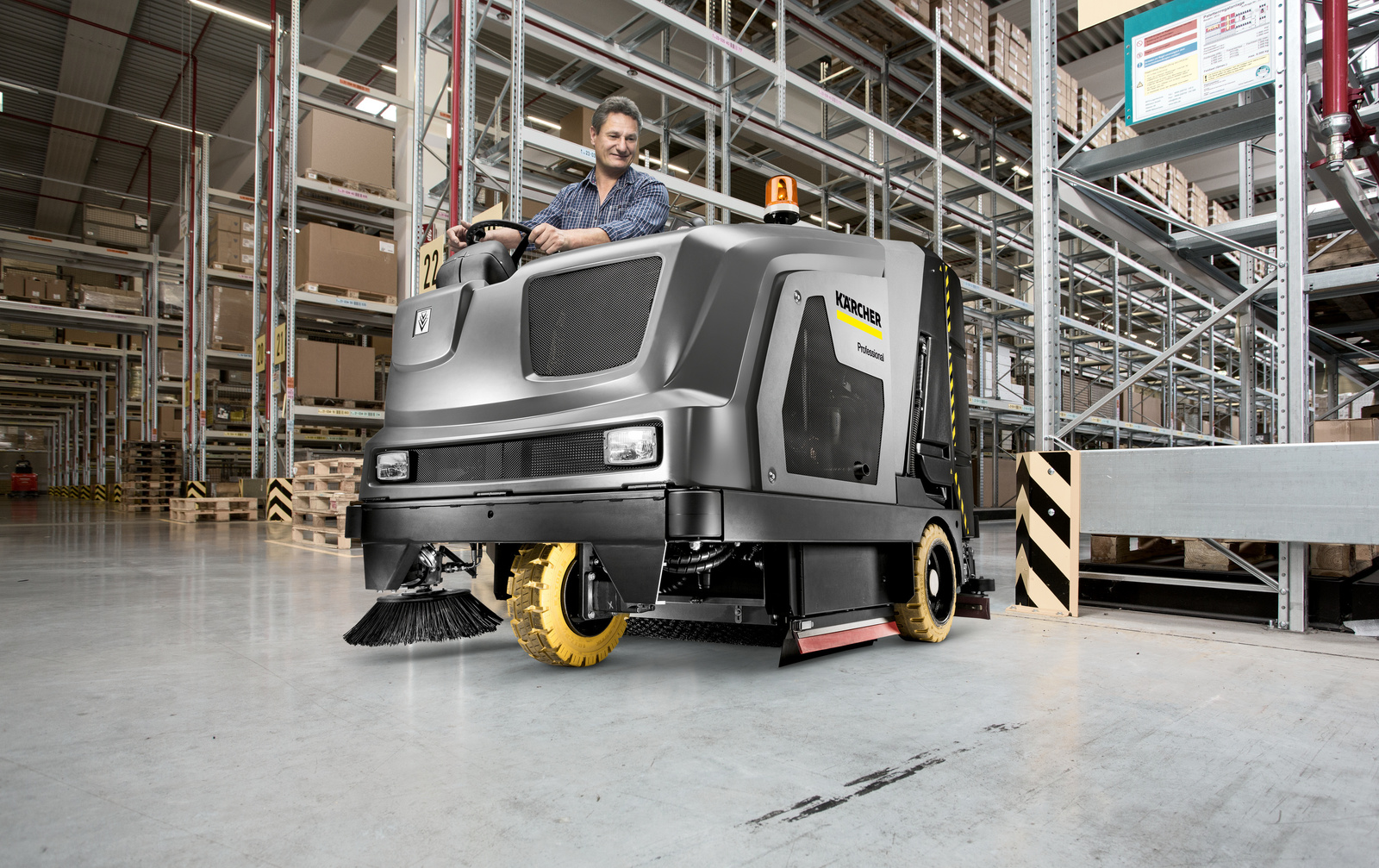 Combination machines for very large warehouses: Sweeping, scrubbing and vacuuming in one machine
We recommend using combination machines in very large warehouses with areas of over 107,000 square feet. In such areas, machines with dust suction and a filter area of up to 107 square feet are used. These machines sweep, scrub and vacuum in a single step, saving time and increasing productivity, especially when cleaning large areas. Moreover, the models with side brushes are particularly effective at removing loose dirt from walls.


Machines with a large roller brush head for sweeping and scrubbing
Machines with an integrated sweeping function are referred to as having a large roller brush head. However, this equipment uses large brush diameters, some of which are 2.5 times the size of normal brush diameters, to sweep the dirt. The collected dirt is then usually discarded into a large container for high container emptying. These machines can continue sweeping automatically in scrubbing mode and also dry-sweep without water using a filter system.
The advantage of this is that all of the dust in the warehouse is trapped by the water. However, the waste container is harder to clean because it contains wet dirt. On the other hand, the machine is also much more compact and maneuverable, and it does not require an additional roller brush.
Tackling a stubborn problem in warehouses: Removing tire wear marks
In larger (high-bay) warehouses, forklift trucks and floor vehicles travel several miles from one end of the hall to the other every day – generating not only dust but also leaving tire wear marks on the floor. It is therefore worth using a cleaning detergent specially developed for efficiently removing tire wear. The detergent should be applied undiluted to the dirty areas and then left to work for a few minutes. The floor scrubber should then be used to remove the dirty water. At the end of the cleaning process, you should rinse everything down again with clean water.

Please note: Do not use this method on polymer-based or wax coatings, as the detergent will remove them.
Meeting your individual requirements: Which cleaning machine is the right one for me?
If you purchase a cleaning machine – whether a floor sweeper, a floor scrubber or a combination machine – you want the cleaning process to be comfortable, efficient and cost-effective. When deciding which machine to buy, you must consider the requirements of your warehouse, as well as criteria for the cleaning machine.

The following table provides an overview of factors and criteria that should be considered when making any purchase.
Size
Storage area criteria
Calculate the size of the storage area
As a rule, between 30% and 50% must be subtracted from the machine's theoretical area performance = practical area performance
Discrepancies may arise, for example, due to not traveling in a straight line or interruptions
Machine criteria
Theoretical area performance = feet traveled × working width when driving straight ahead per hour
Floor Sweeper:
For small storage areas: Manually operated and push models (up to approx. 53,800 ft2)
For large warehouses: Ride-on machines
(from 53,800 ft2)
Very narrow areas: Dry vacuum cleaners
Floor Scrubber:
For small storage areas: Compact or walk-behind models
For large warehouses: Ride-on scrubbers
---
Type of flooring
Storage area criteria
The type of dirt and floor covering in the warehouse determine the choice of roller brush/brush head
Non-slip, robust
Machine criteria
Floor Sweeper:
Choose from different roller brushes
Standard (variety of surfaces)
Hard (rough surfaces)
Soft (smooth floors)

Floor Scrubber:
Choose between roller technology and disc engineering
Rollers: For coarse, textured flooring, with the required pre-sweeping function
Discs: For smooth floors
---
Drive
Storage area criteria
Warehouse material and condition of the building
Battery-powered models are usually preferred in warehouses for fire safety reasons
Machine criteria
Battery
Liquid gas
Combustion engine
Combustion engines are only suitable for well-ventilated areas
---
Maneuverability
Storage area criteria
Check for narrow areas, dead ends, etc., and whether areas are clear of objects and furniture
Machine criteria
Note the machine's turning circle
---
Costs
Storage area criteria
Staffing costs compared to the time saved by machine cleaning
Machine criteria
Acquisition costs
Maintenance costs
---
Configuration
Storage area criteria
Individual configuration according to the requirements of the working environment
Machine criteria
Numerous accessories and extras are available
Examples for floor scrubbers: Side brushes, special tires, protective roof, fast charger
Examples for floor sweepers: Protective roof, working light, puncture-proof tires
---
Suitable products for your area of application