Kärcher
K 3 Follow Me
16019900
https://www.kaercher.com/us/home-garden/electric-pressure-washers/k-3-follow-me-16019900.html
Our bestselling pressure washer! The K3 Follow Me is a unique 4-wheel 1800PSI pressure washer. It follows behind as you clean your home and vehicles and won't tip over.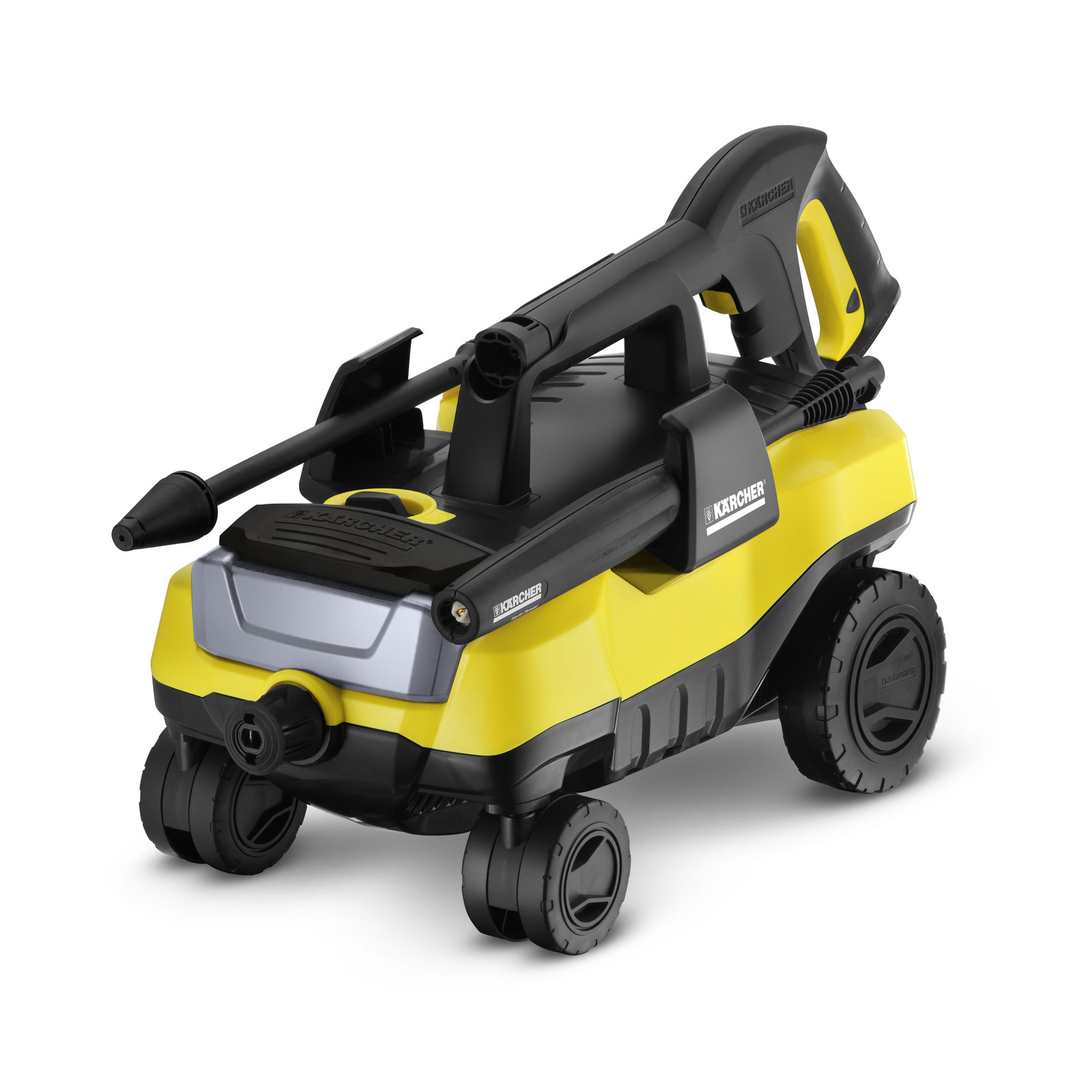 K 3 Follow Me
Our bestselling pressure washer! The K3 Follow Me is a unique 4-wheel 1800PSI pressure washer. It follows behind as you clean your home and vehicles and won't tip over.
Karcher's 1800 PSI K3 Follow Me pressure washer is designed to "follow you" while you work. Compact and convenient design delivers strong cleaning power for most household jobs. The Vario spray wand allows for quick adjustment between low and high pressure without the need to switch nozzles. For stubborn stains, the patented Dirtblaster® spray wand will clean up the toughest areas. Onboard detergent tank included. Recognized with a Family Handyman Editor's Choice Award! WARNING: This product can expose you to chemicals including lead and Diisononyl phthalate, which are known to the State of California to cause cancer. For more information go to www.P65Warnings.ca.gov.
Features and benefits
Unique 4-wheel design
Mobile and highly manoeuvrable. Prevents unnecessary work interruptions through repositioning the device
For fast initial startup of the device
Integrated accessory storage on the device
For easy and compact storage of accessories when they are not in use
Portable
Device is easy to transport.
Integrated detergent tank
The large opening enables easy filling of the cleaning agent tank. For applying cleaning agent and reinforcing the cleaning effect.
15ft high-pressure hose
Increases the working width
VPS spray lance
Easy pressure regulation, so that the pressure can be adjusted to different surfaces and levels of dirt.
Dirt Blaster
Excellent cleaning result, especially on stubborn dirt. Up to 80% greater cleaning performance (in terms of removal) compared to the VPS.
Cleaning application
Bicycles
Lawn care equipment and tools
Outdoor furniture
Fences and paving stones
Motorcycles and ATV's
Small cars
Steps and walkways
Medium and large cars, trucks and SUV's
Stone walls and brick
For cleaning mobile homes and 4x4s.
K 3 Follow Me
is rated out of
5
by
195
.
Rated

1

out of

5
by
GA Joe
from
Breaks after 1 year
After 1 year, the plastic pump housing where the high pressure hose attaches to cracked. Enough water leaks out that it only operates at about 25%...about as much as sticking your thumb in a hose
Date published: 2019-09-10
Rated

1

out of

5
by
Retired
from
Short life pressure washer
Bought this pressure washer in 2018 and used a few times. I liked the way this pressure washer performed. Stored in my basement over the winter to prevent freezing. During the second use in 2019 water started leaking out of the body. I found water leaking from the plastic high pressure thrust assembly near a seam in the tubing. The complete assembly is about $80. Found a schematic online that provides a part number for the tubing part for less than $10, but can't find anywhere to get the part. Not worth replacing the entire assembly when a new pressure washer can be bought for not much more. Bought this pressure washer hoping that Karcher would be higher quality than no name brands, but this is no better than any other cheap electric pressure washer. Other reviews on Amazon indicate that leaks from the poorly made plastic parts on this pressure washer are very common. Time to look for some other brand and hope for a better result.
Date published: 2019-08-27
Rated

4

out of

5
by
KRISTEL2400
from
Hose is so long, it doesn't need to follow me!
I bought this a few weeks ago and even though I've only washed 2 cars, it was so much easier to maneuver around the vehicle. The hose which the sprayer connects to is so long that the body of the power washer didn't need to move much. We had a different kaercher model before this and loved it but it went. The one thing I see that could potentially happen again is the power cord getting twisted inside of the insulation around it.
Date published: 2019-08-19
Rated

5

out of

5
by
Smashcrush
from
Great value
Cleaned my deck and it looks great now! Easy to use and store.
Date published: 2019-07-31
Rated

5

out of

5
by
Brich157
from
Great for what I use it for
I got my pressure through my 15yr Anniversary with the company I worked for. And the day I got it til now, 2years later, I love it. It makes washing my car so much easier and it really makes my porch and sidewalks look like brand new every time I use it to clean them. I'd recommend this to anyone that I know!
Date published: 2019-07-18
Rated

1

out of

5
by
TGO77
from
Terrible design- guaranteed to have a short life!!
Purchased this model on Amazon brand new in 2017. I used it 3 times that year and kept it stored in my garage. The following spring in 2018, I attempted to use it for some spring cleaning and water was leaking from the tank, so it never pressurized. It was still under the 1 year warranty, so Karcher shipped me the same model (K3 follow me). I used my replacement pressure washer 3 or 4 times in 2018. Here we go again, I attempted to use my K3 for the first time in 2019, it started out working fine, but after an hour of use the motor kept restarting/revving over and over again. The pressure would cycle from low to high continuously. Now I'm past the warranty because it was only good for one year for the first model I purchased in 2017.
Date published: 2019-07-11
Rated

1

out of

5
by
Craig MacMaster
from
Only lasted a season -
Got this for Fathers Day last year and was really happy with it until it started leaking this year and wouldn't maintain pressure. Checked on You tube and there are lots of folks offering instructions on how to fix common issues with this particular brand. Karcher doesn't sell replacement parts on their site and to fix it is roughly about the price of buying a new one. Where does it break? Around the plastic assembly that bolts on to the main pump. Stored in doors and used seldom, I should have just rented one. :(
Date published: 2019-07-07
Rated

5

out of

5
by
Kld69
from
Powerful electric power washer.
This washer did a great job on my deck and sidewalk.
Date published: 2019-06-21