Kärcher
SC 3 EasyFix Steam Cleaner
15131200
https://www.kaercher.com/us/home-garden/steam-cleaners/sc-3-easyfix-steam-cleaner-15131200.html
The SC 3 EasyFix Steam Cleaner removes up to 99.9% of common household bacteria – plus stuck on grime – with the power of steam instead of harsh chemicals.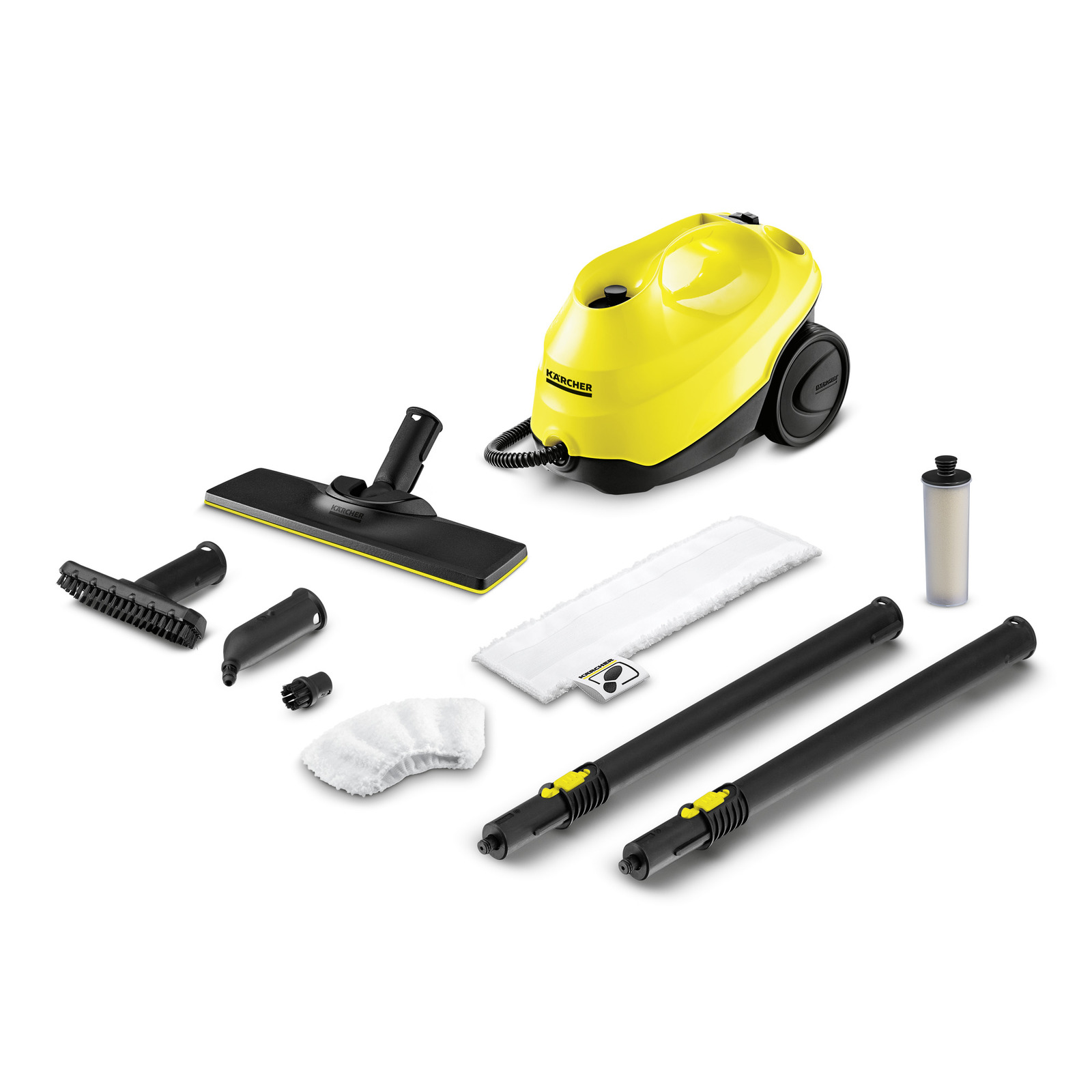 SC 3 EasyFix Steam Cleaner
The SC 3 EasyFix Steam Cleaner removes up to 99.9% of common household bacteria – plus stuck on grime – with the power of steam instead of harsh chemicals.
The SC 3 EasyFix is ready to start steam cleaning after a heat-up time of only 40 seconds. It cleans without chemicals and can be used throughout the home, removing up to 99.9% of common household bacteria from most hard surfaces. Unlike competing units, it produces non-stop, continuous steam – there are no lengthy downtimes between refills. Using two-stage steam regulation, the steam intensity can be easily adapted for each surface and level of grime. Use the included accessory pack to hygienically clean hard surfaces such as toilets, tubs, tiles, exhaust hoods, stovetops and countertops. Also included is an EasyFix floor nozzle with flexible joint for excellent ergonomics and edge cleaning, plus lamella technology for unsurpassed cleaning results. A descaling cartridge permits the use of tap water by decalcifying it, increasing the lifetime of the device. Using a convenient hook-and-loop system, the microfiber floor cloth can be effortlessly attached to the floor nozzle and removed again without any dirt contact. Best of all, the cloths are machine washable and reusable. Stop cleaning with harsh chemicals – step up to the SC 3 EasyFix today!
Features and benefits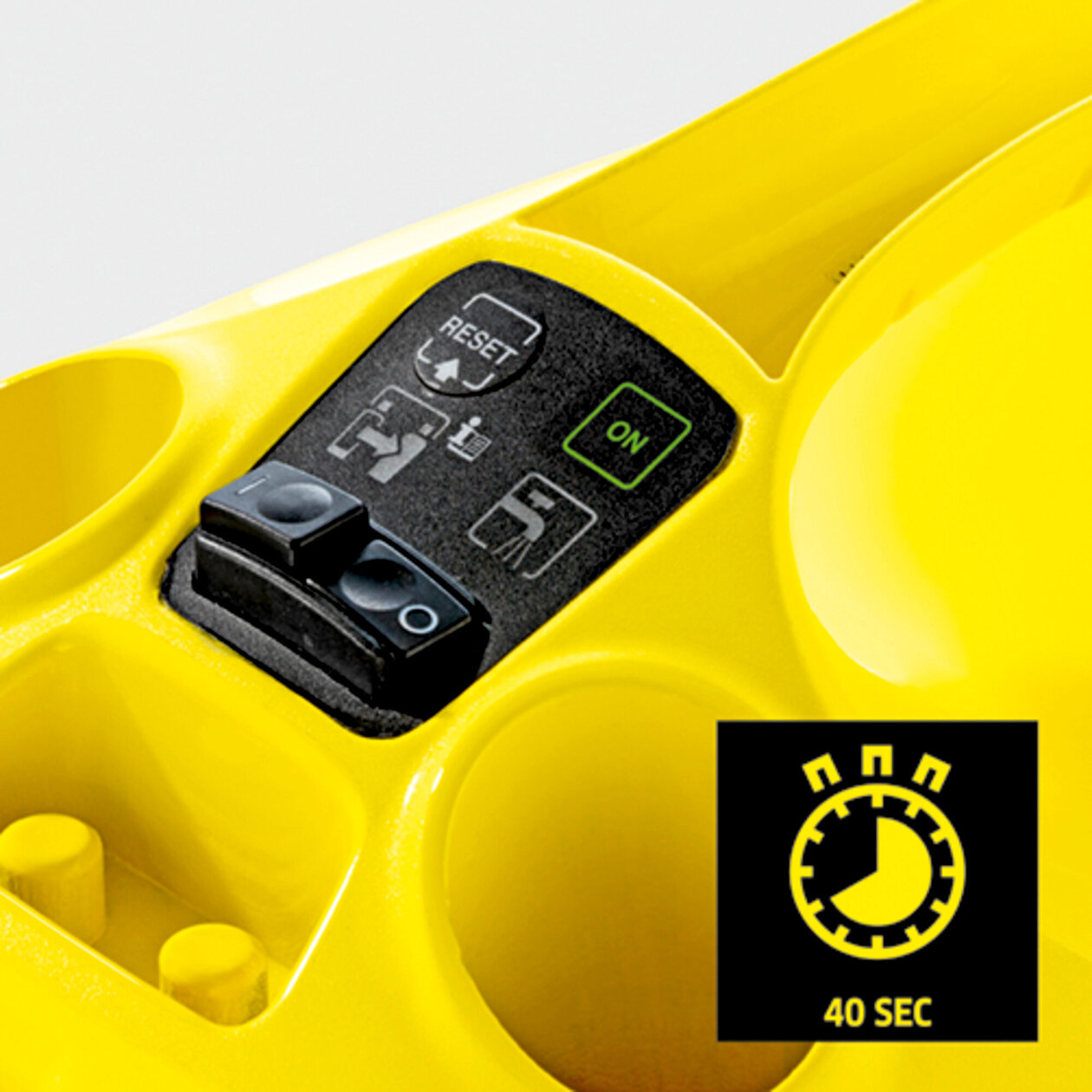 Short heat up time
Needing only 40 seconds of heat up time, the steam cleaner is quickly ready to use.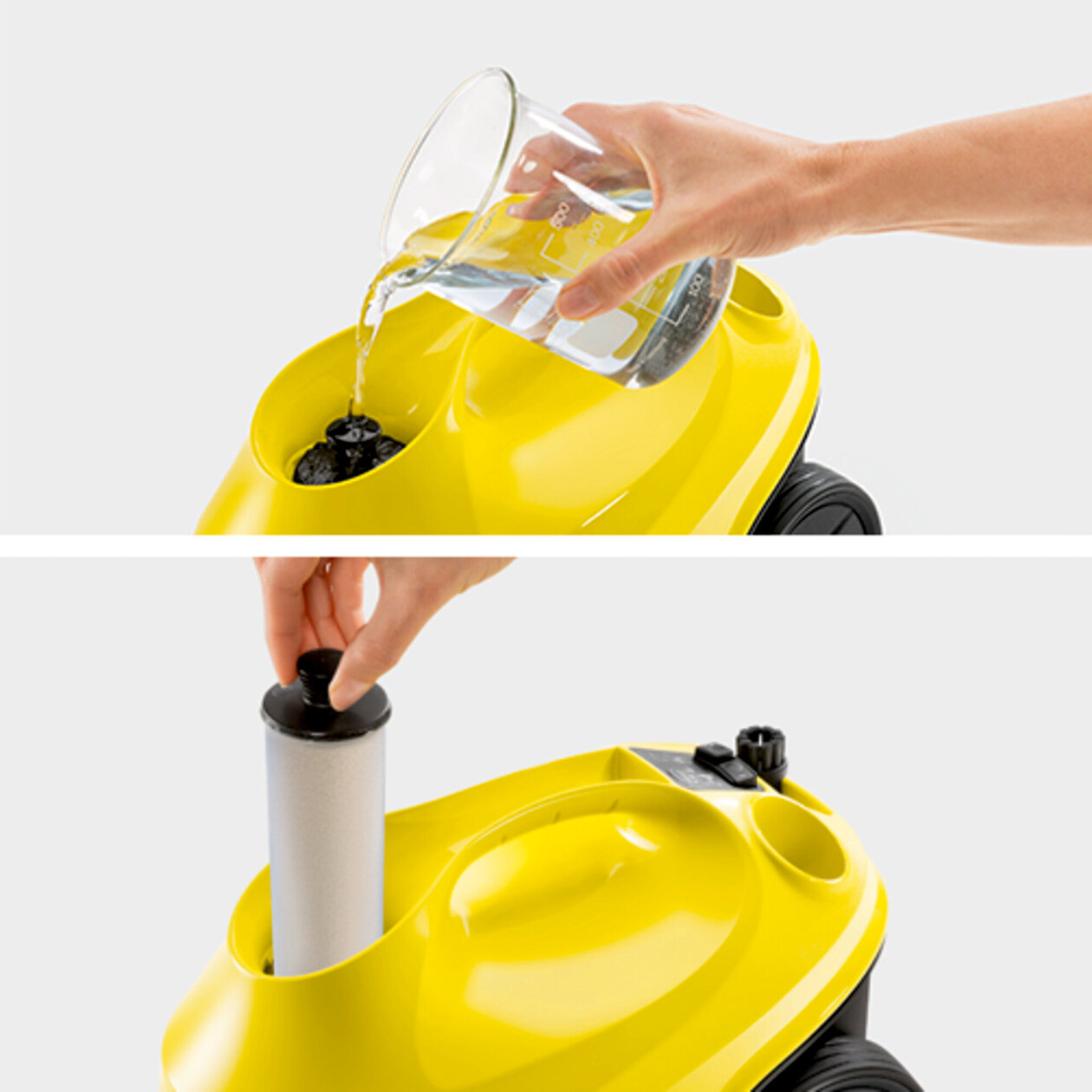 Non-stop steam and integrated descaling cartridge
The tank can easily be refilled at any time, even while you're cleaning, for non-stop steam. Thanks to an intelligent descaling cartridge, limescale is removed automatically from the water.
Multifunctional accessories
Effective cleaning of different surfaces with the floor nozzle, hand nozzle, round brush and much more.
Floor cleaning set: EasyFix with flexible joint and convenient hook-and-loop attachment of the cleaning cloth
Optimal cleaning on all types of hard floors around the home, thanks to efficient lamella technology.
Change the cleaning cloth without coming into contact with dirt, and easily attach the cloth with a hook-and-loop system.
Ergonomic effective cleaning with full-floor contact, regardless of your height (due to the flexible nozzle joint).
Floor cleaning cloths and hand nozzle cover made from high-quality microfiber
For excellent cleaning results and even better loosening and removal of dirt.
Child safety lock on the steam gun
A locking system offers reliable protection against improper use by children.
Steam flow control on handle
The steam volume can be adjusted for each surface and amount of dirt.
Accessory storage and parking position
Practical accessory storage. Parking position for the floor nozzle during breaks.
On/off switch on the machine
Easy to switch on and off.
Specifications
Technical data
| | |
| --- | --- |
| Cleaning performance when filled with clean water/detergent (approx.) | 246 |
| Heating output (W) | 1450 |
| Max. steam pressure (PSI) | 44 |
| Length of cord (ft) | 13 |
| Heating time (s) | 40 |
| Tank capacity (l) | 1 |
| Power supply (Ph/V/Hz) | 1 / 120 / 60 |
| Weight w/o accessories (lbs) | 7.05 |
| Weight incl. packaging (lbs) | 10.5 |
Equipment
Childproof safety lock
Safety valve
Steam flow control, on handle
Integrated funnel
Microfibre floor cloth, 1 piece(s)
Microfiber cover for hand nozzle, 1 piece(s)
Descaling cartridge
Accessory storage and parking position
Steam hose with gun, 2 m
Detail nozzle
Hand tool
Round brush, black, 1 piece(s)
Floor tool, EasyFix
Integrated on / off switch
2 x 0.5 m extension tubes
Cleaning application
Floor cleaning
Faucets and toilets
Sinks
Wall tiles and grout
Windows and mirrors
Exhaust hoods
Stovetops and appliances
SC 3 EasyFix Steam Cleaner
is rated out of
5
by
82
.
Rated

4

out of

5
by
Zinnia
from
Great except for lack of cord storage solution
So far, so good, very satisfying to clean floors with and not having to squeeze out a mop every minute makes the task almost a joy. My only criticism (but maybe I have missed something) is that there is no effective way to put away the cord after use, therefore making it less neat to store.
Date published: 2019-11-02
Rated

5

out of

5
by
Marc27
from
Superb All in one cleaner
Karcher SC3 steam cleaner is a great way to clean almost every part of your home with using just water. No harsh chemicals need to be applied to the surface or should be used in this machine. The water heats up and steam is dispersed onto the surface disinfecting 99.9% because of it's temperature. I highly recommend it. It's very lightweight and comes on wheels to easily move around. You simply add water in the tank, connect the extension poles, turn it on, wait about 30 seconds and it's ready to use. Not only have I used this to clean my laminate and tile floors but also the granite countertops and stone tiles in the bathrooms including the grout. A smaller attachment is included for this job as well as a cloth. I also cleaned around the faucet by attaching a small round brush that is included as well. The kitchen chore was just as easy which included cleaning the hood vent and the stove and the inside of the stove door. This was previously very greasy and had to be cleaned twice but now looks spotless. All this was done in a matter of a month in preparation for family visiting. But this was well worth the time and little effort was needed. This machine is very durable. If safety is a big concern, one good bonus is it has a child lock so steam isn't accidentally dispersed. There is also a low water indicator which helps to know when to add more water to finish the chore. Overall, a superb product and I finally have one multifunctional cleaner.
Date published: 2019-10-24
Rated

5

out of

5
by
DRPHIL
from
Easy to set up and comfortable to use.
This cleaner was bought after a previous mop type steam cleaner broke. I also has a separate hand held steam cleaner. The SC3 has replaced both, I found it easy to set up, light to use and I like the ease of interchangeability between cleaning floors and then tiles, windows etc. It is simply as case of changing tools as you would on a vacuum cleaner. And being able to top up the water without needing to let it cool down is excellent. It does leave a thin veneer of water on floors which soon evaporates and it can eject water before the stream flows through so you need to be ready for that - steam will condense in the hose after use so some water is to be expected. Results so far have been excellent on all surfaces its been used on.
Date published: 2019-10-24
Rated

5

out of

5
by
Julie1982
from
Impressed!
I bought this a few weeks back after looking for a steamer for a few days online and I am glad I decided on this one! Great features and I love all of the accessories!
Date published: 2019-10-23
Rated

5

out of

5
by
asttt
from
Compact & convenient!
I was very anxious to try this Karcher SC 3 EasyFix Steam Cleaner. The instructions were very easy to follow. Setting it up was a quick and easy process. I tried the steam cleaner on our hardwood floors first. It was so quiet, light weight and easy to maneuver. It was a great idea to include a safety feature and trigger to control the steam being released. This eliminates getting steam burns! Trust me, our other brand steamer does not have these safety features. I also liked having the attachments right there with me when I needed them. I tried all of the attachments and they are all impressive but my favorite attachment is the round one. It worked many miracles in our bathroom! Our faucets, tub, and toilet have never been this clean before. I love that you can take this steam cleaner in a room and clean all your solid surfaces without any chemicals! Our entire family has enjoyed using this product. It makes cleaning fun and easy at the same time.
Date published: 2019-10-23
Rated

5

out of

5
by
ladybug
from
Light weight and very easy to use!
After using this steamer on the bathroom linoleum, we have decided that the flooring no longer needs replaced! It brought the floor back to life by taking off years of residue left behind from ordinary cleaners. The steamer is so light weight, I can carry it upstairs with no effort. It is extremely portable and very easy to use! The effectiveness of this steamer compacted into a light weight portable and easy to use machine.... is absolutely what i have been looking for.
Date published: 2019-10-22
Rated

5

out of

5
by
yimmerworks
from
Clean without chemicals
I love the fact that I can clean my home without the use of chemicals. I used it to clean my mirrors and my floors. I have two young kids so I feel good about cleaning with steam and this steamer is fantastic! This is my second one, I love that this version has so many attachments.
Date published: 2019-10-20
Rated

5

out of

5
by
Joyfields
from
Best thing for stains.
At first I was so scared to try to use this because it looked so intense I swallowed my fear and assembled it with my husband and to say we are never going to use a mop is an understatement! My husband and I are in love! We used it clean the bathroom and the kitchen then just for fun we jokingly went after a stain on my carpet that has survived 3 carpet cleanings and a professional style cleaner. It was grease from my husbands job that's when we noticed that this was life changing!
Date published: 2019-10-20