Construction
Stop the build-up of dirt. You can rely on Kärcher's innovative cleaning equipment. Reliable and effective machines are essential when it comes to removing the various types of dirt found in the construction industry. Whether for vehicle, machine, facade or floor cleaning, with Kärcher's efficient solutions, you are always ideally equipped. Easy to operate, powerful and designed for the toughest jobs, Kärcher's sophisticated technologies make cleaning tasks quicker and easier. Because after a hard day's work, cleaning should be effortless.
Excavation & Site Development
Cleaning heavy equipment can be a dirty job. Because clean equipment lasts longer, pressure washing protects your investment by blasting mud, grease and grime from heavy equipment faster and deeper than any other cleaning method. To comply with regulations, we make it easy to clean vehicles entering and exiting the job site, as well as all other heavy equipment.
The HD 4.0/50 Pe B Cage cold water pressure washer is extra rugged and powerful. You can clean vehicles entering and exiting your job site, equipment, trucks, and trailers at up to 5000 PSI. Use the TRK-2500 HDS 4.7/35 pressure washer trailer package to clean concrete forms as well as vehicles and machines far from a water source.
Kärcher's Heavy Equipment Detergent is an effective and safe detergent that can be used on any surface. It is excellent as a pre-spray for softening and breaking up dried on or baked on soils like mud, bugs, greasy film, diesel fuel, and lubricants. It is safe to use through a pressure washer and can be used on polished aluminum, stainless steel, glass, plastic, paint. Use a HDS 3.5/35 Pe Cage hot water pressure washer to clean equipment at up to 3500 PSI.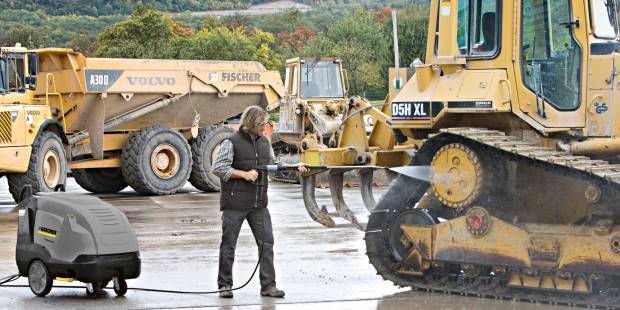 Buildings & Structures
Construction site cleanup is a tough task. Cleaning windows, removing dust, metal polishing, prep for painting, and washing debris from scaffolding and cement mixers require an assortment of cleaning tools. Kärcher has a detergent for every need, as well as sweepers, wet/dry vacuums, and pressure washers to help you clean faster and more efficiently - until the job is done.
Concrete Cleaner is formulated to clean stone and concrete surfaces and is effective in removing oil, grease, baked-on carbon, tar and asphalt from unfinished concrete floors, walls and grout. The corrosion-resistant HD 4.0/40 GB cold water pressure washer can be used as a cart or a skid for maximum versatility and durability. It can be easily moved closer to the concrete forms and cement mixers you need to clean up.
The KM 105/110 R Bp ride-on sweeper is compact and extremely maneuverable, allowing you to quickly remove dirt and debris from large areas. The powerful NT 65/2 wet/dry vacuum provides constant suction power to properly clean the first time around.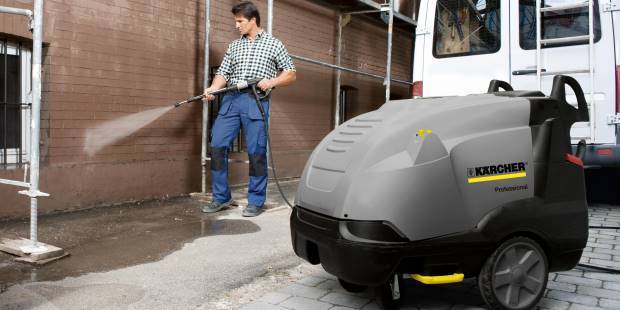 Road Construction
Here at Kärcher, we understand that cleaning road construction equipment is a challenge. Our lineup of detergents and degreasers, pressure washers, and industrial sweepers can take on the demands of road construction and maintenance. Remove excess concrete from forms, clean asphalt and concrete paving equipment, and wash slipform pavers between uses.
Kärcher's Heavy Duty Brown Detergent is an aggressive detergent used to clean machinery and equipment to remove oil, light grease, sand, mud and road film. The KM 130/300 R Bp industrial sweeper is suitable for extreme cleaning jobs. This makes it perfect for cleaning up fine sweepings and coarse dirt. The main roller brush can be changed without tools and the machine is easy to operate.

Use the cold water HD 3.0/27 G pressure washer to remove excess concrete from forms and rinse off paving equipment. It is easy to maneuver and can be utilized as a cart or a skid. The HDS 4.7/35 Pe Cage hot water pressure washer is known as the industrial workhorse. You can easily remove concrete, asphalt and road debris from equipment and vehicles.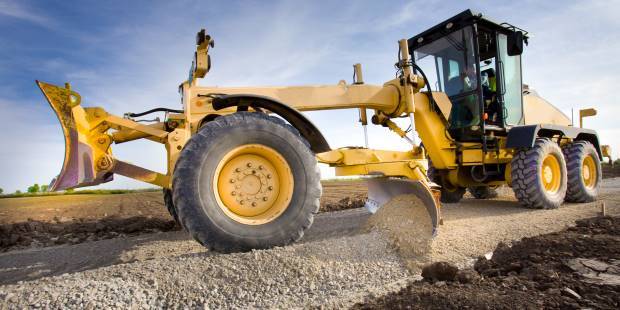 Demolition
If it's demolition you're interested in, our HDS 5.6/35 DE Cage hot water pressure washer can deliver up to 5.6 gallons of water per minute at 3500 PSI. Keep dust down with this heavy-duty skid, perfect for mounting in a truck or on a trailer. The WOMA 1000 is strong enough to remove entire walls, damaged concrete for resurfacing, or concrete from forms that have already cured. WOMA's innovative system unifies precision with high power and lower fuel consumption.
WOMA's ultra high pressure power washers have an excellent reputation in the building and demolition industry. Our power washers are used to cut reinforced concrete, steel or ceramics, are suitable for on site usage and containers, steel and building structures can be easily demolished. WOMA high pressure power washer cutting tools generate no heat at the cutting edge and are dust free as well as low vibration.