No fear of big beasts
Perfect cleanliness requires more than a mop and an upright vacuum cleaner. As AIDA Cruises, Germany's leading provider of sea cruises, is well aware. As part of a long-term partnership with Kärcher, a detailed and well-thought-out cleaning concept has been developed to take care of everything. Increased mechanisation, the right detergents, and well-trained employees have resulted in quantum leaps in cleaning efficiency and quality. How this concept works in practice can be seen in this glimpse behind the scenes on board the AIDAprima - which came into service in May 2016.

AIDA Cruises relies on a clear cleaning concept and efficient fleet of machines
A few figures alone show just how exceptional the AIDAprima is. At 124,100 tonnes (length: 300 m, width: 37.60 m), it is currently the biggest ship in AIDA's existing fleet of 11 cruise ships. More than 850,000 passengers were welcomed aboard in 2016. With 1,674 cabins, 1,101 of them alone with a balcony, the ship accommodates significantly more guests than the biggest hotels in Germany, of which only three just break the 1,000 room mark. The gastronomic arrangements include 12 restaurants and three snack bars which allow guests to enjoy a culinary world trip, plus a cookery studio where top chefs regularly share their secrets. Some 900 crew members look after up to 3,300 guests on board.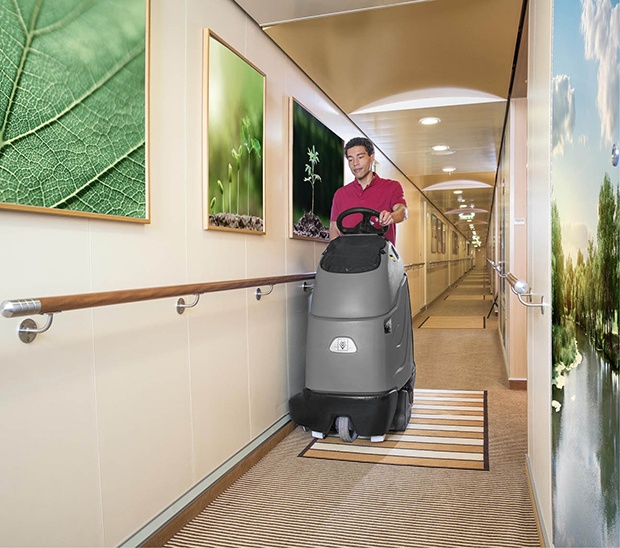 Master plan for cleaning
There is a master plan in place for the cleaning activities on board the AIDAprima, which the shipping company and the cleaning specialists Kärcher have together developed and refined in practice over the past ten years. This initiative offers guests maximum hygiene and comfort, while modern machines makes the crew's daily tasks easier.
In 2011, the decision was made to replace all the equipment and systems. Initially, battery-operated upright machines were purchased, which were many times more productive and efficient. The new machines, which enable true mechanisation of the sometimes fiddly and time-consuming cleaning activities, clearly reduce the burden on employees, and the cleaning results are considerably improved.
Mechanical power pays off
The extent of the pay-off of targeted mechanisation on board the AIDAprim is evident in the daily maintenance cleaning of the carpeted floors in the 300 m plus of corridors on the cabin's decks. What used to take up to ten members of staff almost two hours with upright vacuum cleaners, the CV 60/2 battery-operated step-on brush vacuum for carpets gets the job on board done in just ten minutes – and also delivers a significantly better cleaning result. The manoeuvrable machine, that is equipped with two rollers that rotate in opposite directions, is a fixed element of the cleaning fleet on board all AIDA ships. Three machines from this range are deployed on the AIDAprima alone.
The contra-rotating brush rollers lift dirt from the fibres of the carpet and automatically restore the pile. This allows walkways to be worked on quickly and elegantly. The carpet looks as good as new. With an operating width of 60 cm, the step-on brush vacuum is ideal for the 120 cm cabin corridors. Up one way and back the other way – and the job's done. The approx. 2.5 h battery life cleans up to 3,000 m2.
Dirt particles cleverly encapsulated
The manoeuvrable step-on brush vacuum also impresses in regards to interim cleaning of carpets – when used together with the detergent developed by Kärcher with iCapsol technology. The key feature of iCapsol is that it is effective even in small doses: All you need is 60 ml of detergent per litre of water to loosen and then encapsulate the dirt. The encapsulated dirt dries in crystallised form, and so can be removed easily from the carpet.
The high level of effectiveness in a low dose means areas to be cleaned only need to be made damp, and do not need to be cordoned off. A huge advantage given the heavy amount of public traffic on the ships. Encapsulation is completed in just 30 minutes and dirt particles can then be vacuumed up effortlessly – either with a handheld brush vacuum or the considerably faster step-on machine.
Fast on deck, too, while at sea
In addition to carpet cleaning, battery-operated step-on machines have long been firm favourites for scrubbing and vacuuming different surfaces on deck and in the restaurant area. Operators on board the AIDAprima can also choose to use manoeuvrable step-on scrubber driers, which are equipped either with disc technology or with a scrubber head with contra-rotating rollers. While roller technology is perfect for structured surfaces such as deep-pore cleaning of stonewear tiles, the rotating disc brush was designed with cleaning and polishing smooth surfaces in mind.
Whatever the technology being used: both machine types, which have virtually the same construction and an identical tank-in-tank system (fresh and dirty water: 50 l each), are characterised by their high degree of efficiency. They scrub and vacuum at the same time. The substantial user benefits are clearly demonstrated by the use of a stand-on scrubber drier for regular cleaning of the Bolidt outside deck. A process that used to require four people to apply detergent, work it in with a single disc machine, rinse manually, and vacuum with a wet-dry vacuum – is today completed by a single operator with his manoeuvrable machine. No one is afraid of big beasts here.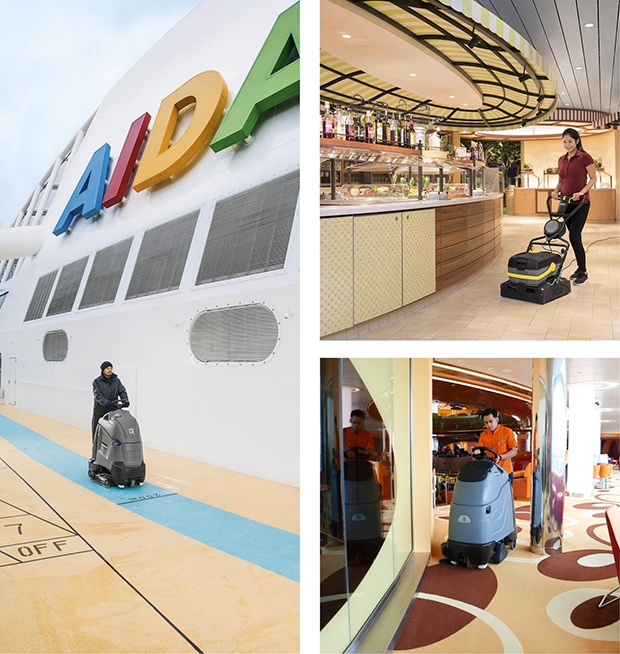 You may also be interested in: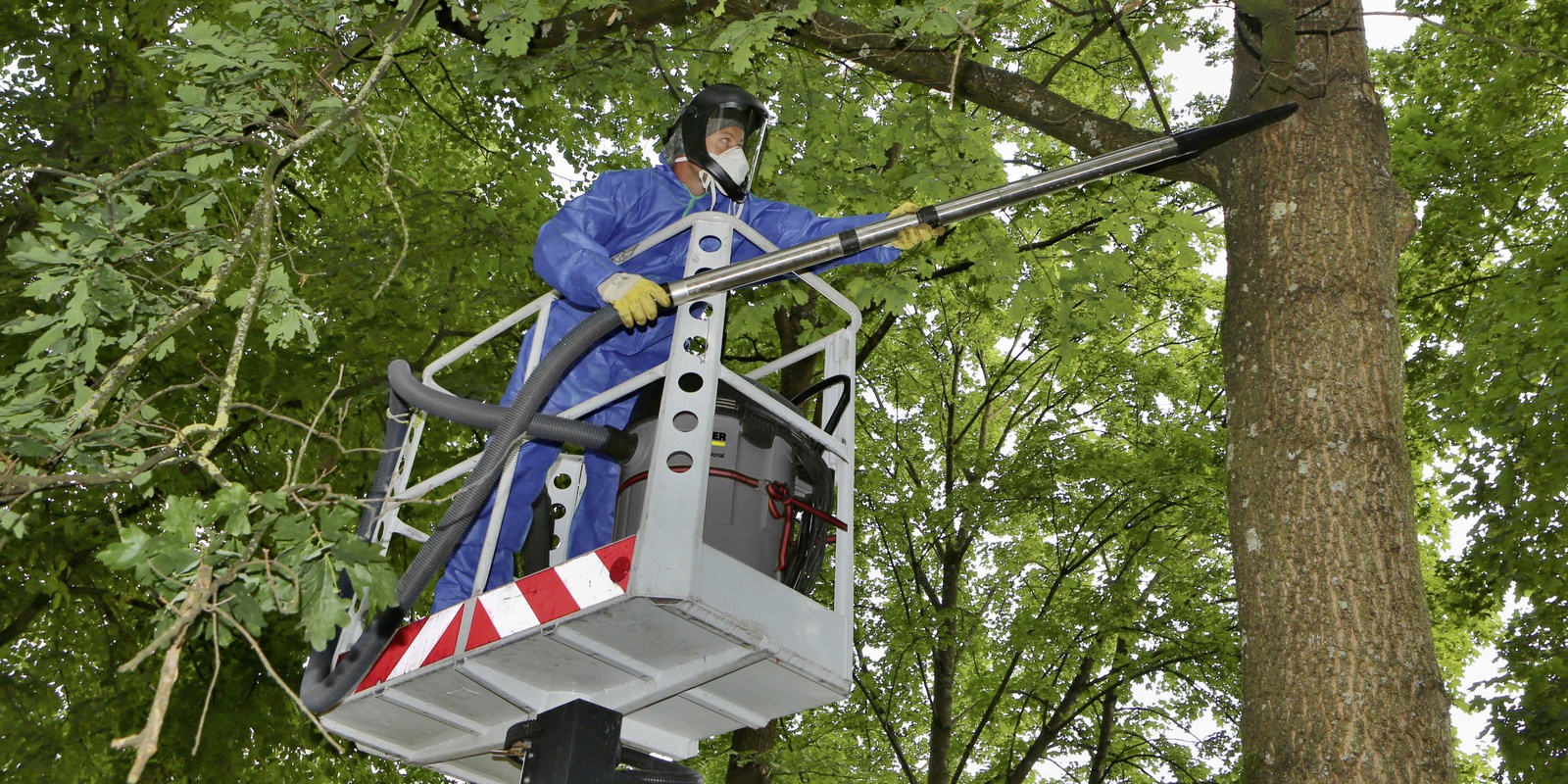 Controlling oak processionary moths in an environmentally friendly manner
For some years now, the oak processionary moth has been on the rise. Where people live, it can become a health risk due to its poisonous stinging hairs. The right approach to tackling the insect is therefore decisive.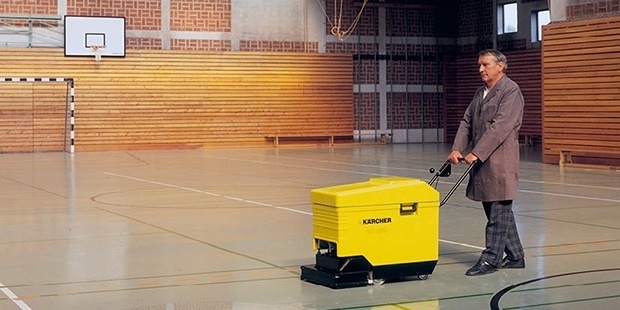 The success story of the scrubber machine
The start of floor-cleaning by machines dates back more than 100 years. The first floor polisher was developed at the start of the 20th Century to take the monotony out of tedious work.