After builders cleaning efficiently removes dust and dirt
Once construction work is completed, the next step is post construction cleaning – an 'after builders cleaning', so to speak. From dust on storage surfaces to paint splashes on windows to cement residue on tile floors, the cleaning tasks are as varied as the type of dirt itself. Thorough post construction cleaning involves the use of a wide range of equipment such as vacuums, high-pressure cleaners, scrubber-dryers, etc. to make the premises clean and safe.
Dust, paint splatters and cement residue – a wide variety of dirt accumulates on construction sites. Once construction is finished, dirt residues need to be removed before the finished building can be used. Cleanliness is key for both appearances and safety; it's crucial to leave the premises safe for both health and liability reasons.
Post construction cleaning: definition and responsibilities
Post construction cleaning is carried out in the time span between the completion of a construction project and the occupation or use of the premises. Its aim is to make the premises ready for what it will be used for. Post construction cleaning, sometimes called 'after builders cleaning', is very close to a fundamental clean in terms of intensity. Each trade is responsible for their working area. However, it's also possible to hire an external service provider for post construction cleaning, who would clean the entire construction area.
The difference between interim and post construction cleaning
According to its definition, post construction cleaning takes place after completion of the construction work, while interim construction cleaning takes place during construction. It is carried out between individual construction phases, usually several times during a construction project, but ideally also before the final post construction cleaning. It mainly involves the removal of coarse debris such as construction rubble, foil residues, stones and large quantities of dust.
Variety of dirt types on construction sites
Stickers and films on doors, windows, etc., mortar and plaster residues, excess grout, cement residue, paint and varnish splashes, glue residues from adhesive tape or protective films – these are all considered residual dirt on a construction site. The number one type of dirt is dust. The different kinds of dust are vast, because a huge variety of dust is generated during construction work. Mixed mineral dust, for example from concrete, sand, lime or gypsum, is one of the most common types of dust on construction sites. However, various quartz dust, wood dust, microbiologically contaminated dust, or fibre dust, for example from glass, ceramics or asbestos are often found on construction sites.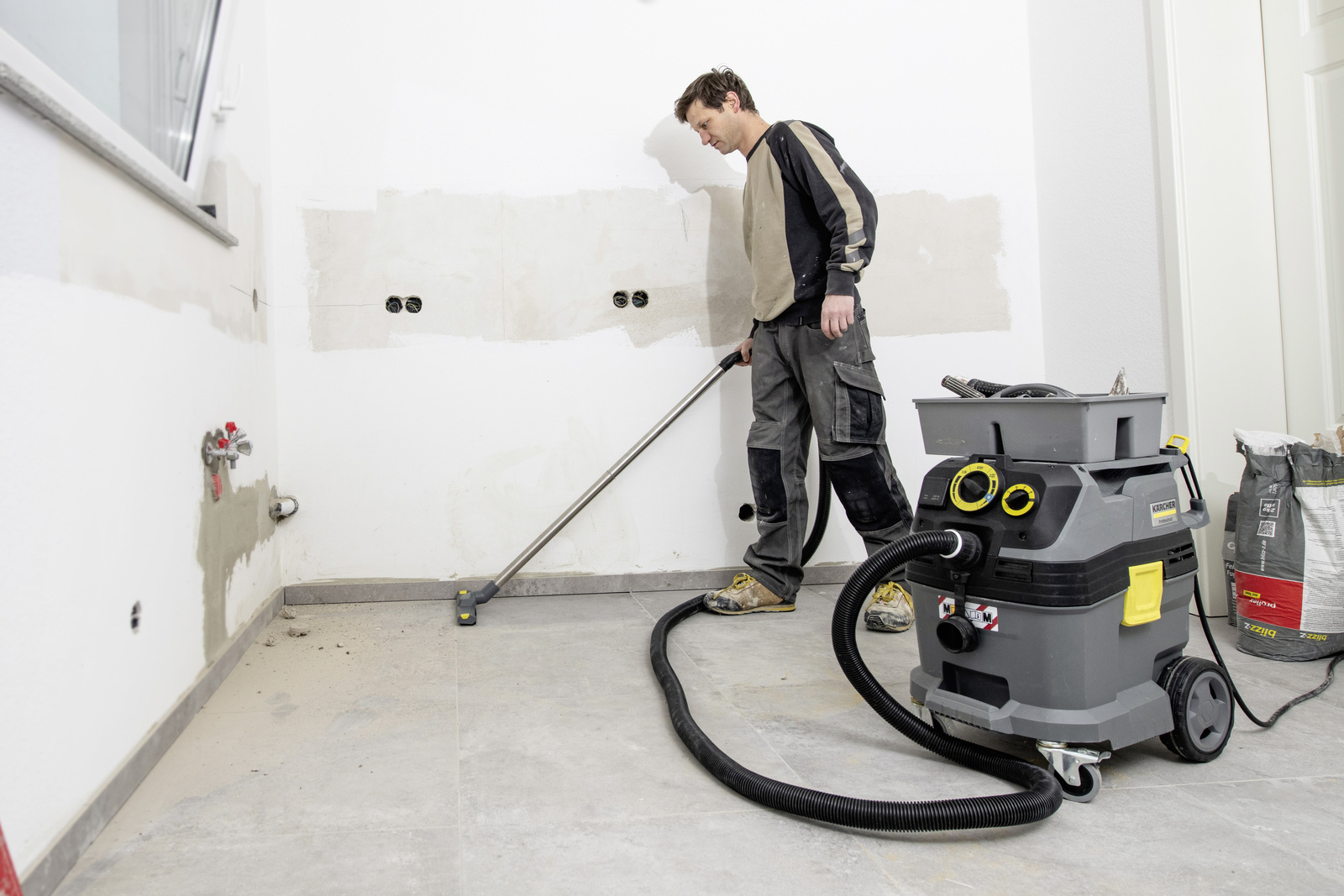 Construction dust removal
Poor visibility or idle work equipment are just some of the reasons for increased dust in the workplace. It's not only a potential safety risk but also a risk for the workers' health. Construction dust related health problems range from respiratory system irritation and inflammation to chronic lung diseases and an increased risk of cardiovascular diseases. Professional control and removal of construction dust can effectively ensure a safer environment.

Asbestos removal
Asbestos was used by the ton in the construction industry for decades. However, due to the health risks associated with inhaling asbestos, the import, supply, and use of all types of asbestos has been banned in the UK since 1999. Nevertheless, asbestos' dangers still pose challenges to specialist companies even today, because construction materials still containing asbestos are often detected during renovation or demolition work on old buildings. From our article you'll learn how asbestos can be removed and disposed of, and what safety measures need to be taken.
Post construction cleaning equipment: What is included?
The rule of thumb in after builders cleaning is to clean from top to bottom. Since the types of dirt are diverse, lots of devices and manual equipment are used in post construction cleaning.

Floors: Vacuum and clean with high-pressure if necessary
Wet and dry vacuum cleaners are an essential part of construction sites. Dust and water or liquid residues have to be removed during post construction cleaning. This can be handled conveniently and efficiently with a combination vacuum cleaner. The vacuum cleaners must be ATEX certified for the respective dust or cleanliness class. Special vacuums for combustible dust, for example, must be used as regulation stipulates.
Less common is the use of vacuum sweepers, but these are also a possible solution. On construction sites, a sweeper vacuum is preferable to a sweeper alone due to the potential for it to kick up dust. During the sweeping process, the vacuum sweeper sweeps the dust through a roller, vacuums up the dirt with the help of a suction turbine (blower) and separates it in a filter system. The dust content is reduced during the cleaning process. Some manufacturers also offer a custom-fit cover made of a PVC-coated linen fabric. The cover canvas is stretched over the entire front area of the sweeper up to the rear wheels with a Velcro fastener and ensures even less dust disturbance. For larger areas such as industrial halls, it may be worthwhile to use a small ride-on machine.
Once the coarse dirt and dust have been removed, it's a good idea for the floor to be cleaned via a scrubbing or scouring machine. These are particularly suitable for removing cement or plaster smears from smooth surfaces. The appropriate model should be chosen according to the floor type and the size of the room. For living rooms or offices, a smaller, compact model is usually suitable, which is easy to manoeuvre and with which surfaces under radiators can also be easily reached.
In the field of scrubbing machines, the single-disc machine is a common and popular device. It can be used for almost all types of cleaning and on almost all types of floors due to the wide range of accessories such as pads, brushes or additional weights. Scrubber-dryers are also used in post construction cleaning. Compared to manual mopping, they work with comprehensive mechanics and thus clean much more effectively. With such a powerful machine, even stubborn dirt such as paint or mortar splashes can be removed. In addition, the operator does not come into contact with the dirt itself, as fresh water is always supplied. The dirt mixture is vacuumed up directly after cleaning. This means that the floor can be walked over again after a shorter drying time. Especially for wooden floors, a model with suction directly behind the roller or disc is recommended so that the wood isn't exposed to damp for too long.
For light dirt, the 1-step method is usually enough to clean the floor. After builders cleaning often reveals heavier dirt loads. In that case, cleaning using the 2-step method is recommended, for example, to remove stubborn cement residue from a tiled floor. In this case, the floor must be thoroughly wetted to allow the grout to soak, and then the appropriate cleaner can be applied. Now either a single-disc machine (for scrubbing) and a wet and dry vacuum cleaner can be used or a suitable scrubbing machine.
If the result is still not satisfactory, the process may have to be repeated. If there are large quantities of grout residues, it's best to work on them manually before machine cleaning. A plastic spatula protects surrounding tiles, but a metal spatula may also be necessary depending on the degree of soiling – careful handling is important here.
What cleaning agents are used in post construction cleaning?
A whole range of cleaning agents are suitable for cleaning the coverings. They are selected according to how dirty things are. If this is a low level, surfactant-free cleaning agents are recommended for wood floors and porcelain stoneware tiles. If the dirt level is higher, strong, acidic cleaning agents are also often used for porcelain stoneware so that the cement residue can be reliably removed. Elastic floor coverings such as PVC or linoleum can be treated with strong alkaline cleaners or sometimes with an acid.
Tip – Have a rubber within reach:
Pencil marks and markings on tiles in the kitchen or bathroom can be conveniently removed with a rubber.
If necessary, a high-pressure cleaner can also be used. Indoors, this can be used in conjunction with a surface cleaner with suction (e.g. an accessory with rotating flat-jet nozzles). For this, a floor drain must be available that can drain the water produced in this cleaning. Whether to clean with cold or hot water is a case-by-case decision according to the conditions on site. Cold water use is common but if there's access to a hot water pipe, the appropriate high-pressure cleaners can also be operated up to 60 °C. Otherwise, for hot water cleaning, the device itself must be located outdoors. Battery powered models can also be used for pure high-pressure cleaning. It's important to also take into consideration the considerable power requirements of a suction-equipped model.

Self-sufficient cleaning
Whether it's the cleaning public spaces after a city festival, on-site cleaning of tools in agriculture or dirt removal in construction work, there are always times where cleaning is required without a direct water or electricity connection. In many cases, battery-powered devices are now the right solution, because cordless wet and dry vacuum cleaners or high-pressure cleaners for professionals are mobile, reduce trip hazards and perform very well. If it's a larger cleaning tasks that need to be completed without a power and water connection, high-pressure cleaners and hot water high-pressure cleaners, generators and dirt water pumps come in handy.
Windows and shelves
From small windows to expansive glass fronts, post construction cleaning involves removing protective films, branded stickers and dirt from windows of various shapes and sizes. They are generally cleaned using a window washer and squeegee. It's crucial to keep in mind that a thorough cleaning necessitates an ample amount of water to eliminate any potential grime or adhesive remnants without causing scratches. In cases where there are paint or varnish splatters, a glass scraper can be employed to great effect. When it comes to surfaces like cabinets or partitions, it's best to opt for manual approaches such as microfibre cloths for cleaning. Conversely, for expansive surfaces, using a wide wiper along with a microfibre cloth is highly recommended.

Outdoor areas and possible additional services
If outdoor areas such as driveways, courtyards or the facades of a building are part of the post construction cleaning scope of work, the devices and the appropriate equipment will need to be selected according to the soiling and substrates involved, just as they are for indoor areas.
Paved driveways, for example, can be cleaned conveniently with a sweeper and, depending on the level of dirt, a high-pressure cleaner (in combination with a surface cleaner). This is also suitable for cleaning facades, walls or garage doors. Local guidelines for wastewater removal must be observed – if necessary, the water must be collected or filtered.
Some builders also request additional services following 'after builders cleaning', in the form of an after builders cleaning checklist. This can include both the disinfection of surfaces and the installation of a new floor covering. In this case, the activities prior to post construction cleaning should be included in the specifications.

Cleaning car parks, paths and outside areas
Whether visiting a restaurant, shopping in a supermarket, furniture store or shopping centre, or visiting a doctor or museum – often the first thing guests do on arrival is to park their car and make a short walk to a building. There are a number of methods to make a positive impression right from the start, to prevent the risk of accidents and to stop dirt being brought in from outside.

Facade cleaning
Facades can be made of many different materials such as plaster, natural stone, glass, metal or wood. They lend a building an individual appearance. To maintain their visual appeal and value for as long as possible, regular building facade cleaning is necessary. Various techniques are available, particularly when using suitable equipment such as high-pressure cleaners, sand/wet blasters and dry ice blasters, which are used professionally depending on the material and type of dirt.
Disposal of construction site waste
A thorough post construction clean produces a lot of waste, which must be disposed of properly at the end. Since construction waste contains various building materials as well as toxins and possibly residues of chemical cleaners, it is essential to separate it into residual and hazardous waste. In the UK there is a waste classification code that needs to be adhered to.
The hazardous waste, which includes, for example, insulation and sealing materials, paints and varnishes or even treated wood, is then taken to an appropriate collection point. In most cases, this is the nearest recycling centre; in some areas, collection can be arranged.
If you hire a company for post construction cleaning, the description of included services should also include disposal. This will save you a lot of work.
Prevention: how to avoid construction dust
To have to remove less dirt during intermediate and post construction cleaning, prevention is better than cure. Essentially, generate less dirt during construction! There are plenty of ways of minimizing fine dust during construction, for example, by setting up dust locks or direct extraction during sanding, sawing, drilling and milling. It's equally important to keep work clothing clean, for example by separating work and home clothing or setting up 'black and white areas' for hazardous dust.
Despite rigorous protective measures, it is unavoidable in some cases that dust is stirred up in larger quantities during post construction cleaning. If hazardous substances cannot be avoided, appropriate protective measures must be taken for the those on the construction site. This includes wearing personal protective equipment (PPE) such as respirators, closed work clothing, safety glasses and headgear.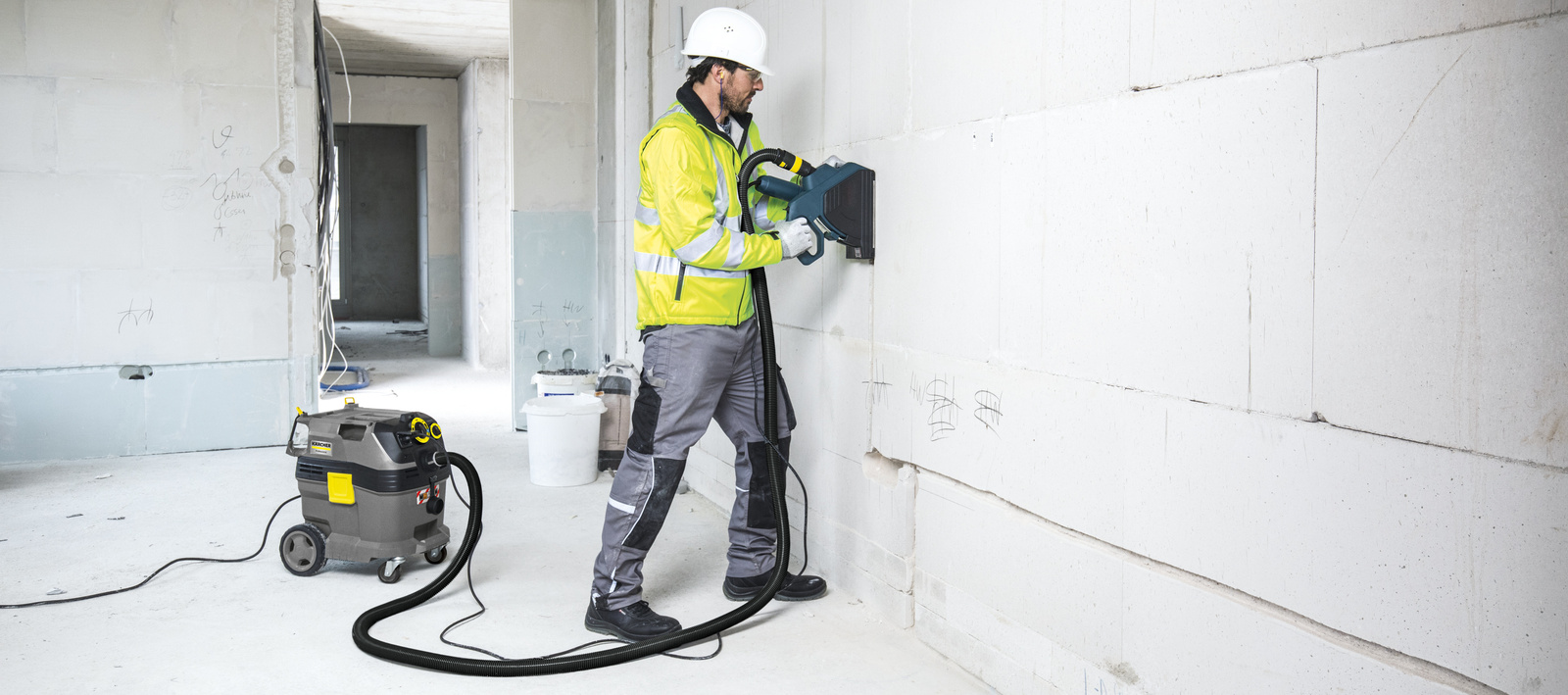 Suitable products for your area of application