Self-sufficient cleaning: options for cleaning without water and electricity
Whether it's the cleaning public spaces after a city festival, on-site cleaning of tools in agriculture or dirt removal in construction work, there are always times where cleaning is required without a direct water or electricity connection. In many cases, battery-powered devices are now the right solution, because cordless wet and dry vacuum cleaners or high-pressure cleaners for professionals are mobile, reduce trip hazards and perform very well. If it's a larger cleaning tasks that need to be completed without a power and water connection, high-pressure cleaners and hot water high-pressure cleaners, generators and dirt water pumps come in handy.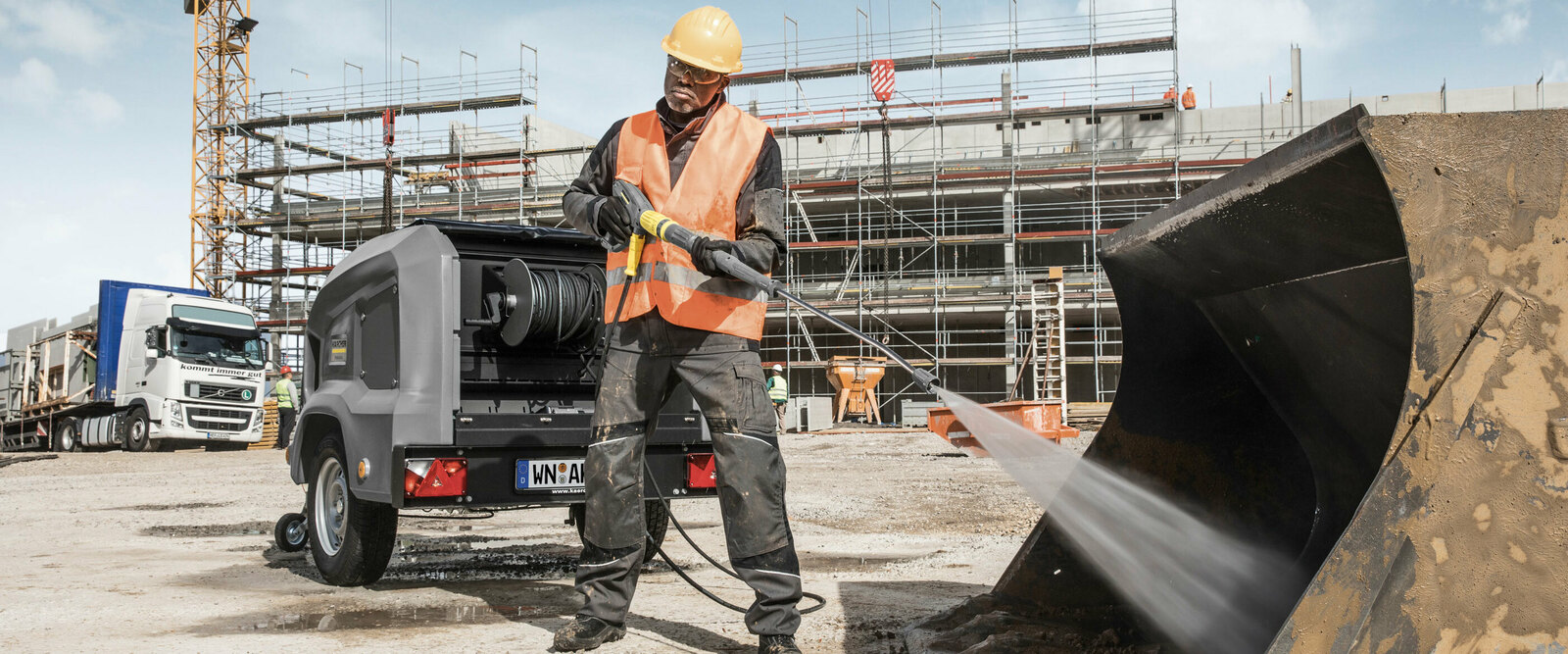 Vacuuming fine dust and dirt: cleaning without electricity
Even a cordless household vacuum cleaner is easier to use than one with a cable because it cuts out searching for sockets, plugging, and unplugging. Professional wet and dry vacuum cleaners with rechargeable batteries can pick up fine dust and deal well with moisture. Their performance is comparable to classic models.
Cleaning without electricity: from construction to assembly and electrical installation
There are plenty of situations where battery-powered electric tools are the go-to option. However, the fact that cleaning technology is now also mobile and flexible isn't widely established. The advantages of this technology are vast.
Battery powered wet and dry vacuum cleaners, for example, deliver similar performance to their cable powered counterparts. With short charging times, it's possible to work without interruption by carrying two rechargeable batteries. To ensure that the devices are compact and easy to handle, they have containers with a volume of about 20 litters, which is enough for self-sufficient spot cleaning.
In terms of possible uses, battery-powered wet and dry vacuum cleaners are popular in environments where many people work and require electricity connection. In trade construction, battery-powered devices eliminate tripping hazards caused by cables lying around and dirt can be cleaned up straight away. The situation is similar on construction sites, where work often has to be done on ladders or scaffolding. Without cables involved, there's better safety when vacuuming dirt. Moisture due to rain can also be easily removed on a shell construction, for example.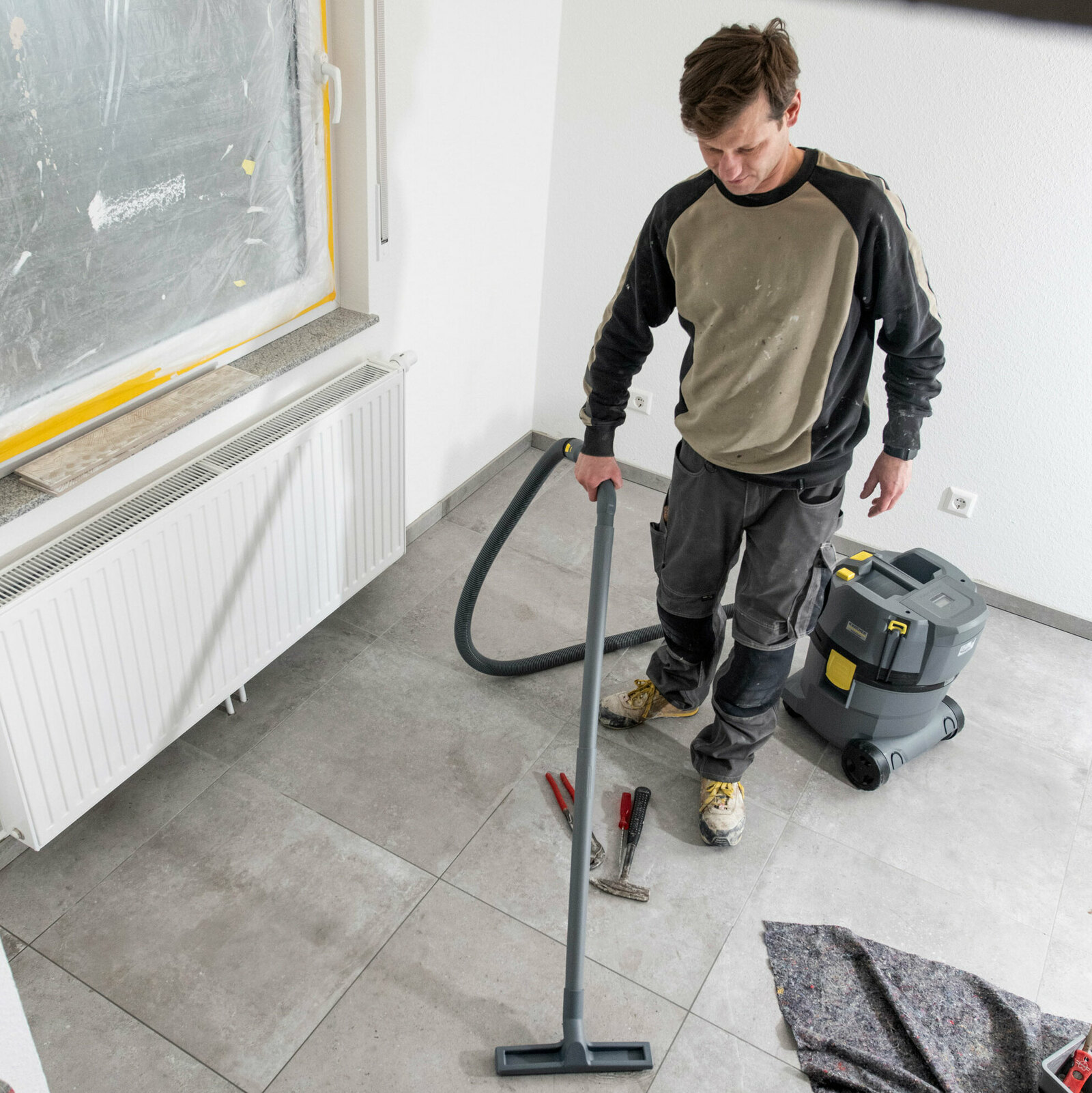 Removing construction dust
Poor visibility or idle work equipment are just some of the reasons for increased dust in the workplace. It's not only a potential safety risk but also a risk for the workers' health. Construction dust related health problems range from respiratory system irritation and inflammation to chronic lung diseases and an increased risk of cardiovascular diseases. Professional control and removal of construction dust can effectively ensure a safer environment.
Battery-powered wet and dry vacuum cleaners provide support for many jobs in the building trade. These include maintenance work on the water supply, cleaning after small water ingresses due to heavy rain or during maintenance and installation work on properties. Electricians, kitchen fitters and other tradesmen do not need to carry brooms and dustpans/sweepers when working. They can easily remove dirt with the help of vacuums. This makes self-sufficient cleaning more ergonomic and increases customer satisfaction.
Tip 1 – Easily accessible:
Battery powered wet and dry vacuums are so compact that they can be stowed in the sliding door of normal vans. From there, they can be accessed easily and are ready for use without additional setup time.
Tip 2 – Dust extraction:
A good addition to a wet and dry vacuum cleaners are cordless backpack vacuums. They make it easier to clean up dust when working with a drill or other tools.
High pressure cleaning without water and electricity access
There are two ways to use a pressure washer without electricity and water connection. Firstly, there are battery-powered models that work without emissions, or alternatively other models with combustion engines are available that are suitable for longer uses. In both cases, water simply needs to be provided via a tank.
Battery high-pressure cleaner for outdoor use: cleaning without electricity and water
Battery powered high-pressure cleaners are lightweight, easy to transport, have splash protection and are quickly ready for use. Landscapers, for example, can clean off slabs after installation if they're dirty. Farmers have the option of cleaning field sprayers after use, for example.
Rinsing off pesticide residues can be done with a battery-powered cold-water high-pressure cleaner, for self-sufficient cleaning from start to finish. Battery-powered high-pressure cleaners are also well suited for cleaning motorway toilets.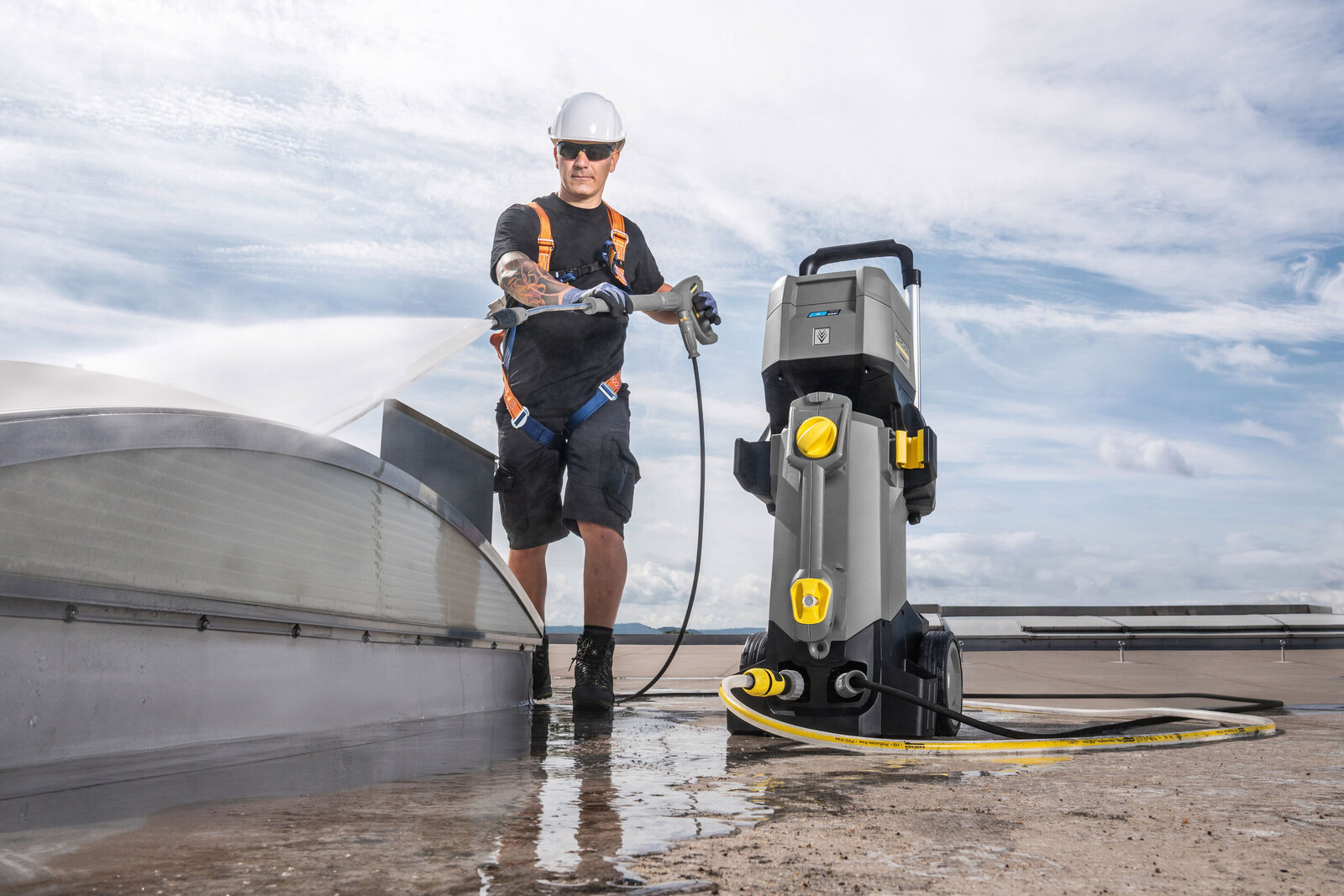 Tip – Battery pressure washers use with low voltage:
In countries such as Japan or the USA, where less voltage is available on the power grid, cordless pressure washers offer performance comparable to cable powered models. Alternatively, a connection to an industrial power supply with a higher voltage has to be available or a device with an internal combustion engine should be selected.

Cleaning a field sprayer properly
Whether we are talking about nettle tea fertiliser and copper sulphate in biological agriculture or chemical substances in the conventional processes, when used responsibly, crop protection serves to ensure the yield of crops and to combat pests, fungi and pathogens in a targeted manner. However, when cleaning spray equipment such as a crop protection sprayer (also known as a field sprayer) between uses, it is very important to prevent product entries into the sewer system and properly remove residuals.

Cleaning restrooms and changing rooms
There are many reasons why careful cleaning is required in restroom areas: Depending on the environment, many people use toilets, shower areas and changing rooms, for example in office buildings, production facilities, hotels, restaurants, sports halls or shopping centres. In restrooms, this inevitably leads to people's skin coming into contact with various different surfaces that have been touched by practically all users – such as door handles, taps or toilet flush buttons. In this way, microorganisms can pass from one person to the next. This must be avoided by following defined cleaning sequences.

Cleaning power tools
Working effectively on a construction site requires the right tools. The accumulating dirt and dust can take its toll on equipment such as shovels, wheelbarrows and other tools. To ensure the equipment functions reliably and safely in the long term, careful cleaning and maintenance must be an essential part of the work routine. Depending on the equipment and the amount of dirt, you can use different cleaning devices, from high-pressure cleanersto vacuum cleaners.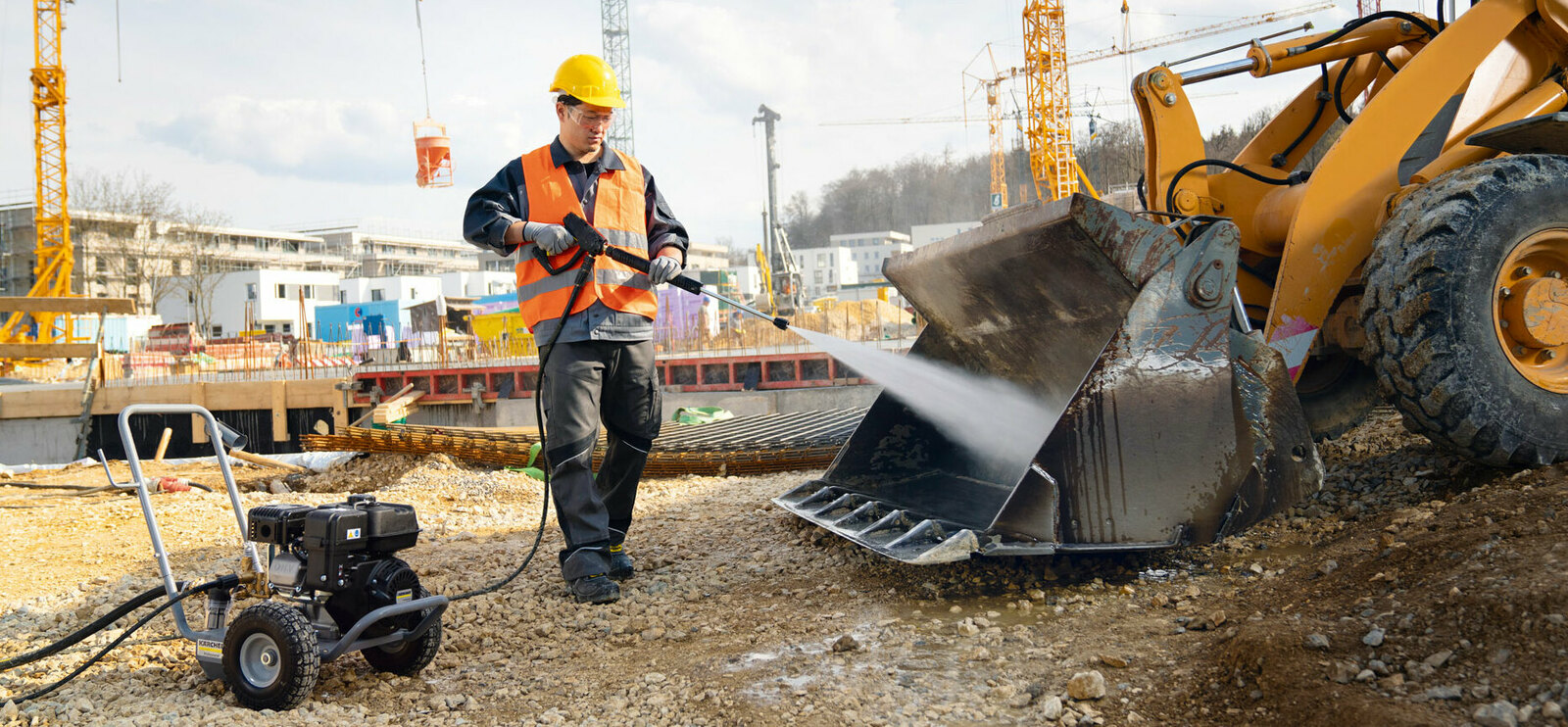 High pressure cleaner with combustion engine
The power spectrum of high-pressure cleaners equipped with combustion engines, capable of being powered by gasoline, diesel, or synthetic energy substitutes, exhibits a wider range of frequencies, owing to their higher power consumption. The devices deliver between 140 and 250 bar of pressure, with a flow rate of between 500 and 1.000 l/h. The running time is 6 to 8 hours, depending on the tank size, which is why longer self-sufficient cleaning tasks can be carried out easily. Thanks to their robust design, high-pressure cleaners are suitable for cleaning construction machinery before leaving a construction site, for larger cleaning operations in agricultural warehouses, or for cleaning public places after an event.

Cleaning construction equipment
The construction equipment industry is no stranger to tough and messy environments. Constant exposure to dirt, mud, clay, paint, and varnish splashes, as well as the accumulation of dried concrete, can cause significant wear and tear on expensive equipment. To ensure the longevity and value of these machines, it is crucial to implement effective cleaning measures on the construction site, in the company, and across the vehicle fleet, including construction equipment cleaning. Maintenance and repair are equally important, and cleaning plays a vital role in the upkeep of these machines. It is key to understand the importance of cold and hot water high-pressure, ultra-high-pressure technology, dry ice, and cabin cleaning. By doing so, you can help to maintain the function and value of these costly machines, thereby ensuring the success of your business.
Cleaning without water supply: cold or hot water high pressure trailer
Cold or hot water high-pressure cleaners are suitable as a universal solution for professional use in construction and industrial cleaning. Both water and fuel are carried within the device itself so it can clean and work without water and electricity connection - i.e. self-sufficiently.
Cleaning without water and electricity supply: from graffiti removal to facade cleaning
The cleaners run on gasoline, diesel or synthetic energy substitutes making it easy to complete bigger tasks without direct power or water sources. The devices have a very high performance and are well suited for stubborn dirt, making the cleaning of facades possible. Councils often face the challenge of maintaining public areas with high foot traffic, where the presence of cables and hoses can be a hindrance, or where graffiti and other unwanted markings need to be removed from bridge underpasses. In such scenarios, employing these multifaceted devices can provide a comprehensive solution that addresses all these concerns effectively. In case of fluctuating or inherently poor water supply, for example on construction sites, the tank can also serve as a back-up to enable uninterrupted work.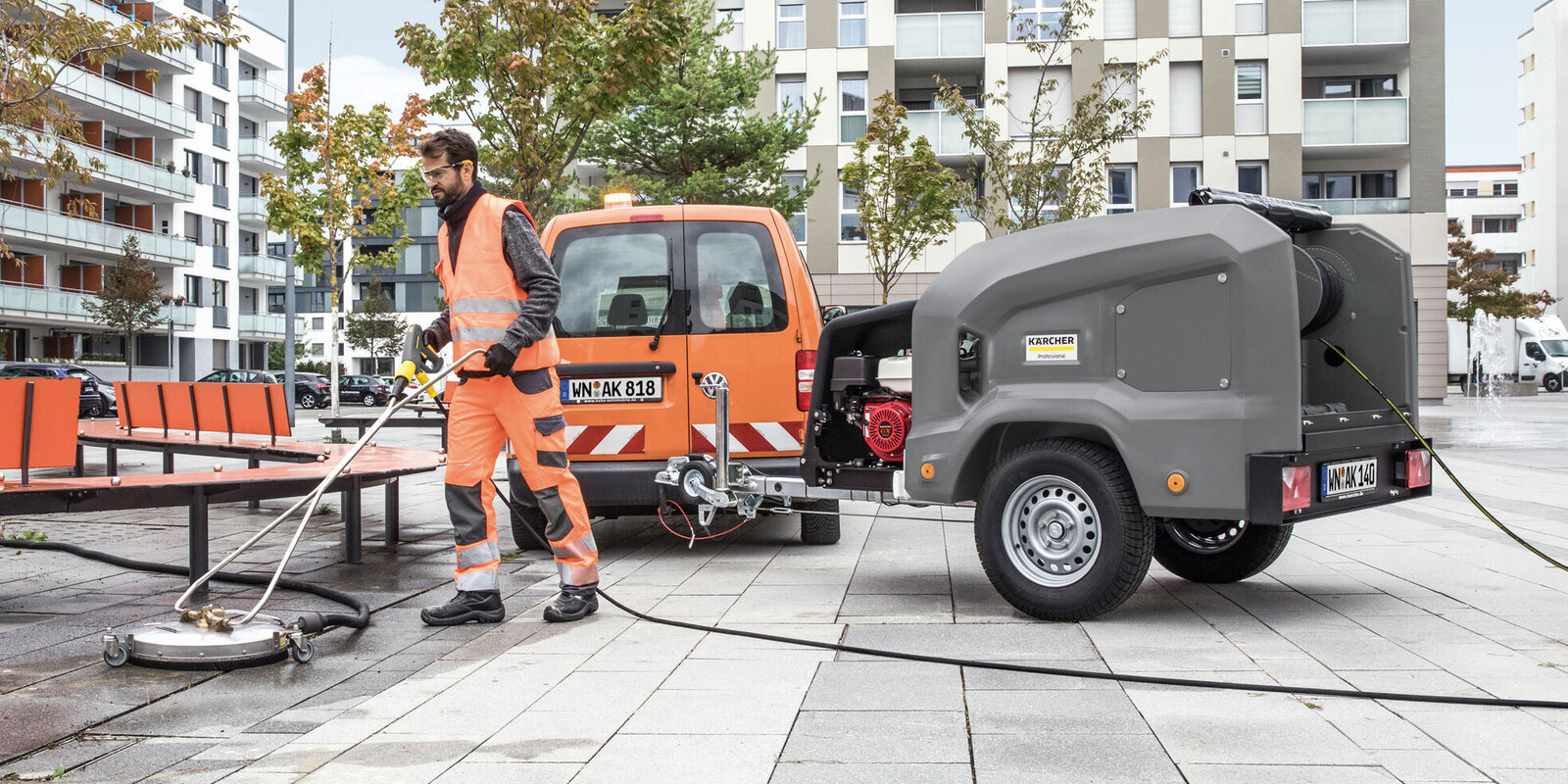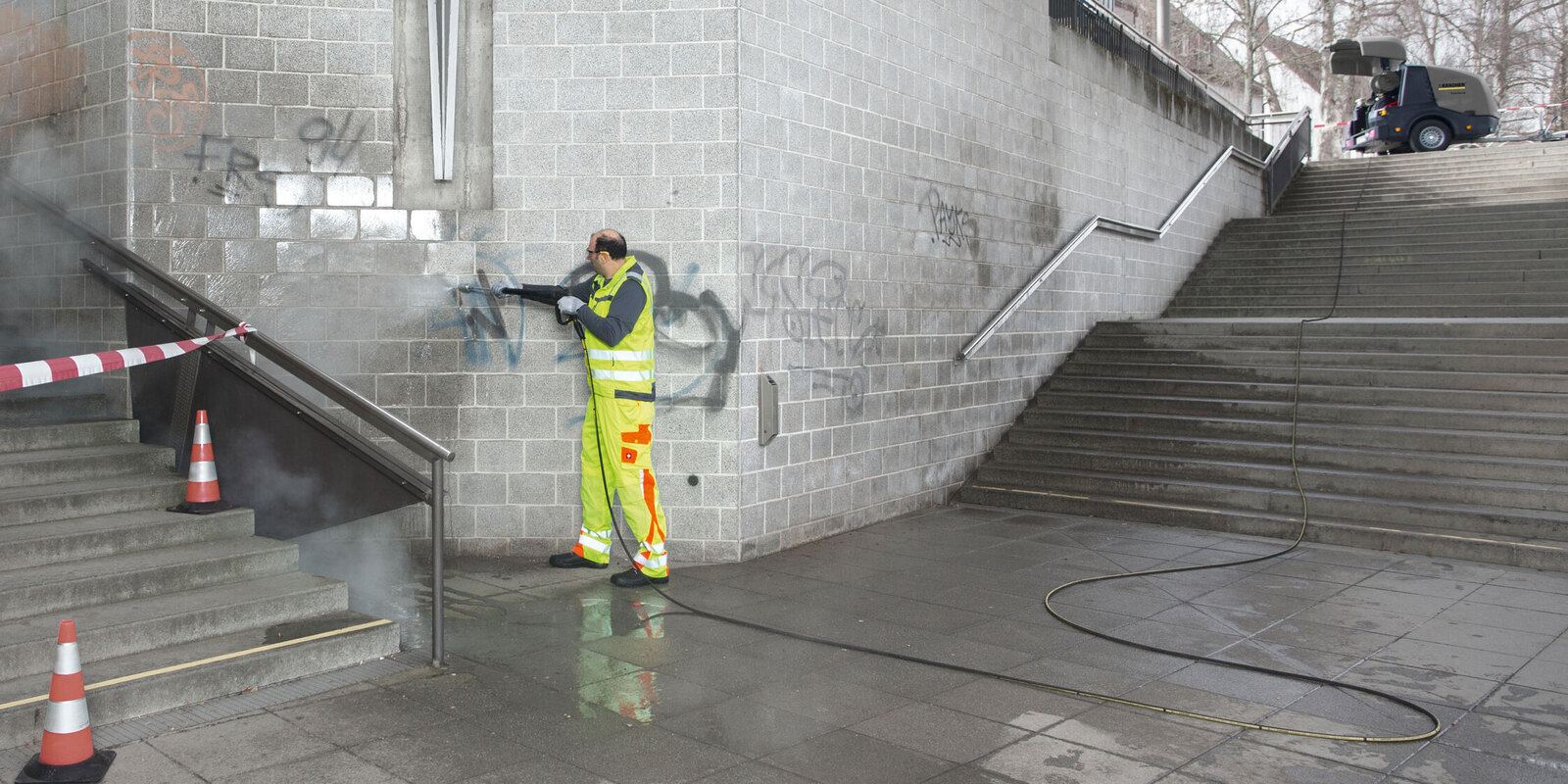 Remove graffiti
There are many methods for graffiti removal. From hot water high-pressure cleaning to various blasting methods, the appropriate method is selected according to things such as the type of graffiti paint, the material of the substrate, and local and legal regulations. In addition, preventative options exist so that unwanted graffiti can be removed more conveniently and more gently next time.

Cleaning car parks, paths and outside areas
Whether visiting a restaurant, shopping in a supermarket, furniture store or shopping centre, or visiting a doctor or museum – often the first thing guests do on arrival is to park their car and make a short walk to a building. There are a number of methods to make a positive impression right from the start, to prevent the risk of accidents and to stop dirt being brought in from outside.

Facade cleaning
Facades can be made of many different materials such as plaster, natural stone, glass, metal or wood. They lend a building an individual appearance. To maintain their visual appeal and value for as long as possible, regular building facade cleaning is necessary. Various techniques are available, particularly when using suitable equipment such as high-pressure cleaners, sand/wet blasters and dry ice blasters, which are used professionally depending on the material and type of dirt.
A universal solution: generator and wastewater pump for self-sufficient cleaning
For those who work in areas where electricity and water are not available, a generator and/or a wastewater pump can be used to work self-sufficiently.
Mobile energy supply in a demanding environment
Professional-grade generators boast effortless mobility with rollers and rubber tires, while being safeguarded by a resilient steel tube cage. These generators feature reliable electric start-up and emergency cable pull options and operate quietly.
A mobile power supply can prove invaluable in various scenarios, from facilitating cable-powered high-pressure cleaners, wet and dry vacuum cleaners, and other equipment situated away from any infrastructure, to enhancing the flexibility and self-sufficiency of work environments in the construction industry, agriculture, and outdoor trade fair settings. This allows for the charging of battery-powered power tools and cleaning equipment, creating an even more autonomous workspace.
Selecting an appropriate power class for a given application is essential. For instance, when cleaning tiles outdoors with a hot water pressure washer, a generator with a power rating of 7 kW is recommended. On the other hand, for the efficient operation of a cold-water high-pressure cleaner in professional green space maintenance, a unit with a power rating of 2.8 kW is optimal.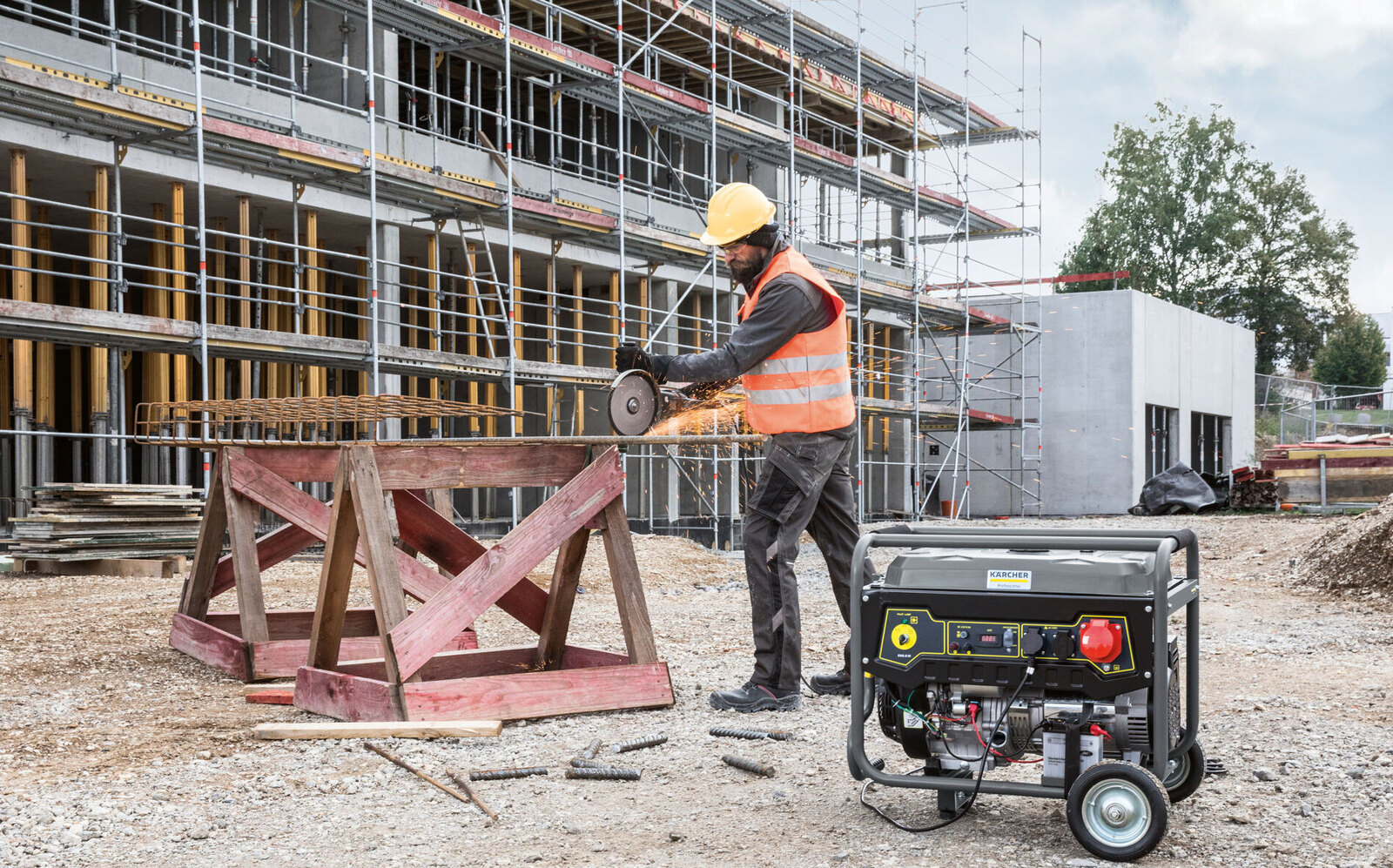 Water supply and removal: wastewater pumps for self-sufficient cleaning
Wastewater pumps are used wherever water should be extracted. This can be in a flooded cellar or excavation pit. At the same time, wastewater pumps can help transport water from A to B and ensure a water supply. The pump can also be used to vacuum in water and fill tanks that supply battery-powered or combustion-engine high-pressure cleaners.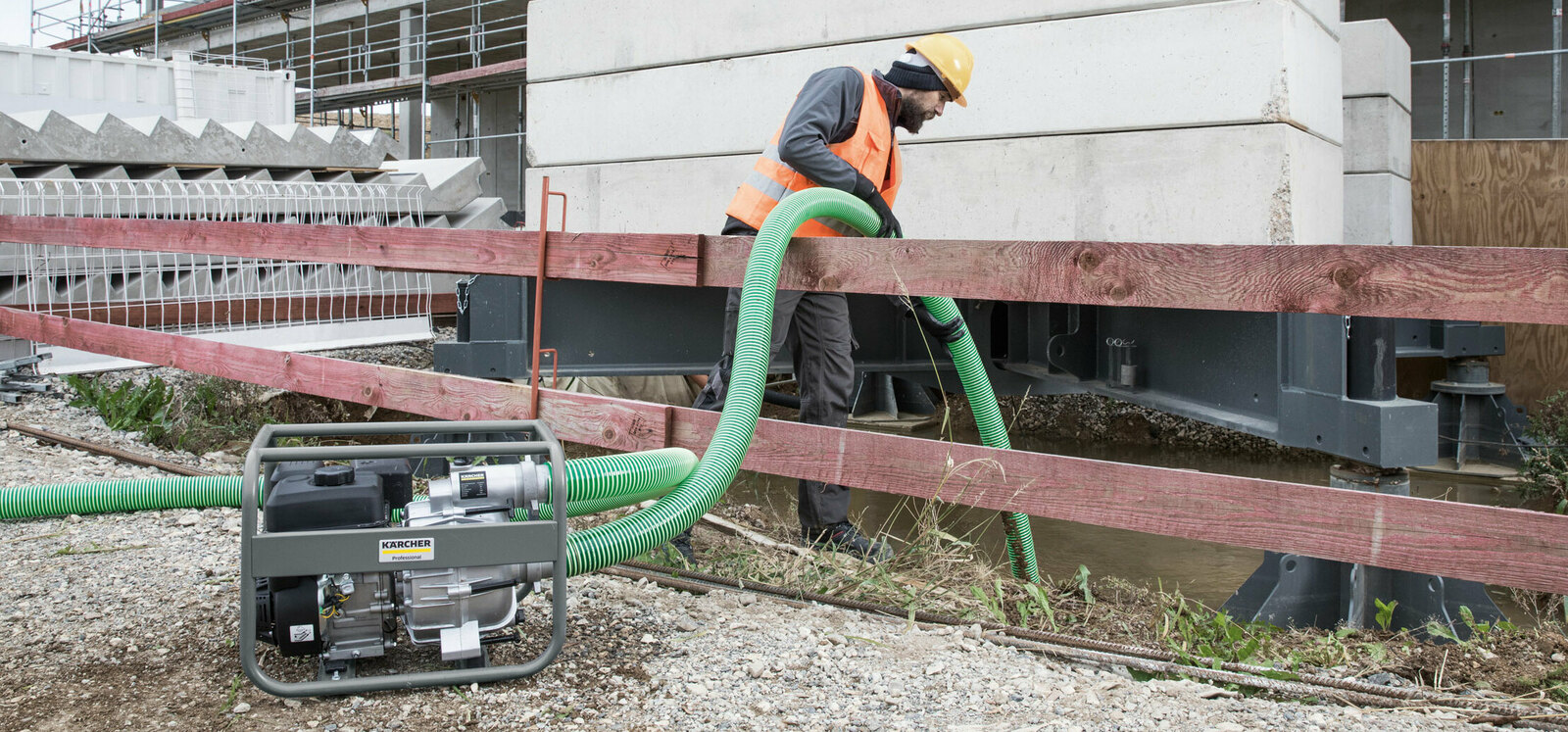 Suitable products for your area of application