Coin-op high-pressure cleaner
SB MU
SB MU modular multi-station system for equipping self-service washing centres for vehicle exterior cleaning. Designed for 4 - 8 wash bays, individually configurable and extendable as required.
The modular self-service multi bay unit SB MU for 4 to 8 self-service washing stations for vehicle exterior cleaning can be individually configured and expanded flexibly. The 5 main components pump module, hot water system, softening and osmosis plant, control cabinet and wash bay equipment are installed in a plant room. The modules are preassembled on a framework at the factory for simple, time- and cost-saving installation on site. All components are easily accessible and extremely service-friendly. High-quality components guarantee high process reliability. Depending on the site requirements, each wash bay can be equipped with up to 11 wash programmes (pre-cleaning, main cleaning and care). The Vario foam system is used for the foam washes with wash brush. The water volume and foam consistency (wet or dry foam) can be set by the operator. Wash bay customers benefit in particular from the clear user guidance, the logical arrangement of the ergonomic wash tools, as well as the effective wash programmes for wheel rim cleaning and the innovative care programmes for paintwork preservation (foam polish).
Features and benefits
Modular design
System can be individually configured and expanded flexibly.
Attractive wash programmes (max. 11)
No wish is left unfulfilled for wash bay customers.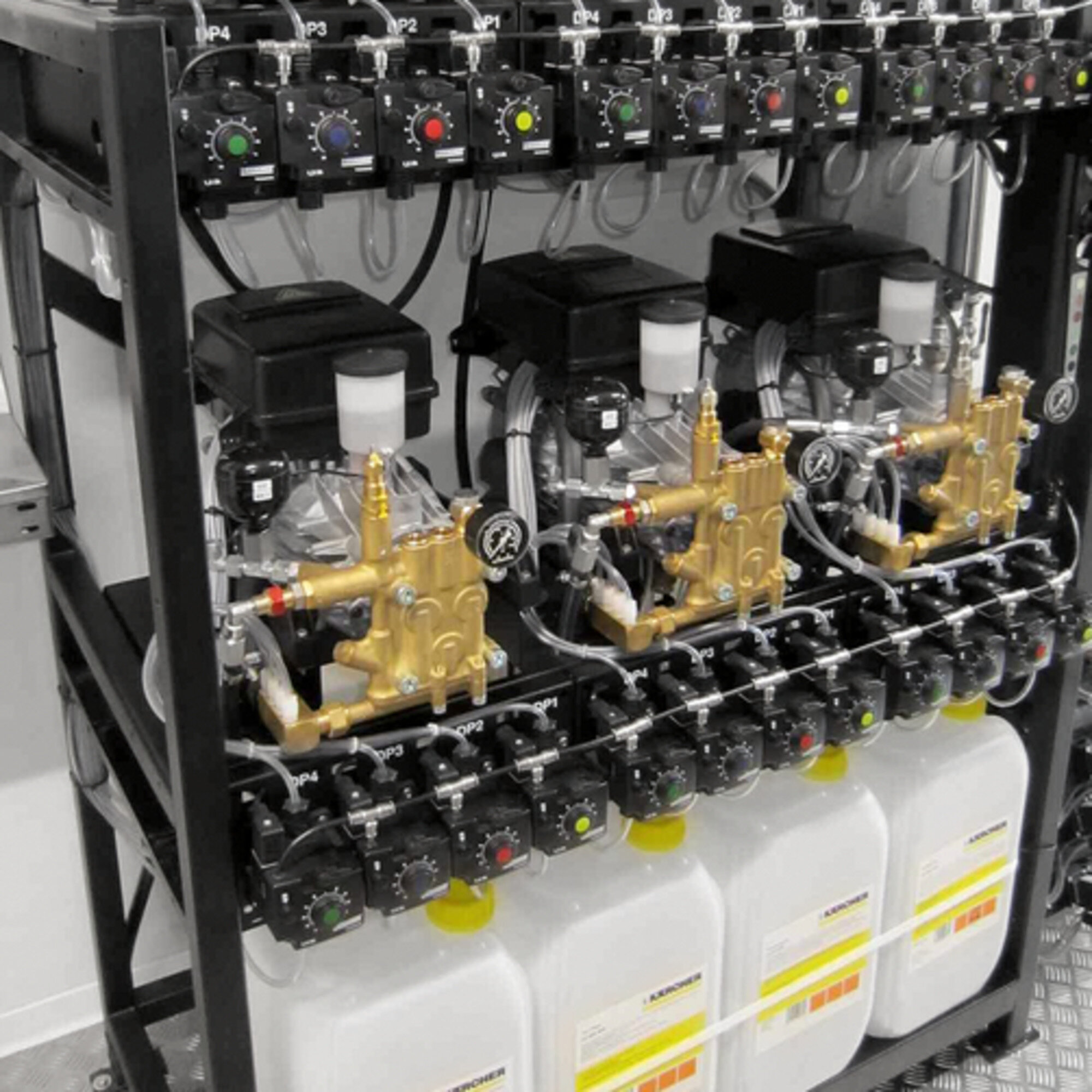 Pump modules preassembled in the factory
Time- and cost-saving installation on site. Pump modules are already tested in the factory for proper functioning.
Pneumatic dosing pumps
Use of cleaning agent concentrate, high process reliability.
Vario foam system
Switchable wet/dry foam allows different possibilities.
Optimal access to all components
Specifications
Technical data
Working pressure (bar)
100 - 120
Current type (Ph/V/

Hz

)
3 / 400 / 50
Hot water (°C)
max. 60
Flow rate per pump (l/h)
500 / 900
Dimensions (L × W × H) (mm)
2000 x 1000 x 2300
Application areas
Vehicle exterior cleaning for self-service customers