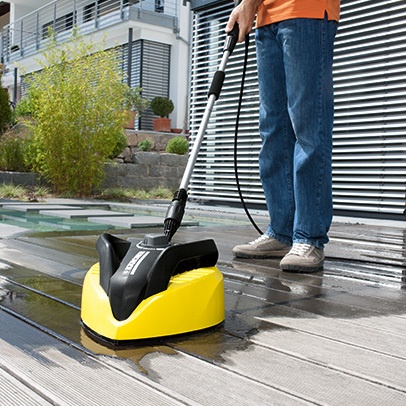 Patio cleaning
Unbeatable powerhouses – pressure washers from Kärcher
From the cord hook to the practical hose reel, a K5 electric pressure washer offers a number of intelligent equipment details to make cleaning easier, even when there is a high level of dirt.
Every home and garden owner who has tried spraying heavy dirt off paved paths knows how limited and weak the cleaning performance of a garden hose is.
The cleaning power of a pressure washer, on the other hand, is considerably higher than that of a garden hose. Whether cars, mossy garden paths, terraces, roller shutters, dirty barrels or boats, everything can be cleaned quickly and easily. And even stubborn dirt does not stand a chance when high pressure is used.
Our Deck and Driveway Cleaner ensures optimum cleaning results with a gentle action, even over large areas. The innovative combination of height-adjustable propellers and two high-pressure nozzles creates a hovercraft effect which allows the Deck and Driveway Cleaner to hover above the ground.
The device delivers a higher cleaning performance and uniform cleaning results. The casing allows virtually no spray water to escape, thereby protecting both you and the walls from spray.
Recommended products and accessories
Power scrubber
Perfect for stairs and edges. Stubborn dirt is eliminated.