Professional cleaning of industrial floors
Industrial floors require particular care and attention – both during manufacture and in terms of their coating, cleaning and maintenance. This is because they not only have to withstand a considerable amount of strain, but they also need to meet occupational safety standards at the same time. Which cleaning method to use depends largely on the texture of the floor.

Regular cleaning guarantees safety
Industrial floors are not normally cleaned for aesthetic reasons. Rather, since industrial floors are subjected to a great deal of stress on a daily basis – from physical force and from various substances that cause a chemical reaction on the surface – cleaning is required for the safety of personnel and to ensure that operations run smoothly. In the very worst case scenario, damage to the floor covering could cause consequential damage and accidents, with oil, acids and other substances damaging tools and machinery or even injuring workers. Carrying out the correct kind of cleaning at regular intervals can minimize this risk. In particular, floor maintenance in industry can also help floor coverings and buildings to retain their value.
A key distinction here is made between the one-step and the two-step method of floor cleaning:
One-step method: First, the floor is scrubbed with cleaning agent; then, in the same work step, the loosened dirt is cleaned off again. This is done in a single pass with the same machine
Two-step method: The first step is to cover the entire area with water and cleaning agent, then the second step is to suck the solution up again with a cleaning machine.
Industrial floors made of screed
The majority of industrial floors are made of smooth and continuous screed that is highly compacted to make it extremely durable. When applied, this consists of a smooth paste that is directly poured or trowelled into the object and then left to set. There are various different types of screed available, and each one has specific characteristics that need to be considered prior to cleaning.
Cement screed (CT)
This is the most commonly used type of screed and consists of sand or gravel plus cement and water. The only type of screed produced in the industrial sector is "hard-aggregate floor screed", which can withstand extremely high traffic due to its strength class and the fact that its thickness is dimensioned just right.
Properties: Not resistant to acids or strong alkalis. Exposure to acids gives it a structure similar to that of exposed aggregate concrete, i.e. the concrete becomes rougher and harder to clean.
Calcium sulphate screed (CA)
This includes all screeds with a binder that consists of waterless calcium sulphate (anhydrite). This type is pale in color and has a very hard, smooth, compact surface that is virtually poreless.
Properties: Sensitive to moisture due to its binder. This means that prolonged exposure to water should be avoided, especially when deep cleaning. Can only be cleaned using the one-step method.
Magnesium screed (MA)
Often also known as magnesite screed, this consists of the binder components magnesium oxide and magnesium chloride. It is extremely hard-wearing and has the ability to bind the mineral aggregate especially firmly. Adding suitable metal oxide dyes enables a uniform color to be achieved.
Properties: Usually impregnated on the very day it is made. Magnesium screed with a high organic filler content makes the floor warmer underfoot but also more sensitive to moisture. Only cleaning using the one-step method is recommended.
Mastic asphalt screed (AS)
A dense and poreless mixture of fillers such as rock meal, sand, grit or gravel and bitumen. Bitumen is a dark-colored, semi-volatile substance made up of different types of organic substances that are extracted from the distillation of crude oil.
Properties: Dust-free, water-resistant, largely resistant to acids and alkalis, but not resistant to solvents.
Surface treatment
The surface may be treated depending on what is required of the coating and the load to which it will be subjected. Surface treatment prevents dust formation in cement-based screeds, for example, and prevents dirt and moisture from penetrating quickly. The properties of the surface treatment in question should be taken into account when cleaning:
Deep cleaning: Removing heavy soiling
Deep cleaning uses wet scrubbing to remove oil and grease marks and encrusted dirt. This requires powerful scrubber driers with a roller scrubbing head. If the floor covering allows, cleaning is carried out using the two-step method at full contact pressure with green roller brushes or pads. The procedure should always be performed step by step to avoid the floor getting too wet or the cleaning fleet drying out again quickly.

Step 1: Use a scrubber drier to cover the surface that needs cleaning with detergent, and then scrub it two or three times until all the dirt has come loose.

Step 2: Remove the dirty water using the squeegee and the suction device on the machine. Then cover the entire area with clean water again and proceed using the one-step method: Cover with water – scrub – suction.

Please note: Only the one-step method is recommend for deep cleaning of industrial floors that have not been treated or surfaces that are not water-resistant (see screed types), as otherwise the floor will get too wet and consequential damage could occur.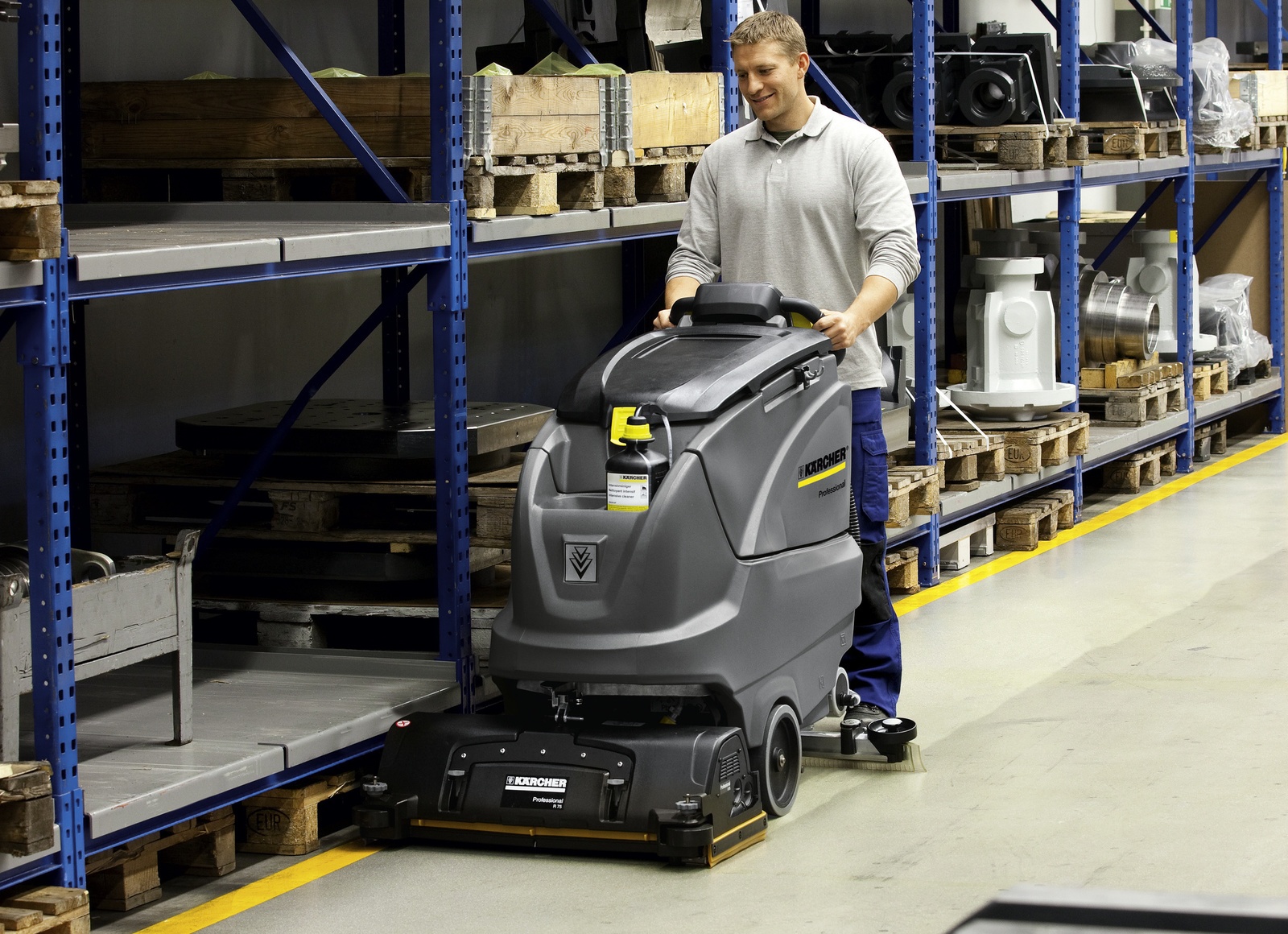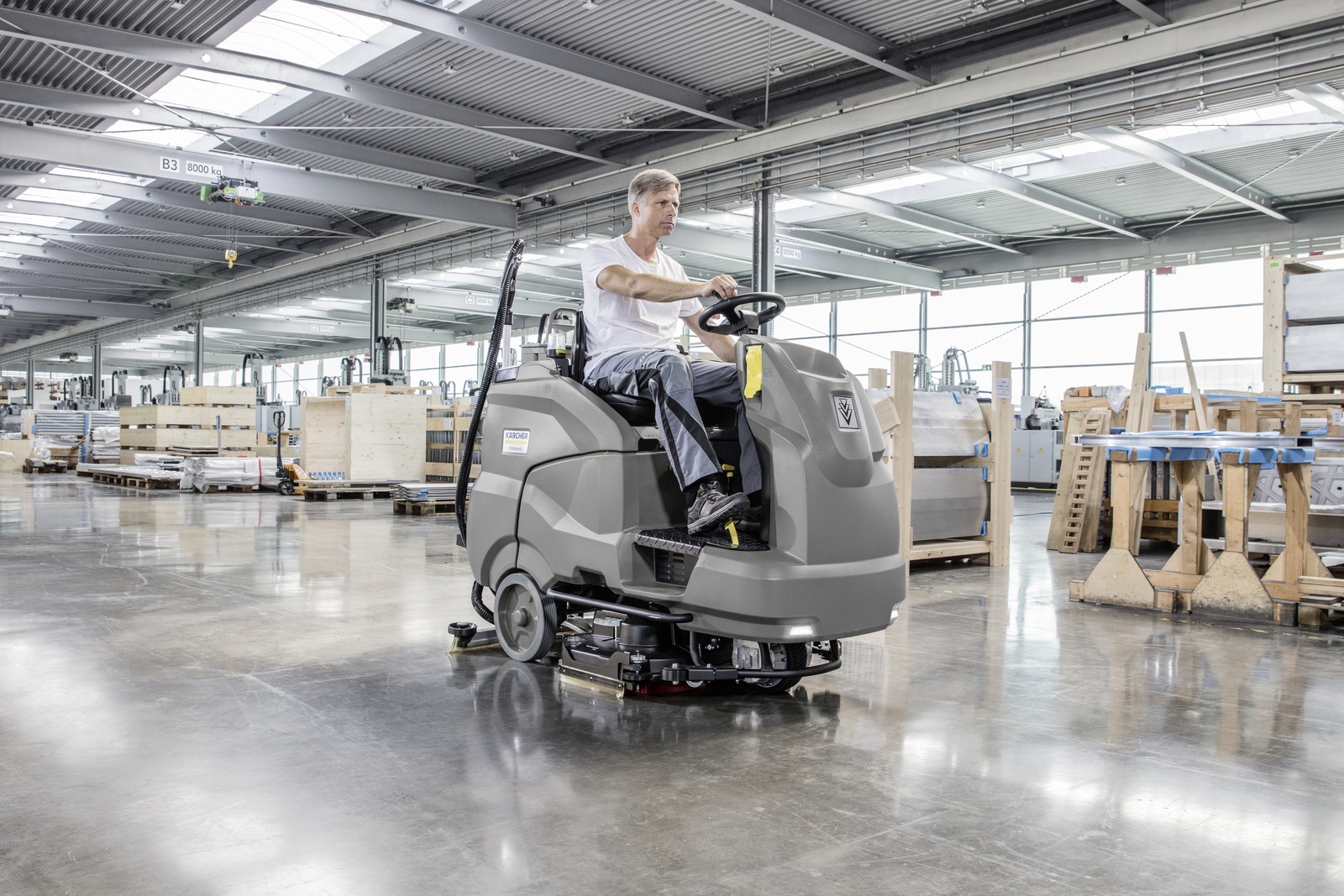 Maintenance cleaning: Removing light soiling
Maintenance cleaning is carried out using the one-step method. To clean away light soiling, the scrubber drier is fitted with red scrubbing brushes or pads. The scrubber drier works with a lower contact pressure and lower roller brush speed. The cleaning agent is diluted to between 0.5 and 3% (RM 69 ASF) depending on how dirty the surface is. We also recommend equipping the machine with the automatic cleaning agent dosing function (dose). Postwiping or rinsing is not required – the floor can be walked on again immediately.
If the cleaning job does not require wet cleaning, maintenance cleaning can also be carried out using a vacuum sweeper.
Removing skid marks and tire tracks
To remove the skid marks left by forklift trucks or the abrasion from tires, use a detergent that is NTA-free and has been specifically developed for this purpose. Apply it undiluted to the dirty areas using the RM sprayer or spray bottle, leave it to work for a few minutes, then go over the area with a scrubber. The roller scrubbing head should be fitted with green roller pads or roller brushes depending on the structure of the surface (smooth or textured respectively). The next step is to remove the dirty water and then rinse with clean water (one-step method).
Please note: Do not use this method on polymer-based or wax coatings, as the cleaning agent will remove them.
It comes down to the scrubbing head
Stubborn dirt and heavy soiling are part and parcel of the industrial sector, which is why scrubber driers with a roller scrubbing head are recommended for wet cleaning.
Smooth surfaces are cleaned using roller pads, while rough and textured surfaces are scrubbed using roller brushes. The high cleaning efficiency is due to:
Brushes/pads running in opposite directions
High and uniform contact pressure (up to 260 g/cm2) across the entire working width
Extremely high speed (max. 1100 rpm)
Excellent floor contact
These properties make it possible to remove the dirt safely from the floor. The high speed also generates a self-cleaning effect, meaning that the cleaning efficiency remains consistently high. Sweeping the floor in advance is often unnecessary as the roller brushes move in opposite directions to sweep the coarse dirt into the integrated sweeper drawer.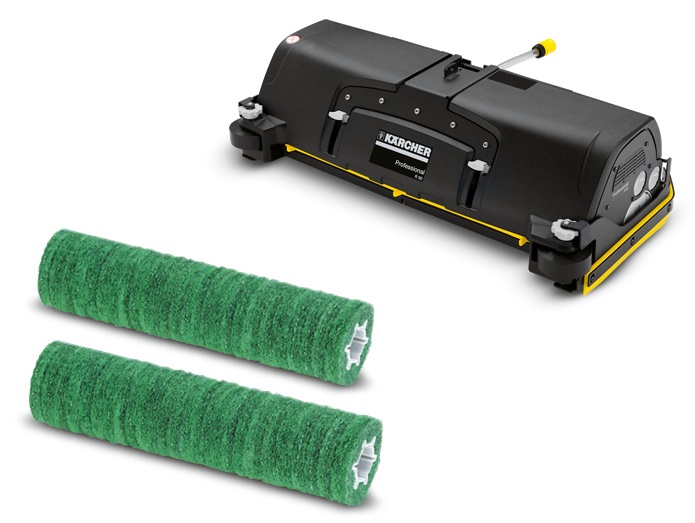 You may also be interested in: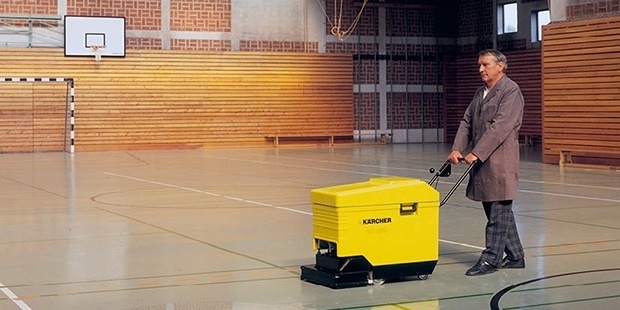 The success story of the floor scrubber
The start of floor-cleaning by machines dates back more than 100 years. The first floor polisher was developed at the start of the 20th Century to take the monotony out of tedious work.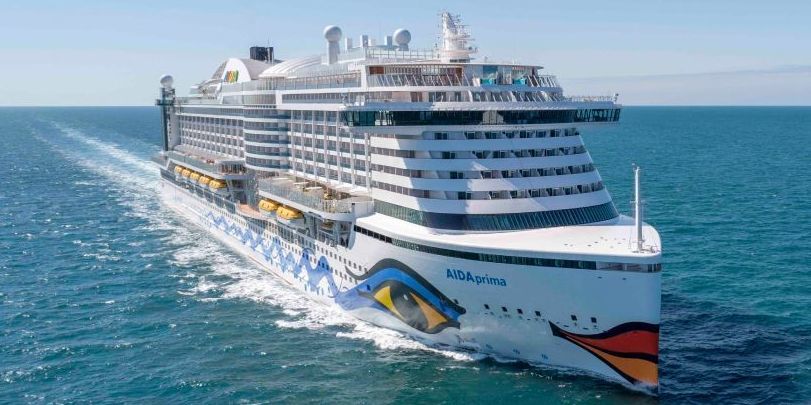 No fear of big beasts
AIDA Cruises is Germany's leading provider of sea cruises. As part of a long-term partnership with Kärcher, a detailed and well-thought-out cleaning concept has been developed to take care of everything.